As a celiac, I know firsthand the challenges of trying to find safe and delicious food options that don't contain gluten. It can be frustrating at times to constantly scour the ingredient lists, and it's pretty apparent to feel like you're missing out on some of the best delicacies like naan bread. 
So what's the gluten status of naan bread? Is naan gluten free? 
No, naan is not usually gluten free. It's typically made from a mixture of wheat flour, salt, sugar, yeast, and water. And since wheat flour is a gluten ingredient, the traditional naan isn't safe for people with gluten allergy.
I know it's hard to resist the warm, fluffy goodness of a freshly baked naan, but gluten-allergic people have to take two steps back from testing it. But does naan bread not have gluten-free alternatives? 
Keep reading to find the answer. 
Does Naan Contain Gluten?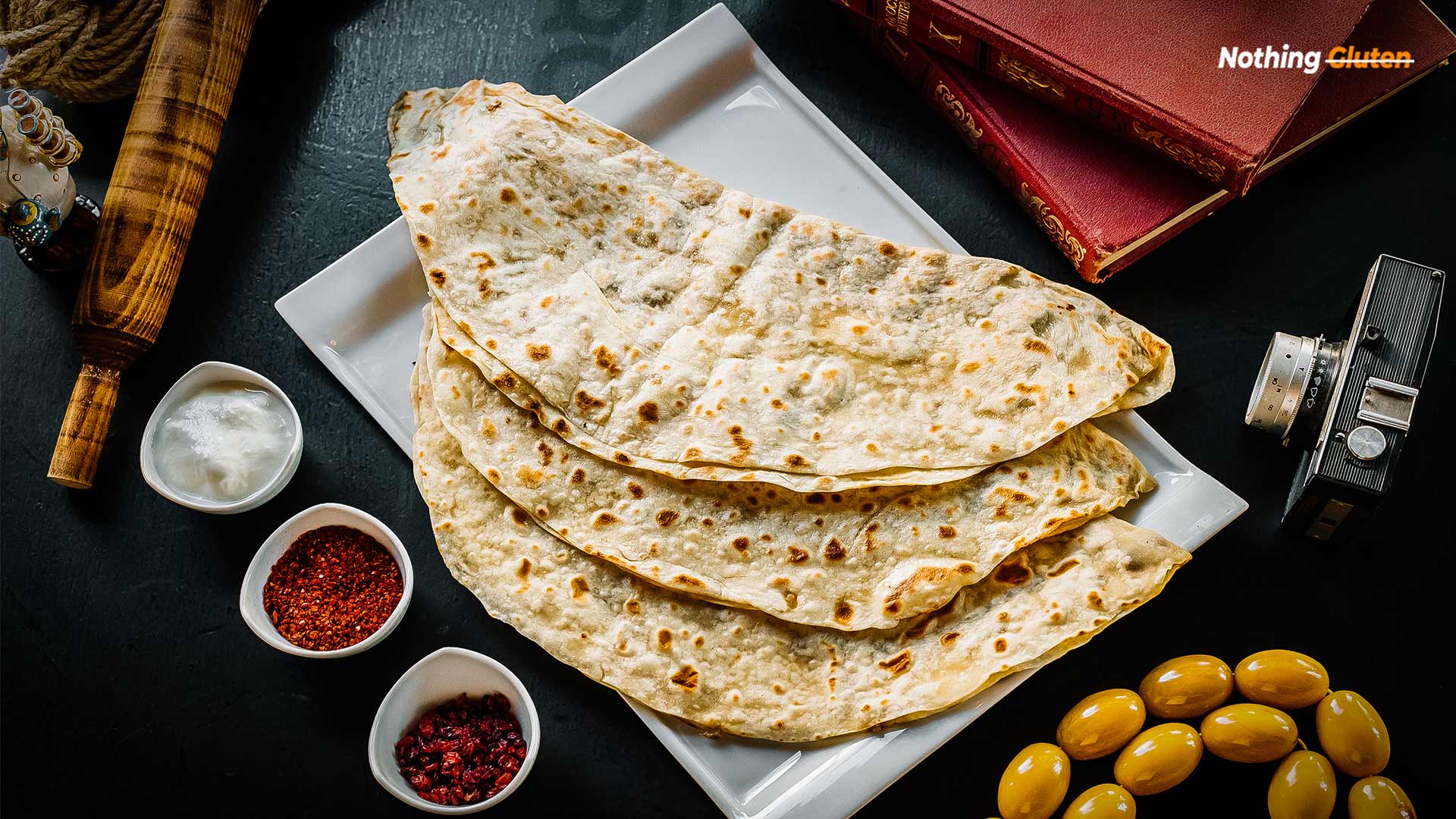 Yes, traditional naan contains gluten. As said, wheat flour is the hero ingredient in naan, and it's the primary source of gluten as well. Gluten is a protein type that's commonly found in wheat, barley, rye, semolina, and grains in a similar family, and consuming it may cause various health issues in people who have problems digesting gluten. 
But apart from wheat, the other ingredients, like yeast, salt, and sugar, have no gluten. If you can swap wheat with a gluten free flour, you can enjoy naan without worrying about a gluten side effect. 
Origin of the Naan? 
The earliest record of the word naan was found in notes of Indo-Persian poet Amir Kushrau in 1300AD. Later this Persian word appeared in William Trooke's travelogue in 1780.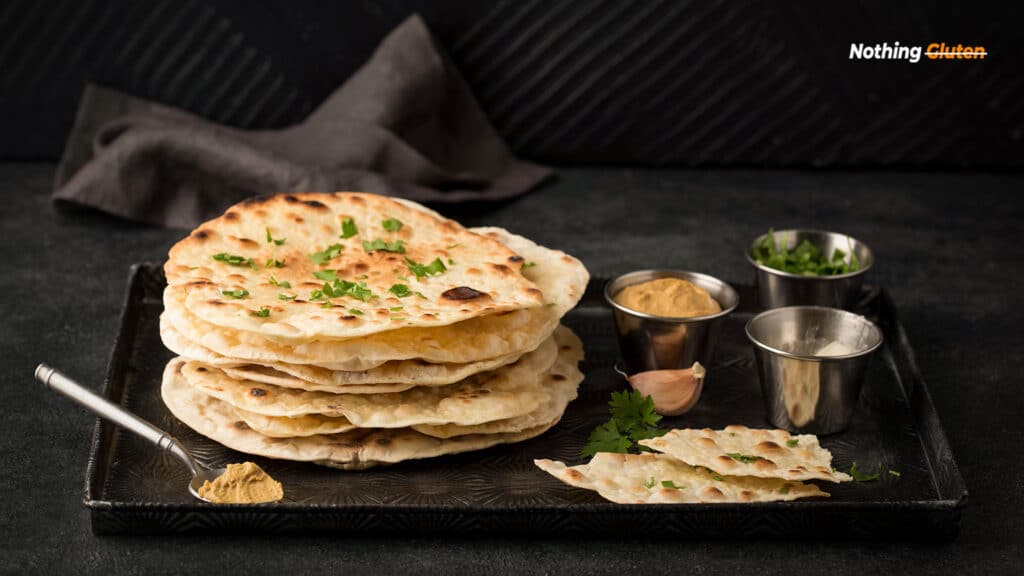 Regardless of where naan originated, the dish has been around for thousands of years, and people used to make them on special occasions. It's a popular delicacy that people enjoy with curries, soups, etc. 
In current times, it's a popular dish in the South Asian region, especially in countries like India, Pakistan, Bangladesh, Afghanistan, and surrounding areas. 
In the traditional method, naan is cooked in tandoor ovens, which are clay ovens that are heated by charcoal or wood fires. This cooking method gives naan its crispy outer layer and a fluffy texture. 
Gluten-Free Naan Bread Alternatives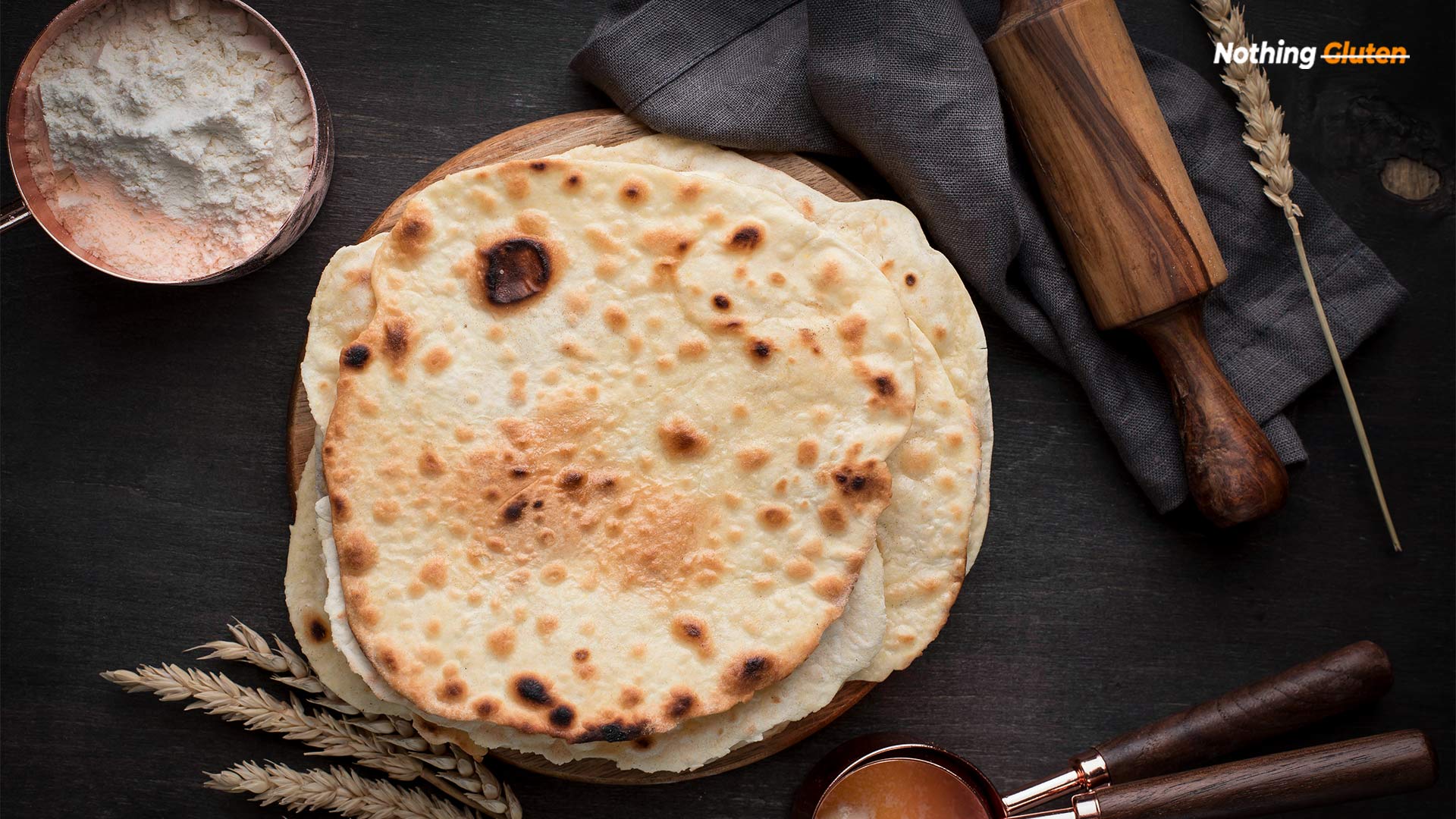 Even though, as a gluten intolerant, you can't have the traditional naan, there are some amazing gluten free naan alternatives you would love to have. 
Rice flour naan: This recipe uses rice flour instead of wheat flour and requires chickpea flour and potato starch to achieve a similar texture. It has a little chewy texture but tastes equally delicious. 
Gluten free all-purpose flour: We get readymade options of gluten free all-purpose flour in the market. You can use that to make naan. 
Sweet potato naan bread: You can use mashed sweet potatoes to make gluten free naan bread. This alternative isn't as good as the typical naan, but it's healthy and tasty. The mild sweet taste of the potatoes goes perfectly well with spicy curries. 
Gluten-Free Naan Recipe To Try At Home 
Gluten Free Naan Recipe To Try At Home 
Course: Bread
Cuisine: Indian
Difficulty: Easy
Here is the recipe that I use to make gluten free naan. It tastes extremely good, and I'm sure you would love it too. Let's not delay anymore and jump straight to the recipe. 
Ingredients
350 grams of all-purpose gluten free flour.

½ tsp salt

¼ tsp cream of tartar

1 ¼ tsp xanthan gum (avoid using if the packed flour already contains)

18-gram sugar

⅓ cup plain yogurt

2 ¼ tsp yeast

3 tsp melted butter or purified butter

2 eggs (one whole and one egg white)

¾ cup warm water (adjust quantity as per your dough's consistency)
Directions
Use a stand mixer to whisk together flour, salt, xanthan gum, sugar, and cream of tartar. Combine well and add yeast. Give it another mix.
Add eggs, ghee or butter, eggs, yogurt, and water, and mix at low speed for about 3 minutes. Once the dough and other ingredients absorb water, turn the speed to medium and mix for another 3 minutes.
The dough should be fluffy, and it will start pulling away from the sides. Unlike other doughs, the naan bread dough won't be firm and most likely won't turn into an integrated ball of its own. But that's how the texture should be.
Turn off the mixture and transfer the dough into a covered bowl. Make sure the lid of the bowl is tight with no scope of air passing in.
Leave it for 45 minutes or until it's double its size.
Transfer it again to a lightly floured surface and make balls of about 100 grams each.
You can use your hand to flatten the bread or a rolling pin. The bread should be ⅜ inch thick.
Heat an iron skillet and melt some Ghee (purified butter) or butter. Cook one naan at a time until it gets slightly golden and crispy. Cook it well from both sides and serve hot with your favorite curry.
What To Serve With Gluten-Free Naan Bread? 
Naan is a versatile dish that tastes great with a variety of dishes. Here are some best curries that combine best with naan: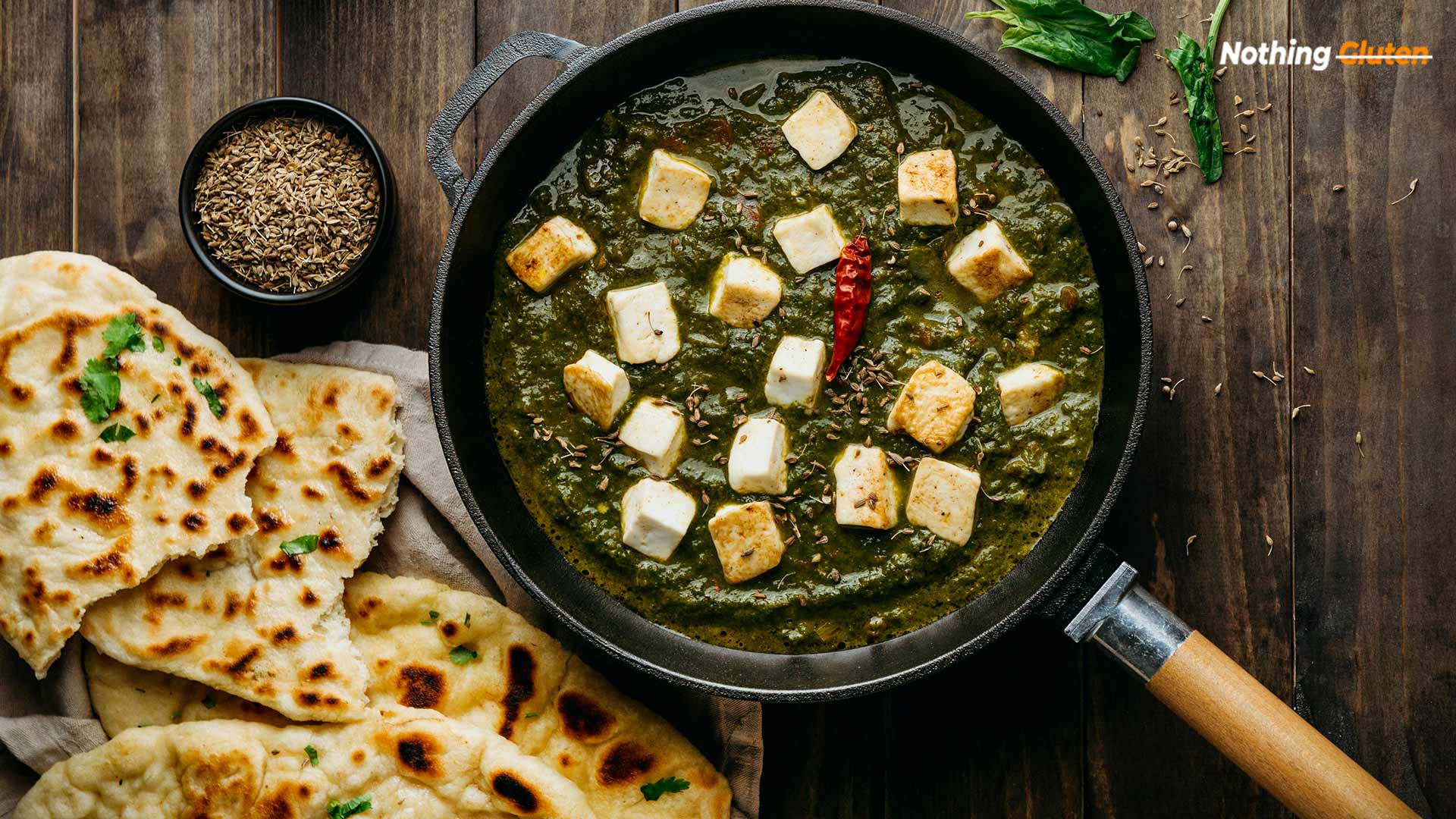 Indian curries: The taste of naan is elevated when we serve it with different Indian curries like chicken butter masala, chicken curry, mixed veg, etc. 
Hummus & dips: You'll love having naan with hummus and dips like tzatziki, etc. 
Wraps and sandwiches: Instead of using regular bread, try making sandwiches and wraps with naan with your favorite fillings. 
Soups: Naan goes perfectly well with lentil soups, vegetable soup, tomato soup, etc.  
Conclusion 
Due to wheat four, the traditional naan isn't gluten free, and if you're a celiac or gluten-intolerant, you must refrain from having it. But as I said, there are gluten free naan varieties available that are absolutely safe for people like us who can't digest gluten. 
You can also prepare gluten free naan at home using my recipe and let me know how it turned out in the comments! 
FAQs 
Is Stonefire naan bread gluten-free? 
No, Stonefire naan bread isn't gluten free. They have multiple bread flavors, and none of them are free from gluten since wheat is the core ingredient there. 
Does naan bread contain dairy? 
Yes, cooked bread naan often contains dairy-like ghee (purified butter), and some people add yogurt while kneading the dough for extra softness. 
Can you make naan with gluten-free flour? 
Yes, you can make naan with gluten-free flour. You can replace any gluten free all-purpose flour with wheat flour to make gluten free naan. 
Is naan bread good for celiacs? 
No, the traditional naan bread isn't good for celiacs. Since it contains wheat flour, it would cause gluten allergy.