Made with rice noodles, broth, meat, and spices, pho is the perfect comfort food. It's delicious and filling and relatively healthier than other noodles like ramen. But is pho good enough to fit in a no gluten diet? Is pho gluten free? 
Pho is usually gluten free. Rice, spices, broth, and veggies are always free from harmful gluten substances. But make sure that the condiments you use in the recipe are gluten free too to avoid gluten side effects. 
What do gluten free condiments mean? Are there any chances of gluten getting added to Pho? Keep reading this article to unveil everything you need to know before eating pho. 
Is Pho Gluten Free?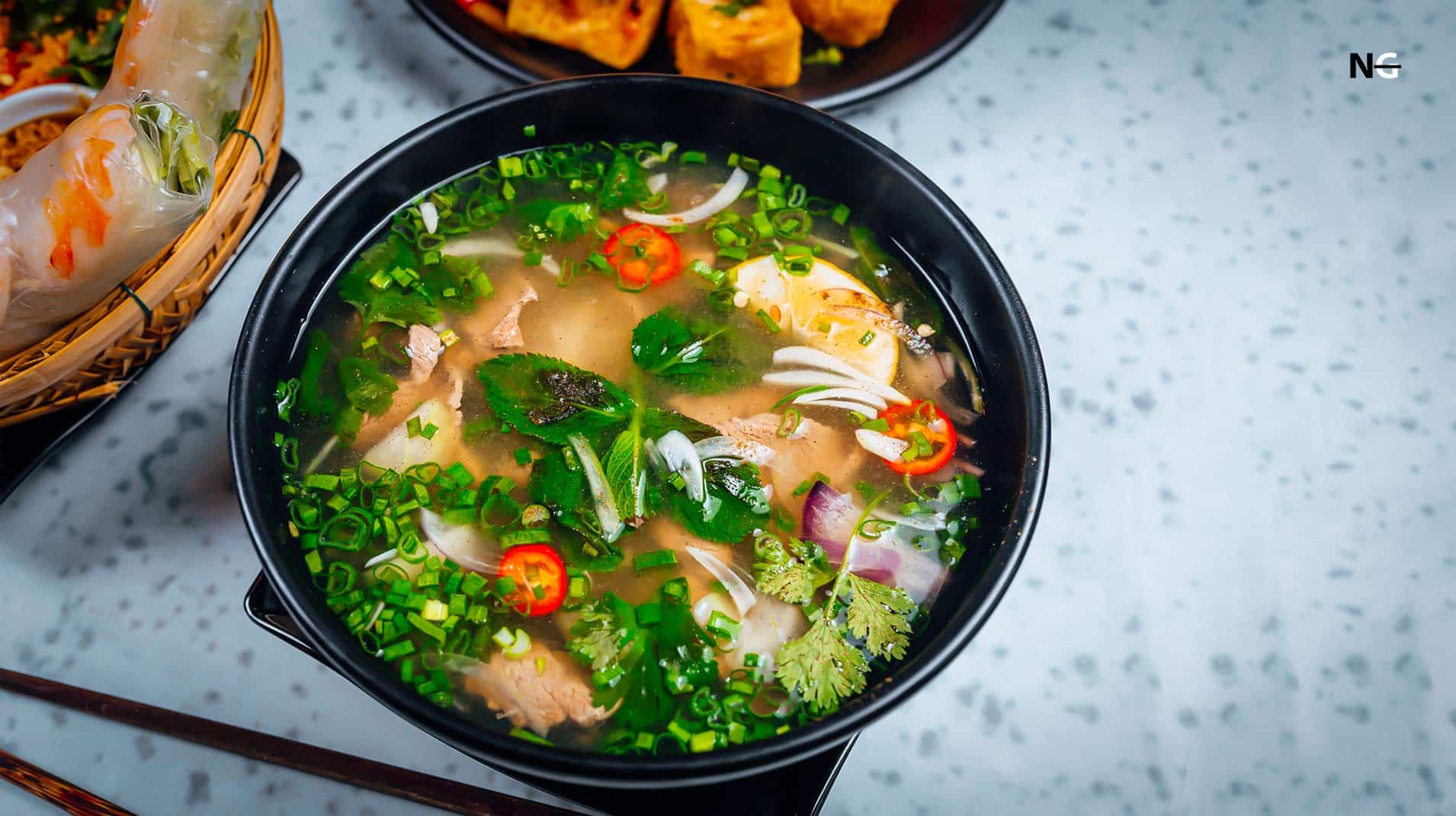 Yes, pho is gluten free. Noodles are the key ingredients in pho and also one of the ingredients celiacs tend to avoid as most noodles are wheat-based. But pho is made with rice noodles which are not dangerous for people avoiding gluten. 
Other elements in pho are- broth, meat, veggies, and spices which are also safe for people on a gluten free diet or for celiacs. 
But you should be careful of the condiments used in pho. Pho is served with condiments like hoisin sauce, sriracha sauce, and sometimes soy sauce. Make sure that these condiments are gluten free to avoid gluten side effects. 
Also, eating pho at a restaurant may get tricky since you don't know what utensils they use. If you are highly sensitive to gluten or dealing with celiac disease, you should only eat pho at a gluten free restaurant. 
How Is Pho Made? Is There Any Chance Of Gluten Getting Added In It?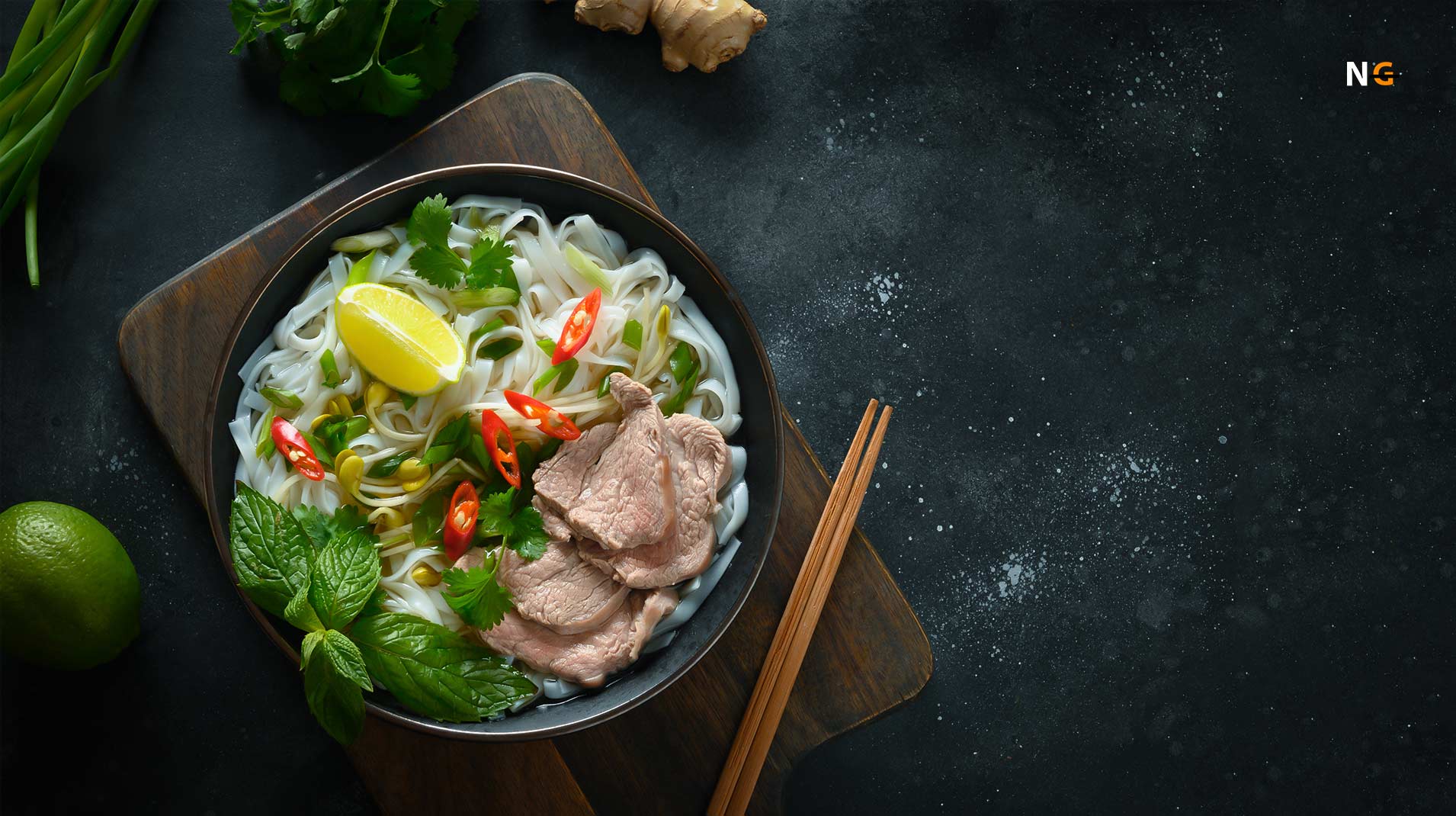 The authentic pho recipe was not an instant soupy noodle dish. People used to make this Vietnamese dish by boiling beef bones for a few days to get a flavor rich broth. Then they serve this delicious broth with rice noodles and tender beef pieces with aromatic spices. 
The dish is served with a plate of fresh garnishes like basil, cilantro, chilies, radishes, lime, etc. But currently, the recipe has undergone slight changes. While the ingredients and cooking procedure is the same, the broth is prepared quickly instead of taking several days. 
Restaurants also serve pho with different condiments like- chili paste, sriracha sauce, hoisin sauce, fish sauce, and soy sauce to make it more flavorful. 
The only chance of gluten getting added to pho is through the condiments. For example, most soy sauce is not gluten free, which may make the dish unsuitable for people avoiding gluten. 
But since most restaurants serve them as side dishes and don't add them while preparing pho, you can easily avoid them. 
Is Pho Vegan?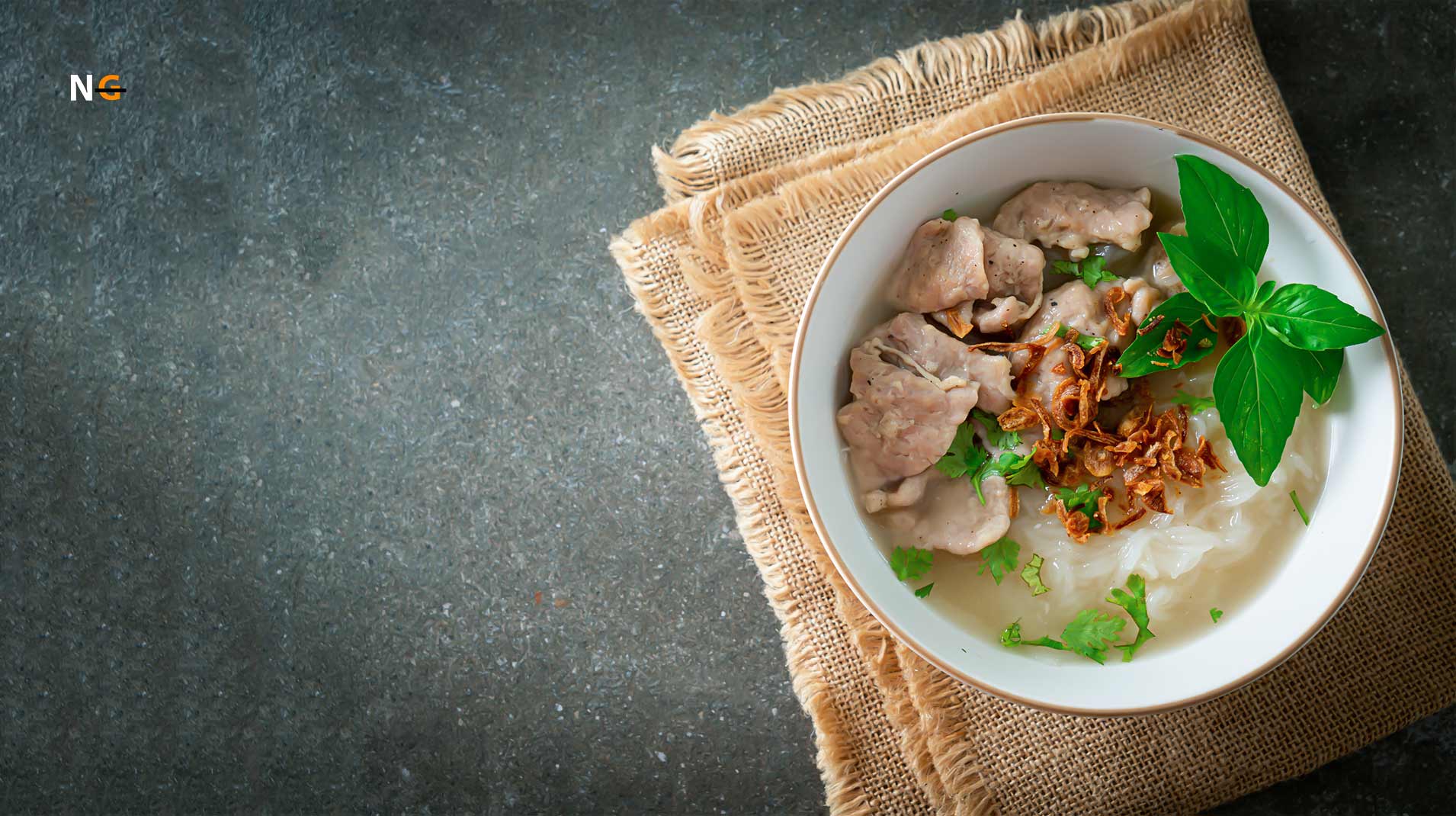 No, pho is not vegan. It's a highly meat based dish served with beef broth and thinly sliced beef pieces. But nowadays, restaurants and food joints have started making vegan pho as well due to the rise of vegan eaters. 
Vegan pho is made with vegetable broth filled with lots of veggies like- mushrooms, beansprouts, carrots, Asian greens, broccoli, sometimes tofu, lots of herbs, and of course the rice noodles. 
I have tried vegan pho, and trust me; it tastes as delicious as the non-vegan one. 
Is Pho Healthy?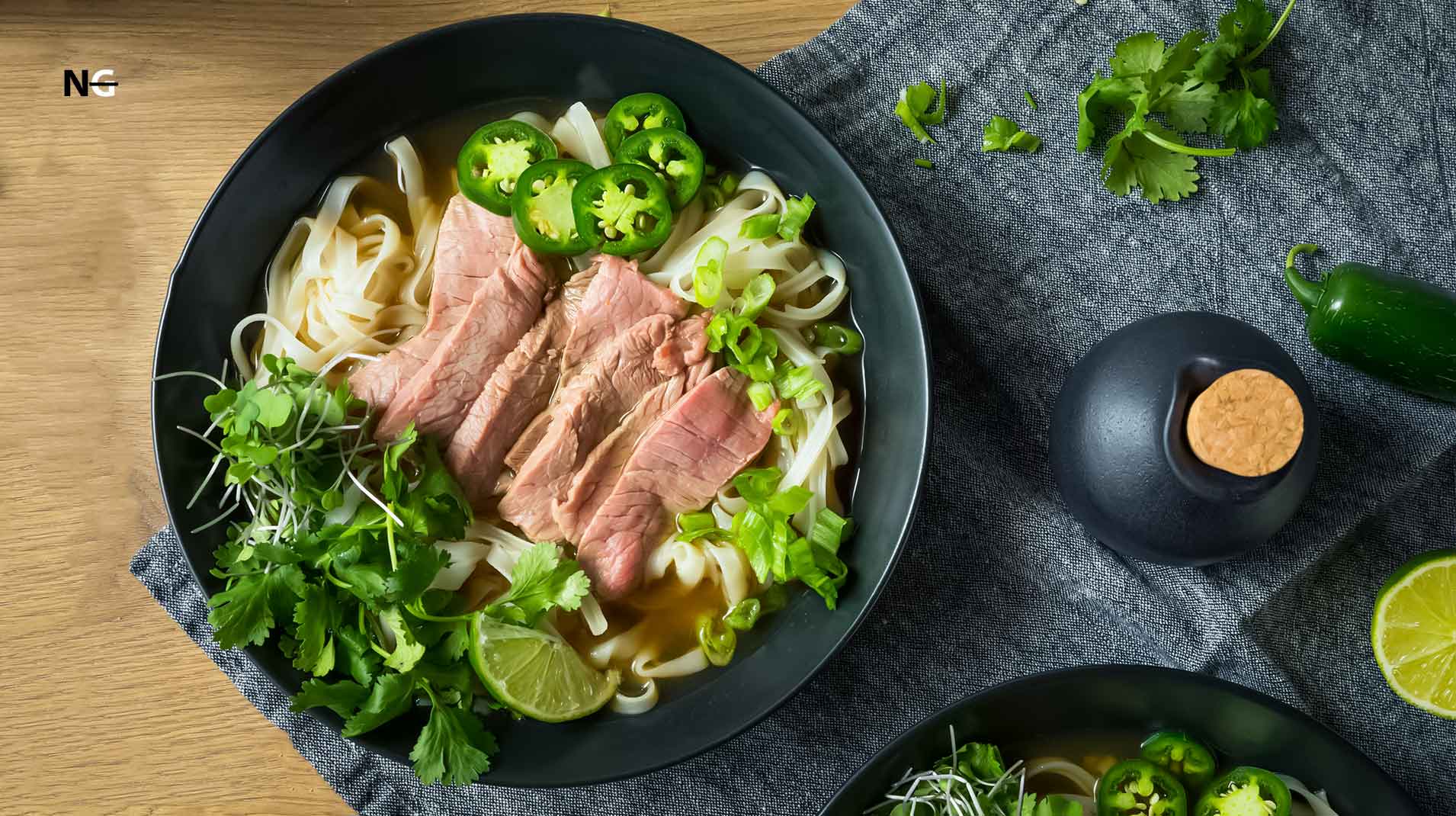 Yes, pho is a healthy dish. It's a high protein recipe with lots of other nutritional benefits. Beef works as a good source of protein. The vegetables are also highly nutritious, and not to forget the spices. 
Spices like ginger are known for their anti-inflammatory properties, and basil, chili peppers, cilantro, etc., are good antioxidants. 
But the dish is served with condiments like- sriracha sauce, soy sauce, and hoisin sauce which are quite high in sodium. Moreover, it's a high calorie dish, so portion control is important. 
Gluten Free Pho Recipe: Delicious, Healthy, And Easy To Make 
You don't need to visit a Vietnamese restaurant whenever you crave a hot bowl of pho. Making this dish in your home kitchen is quite easy and requires ingredients that are almost always there in every household. So let's not delay further and jump right in. 
Gluten Free Pho Recipe: Delicious, Healthy, And Easy To Make 
Course: Soups
Cuisine: Vietnamese
Difficulty: Medium
You don't need to visit a Vietnamese restaurant whenever you crave a hot bowl of pho. Making this dish in your home kitchen is quite easy and requires ingredients that are almost always there in every household. So let's not delay further and jump right in. 

Ingredients
10 pounds of beef bones (mix of meaty and marrow bones)

2 whole garlic

2 Yellow onions

4 Ginger

2 Cardamom pods

2 Cinnamon sticks

6 whole star anise

2 tbsp coriander seeds

2 tbsp fennel seeds

12 whole cloves

4 tbsp Sugar

2 tbsp Salt

⅔ cup Fish sauce ( Thai Kitchen fish sauce is a great gluten free option)

1 pound of Rice noodles

FOR GARNISHING

Thai basil sprigs

Mint leaves

Lime wedges

Red and white onions (sliced)

Scallions

Cilantro

Sliced red chiles

Bok choy

Sliced jalapeno

Sriracha sauce

Hoisin sauce (Wok Mei is one the best gluten free hoisin sauces)
Directions
The first step requires you to blanch the beef bones. To do this, take water in a stock pot, add the bones, cover it and bring it to a boil. After that, let the bones simmer for 15 to 20 minutes. Then drain the bones and rinse with cold water.
Take a large skillet and toast all the dry spices for about 5 minutes until fragrant. Divide the spices in half. Take two small pieces of cheesecloth, keep the divided spices in the center of the clothes, and secure with kitchen twine.
Take water in the stockpot, bring it to boil, and add all the veggies and blanched bones. Also, add the spice sachets, ⅓ cup fish sauce, and 2 tbsp sugar. Once the broth comes to a nice boil, reduce the heat and let it simmer. Occasionally skim excess fat and foam. Let the broth simmer for at least six hours; the longer, the better.
Once the broth is ready, strain it using a mesh strainer. Now add salt, sugar, and remaining fish sauce. Scrap off the meat from the bones and put it back in the broth.
Cook the rice noodles as per package direction. While the noodles are cooking, thinly slice your meat.
When the noodles get ready, take them in a bowl, add the raw sliced meat on top of the noodles and finally add the broth. Garnish with mint leaves, basil, scallions, bok choy, cilantro, jalapeno, etc., and enjoy with your preferred condiment.
Conclusion 
Hopefully, this article helped you know if pho is gluten free or not. Just be careful about the condiments; the rest of the ingredients are safe and fit perfectly in a gluten free diet. 
We'll come up with more interesting posts that'll help you keep up with your gluten free life, so stay tuned. Till then, you can try the gluten free pho recipe I shared. 
FAQs 
Is Pho Dairy Free? 
Yes, pho is dairy-free. No milk, cream, cheese, or butter goes into making pho. 
Are Ramen Noodles Gluten Free?
Authentic ramen noodles are not gluten free as they are wheat-based. But owing to the gluten sensitivity among people, commercial makers have started introducing gluten free substitutes to ramen noodles. 
Is Pho Soy Free? 
Soy sauce is a common condiment in pho, along with other chili based and spicy sauces. 
Does Beef Pho Have Gluten?
Beef pho does not have gluten. All ingredients used while making the broth and the final recipe are gluten free but just be careful of the soy sauce.