While butter and chicken individually are free from gluten, most people assume that butter chicken is also gluten free. However, this is not entirely true, as the recipe contains other ingredients as well, which may bring in the gluten element, making it unfit for celiacs. 
Is butter chicken gluten free? Yes, butter chicken is gluten free if prepared using the traditional recipe and kept protected from cross-contamination. 
In this article, we'll discuss when is butter chicken gluten free and how you can enjoy this savory dish without any health risks. 
When is Butter Chicken Free from Gluten?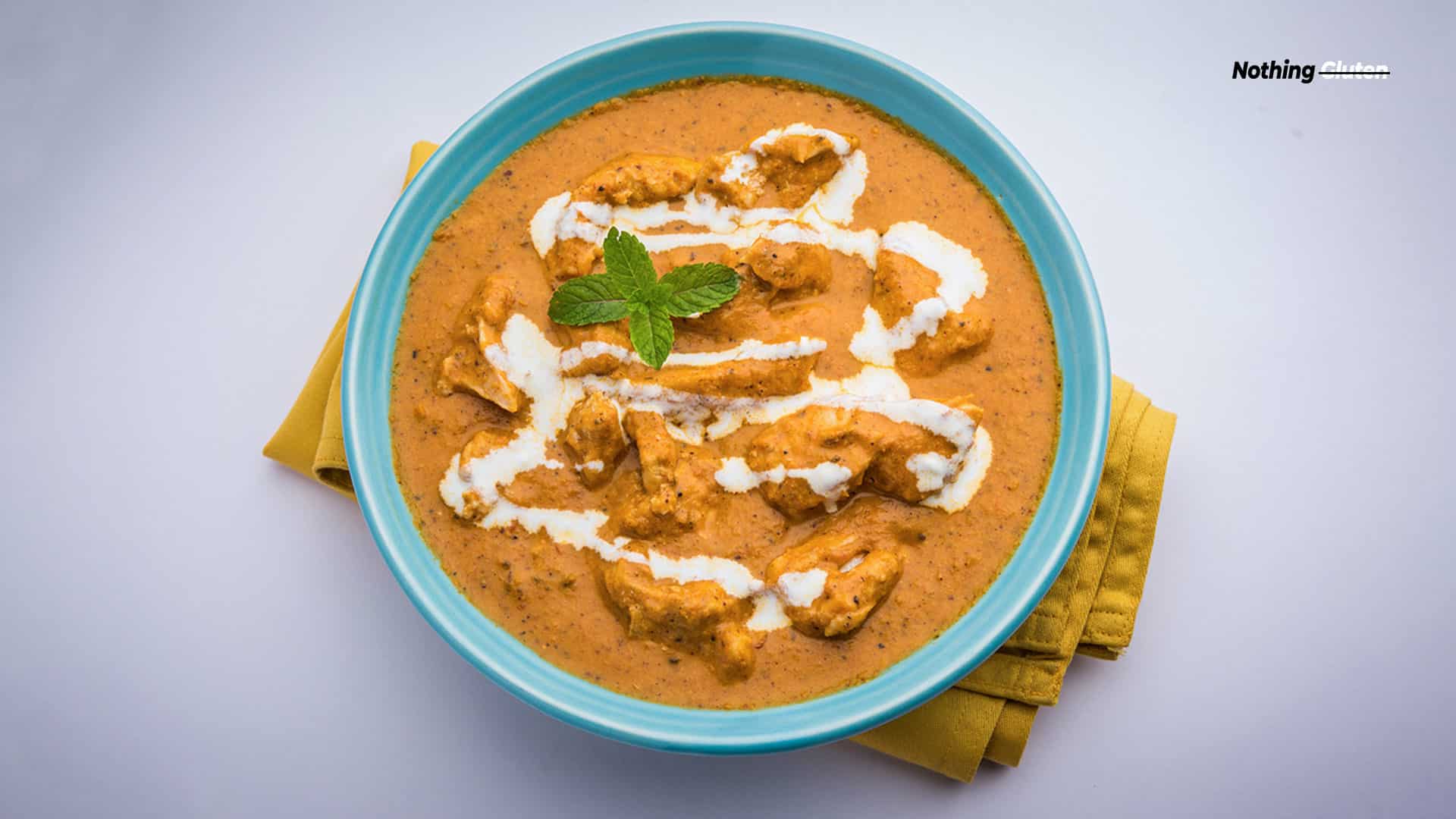 Butter chicken, in its traditional form, does not typically contain gluten. The primary ingredients of butter chicken include chicken, yogurt, spices, and a rich tomato-based sauce. These ingredients are generally free from gluten and are safe for celiacs. 
Note: Always be sure about the butter chicken you're having because the risk of cross-contamination is high, especially in restaurants. If possible, try to prepare it at home by following the recipe discussed later in this article.
When Does Butter Chicken Contain Gluten?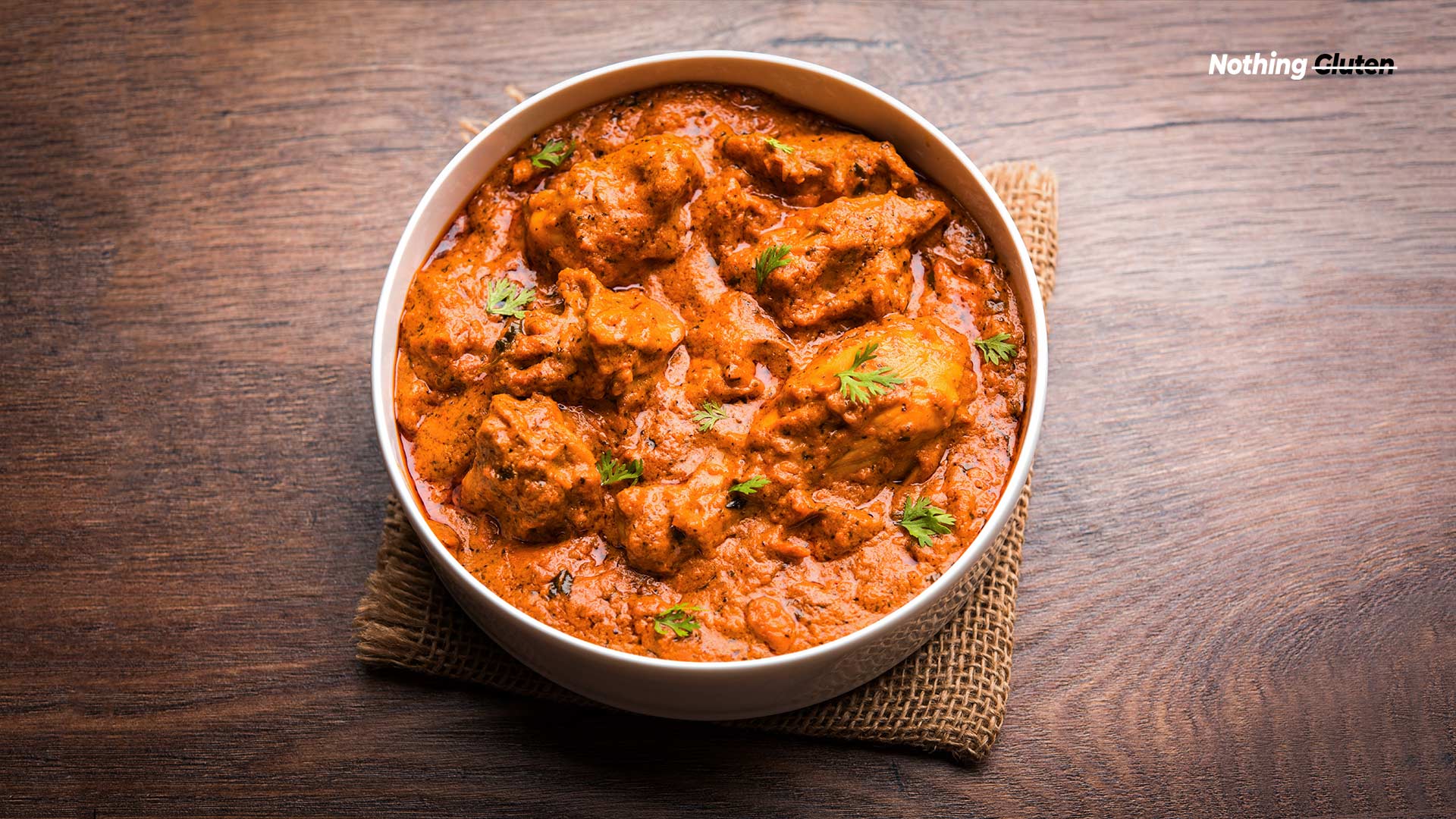 There are certain situations when the chicken prepared in butter gravy is not gluten free. Below I've explained a few of them to help you stay away and aware. 
1. Variations in Recipes
Different chefs and restaurants may have unique twists on the butter chicken recipe. Some variations may include ingredients or additives that contain gluten. 
It's always a good idea to check with the chef or restaurant staff about the specific ingredients used in their butter chicken preparation.
2. Thickening Agents
While traditional butter chicken does not require thickening agents, some recipes or restaurant preparations might use ingredients like flour or wheat-based thickeners to achieve a particular consistency. These additions can introduce gluten into the dish.
3. Sauces and Marinades
Pre-made sauces and marinades for butter chicken can sometimes contain gluten as a hidden ingredient. It's important to read labels carefully or inquire about the ingredients used in store-bought or pre-packaged sauces to ensure they are gluten-free.
4. Cross-Contamination
It can occur in kitchens where gluten-containing ingredients are present. For example, if utensils, cookware, or surfaces are shared between gluten-containing dishes and butter chicken, it can lead to traces of gluten in the final dish. 
Is Butter Chicken Dairy Free?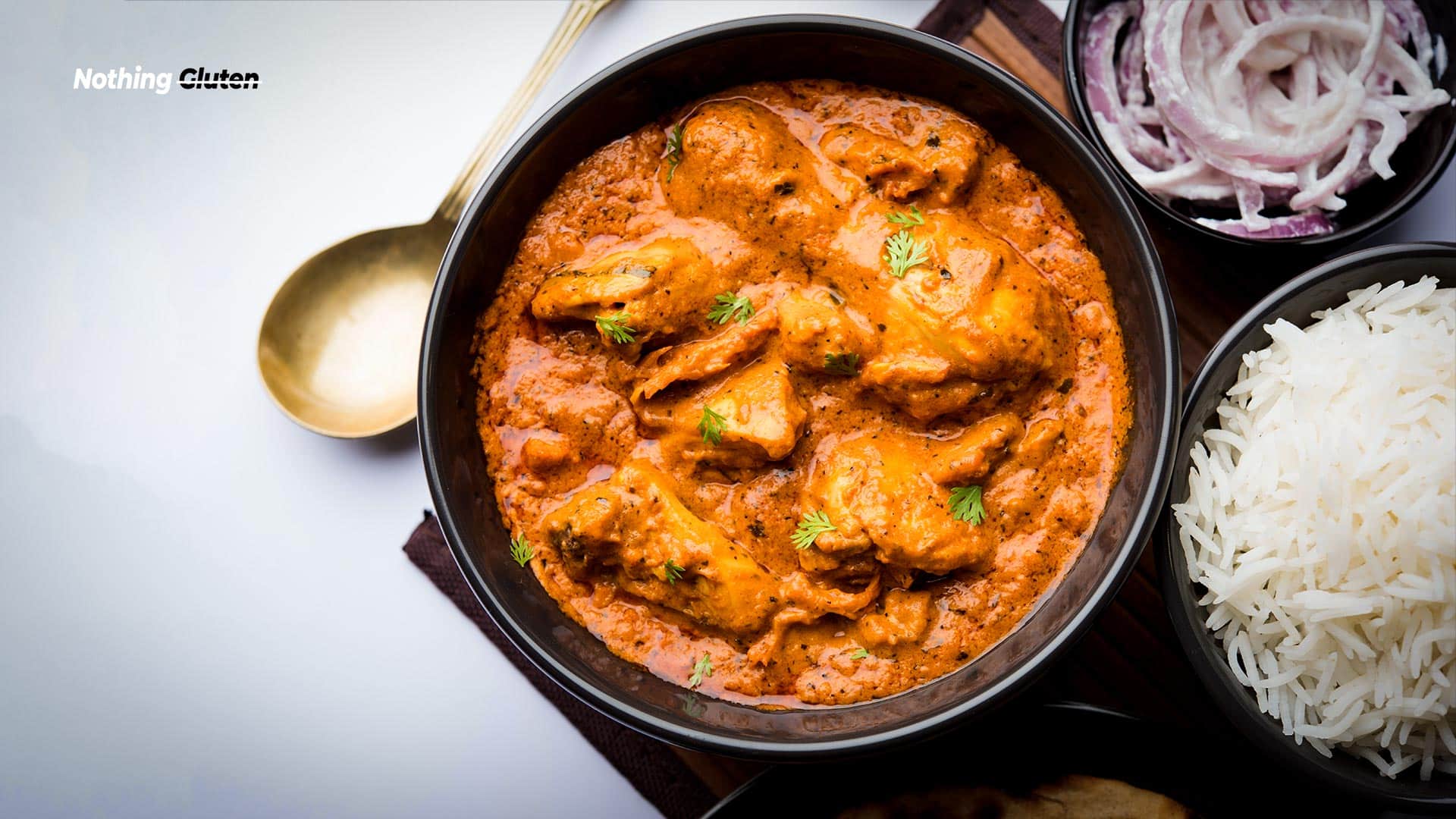 After chicken, the primary ingredient in butter chicken is "butter," meaning it is not dairy-free. However, that should not stop you from having this amazing dish, as you can prepare it with vegan butter. 
There are plenty of substitutes for butter, and you can try them to prepare butter chicken if you do not prefer eating dairy. 
Because this might not be a thing at most restaurants because the butter they use is not vegan-friendly and contains dairy. 
Is Butter Chicken Sause Gluten Free?
The gluten-free status of butter chicken sauce can vary depending on the specific recipe and brand. Most brands follow the traditional method to prepare the cause, and no gluten is present in them.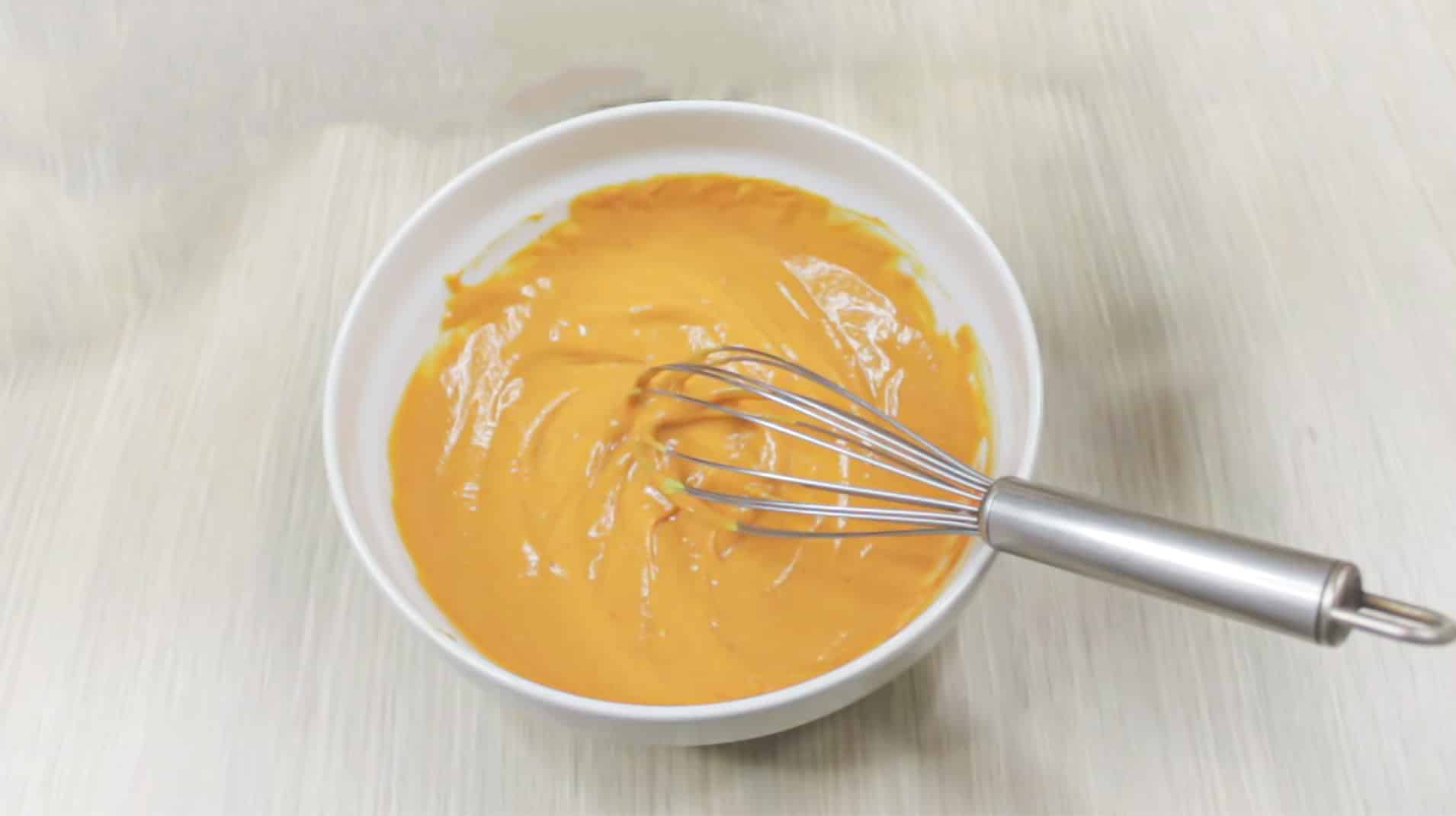 If you don't want to prepare the sauce at home or you don't have the time for it, you can purchase pre-made sauces. Below I have listed some gluten-free butter chicken sauces you can use. 
Now you can prepare delicious butter chicken within minutes with this amazing paste. The box has gluten free mentioned on it, and you don't have to think twice before adding it to your celiac menu. 
I recommend a naan or a roti (flatbread) to enjoy the richness of butter chicken made with this paste. (Read if naan is gluten free or not)
Although the gluten status is not mentioned anywhere on the packaging, the list of ingredients indicates that this butter chicken curry is free from gluten. The primary ingredients are tomatoes, cream, and onions, which are traditionally used in preparing butter chicken.
Also, there are no preservatives and additives, making this butter chicken kit a healthy alternative to other options. 
Here's another gluten free butter chicken sauce that makes the preparation easier and stress-free. The smooth gravy almost feels like what you have in restaurants. Because the sauce contains milk, it is not an ideal choice for vegans.
Gluten-Free Butter Chicken Recipe. Yammy!
Course: Main
Cuisine: Indian
Difficulty: Medium
While a pre-made sauce is a great thing to prepare butter chicken quickly, you might miss the freshness of the tomato puree and the spices. 

But worry not, as you can follow this fantastic gluten free butter chicken recipe to prepare it at home without worrying about gluten and adding preservatives to your body.
Ingredients
1.5 pounds (680g) of boneless, skinless chicken thighs cut into bite-sized pieces

1 cup plain yogurt (make sure it's gluten-free)

2 tablespoons lemon juice

2 teaspoons ground cumin

2 teaspoons ground paprika

1 teaspoon ground turmeric

1/2 teaspoon ground cinnamon

1/2 teaspoon cayenne pepper (as per your preference)

4 tablespoons unsalted butter (use a gluten-free brand)

1 large onion, finely chopped

1 teaspoor Dutch oven on ground coriander

4 cloves garlic, minced

1-inch piece of fresh ginger, grated

1 can (14 ounces) diced tomatoes

1 cup heavy cream (ensure it's gluten-free)

Salt, to taste

Fresh cilantro for garnish
Directions
In a large bowl, combine the yogurt, lemon juice, ground cumin, ground paprika, ground turmeric, cayenne pepper, ground coriander, and ground cinnamon. Mix well. Add the chicken pieces to the bowl and coat them with the marinade. Let it marinate for at least 1 hour in the refrigerator.
In a Dutch oven or a large skillet, melt the butter over medium heat. Add finely chopped onion and cook until it becomes lightly browned, about 5-6 minutes. Stir in the minced garlic and grated ginger, and cook for an additional 1-2 minutes.
Add the marinated chicken to the skillet, including any remaining marinade. Cook the chicken until it is browned on all sides, about 5-7 minutes.
Pour in the diced tomatoes, including their juices, and stir well to combine. Reduce the heat to low, cover the skillet, and simmer for about 20 minutes or until the chicken is cooked through and tender.
Stir in the heavy cream and season with salt to taste. Simmer for an additional 5 minutes to allow the flavors to meld together.
Remove the skillet from the heat and garnish with fresh cilantro.
Serve the gluten-free butter chicken with gluten-free naan bread or over over steamed rice.
Is Butter Chicken Healthy?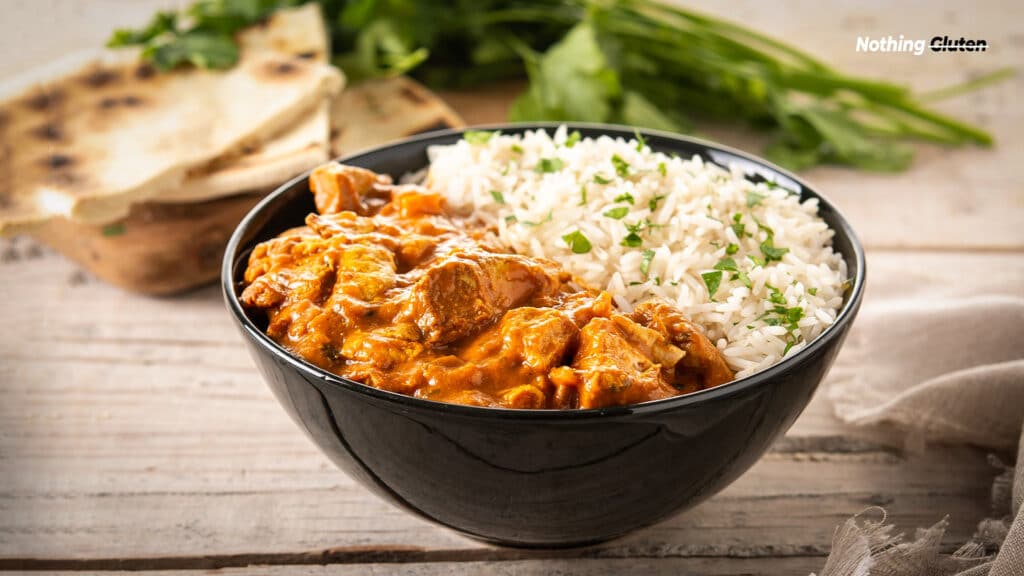 Although butter chicken is a flavorful and indulgent dish, it's not typically considered a "healthy" dish in the traditional sense. There are several reasons most people don't consider butter chicken as healthy such as high fat and calorie content. 
Does that mean you should avoid having this dish as a whole? No! You can enjoy having butter chicken, but there are some things to keep in mind. 
Always be mindful of the portion you are having. Additionally, consider the choice of accompaniments, such as rice or naan bread, because they can also impact the overall nutritional value of the meal.
FAQs
Q: Does butter chicken contain flour?
A: Flour is not a common ingredient in butter chicken. However, some versions of butter chicken contain flour, and that may induce gluten to the dish. 
Q: Is chicken korma gluten free?
A: The traditional recipe is gluten free. The primary ingredients of this dish are similar to butter chicken. 
Q: Is butter chicken spicy?
A: Butter chicken is usually not spicy but a creamy and slightly sweet dish with mild spiciness. 
Conclusion 
Now that you know butter chicken is gluten free, you can enjoy its flavor in every bite. If you 
are planning to visit your favorite restaurant to have butter chicken, make sure to instruct them about your gluten preferences.
Stay tuned with us to know the gluten status of your favorite foods and explore amazing celiac-friendly recipes.