If you are one of those who love the crispy and flavorful goodness of pakora, adhering to a gluten-free lifestyle can sometimes feel limiting.
The fear of consuming gluten unknowingly can put a damper on your joy of indulging in your favorite snacks. And you might wonder, is pakora gluten free? 
Pakoras are usually gluten free. Traditionally, they are made with chickpea flour (besan), veggies, and some spices which don't contain gluten particles. However, if you're ordering pakoras at a restaurant or buying pre-made ones, make sure to inquire about the ingredients. They may contain ingredients that have gluten. 
Let's explore more about the ingredients, cooking process, and potential risks of eating pakoras if you're gluten intolerant. 
Do Pakoras Have Gluten?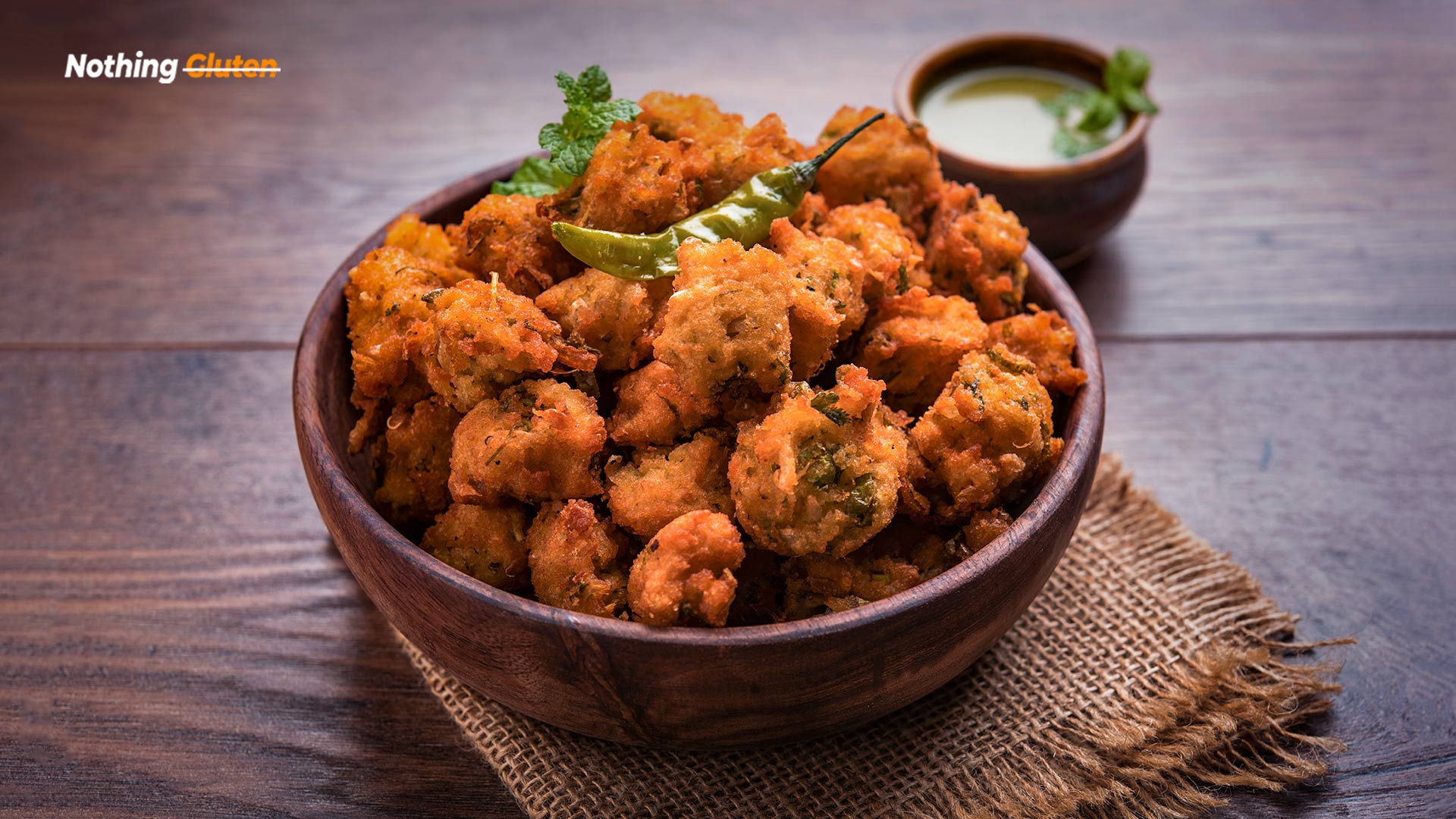 No, pakoras don't have gluten. This traditional Indian snack is made by making a thick batter of gram flour with onion, cabbage, bell paper, chilies, and a couple of other veggies along with some spices and deep fried. 
None of these ingredients contain gluten, so gluten-sensitive or celiacs can enjoy pakoras without worrying about gluten side effects like allergy, headache, nausea, etc.
Having said that, you need to consider a few factors that could contribute to the presence of gluten in pakoras. 
Cross-contamination is a common risk in pre-made or frozen pakoras, especially if pakoras are prepared in facilities that also handle gluten-containing products. Shared equipment and utensils induce the risk of gluten contamination in pakoras which is dangerous for people dealing with the issue. 
Another risk with packaged pakoras is that they contain additives and preservatives, which could potentially have gluten. Therefore, only go for products that clearly have gluten-free labels and, while ordering them at a restaurant, enquire about the ingredients used. 
What Are Pakoras? How Many Types Are There & Which are Gluten Free?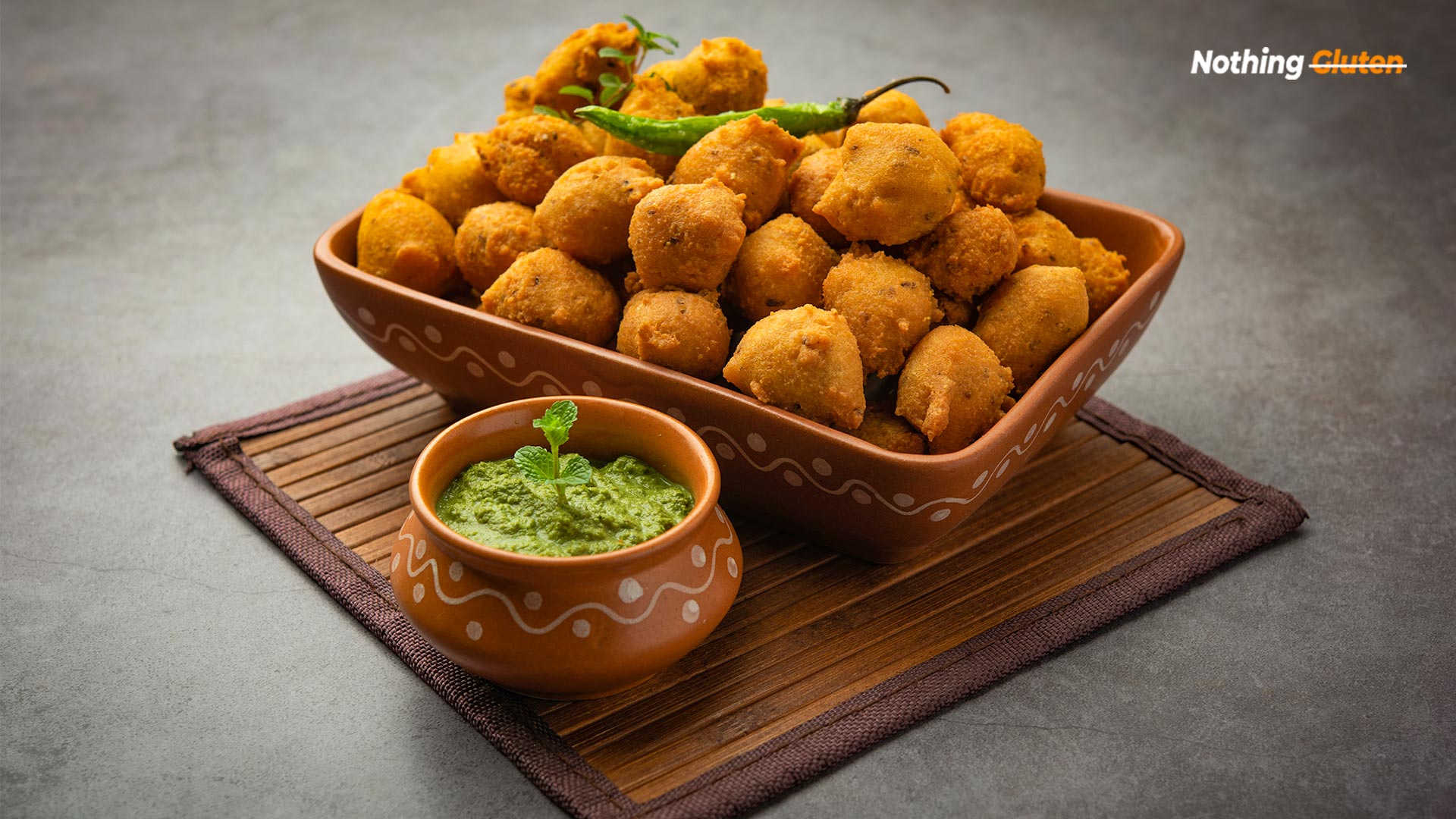 Pakoras are a type of vegetable fritter that originated in the Indian subcontinent. It's a popular snack made in almost every Indian household and also sold by street vendors and restaurants. 
These fritters are made by dipping ingredients such as vegetables into a spiced batter and then deep frying them until crispy and golden. 
There are different types of pakoras including: onion bhaji, chicken and paneer pakoras, potato pakora, spinach pakora, etc. and their gluten status varies greatly depending on the ingredients used. 
The traditional method uses chickpea flour and some common spices like cumin, black paper, coriander powder, and salt. Thus making them safe for celiacs. 
But as I said previously, be careful about the ones served at restaurants, street food stalls or pre-made packages. These may contain hidden ingredients including gluten. 
Are They Healthy?
Deep-fried pakoras are not healthy. Even though vegetable pakoras are rich in fiber, they are deep fried meaning they absorb a lot of oil. The oil adds a significant amount of fat in pakoras so they are not the ideal food for weight loss, heart health, and diabetes. 
Gluten Free Pakora Brands
You can check out these gluten free pakora brands that are free from wheat and similar gluten ingredients: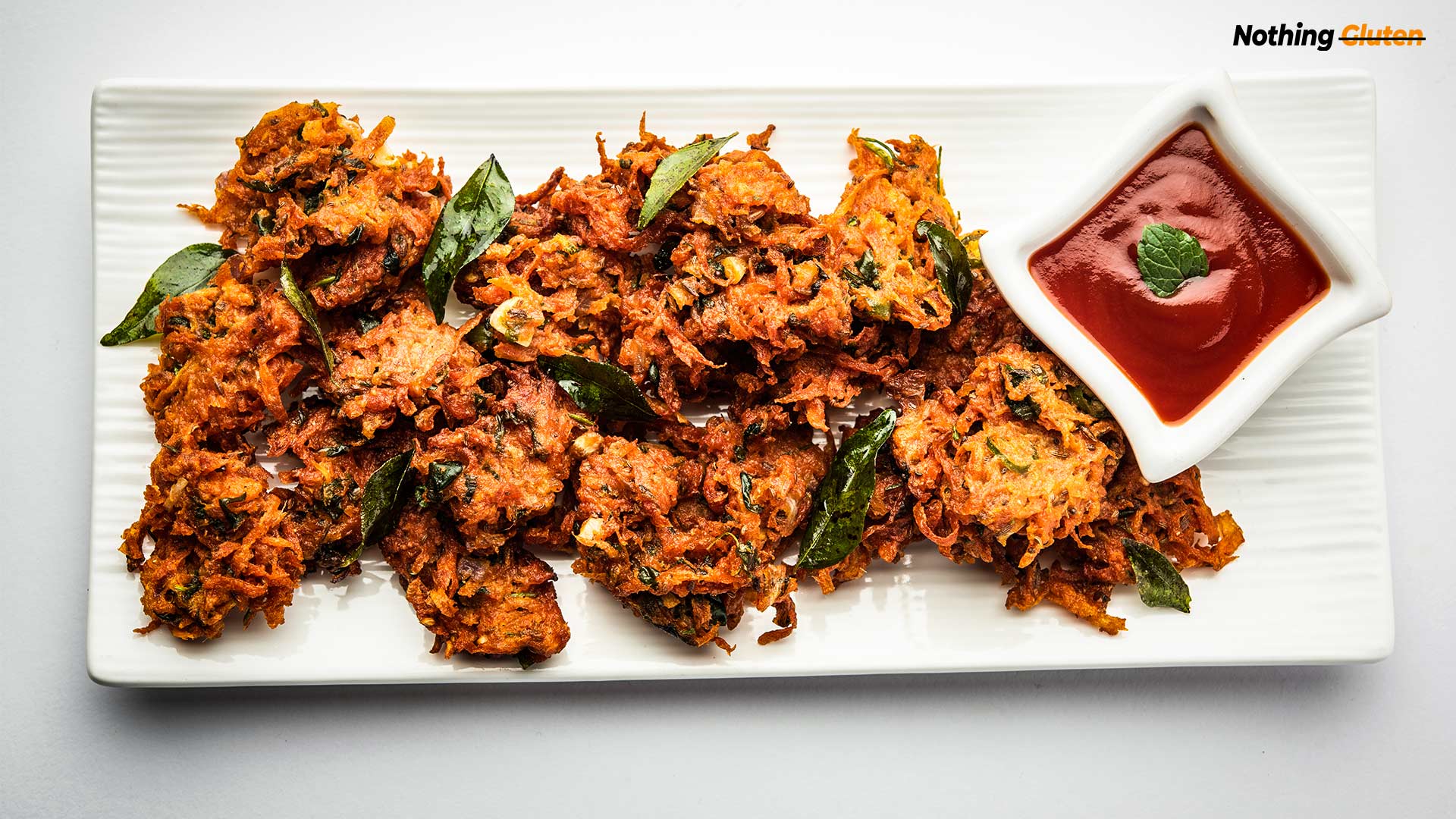 Gits pakora mix is made from 100% gluten free ingredients, is vegetarian, and contains no artificial colors or preservatives. Simply mix the flour with some water, deep fry, and they are ready to eat. 
Amy's Indian inspired vegetables pakoras are safe for celiacs. These pakoras are made with chickpea flour, cauliflower and potato stuffing along with some Indian spices to bring that authentic taste. 
Is Pakora Vegan?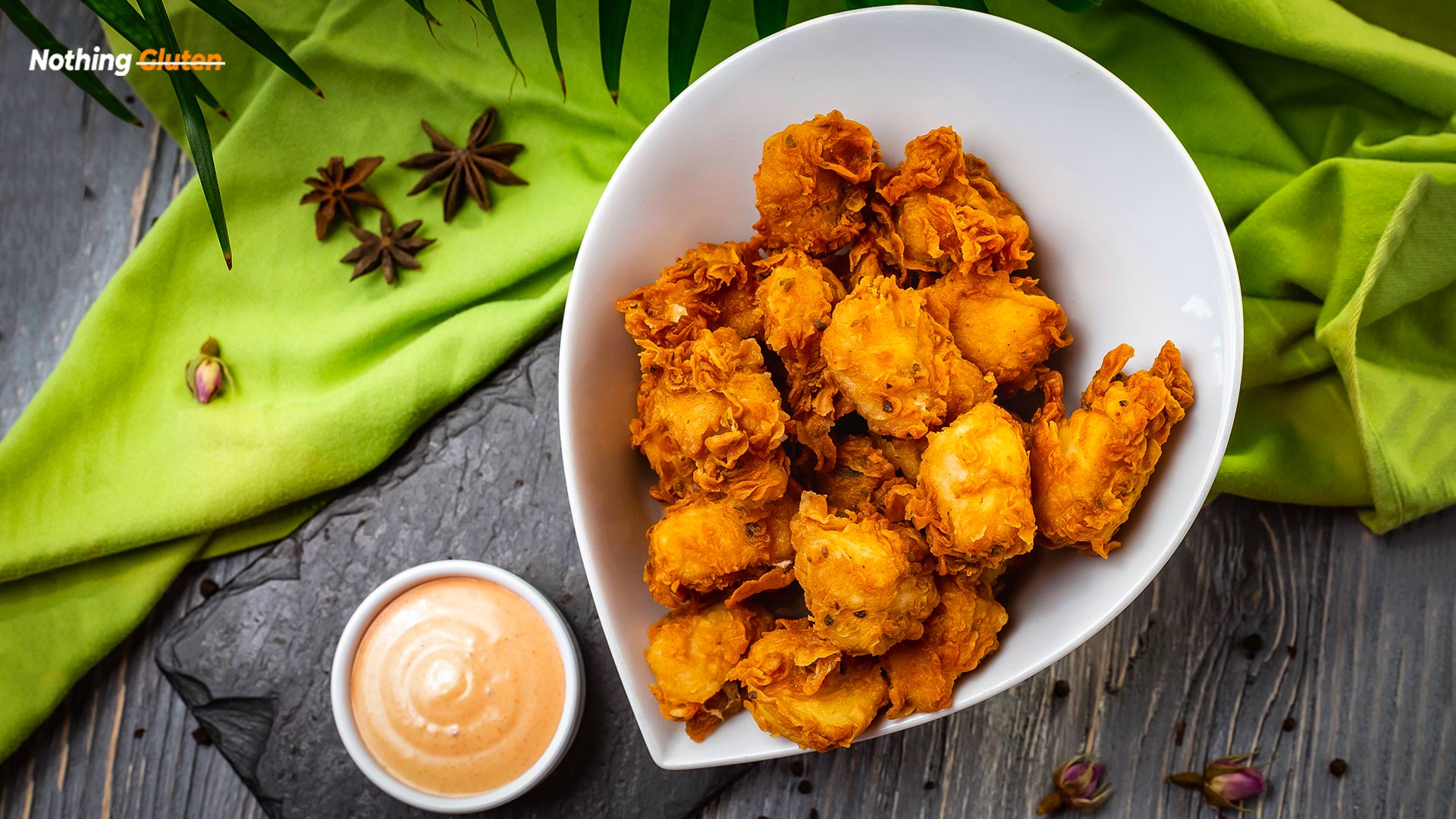 Pakoras can be vegan depending on the ingredients used and choice of the filling. The basic pakoras made with chickpea flour, spices, and onion are vegan. They only contain plant-based ingredients, making them a vegan-friendly snack. 
But since vegans don't consume animal derived products, chicken or other meat-based pakoras are not vegan. Also, some prefer to fry pakoras in ghee (clarified butter) making them unsuitable for vegan consumption. 
Gluten-free Pakora Recipes: Enjoy the Golden Fritters at Home
The best way to enjoy pakoras without worrying about a gluten allergy is making them at your home kitchen. This delicious snack requires only a few ingredients and gets ready quickly. 
Here are a couple of gluten free pakora recipe you would love trying your hands on: 
#1. Palak Pakora Recipe (Spinach Fritters) 
Ingredients 
Method 
Mix all the spices and chickpea flour. Then add the chopped spinach, water and mix well. The batter should have a thick consistency. 
Heat oil in a pan on medium heat and add small balls of the batter into the oil. 
Turn over the pakoras after a couple of minutes and let the other side cook thoroughly. Transfer them to a plate once they get golden brown. 
Have them with ketchup or chutney! 
#2. Mix Veg Pakoras
Ingredients 
A bowl of finely chopped mixed vegetables (carrots, cabbage, bell peppers, beans, onion, cilantro) 
1 tsp minced garlic and ginger 
2 finely chopped green chilies 
1 tsp salt (adjust as per taste) 
1 tsp cumin powder 
½ tsp garam masala 
½ cup chickpea flour 
⅓ cup rice flour 
Method 
In a large bowl mix all the vegetables and salt and set aside for 10 minutes. 
Take another bowl and add chickpea flour, rice flour, garam masala, and cumin powder and whisk together. 
Squeeze the salted vegetables well and then add the dry flour mixture. Water released by veggies should be enough to make a sticky dough. If it is too dry, add 1-2 tablespoons of water. Mix everything well. 
Heat oil in a pan on medium heat. Add small balls of the mixture and fry from both sides until golden brown. 
Transfer them to a plate, and serve hot. 
Which Is The Best Gluten-Free Oil To Fry Pakoras?
Oils with a high smoking point are the best to fry pakoras. I prefer using canola, sunflower, or peanut oil for my pakoras. They give them a nice crisp while enhancing the flavors. 
FAQs
Does Chicken Pakora Contain Gluten?
No, freshly made chicken pakora does not usually contain gluten. Be careful about the frozen and pre-packaged ones. They have cross-contamination risks and may contain ingredients with gluten. 
Is Pakora Dairy Free?
Yes, pakora is dairy-free unless they are made in ghee. 
Does Pakora Chutney Contain Gluten?
No, pakora chutney does not contain gluten. The chutney or the dip is made by mixing some herbs, spices, and sometimes curd, therefore, they don't have gluten ingredients. 
Are street food pakoras gluten free? 
Street food pakoras may or may not be gluten free. Food stalls often use wheat flour as a cheaper alternative to chickpea flour, making pakoras unsuitable for gluten allergic people.
Conclusion 
Freshly prepared homemade pakoras are gluten free and safe for individuals with gluten intolerance. If you're craving a hot plate of pakoras from a food stall, enquire which flour they use for the batter. 
If you're getting frozen or pre-packaged pakoras, best to go for brands with a gluten free label. You can check out my recommendations for the same, or try making them whenever you get a pakora craving!