If you are a big foodie, you already know what tempeh is. Well, it's a cake-like thing made with fermented soybeans and vinegar that tastes best when stir-fried. However, a common question we often get about tempeh is whether it's gluten free or not. What is the gluten status of tempeh? 
Traditional tempeh is gluten free because it requires two ingredients: soybean and vinegar. But commercial makers add barley or wheat apart from these two ingredients that add gluten in tempeh.
But not all brands add gluten grains, so there are options for celiacs as well. Keep reading this article to learn how to find hidden gluten in tempeh and choose the right one for you. 
Is Tempeh Gluten Free? How Gluten May Get Added In Tempeh?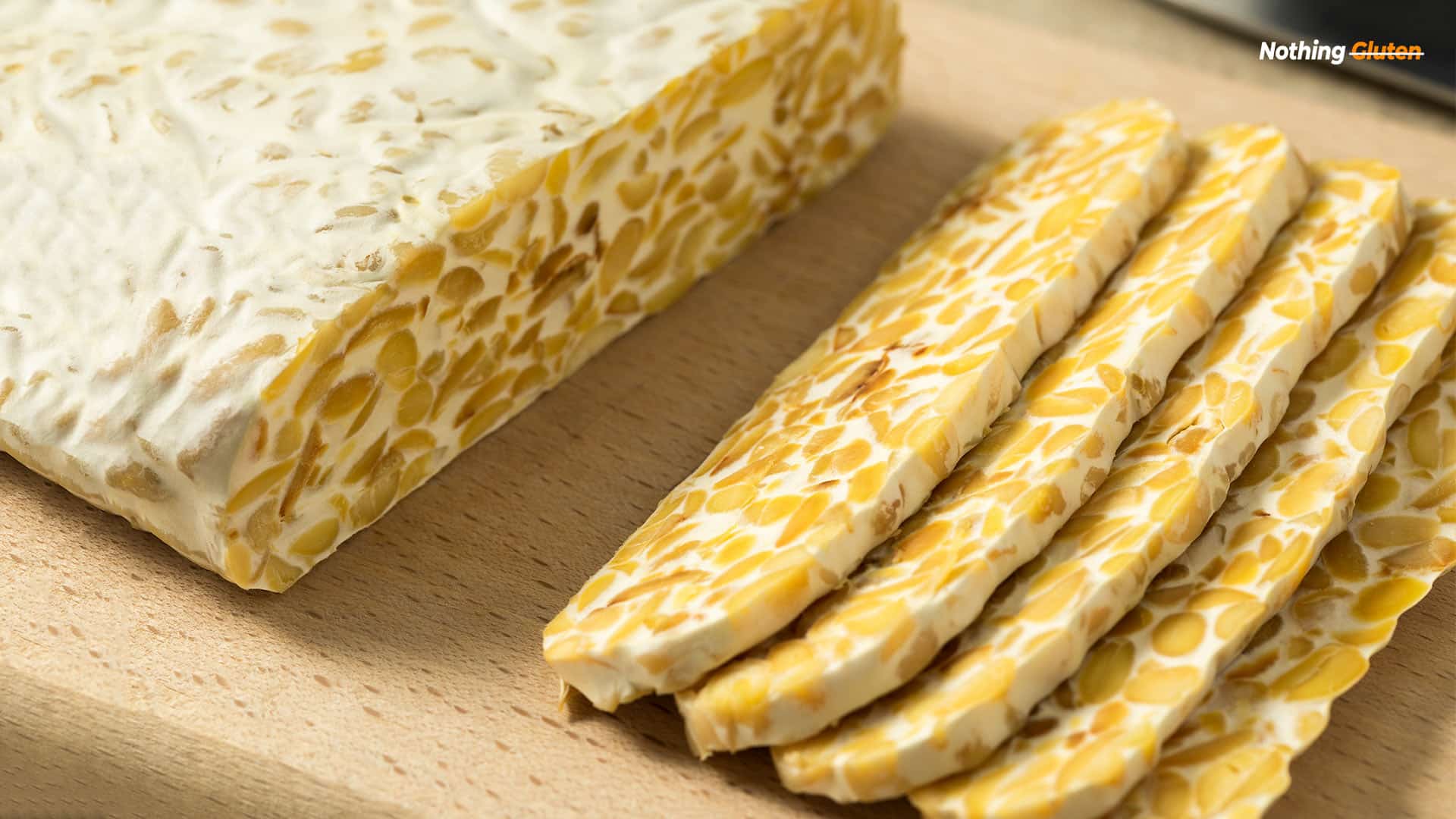 Traditional tempeh is gluten free. The authentic recipe does not require any gluten substance like wheat or barley; hence it is also free of gluten. But due to the increasing demand for tempeh, commercial makers have started adding other ingredients that put the gluten status in confusion. 
For instance, some use multigrain paste that includes barley and wheat too. We are well aware that barley/ wheat is not suitable for celiacs or anyone having issues digesting gluten. 
Therefore, while getting ready-made tempeh, check the ingredient label to check if the makers have added any gluten related ingredients. You can also make gluten free tempeh at home, which is the best way to avoid gluten without even the slightest risk of cross-contamination. 
What Is The Traditional Tempeh Recipe? What Are Its Key Ingredients?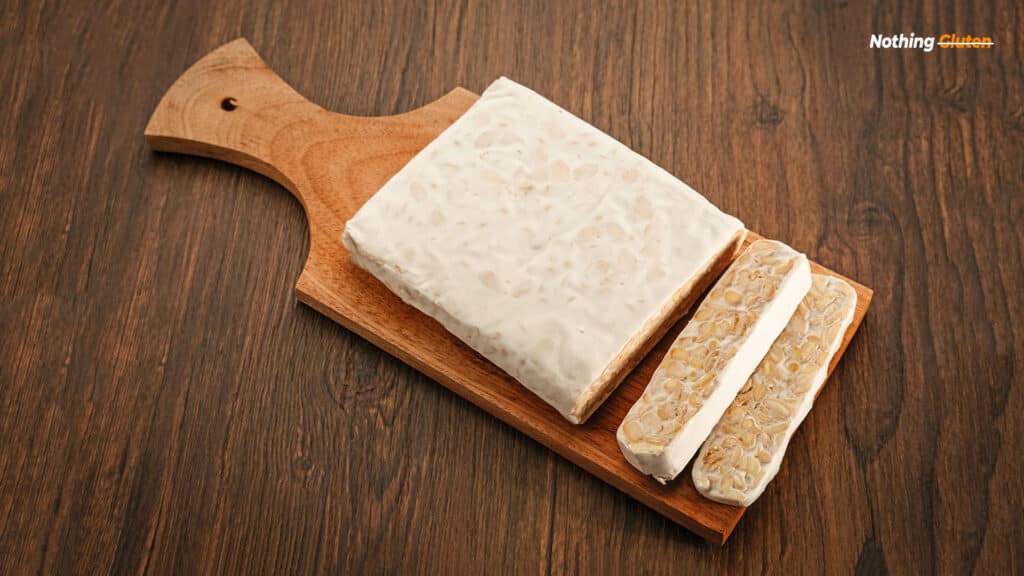 The key ingredients in traditional tempeh are fermented soybeans and vinegar. Soybeans are soaked and then cooked. The process is followed by squeezing excess water and pressing it into molds to get that brick-like shape. 
When ready, makers cut tempeh into small pieces. The texture is quite similar to tofu, and tempeh can be a great replacement for meat in any dish. You can add it to stir-fries or curries, and it tastes just divine. 
Is Tempeh Healthy & Vegan?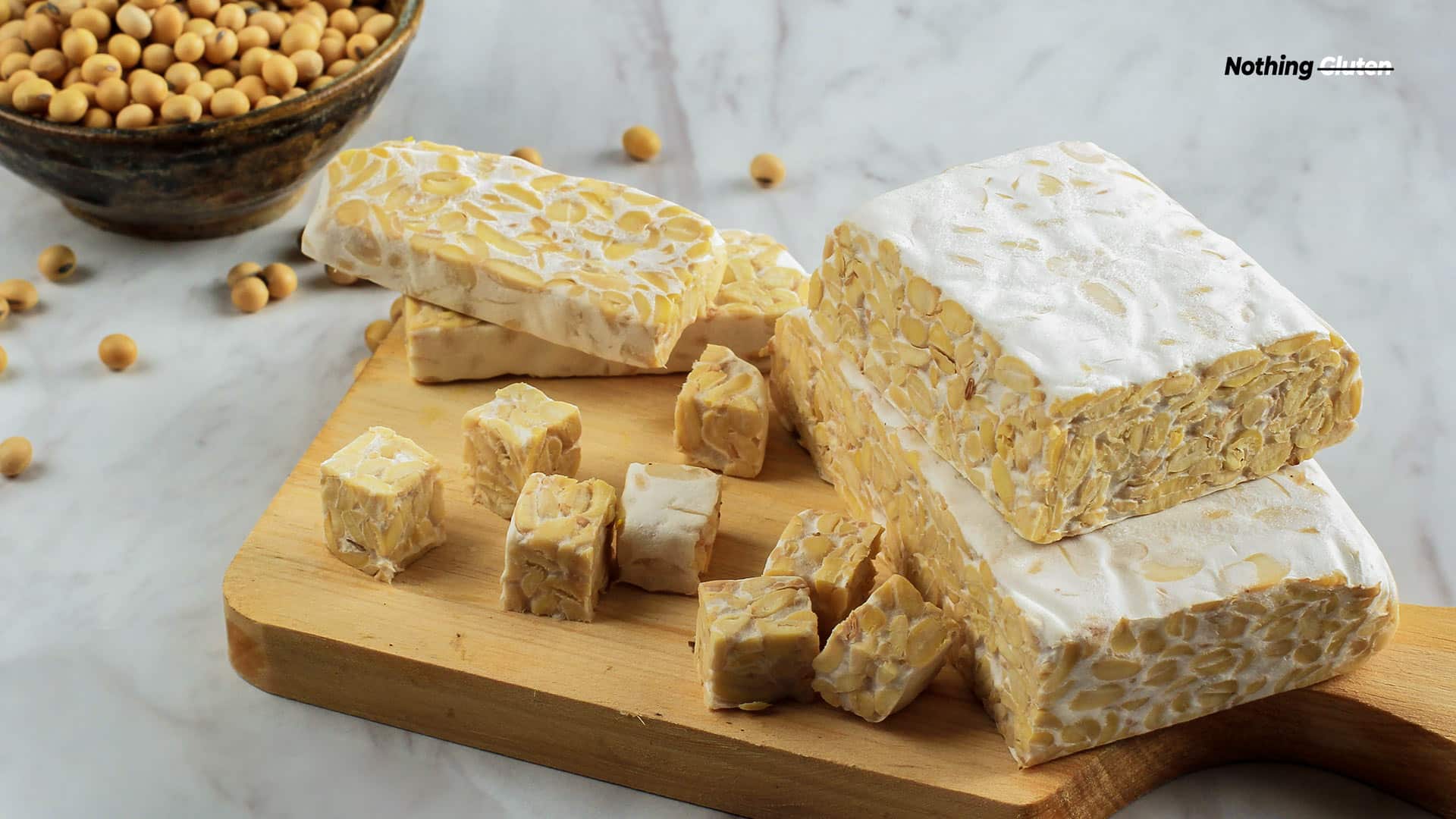 Tempeh is healthy food to add to your diet. It's a great source of plant-based protein, so if you are vegan, you can eat tempeh to meet your protein requirement. 
Tempeh is also rich in vitamin B12 which contains all the nine essential amino acids. It has no cholesterol and contains fiber, iron, calcium, and other essential vitamins. That's not it; tempeh has isoflavones, a chemical with antioxidants and cancer fighting properties. 
Three ounce tempeh contains (source)- 
| Nutrient | Amount per 3 oz tempeh | % of Recommended Daily Intake (RDI) |
| --- | --- | --- |
| Calories | 162 | N/A |
| Carbs | 9 g | 3% |
| Protein | 15 g | 30% |
| Total fat | 9 g | 14% |
| Sodium | 9 mg | 0.4% |
| Calcium | 9% of RDI | 90 mg |
| Iron | 12% of RDI | 2.2 mg |
| Niacin | 12% of RDI | 1.9 mg |
| Riboflavin | 18% of RDI | 0.25 mg |
| Magnesium | 18% of RDI | 78 mg |
| Manganese | 54% of RDI | 1.2 mg |
| Phosphorus | 21% of RDI | 147 mg |
Check Out These Gluten Free Tempeh Brands: Safe & Healthy 
To ease your search for finding gluten free tempeh, I have curated this exclusive list. Check out the brands mentioned below that sell gluten free tempeh. But remember that even though these companies make gluten free tempeh, they may not be an entirely gluten free brand, so read the ingredient label while buying.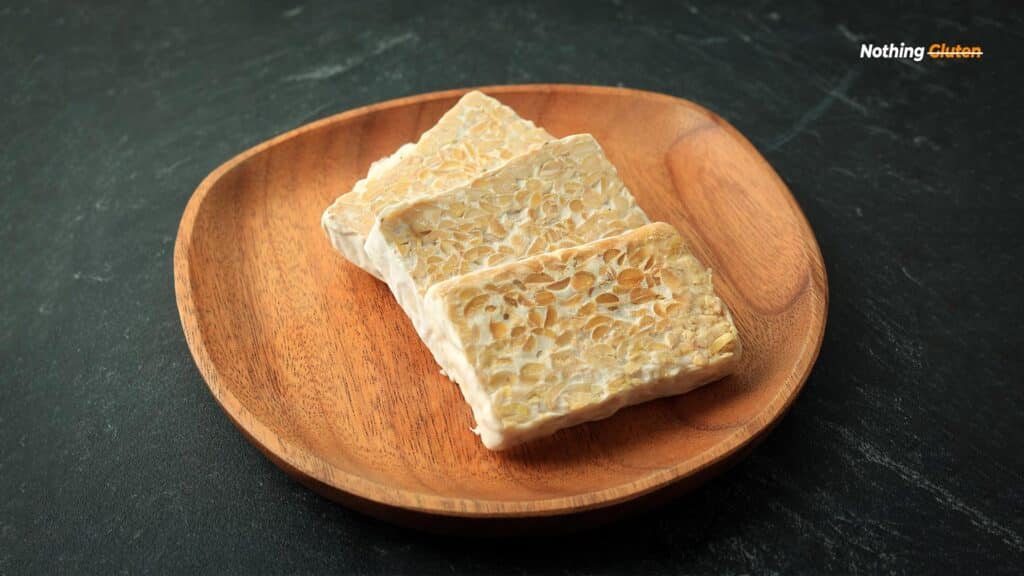 Smiling Hara makes authentic tempeh using soybeans, brown rice flour, hemp seeds, Culture, lactic acid, wheat free tamari, ginger juice, lime juice, white miso, and cane sugar. 
Noble Bean also claims to make gluten free, vegan, and protein-rich tempeh. They have different tempeh varieties like- quinoa & sesame, 3-grain tempeh, original soy soya, sea vegetables and Aux Algues. 
Rhapsody Natural Foods tempeh is another safe choice for celiacs. They use the traditional recipe and make tempeh using only fermented soybeans. There are also different tempeh varieties like- Original tempeh, BBQ tempeh, and Teriyaki tempeh. 
Another popular gluten free tempeh brand is Hearty Vegan. Their products are also 100% organic, and all ingredients are non-GMO. Their range of tempeh includes- Soy tempeh, Black Eyed Pea tempeh, Texas Tempeh Sausage (mild & spicy), Garbanzo Tempeh, and Tempeh Salad. 
Let's continue the list of gluten free tempeh with this Soy Boy USDA organic tempeh. It has no preservatives, artificial flavors, trans fat, and is also low in cholesterol, sodium, and kosher certified. Soy Boy offers two varieties- 5 Grain tempeh and Soy tempeh. 
Check Out This Delicious Tempeh Recipe  
Yes, you can definitely make gluten free tempeh at home. Here is the ingredient list and the recipe for the same.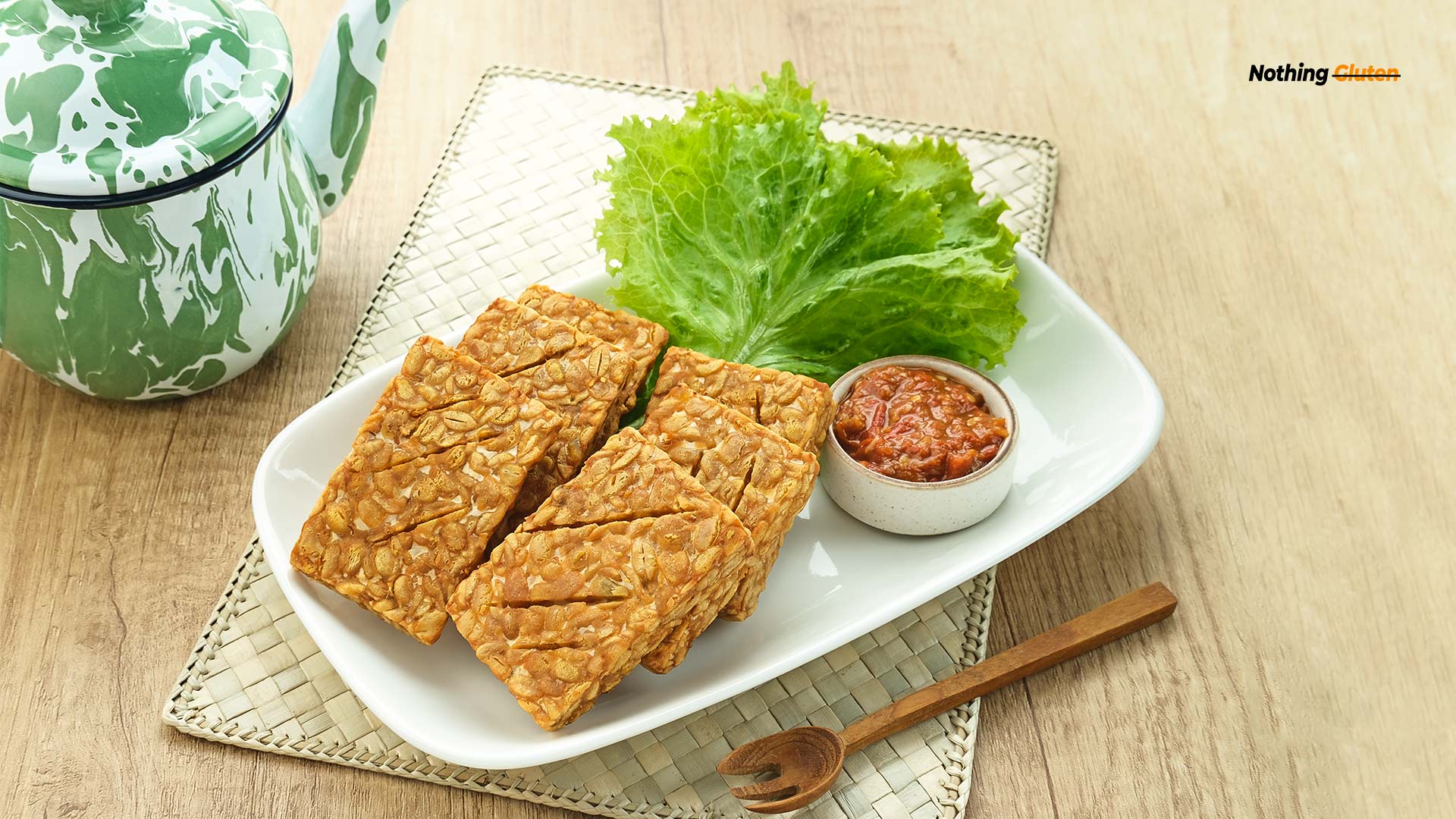 Ingredients 
Method 
Step one 
Slice the tempeh into small pieces and place them into a steamer basket. Take one inch of water in a pot and set the tempeh over it. When the water starts simmering, cover the lid and let the tempeh steam for ten minutes. 
Step two 
In a bowl, mix vinegar, tamari, maple syrup, sriracha, olive oil, and black pepper. When the tempeh pieces get tender, place them in a dish and pour the sauce mixture. Make sure to coat each piece nicely and marinade for at least thirty minutes. 
Step three 
Preheat the oven to 425°F and line a baking dish with parchment paper. Place the marinated tempeh pieces in the baking dish and bake for ten minutes. When done, pour some excess marinade sauce on top and enjoy. 
Conclusion 
The only way to avoid gluten in tempeh is by going for labeled gluten free brands. I have listed some of the reputed tempeh brands all celiacs can rely on and enjoy this tasty food without worrying about gluten allergies. 
If you want to stay updated about all gluten free food, then keep following Nothing Gluten. 
FAQs 
Is Trader Joe's Tempeh Gluten Free? 
No, Trader Joe's tempeh is not gluten free, and they don't label their product to be one. Organic barley is one of their ingredients which is a gluten grain. 
Are Tofu & Tempeh The Same? 
No, tofu and tempeh are not the same. Tempeh is made from fermented soybeans, but tofu is made from condensed soy milk. 
Is Seitan Gluten Free? 
Seitan is not gluten free. Seitan is made from wheat flour dough which has a similar texture to tempeh. 
Is Tempeh Bacon Gluten Free? 
Tempeh bacon may or may not be gluten free. The gluten content entirely depends on the makers.