If you can't digest gluten or have celiac disease, there is one thing that bothers you, the fear of eating any packaged food. This is applicable for Lucky Charms as well. The common question I hear about most days is whether Lucky Charms are gluten free or not. 
Yes, Lucky Charms are gluten free, but only the original flavor. Lucky Charms cereals have four flavors- the original, honey, chocolate, and fruity. They also have great bars, but none of these are gluten free except the original Lucky Charms. 
Let's go ahead and see the ingredients of the original Lucky Charms, nutritional facts, and more. 
Are Lucky Charms Gluten Free?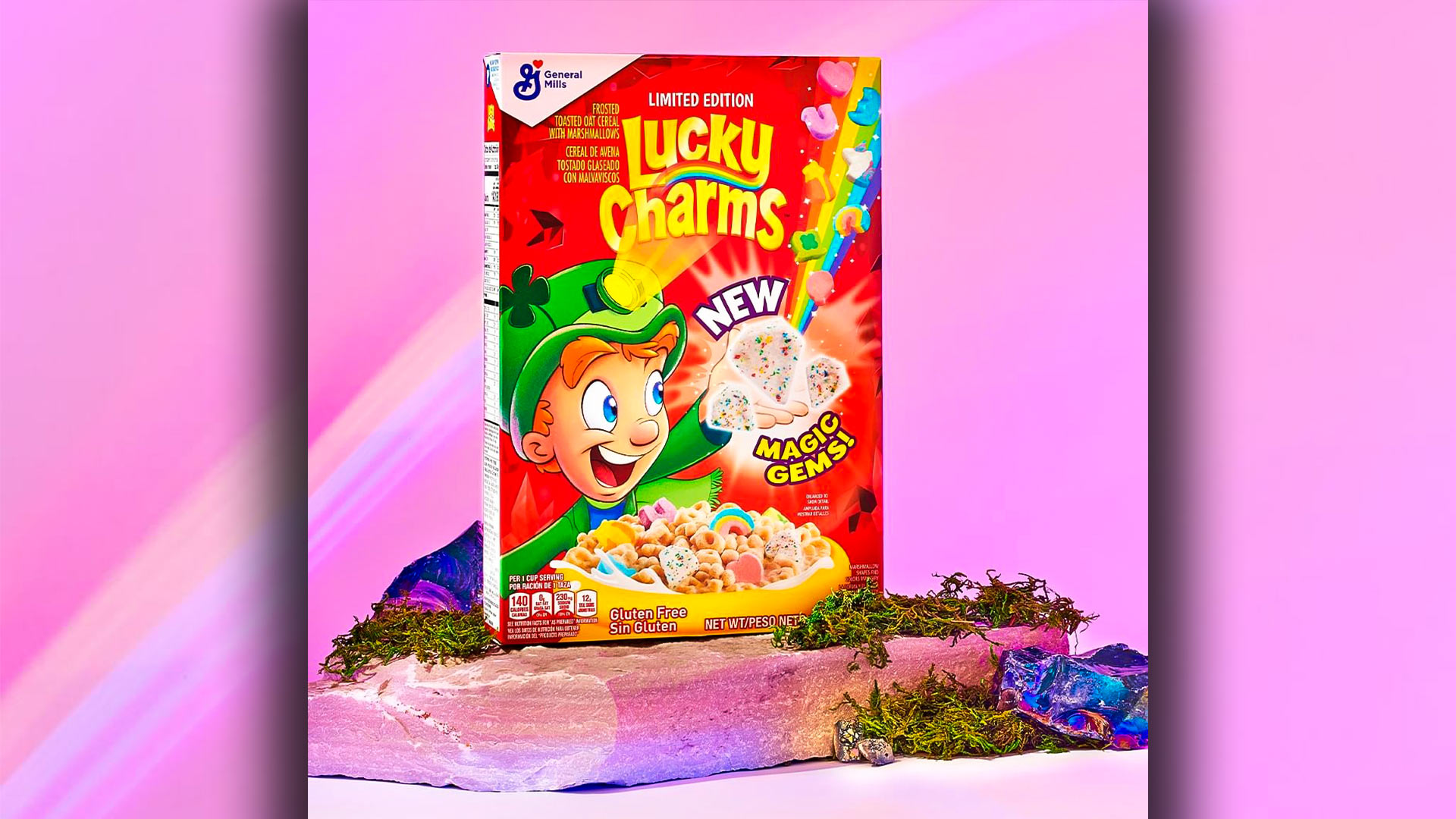 Only the original Lucky Charms are gluten free, as stated on the company's website. They have different Lucky Charms flavors, which may not be gluten free. 
I have gone through the Lucky Charms website and saw the gluten free status of different cereals. I could find the gluten free status on their original cereals only, meaning they use gluten ingredients in other cereals. 
I am attaching below a picture from the Lucky Charms website, where they declared that their original cereals are safe for anyone with gluten allergies. 
But I dug deep to see whether they mention anything about cross-contact or not. Interestingly Lucky Charms stated that sometimes gluten grains like– barley, wheat, and rye can get mixed during the harvesting process and while transporting. 
But during their shifting process, they check the gluten status of these cereals at multiple stages to ensure there is less than 20ppm gluten. Here is what I found on their website- 
As the manufacturers are making such declarations, it should be safe to consider that the original Lucky Charms are safe to have on a no-gluten diet. 
Ingredient List Of Lucky Charms: Are All The Ingredients Gluten Free?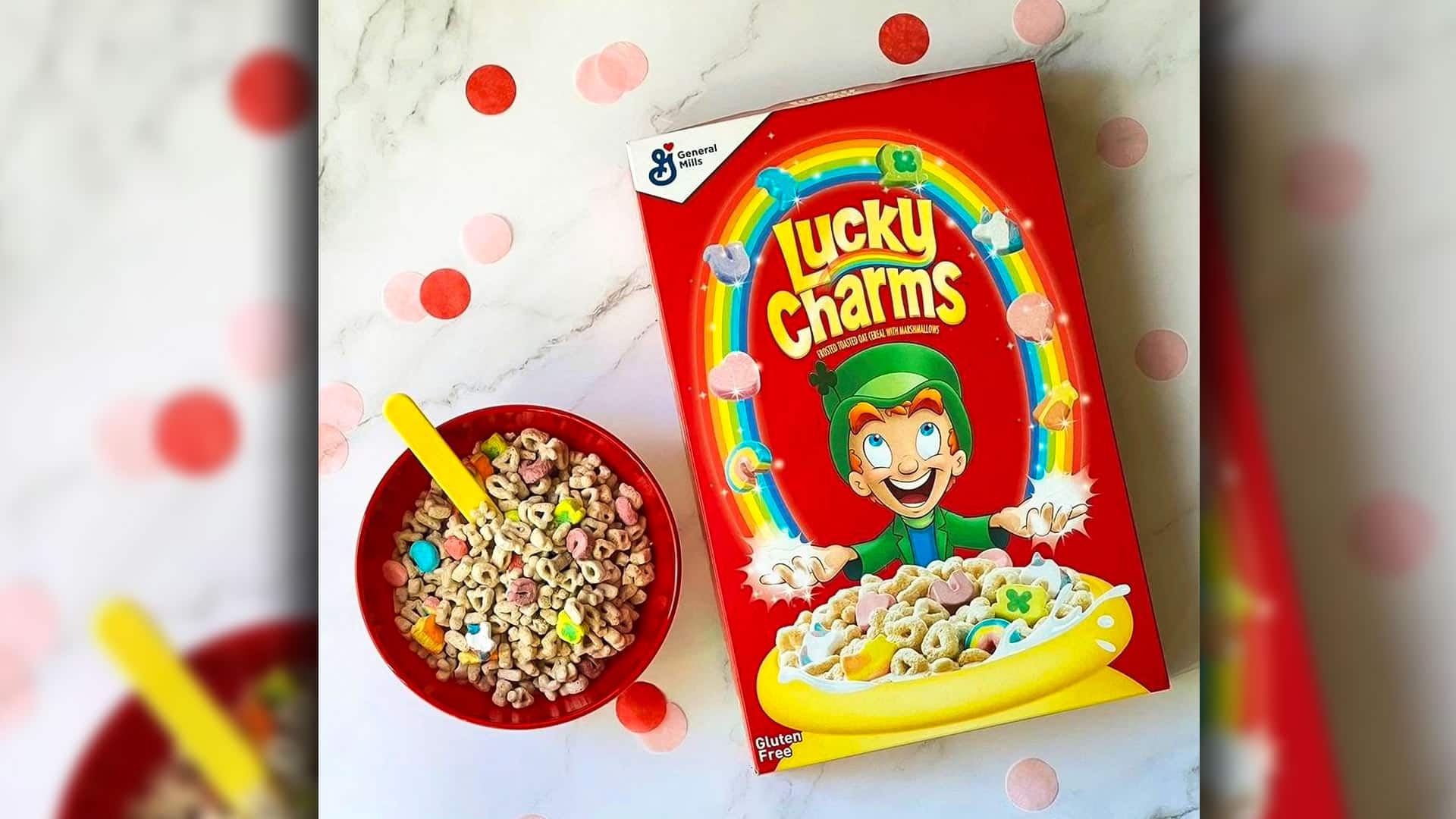 I'll cover the ingredient list of the original Lucky charms because it's the only gluten free product on their website. 
Ingredients in the original Lucky Charms- 
Whole grain oats 
Cornstarch 
Sugar 
Modified corn starch 
Corn syrup 
Dextrose 
Less than 2% of- 
Gelatin 
Salt 
Trisodium phosphate 
Natural and artificial flavors 
Red 40 
Yellow 5 
Blue 1 
Amp 6 
Vitamin E ( mixed tocopherols) added to preserve freshness 
Vitamin C (sodium ascorbate) 
Calcium carbonate 
Iron and zinc 
A B vitamins (niacinamide) 
Vitamin B1 (thiamin mononitrate) 
Vitamin B6 (pyridoxine hydrochloride) 
Vitamin A (palmitate) 
Vitamin B2 (riboflavin) 
Vitamin D3 
Vitamin B12
Let's also take a look at the nutritional facts of original Lucky Charms per 1 cup. 
| | |
| --- | --- |
| Calories  | 140 |
| Total fat  | 1.5g  |
| Saturated fat  | 0g |
| Trans fat  | 0g  |
| Polyunsaturated fat  | 0.5g |
| Monounsaturated fat  | 0.5g  |
| Cholesterol  | 0mg  |
| Potassium  | 0mg  |
| Sodium  | 230mg  |
| Carbs  | 30g |
| Dietary fiber  | 2g  |
| Protein  | 3g |
| Sugars  | 12g |
| Vitamin D | 2mcg |
| Calcium  | 130mg |
| Iron  | 3.6mg |
Are Lucky Charms Actually Healthy? Should Children Have Lucky Charms?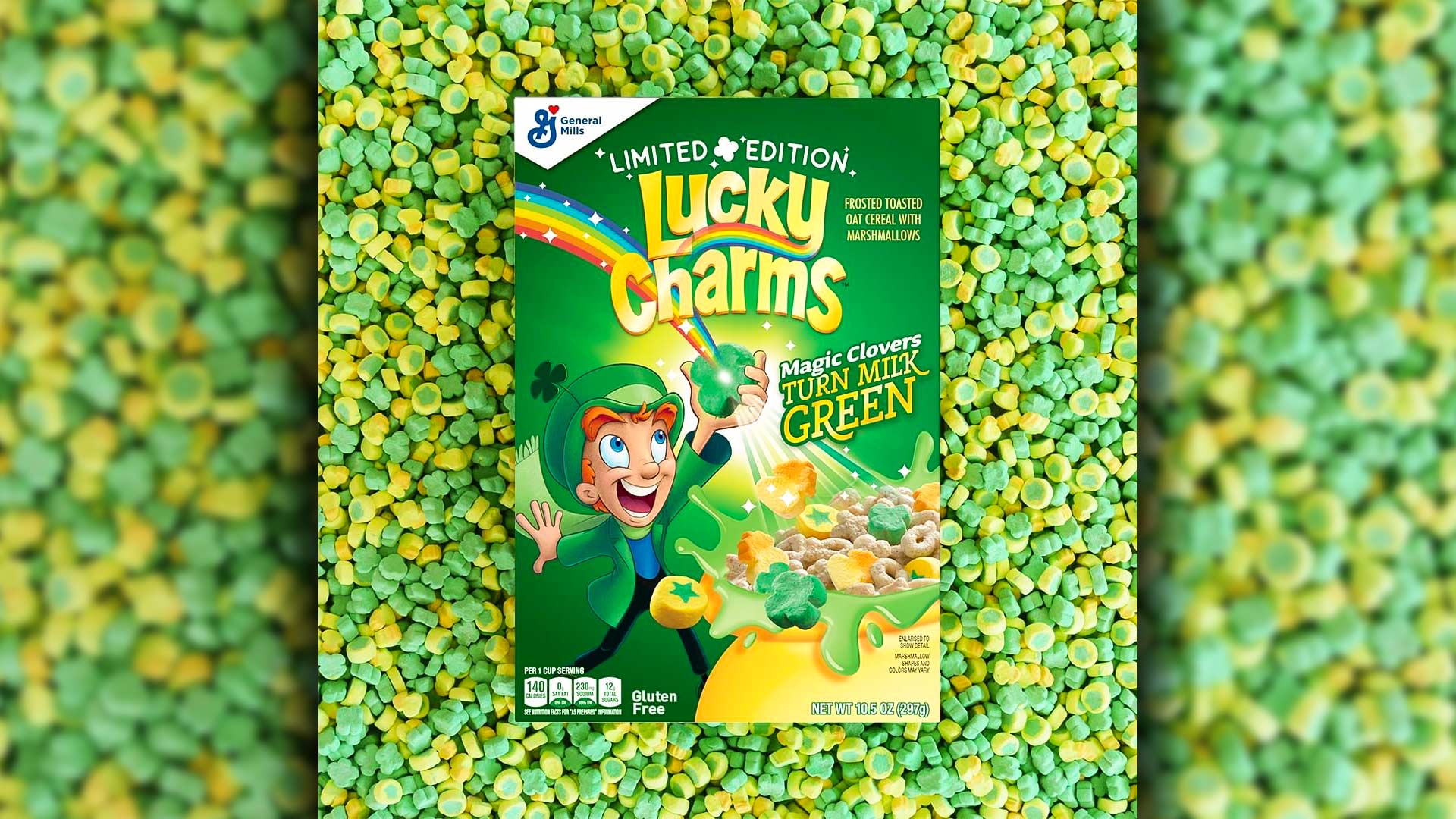 Although Lucky Charms promises to provide essential vitamins and minerals, we can't ignore the fact that it's quite high in sugar. Also, whole grain oats are processed, so you are not getting the original nutrition of the grain. 
No doubt your kids would love to eat these marshmallow-based cereals but to limit their sugar consumption, you should only give them Lucky Charms once or twice a week. 
Additionally, there are food dye and chemical preservatives, and long term consumption of them isn't healthy at all. Therefore, don't treat yourself and your children with Lucky Charms every morning. 
Bored Of Having Lucky Charms? Try These Delicious Gluten Free Lucky Charms Recipes 
You don't always have to eat Lucky Charms as a basic cereal. There are other recipes you can try with it. Here is a simple yet delicious Lucky Charms recipe that you can make on special days.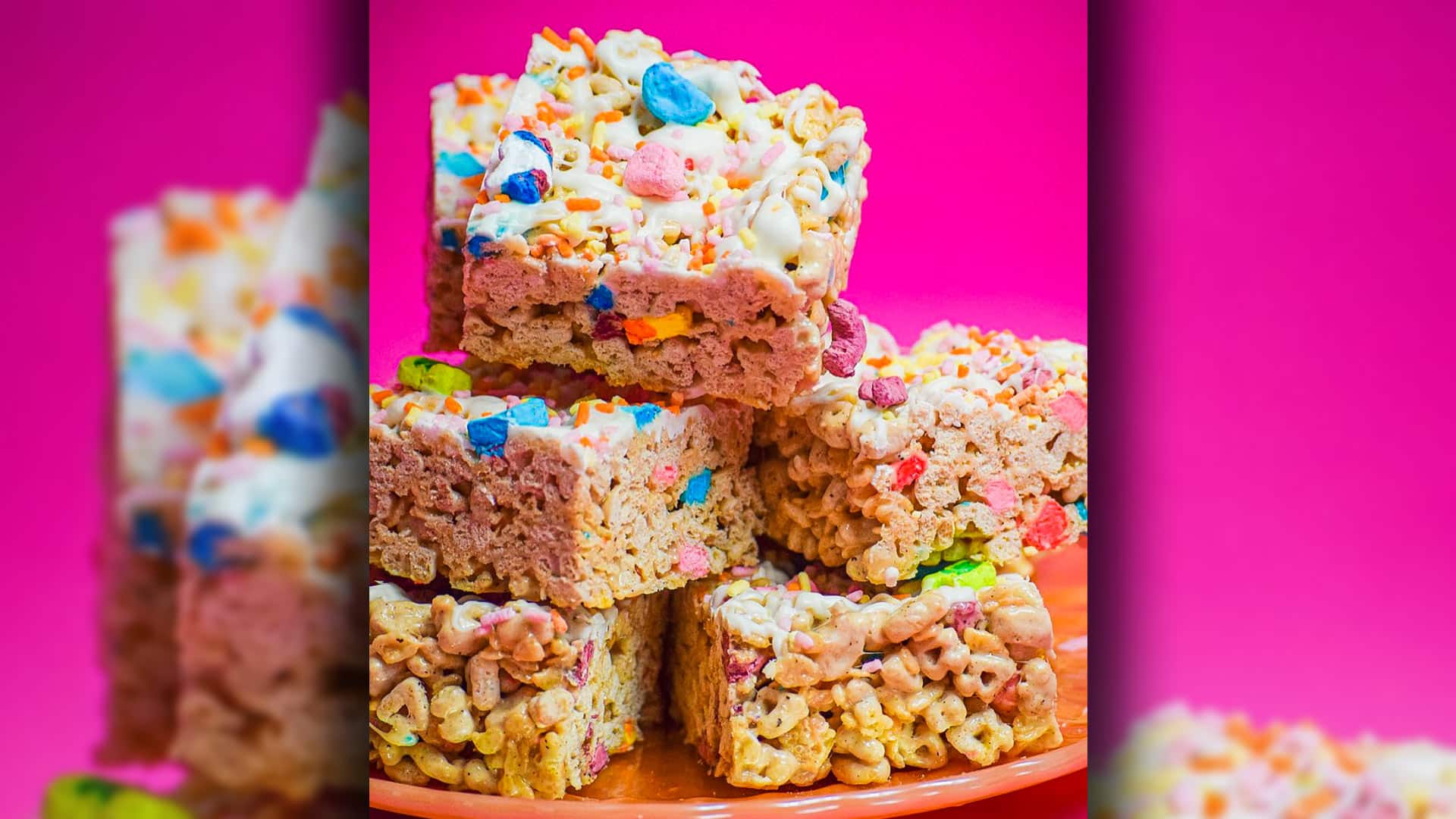 Lucky Charms Cereal Bars 
Ingredients 
6 cups Lucky Charms original cereal 
¼ cup butter 
4 cups mini marshmallows (use gluten free ones) 
3 tbsp rainbow candy sprinkles 
Method 
Microwave the butter uncovered until it melts completely. 
Take an 8 to 9-inch square pan and spray it with cooking spray. 
Add the marshmallows to the melted butter, stir well, and microwave for about 2 minutes. Stir the marshmallows every 30 seconds while you microwave them. Marshmallows should melt completely. 
Transfer the melted marshmallows to a large bowl, add the cereals, and one tbsp candy sprinkle. Mix everything well until nicely coated. Transfer this mixture to the sprayed pan and press with a greased spatula. Sprinkle the remaining rainbow candies and let them set for at least an hour. 
Once set completely, you can cut it into small squares. You can store these in an airtight container, and they will stay fresh for at least five days. 
Conclusion 
If you have been keeping yourself from enjoying these delicious cereals for fear of allergies, that should no longer be a restraint. The original cereals are entirely free from gluten, so there is no restraint in having them. 
But if you are diabetic, you should still stay away from Lucky Charms due to the high sugar content. 
FAQs 
Can Celiacs Have Lucky Charms? 
Celicas may have the original Lucky charms. But it's best to consult a health expert as they can guide you best. 
Is Lucky Charms Dairy Free? 
Yes, Lucky Charms are dairy free. There is no milk, cheese, or cream used in making Lucky Charms. 
Is Lucky Charms Vegan?
No, Lucky Charms are not vegan. All Lucky Charm flavors have gelatin which is made from animal ligaments, bone, or skin. 
Is Lucky Charms Honey Clovers Gluten Free? 
No, Lucky Charms Honey Clovers are not gluten free. The company website does not declare them as gluten free cereals. 
When Did Lucky Charms Go Gluten Free? 
Lucky Charms went gluten free in 2016. But only their original cereals are gluten free as of now.