Nothing beats a good cereal for breakfast. When we say cereal, there are a few brands that have been in the market since we were kids and Fruit Loops is one among them. But the growing awareness of gluten allergies has made people raise the question of whether Fruit Loops is gluten free or not. 
No, Fruit Loops isn't gluten free because the manufacturers use wheat to make it. As wheat is a gluten grain, meaning Fruit Loops too has gluten. Therefore, celiacs can't have Fruit Loops. 
Let's dive deep and see more reasons why you shouldn't have Fruit Loops and whether there are any gluten free substitutes for gluten free cereals or not. 
Why Are Fruit Loops Not Gluten Free?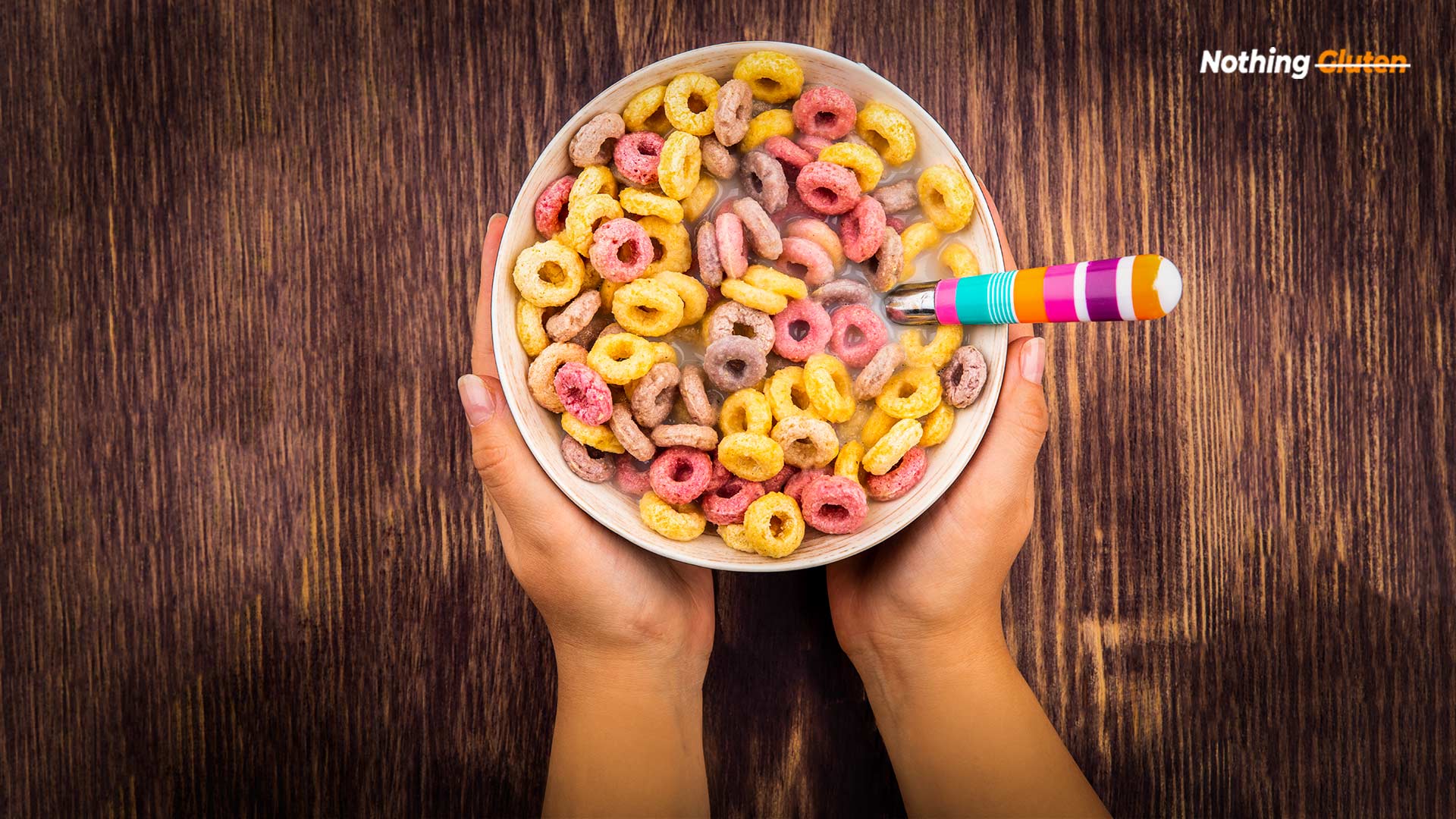 As I mentioned, Fruit Loops are made from wheat flour. If you have done some research on gluten based food, you might already know that wheat, barley, rye, semolina, etc. are gluten grains. 
So anything made out of these items is not safe for anyone dealing with gluten allergies. Fruit Loops is a Kellogg's brand, and they are quite aware of gluten intolerance. 
Therefore, they have clearly stated in the packaging that this cereal contains wheat. If you read the ingredient label, you will find the information about the cereal containing gluten, and here is a picture of the same. 
Therefore, I would suggest you have other gluten free substitutes for Fruit Loops. I'll be sharing some gluten free alternatives to Kellogg's Fruit Loops, so keep reading this guide. 
What Ingredients Go In Fruit Loop?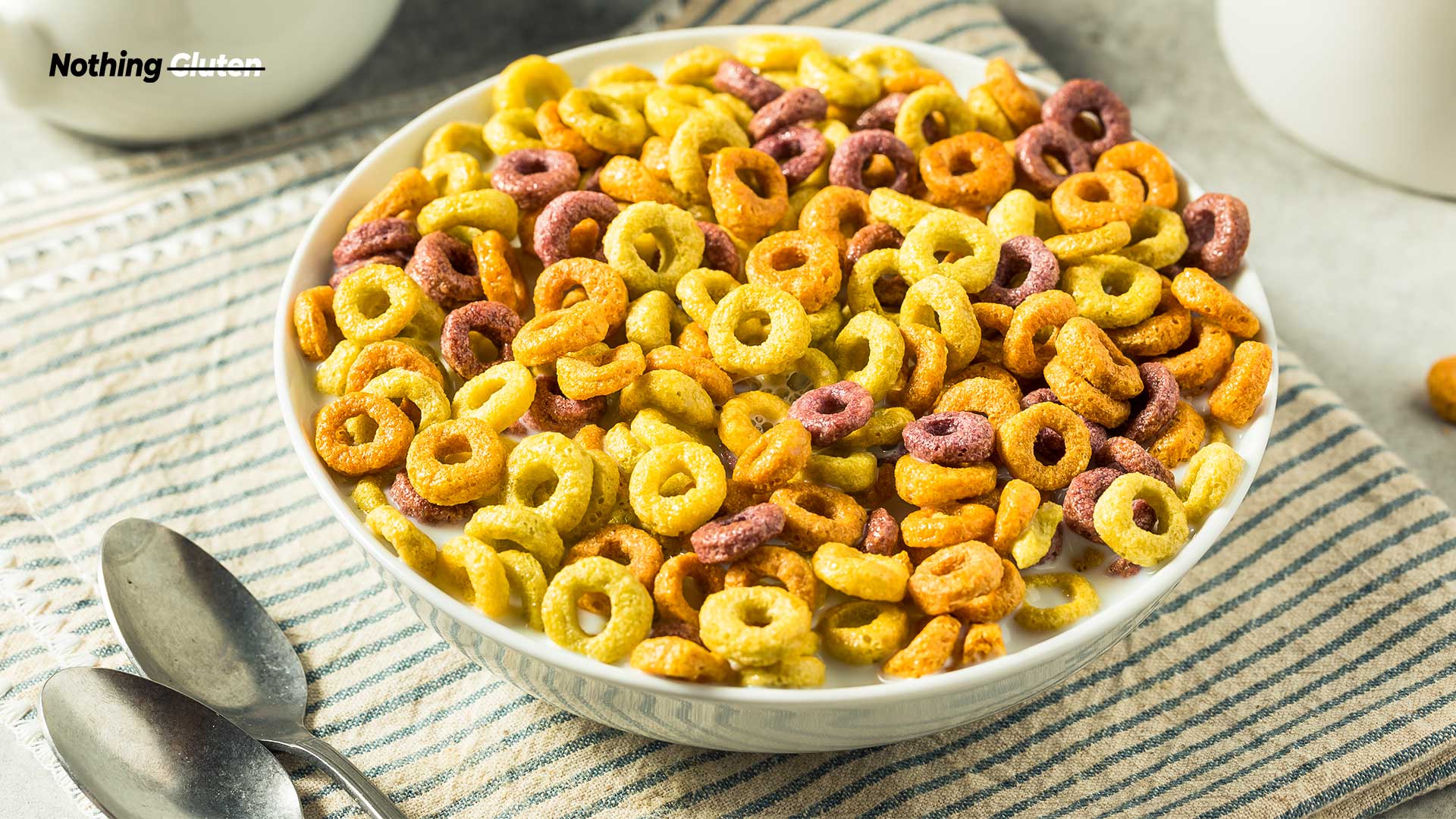 I told you already that Fruit Loops contain wheat flour. But you might be curious to know what other ingredients are there in the cereal. Right? Well, I have covered that too. 
Here is the complete ingredient list of Kellogg's Fruit Loops- 
Wheat flour 
Corn flour blend (determined yellow corn flour, whole grain yellow corn flour) 
Sugar 
Modified starch 
Whole grain oat flour 
Contains less than 2% of 
Ingredient
Oat fiber
Vegetable oil (hydrogenated coconut, soybean, and/or cottonseed oil)
Maltodextrin
Salt
Natural flavor
Soluble corn fiber
Red 40
Yellow 5
Yellow 6
Blue 1
BHT for freshness
Vitamin C (ascorbic acid)
Niacinamide
Reduced iron
Vitamin B2 (riboflavin)
Folic Acid
Vitamin B6 (pyridoxine hydrochloride)
Vitamin B1 (thiamin hydrochloride)
Vitamin D3
Vitamin B12
Apart from wheat flour, all other ingredients used in Fruit Loops are gluten free. But the cereal has artificial colors as well, and we are not sure whether these colors contain any wheat extract or not. 
Are Fruit Loops Healthy & Vegan?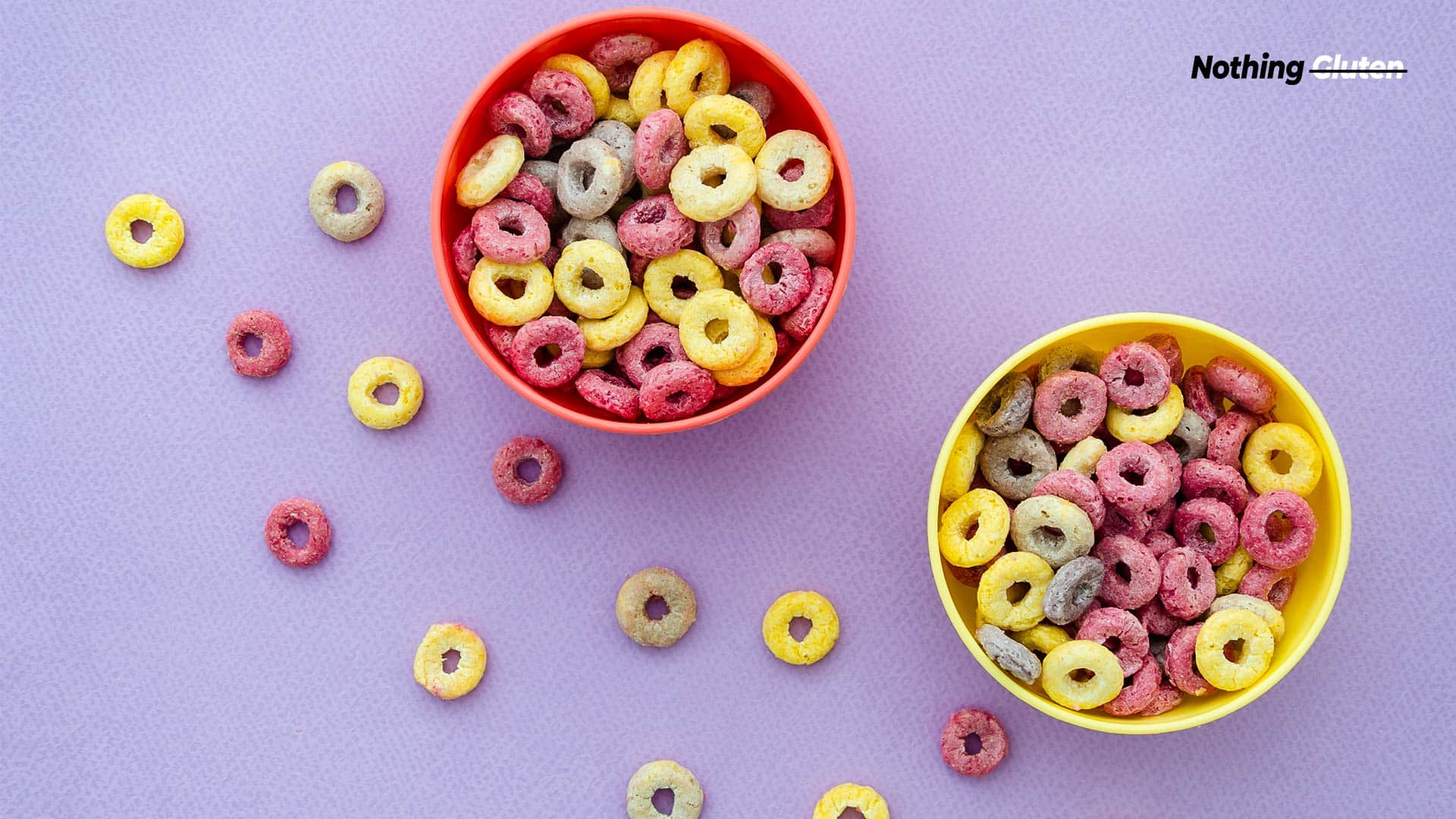 Fruit Loops seems vegan, but there are some gray areas as well. The cereal has vitamin D3, which is extracted from cholesterol. Also, we are not sure about the source of the artificial colors, which raises eyebrows among vegans. 
In some countries, manufacturers use carmine, a red dye made by crushing beetles; hence it's a strict no for vegans. 
The next common question people ask is whether Fruit Loops are healthy or not. No doubt that Fruit Loops has multiple vitamins and minerals, but we cannot neglect the fact that the cereal contains lots of sugar. 
Plus, makers add multiple artificial colors to which some people are allergic. The hydrogenated vegetable oil in Fruit Loops is also not healthy because it's a source of trans fat, and not to forget about the chemical preservatives. 
According to nutritionists, a healthy cereal should not have that much sugar, preservatives, and colorings. Therefore, having Fruit Loops or similar cereals that contain similar amounts of sugar regularly is not the right choice. 
Additionally, high-sugar cereals may also make your kids addicted to sugar; hence making a fresh breakfast with fresh ingredients is a safer choice in the long run. 
Are There Any Gluten Free Substitutes To Fruit Loops?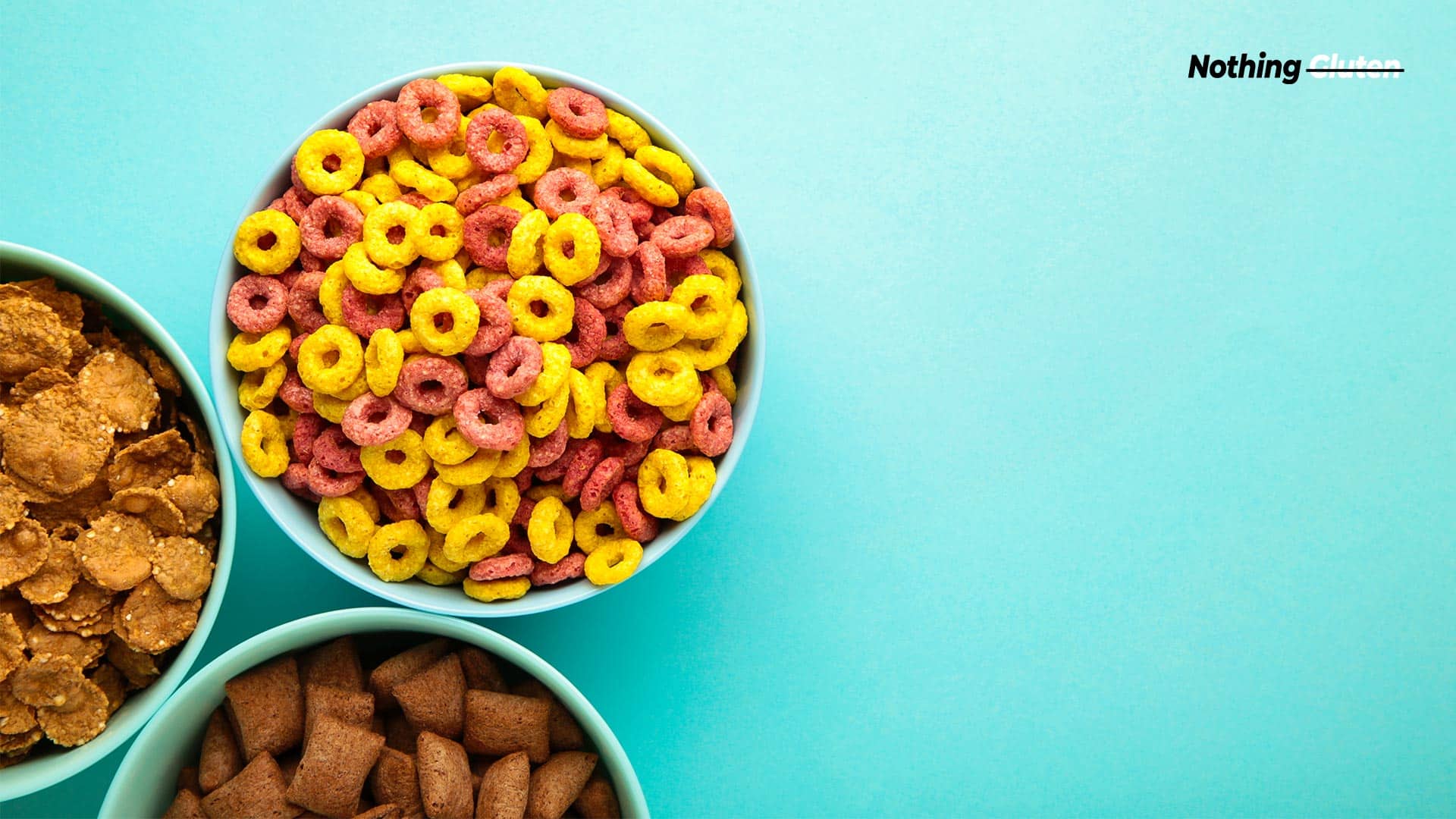 Yes, there are gluten free substitutes to Fruit Loops. Finding gluten free cereal can be a task because most manufacturers add wheat flour to them. But the food industry has now become more inclusive so finding gluten free substitutes isn't a big task. 
Here are some of the best gluten free cereals you can find on the market- 
Barbara's honey rice puffs are made from brown rice, and the slightly sweet taste comes from honey, molasses, and cane sugar. Honey Rice Puffs are not exactly similar to Fruit Loops, but they are still quite tasty. 
Cheerios is another great gluten free cereal made with whole grain oats and is free from artificial flavors and colors. There are no other ingredients used in making these cereals, so you can enjoy them worry-free. 
These gluten free and Non-GMO cereals are available in different flavors like berry blast, choco chips, frosted amazon flakes, chocolate koala crisp, etc. All the flavors are super delicious, so you and your kids would love them. 
Freedom Foods Tropic O's cereal is free from gluten and synthetic dyes, making it one of the best substitutes for Fruit Loops. It's healthy and delicious too. 
Final Thoughts 
While Fruit Loops are not gluten free, there are still better options in the market. You should check out my list of gluten free cereals that are no less in taste than Fruit Loops. 
But packaged cereals are only best for occasional consumption due to the presence of sugar, artificial flavor, color, and preservatives. Do you have the same thoughts? Let me know in the comments!
FAQs 
Are Frosted Corn Flakes Gluten Free? 
No, Frosted Corn Flakes are not gluten free. They use a malt flavoring that has gluten. 
Are Fruity Pebbles Gluten Free? 
Yes, Fruity Pebbles are gluten free. These are crispy rice cereals and do not contain gluten ingredients. 
Is Trix Gluten Free?
Trix is a corn based cereal, so it should be ideally gluten free. But there are no gluten free labels on the packaging; hence it may not be safe for celiacs.  
Are Apple Jacks Gluten Free? 
Apple Jacks are not gluten free for two reasons. First, makers use wheat flour, and second, it is prepared in a common facility.