Ever wondered what the creamy, soft, delicious cannoli cream is made of? Do bakers add wheat extract in Cannoli cream? 
These questions are very common among people dealing with celiac disease or gluten sensitivity. To avoid allergic reactions, people always want to eat food that is free from wheat, barley, and other gluten grains, and the same goes for cannoli cream. 
So is cannoli cream gluten free? 
Yes, cannoli cream is gluten free. The cream is made with mascarpone cheese, ricotta, and sugar, which are not gluten based ingredients. However, it's better to confirm before treating yourself with a cannoli. 
Gluten can get added in various ways, so the absence of gluten free ingredients isn't enough. Let's read further and see what these additional conditions are. 
Is Cannoli Cream Gluten Free?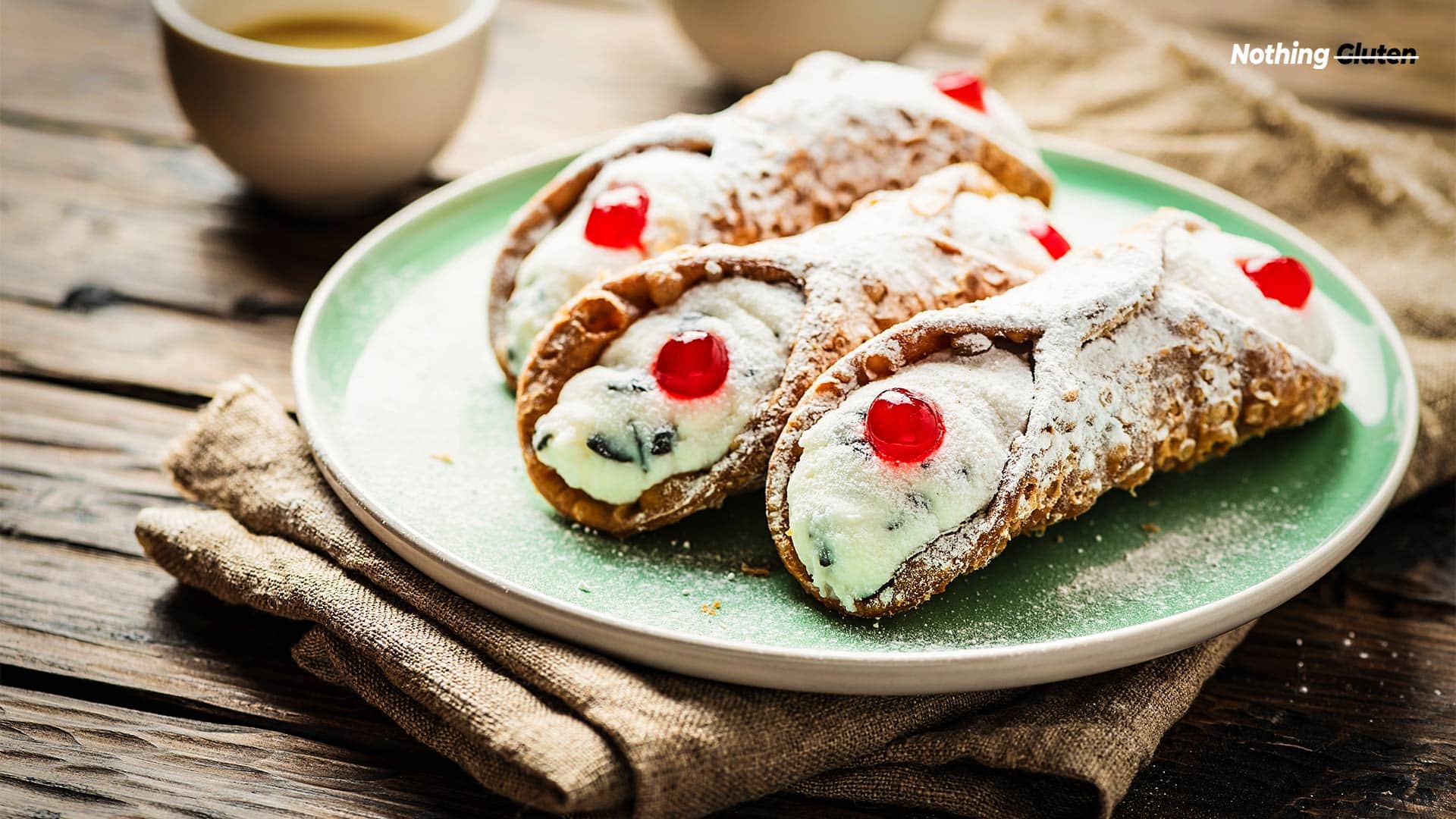 Cannoli cream is gluten free because it's made with ricotta, mascarpone cheese, and sugar. Sometimes bakers may add vanilla extract, chocolate chips, and pistachio crumbles for better flavor and texture. 
The ingredients I just mentioned don't have gluten. You must already know that gluten is a protein found in wheat, barley, rye, etc. While it's not a harmful substance, some people can't digest it and experience allergic reactions like– skin rashes, nausea, vomiting, headache, bloating, etc. 
Since none of the ingredients in cannoli cream are gluten derived, it should be safe for people dealing with such allergies. 
But does that mean you can have cannoli? Unfortunately, no. While cannoli cream is gluten free, the shell or the pastry is not. Cannoli shells are made from wheat flour which is a strict no on a no-gluten diet. 
But cannoli cream is sometimes used in cakes and other pastries. So for those items as well, you should make sure that there are no wheat or similar ingredients. 
But apart from ingredients, there is another condition that puts gluten free food at risk, and that is cross-contamination. Cross-contamination means when manufacturers make gluten free food in shared utensils. 
Therefore, keep those conditions in mind as well. 
How Is Cannoli Cream Made? Are All The Ingredients Gluten Free?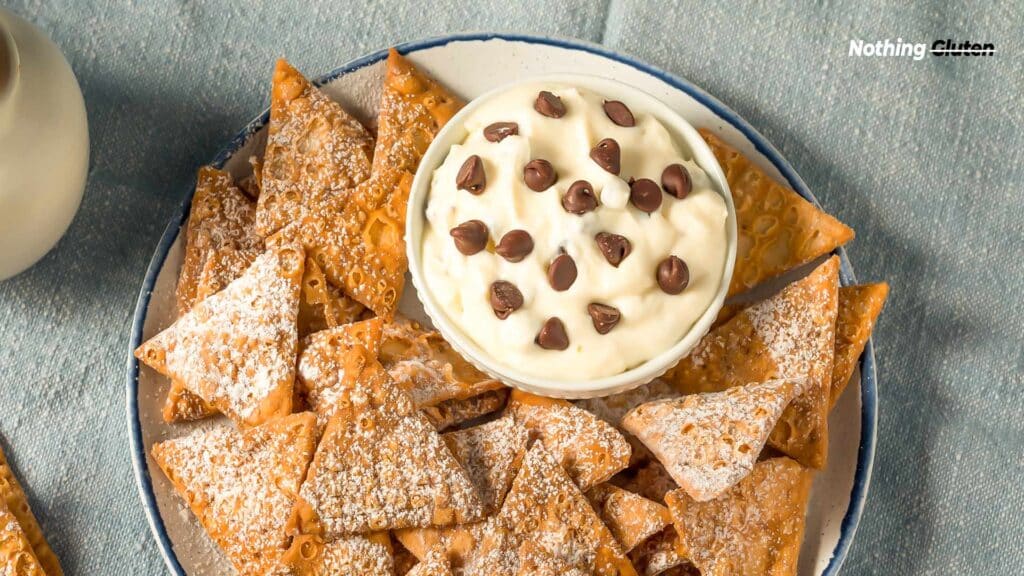 The authentic cannoli cream recipe has mascarpone cheese, ricotta, and sugar. But modern makers add other flavoring ingredients like- cinnamon powder, pistachio crumbles, chocolate chips, and vanilla extract. Some use cream instead of mascarpone cheese as well. 
Yes, all the ingredients used in cannoli cream are free of gluten. Be it cream, cheese, sugar, or other flavoring ingredients, none of them are derived from gluten grains. 
But the recipe may vary, and some might use ingredients that may have gluten. For celiacs, it's best to make cannoli at home or get it from a place that specializes in making gluten free cannoli. 
Is Cannoli Vegan & Healthy?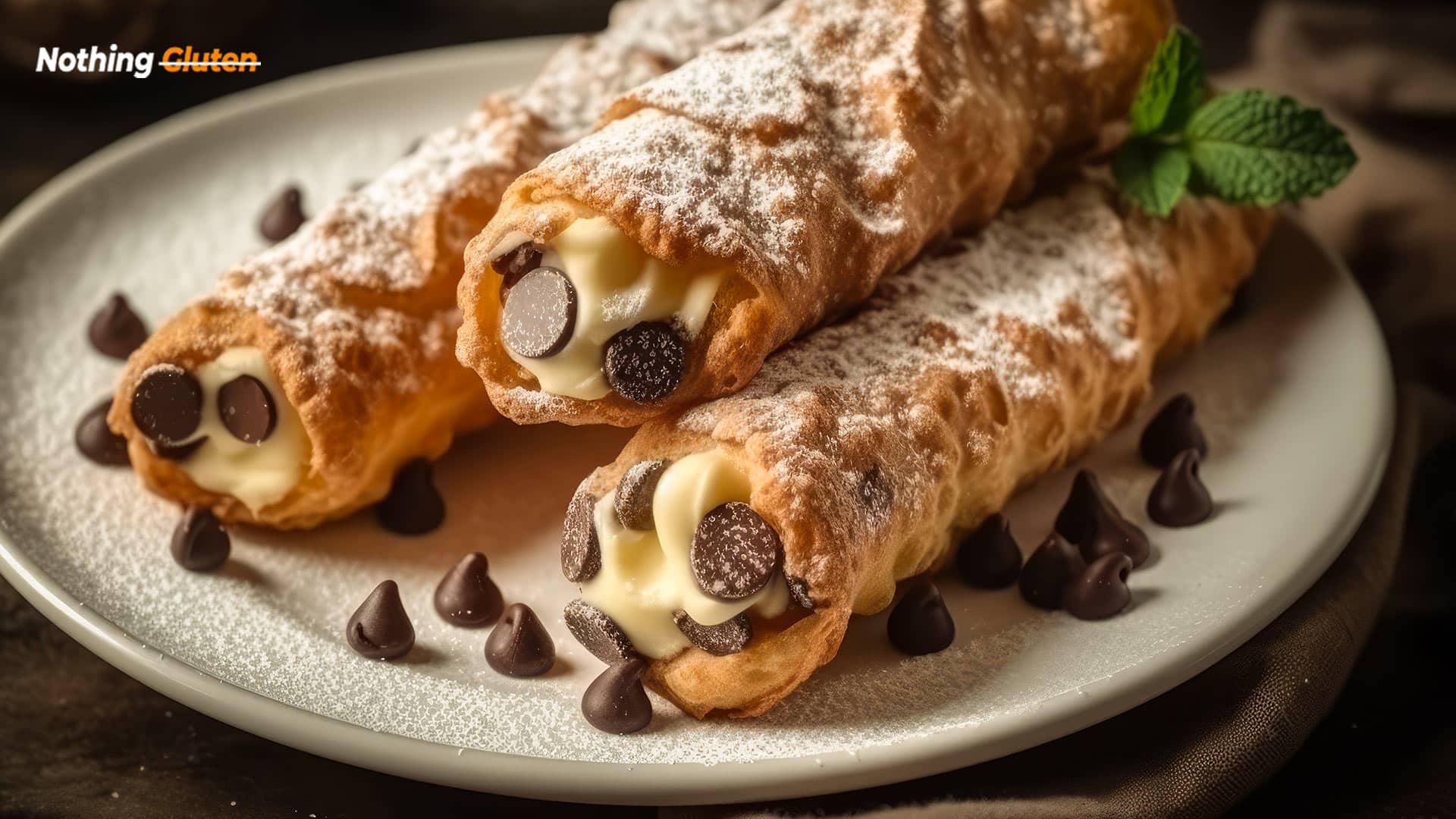 Usually, cannoli is not vegan. The perfect taste and texture come from dairy based ricotta cheese and cream. But due to increasing awareness about vegan eating, nowadays, we also get options for vegan cannolis.
Vegan cannoli filling is made from coconut cream, vegan yogurt, and cheese. While the taste and texture are not as same as the non-vegan one, it's still delicious. 
The next common question we get is whether cannolis are healthy or not. If you are eating a low calorie diet, cannolis won't fit your diet because it's quite high in calories. One cannoli contains about 240 calories and is also very high in sugar. 
However, treating yourself with a cannoli once in a while should not do any harm. 
Can You Make Gluten Free Cannoli At Home? Recipe
Course: Dessert
Cuisine: Italian
Difficulty: Easy
The biggest dilemma among gluten intolerant people is that they can't eat or drink tempting food outside due to the fear of gluten allergies. And because cannoli shells are made from wheat flour, it's not safe to get them from confectionaries. 

But it does not mean you can't taste them. You can make gluten free cannolis at home, and here is the most delicious recipe you should try. 
Ingredients
For the shells:-

4 cups gluten free flour

¼ tsp kosher salt

2 tbsp brown sugar

2 egg yolks

3 tbsp softened unsalted butter

2 tsp cinnamon

½ tsp nutmeg

1 ¼ cup sweet marsala wine

Canola oil or vegetable oil to fry the cannoli shells

Ingredients for the filling:-

1 cup granulated sugar

3 cups ricotta cheese

½ tsp cinnamon

1 tbsp vanilla extract

Chopped pistachios and mini chocolate chips

Powdered sugar for dusting
Directions
Method For The Cannoli Shells:-
Add flour, sugar, salt, nutmeg, and cinnamon to a bowl and mix using a stand mixer. Add egg yolks and butter and keep mixing until you get a crumbly mixture.
Lastly, add the marsala wine and keep mixing until the dough comes together. The dough should be stiff so adjust the quantity of wine accordingly.
Make a nice ball from the dough and keep it covered with plastic wrap for 30 minutes. After 30 minutes, divide the dough in half and roll out very thin.
Using a round cutter, cut circles from the dough. Take cannoli tubes, spray some cooking spray and wrap the circles in them. Use the leftover egg whites and give them a nice egg wash.
Heat oil in a large pan and add two to four cannolis at a time. Fry for about 3 to 4 minutes until golden brown. Once done, keep them in paper towels and let the oil soak.
Method For The Filling:-
You have to squeeze out all the water from the ricotta cheese. Cover it with a cheesecloth and sieve over a bowl. Keep in the refrigerator overnight. 
Add the ricotta cheese to a bowl and whisk until creamy. Gradually add sugar, vanilla, and cinnamon, and keep whisking on high speed until you get a smooth thick texture. 
Fill the cream in a pastry bag with a large plain tip and fill in the cannoli shells. 
Dip the ends of cannoli into the pistachio and chocolate cream dipping. Dust powdered sugar on top, and your gluten free cannoli shells are ready.
Wrapping Up 
Did you find your answer to whether cannoli cream is gluten free or not? Well, even though the cream is gluten free, cannoli shells contain wheat flour. 
But you can still treat yourself to some delicious cannoli by trying my recipe for gluten free cannoli. Let me know how you liked the gluten free cannolis if you try my recipe. 
FAQs 
Does Cannoli Contain Dairy? 
Yes, cannoli contains dairy. The cream filling is made from ricotta and mascarpone cheese which are dairy products. 
What Are The Cannoli Shells Made Of?
Cannoli shells are made of deep fried pastry dough. The pastry dough contains all-purpose flour, salt, sugar, eggs, unsalted butter, vegetable oil, and marsala wine. 
Can You Make Dairy Free Cannoli Filling?  
Yes, you can make dairy free cannoli filling. You can swap the dairy based ricotta and mascarpone cheese with coconut milk and dairy free yogurt.