Layers of crunchy pastry, with sugary syrup and nuts oozing out – Baklava is pure decadence. Whoever has tasted it will agree that the Middle Eastern people deserve a place in heaven for inventing this dessert. Everyone loves this crunchy, tasty item. But it's crucial to ask – is Baklava gluten free?
Baklava is not for anyone with gluten intolerance or celiac disease. Traditional Baklava has wheat flour and is not gluten free. The only options for a gluten free diet are alternative gluten free Baklava recipes or brands producing gluten free desserts.
Every mouthful of Baklava is nothing but gorgeousness. But it may not be the right choice for you if you plan to walk into a local Greek bakery and pick yourself some of that mouth-watering Baklava. However, you don't have to forsake it for good! Find out all about the options available for you!
What is Baklava?
Baklava is a traditional dessert. Though its history is not recorded, experts say it was made in Assyria in 800 BCE. Some suggest that it originated in the royal kitchens of erstwhile Constantinople's Topkapi Palace. Modern Baklava is also believed to be made by Turkey's Ottoman Empire. 
No matter where it comes from, Baklava's charm is exotic. It is a baked dessert with layers of thin filo dough. When you dig your teeth into them, all you can feel is the crunch of all the layers together – with a sweet syrup and chopped-up nut in between these layers, making baklava so stunning. 
The filo pastry, which is the base of Baklava, needs the expertise of experienced hands. Even though you can find ready-made filo pastry, they are not quite easy to work with if you are not adept. But many brands produce Baklava mixes so that you can make this dessert at home easily.        
Is Baklava gluten free?
The main component of Baklava is filo pastry. The dough of filo pastry contains wheat flour, the most common ingredient in the majority of baked goodies. Since wheat is one of the primary sources of gluten, Baklava contains gluten and is a strict no-no for people who are advised to avoid gluten. 
Many establishments are now trying to develop recipes that are suitable for people with celiac disease or gluten intolerance. So you may find local bakeries, cafes, or restaurants making gluten free Baklavas. While this may sound like good news, you should think twice before choosing these.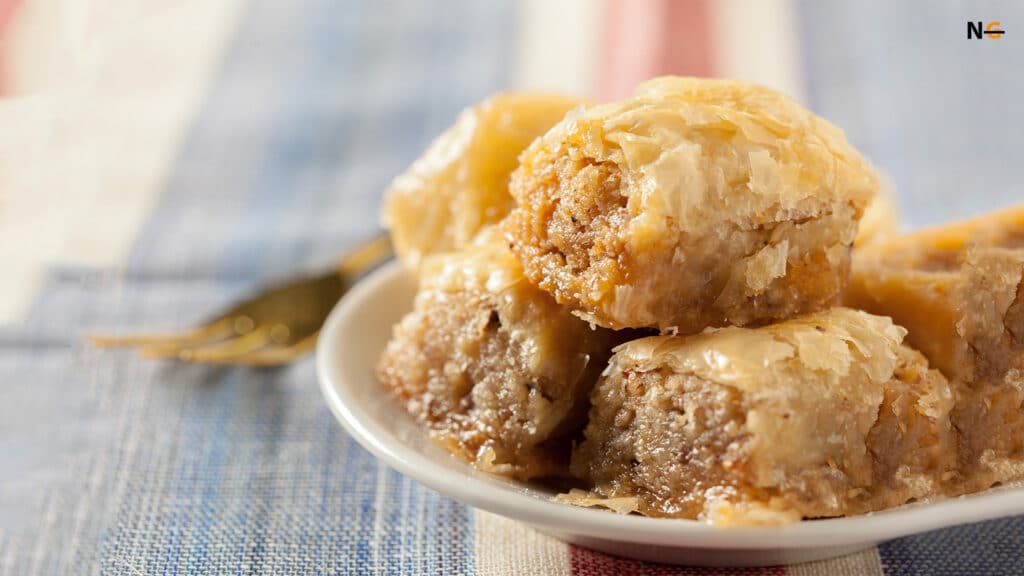 While these local eateries may replace wheat flour with any gluten free flour to make filo pastry, it might not be enough. Most bakeries, cafes, and restaurants deal with gluten ingredients like wheat on a regular basis. They likely use the same kitchen, utensils, and facilities to make Baklava, too. 
This can be a major cause of cross-contamination. While the eateries may use inherently gluten free ingredients in their recipes, they may fail to clean the cooking environment where their naturally gluten free Baklava can come in touch with residual gluten ingredients. 
Since such establishments don't undergo certification, it's not possible to know if they have been cross-contaminated and contain trace gluten. So it's best for you to avoid store-bought Baklava altogether – unless you find an eatery that makes separate arrangements for its gluten free menu. 
Also Read:- Is Evaporated Milk Gluten Free?
Gluten Free Baklava Brands
Baklava's gluten content comes from the wheat flour in its filo pastry. Many brands replace this wheat flour with other gluten free flour options to make Baklava that can be eaten by those suffering from celiac disease or gluten allergy. Take a look at some of the best gluten free Baklava brands – 
A) Simply BKLVA gluten free Baklava  
Simply BKLVA is a well-known brand that produces an incredibly delicious Baklava variety. If you are looking for a gluten free version, this brand has that, as well. It replaces wheat flour with rice flour and psyllium husk to make the recipe safe. It is also free from dairy and refined sugar. 
B) Karaköy Güllüoğlu Baklava
Karaköy Güllüoğlu is a brand from Istanbul that offers two nutty Baklava flavor options – walnut and pistachio. By replacing regular wheat flour with rice flour and cornflour, it makes your favorite dessert healthy. The gluten content in it is tested and found to be within the permitted limit. 
C) Sultan of Bazaar
Another brand that has mastered the art of making gluten free Baklava available for the whole world is Sutan of Bazaar. It uses rice flour and cornflour instead of wheat flour – and does not compromise on the authentic taste of the delightful Turkish dessert that everyone loves and enjoys. 
It is difficult to know if these brands meet the standards set by the FDA by undergoing the tests required for the "gluten free" certification. While most celiac or gluten-intolerant people have no problem after consuming these, we suggest taking them in small amounts to see how your body reacts.  
Gluten Free Baklava Recipe
If you are medically required to stay away from gluten, you will often find yourself making certain recipes at home to ensure that you are completely in control of your gluten free life. Baklava is one recipe that you can make at home if you have the right recipe. So check our gluten free Baklava recipe: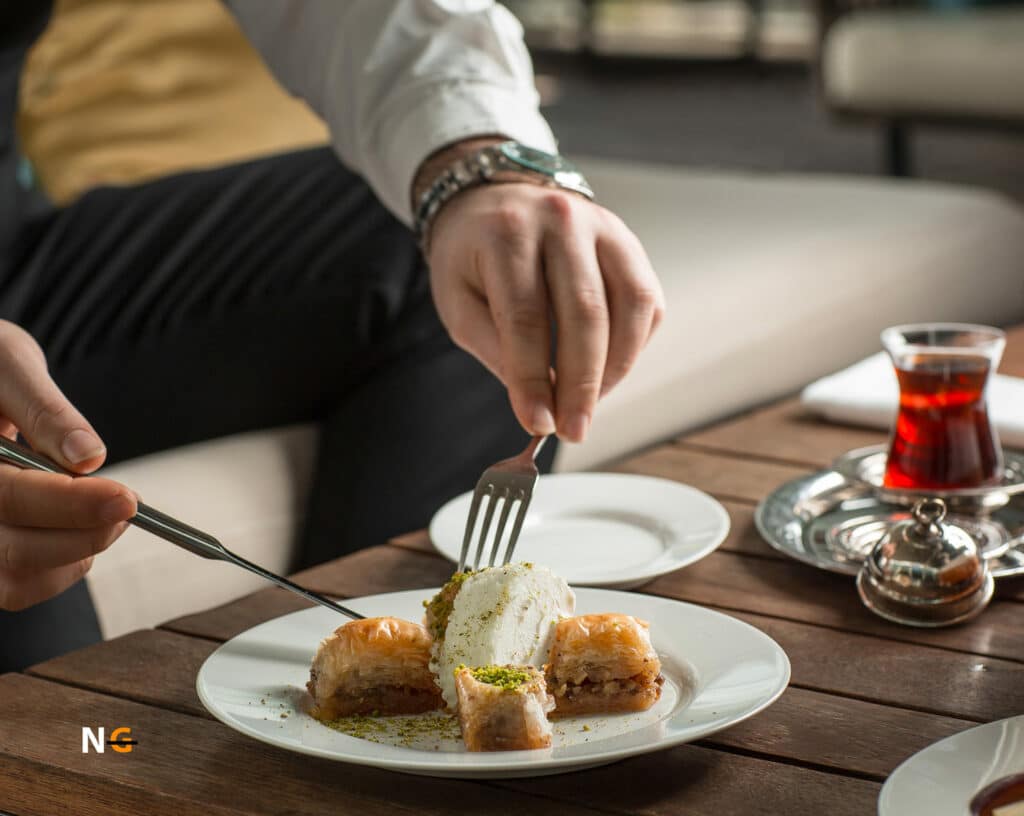 Ingredients – 
For Baklava: 
Butter – 50 gram
Rice paper pancakes – 36 pieces
Pistachios – 36 pieces
Whole almonds – 100 gram
Sugar – 50 gram
Cinnamon – ½ tsp
All-spice mix (ground) – ½ tsp
Water – 2 tbsp
For Syrup:
Sugar – 75 gram
Water – 6 tbsp
Lemon juice – 3 tsp
Rosewater – A few drops
Procedure 
Let the butter sit out at room temperature for about 30 minutes. You can also microwave it so that it becomes soft and easy to spread. 
Preheat your oven to 350 F. 
Soak them in a flat dish or baking tray filled with water for 2-3 minutes till they become soft and bendy.
In a food processor, put the nuts, spice mix, and sugar and pulse until you have a coarse mix. Put water in the nut mix and stir. Keep it aside.
Using a pastry brush, spread the butter on each sheet of pancake. 
In a baking tray or cake mold, place three greased pancakes. Match the shape and size of the pancakes with that of the baking tray or cake mold.  
Spread 1/4th of the nut mix on this layer. Cover with another 3 pancakes. Repeat the process two more times. Set aside the remaining 1/4th of the nut mix. 
Using a sharp knife, cut the layers into small diamonds while they sit in the baking tray.
On top of each diamond, add the nut mix in small amounts for garnishing. 
Bake for 30-40 minutes till the Baklava becomes brown and slightly crispy. 
While the Baklava gets prepared, heat a saucepan on low heat and add water, sugar, and lemon juice to it. Keep stirring until the sugar melts. 
When the temperature rises slightly, add rose water and simmer for 5 minutes. Set aside the pale syrup.
Once the Baklavas are baked, let them cool a little on a rack so that they are safe and easy to handle. 
Place the pieces on a plate and drizzle the syrup. Serve hot.  
Thus, you can make gluten free Baklava quite easily at home. You can also replace the rice pancakes with gluten free filo pastry sheets available readily in the market. If you're a baking expert and have no problem spending more time in the kitchen, make your pastry using gluten free flour. 
Final Words 
If you have a sweet tooth and a taste for exotic flavors, you cannot miss Baklava. But is Baklava gluten free? Since this mouth-watering dessert is not free from gluten content, you will need to use recipes and manufacturers offering gluten free variants of Baklava that are safe for you.