When you hear about Velveeta, the first thing that comes to your mind is the cheesy goodness. Velveeta is a popular brand known for producing quality cheese. But can everybody enjoy this Velveeta cheese? Is Velveeta cheese gluten free? 
Velveeta cheese is gluten free as per its company declaration. Kraft, the company that produces Velveeta, has mentioned clearly that it is entirely gluten free. The company discloses any food item with gluten on their website or label.
If you have celiac disease, you certainly want detailed information about any food item. We will discuss more on what Velveeta is and its gluten status in more detail throughout the article. So continue reading till you find the answer. 
Is Velveeta gluten free? 
Kraft has been producing Velveeta processed cheese for the longest time, and people really enjoy its quality and taste. But one question gluten sensitive people have is if it's safe for their consumption. 
Yes, all people with gluten intolerance or celiac disease can have Velveeta safely. Kraft specifically declares if any of their food items contain gluten, and they have not mentioned anything about Velveeta cheese. 
But what makes Velveeta free of gluten? Velveeta does not contain any product with wheat, barley, rye, or similar gluten-containing grains. Gluten is a natural substance found in these grains, which adds texture, taste, and elasticity to the food product.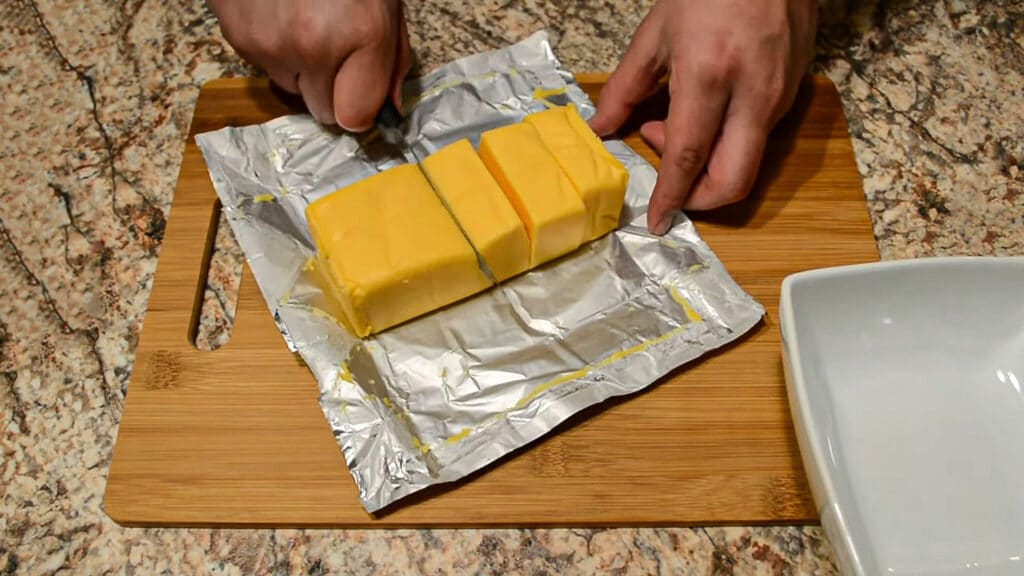 The ingredients used in Velveeta cheese are- 
Milk 
Whey 
Milk protein concentrate 
Sodium citrate 
Modified food starch 
Less than 2% gelatin 
Salt 
Calcium phosphate 
Lactic acid 
Sorbic acid 
Milk fat 
Cheese culture 
Enzymes 
Vitamin A palmitate
Paprika extract and Annatto 
None of the ingredients used to make Velveeta cheese seem to have gluten or are derived from gluten containing grains. No ingredient in the list has traces of wheat, barley, or anything similar; hence, you can rest assured of its gluten free status. 
What Is Velveeta & How Is Velveeta Cheese Made? 
The creamy, perfectly melted Velveeta cheese has been ruling the market since the beginning of the 20th century. But the strangest fact is, Velveeta is not real cheese. It's a replica of cheese with the same taste and texture. 
Velveeta cheese is the byproduct of the creative mind who invented the recipe by mixing broken, leftover cheese bits. Emil Frey was experimenting with these leftover cheese bits with whey and some other ingredients, and thus, Velveeta entered the market in 1927. 
It is somewhat a healthier alternative to actual cheese because it's made of whey protein and milk protein. The idea was to let people enjoy the taste of cheese without having to bother about their health issues, and that is why the product is more specifically called "Pasteurized Prepared Cheese Product." 
Velveeta cheese is made by combining ingredients like- water, milk, whey milk, milk protein, salt, milk fat, whey protein concentrate, sodium phosphate, calcium phosphate, lactic acid, sorbic acid, sodium citrate, sodium alginate, enzymes, annatto, cheese culture, and apocarotenal. 
A basic cheese would only have ingredients like milk, salt, and rennet. But you can see the huge ingredient list of Velveeta that sets it apart from basic cheese. 
Moreover, any variety of cheese generally does not include any preservatives because the ingredients used in cheese automatically act as natural preservatives. But that's not the case with Velveeta. Velveeta contains so many preservatives and coloring ingredients that are generally absent from pure cheese. 
What Is Velveeta Used For? 
There are limitless ways to use Velveeta cheese in different recipes. People who can't consume actual cheese or want an alternative can use Velveeta in different food items.  
Velveeta is a great ingredient to use in chocolate fudge. 
You can replace normal cheese with Velveeta in sandwiches or cold baked beans. You'll experience the same cheesy, gooey texture, and heavenly cheesy taste. 
You can pour this liquidy goodness over peanut butter and pickle sandwiches too. 
Replace your regular cheese on nachos with Velveeta. Kids will love it as much as they would love any other cheese. 
Velveeta works great as a dip as well. 
Add Velveeta in your soups to give a tasty twist to your otherwise plain soup. 
What about everyone's favorite mac and cheese? Yes, you can make it with Velveeta cheese too. 
Is Velveeta Cheese Healthy? 
Velveeta is not the healthiest option if you are looking to lose weight or maintain it. It is quite high in calories and has a lot of preservatives as well.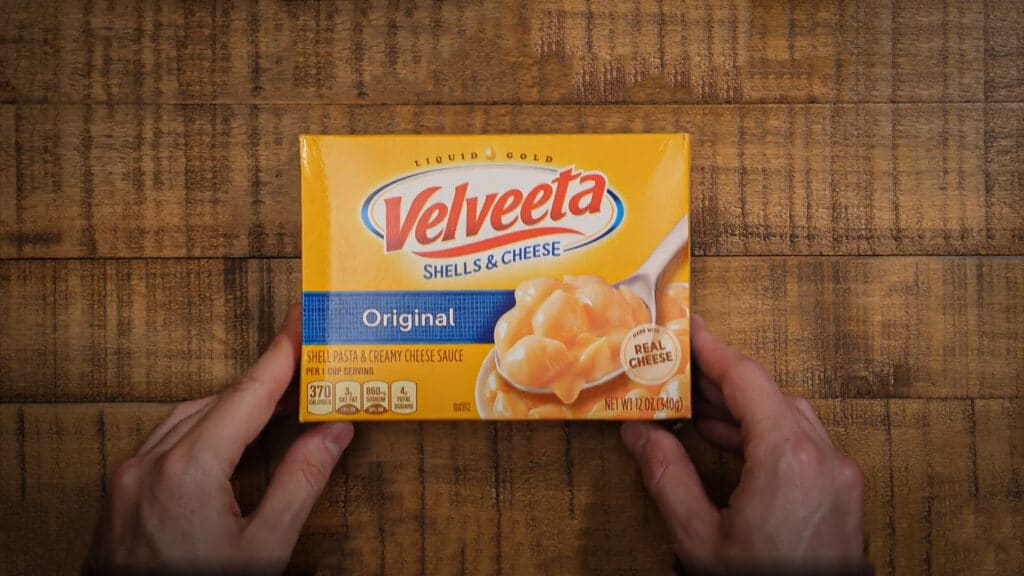 The standard Velveeta packaging has 25 servings, which amount to almost 2500 calories. Velveeta cheese is also high in sodium and fat. You will unknowingly consume a lot of calories if you are not aware of the portion.
Let's check the nutritional facts of Velveeta cheese for a serving size of 1 oz- 
| | | |
| --- | --- | --- |
| Calories  | 70 | |
| Total fat  | 4g | 5% of Daily Value (DV) |
| Saturated fat | 1g | 5% DV |
| Trans fat  | 0g | 0% DV |
| Cholesterol  | 10mg | 3% DV |
| Sodium  | 390mg | 17% DV |
| Total carbohydrate  | 3g | 1% DV |
| Dietary fibers  | 0g | 0% DV |
| Sugar  | 2g | 0% DV |
| Protein  | 4g | 8% DV |
| Vitamin A | | 6% DV |
| Vitamin C  | | 0% DV |
| Calcium  | | 20% DV |
| Iron  | | 0% DV |
The calcium content in Velveeta cheese is also very little compared to normal cheese. Hence, you can't depend on it for your daily value of calcium needs. But Velveeta is very high in lactose compared to other cheeses like cheddar. 
As Velveeta is made differently than other types of cheese, it retains 9.3% more lactose than other types. Your body can convert this lactose into valuable energy without feeling guilty. 
Is Cheese In General Healthy? 
People have been using cheese for so many dishes since forever. Different countries in the world have been experimenting with different types of cheese, and we can now enjoy this sour goodness in multiple flavors. 
However, is cheese healthy? What if I consume it every day? 
Cheese is a great source of protein, calcium, vitamin B12, vitamin A, and phosphorus. The nutritional facts of cheese vary based on the quantity and cheese type but on average; there are around 120 calories in one ounce of cheese. 
Cheese is very high in saturated fat and cholesterol, due to which it is recommended to consume cheese in moderation. Although having an excessive quantity of cheese may lead to adverse health issues, there are positive impacts of the same as well. 
A recent study by the US Dietary Guidelines suggests that specific nutrients in cheese may help with heart health. The bottom line is how cheese reacts to your body depends on the quantity you are consuming and with what other food items you are consuming. 
Eating it with food items like pasta, processed meat, bread, etc., isn't a healthy combo. Hence, try to eat it with healthier alternatives. 
Related:- Is Kix Gluten Free?
Recipes With Velveeta Cheese
Now it's time to check out some mouth-watering recipes with Velveeta cheese. These are easy to make, take less time, and do not require a bunch of ingredients. So let's dive in. 
Chicken and Macaroni Casserole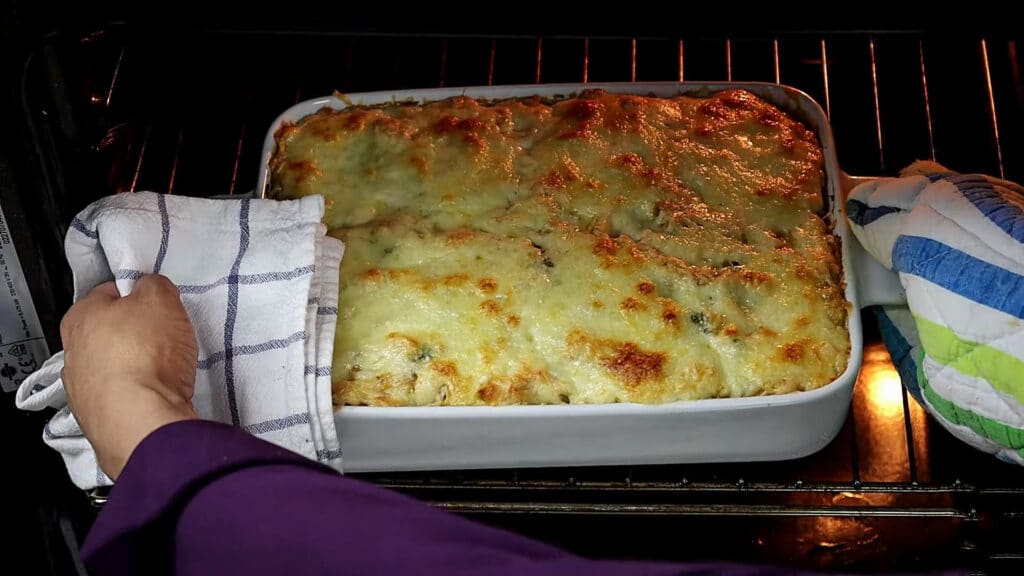 Ingredients 
Macaroni 
About 2 cooked boneless chicken pieces 
1.10 ounce thawed frozen peas
1.10 ounce of condensed cream of chicken soup 
1 cup whole milk 
1 tablespoon salt 
1.4 ounce jar drained pimientos 
¼ teaspoon black pepper 
1 cup bread crumbs 
½ cup Velveeta cheese 
2 tablespoon melted butter 
Cooking procedure 
Preheat the oven at 400° F 
Grease 2 ½ quarter of the casserole dish 
Boil the macaroni for about 2 to 3 minutes and drain it 
Now mix the cooked macaroni with all other ingredients like- peas, chicken pieces, milk, chicken soup, salt, pepper, pimientos in the casserole dish. 
Now add the Velveeta cheese on top. 
In a small bowl, toss the bread crumbs with melted butter and sprinkle it over the pasta mix. 
Now put the baking dish inside the oven and bake for about 25 minutes. 
When the bread crumbs get a little golden, it's a sign the dish is ready.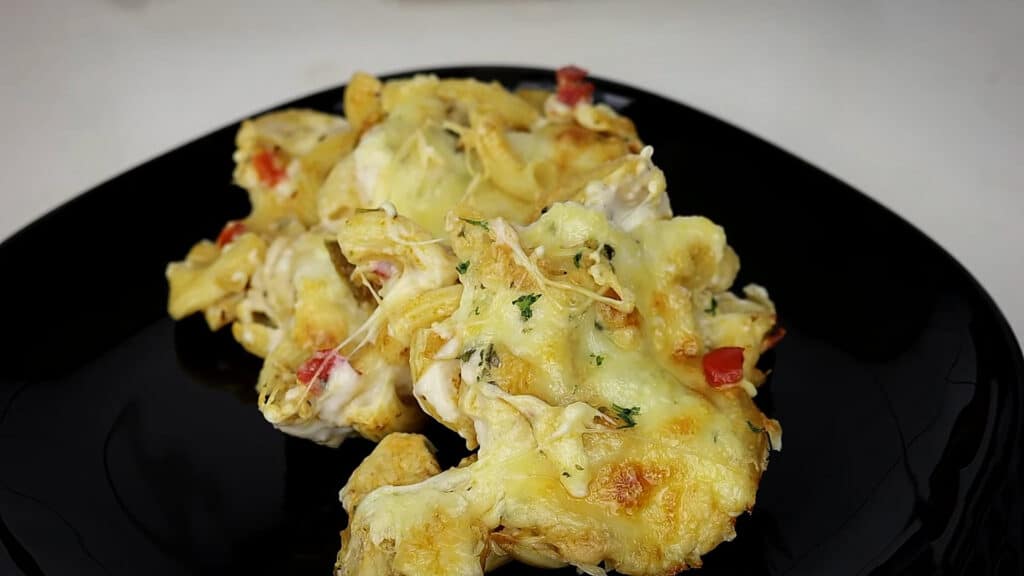 Nutritional facts 
| | |
| --- | --- |
| Calories  | 409 |
| Fat  | 19g |
| Protein  | 22g |
| Carbs  | 37g |
Chocolate Velveeta Fudge 
Ingredients 
1 cup melted unsalted butter 
1 block of Velveeta cheese 
2 pounds sugar
½ cup unsweetened cocoa
2 teaspoons vanilla extract 
1 ½ cup walnuts or pecans chopped 
Cooking procedure 
Take a flat pan and grease it with butter 
Now cut the Velveeta cheese pieces into small cubes
Take a non-stick saucepan on medium heat
Add butter and cheese cubes and stir gently 
The butter and cheese should have a smooth texture
Remove the saucepan from heat. If the mixture gets very thick, add some hot water. 
Now add the unsweetened cocoa sugar into the cheese and butter mixture and whisk. 
Then add the vanilla extract and the chopped nuts and mix well again. 
Now pour the mixture into the greased pan and put it in the refrigerator for about 2 hours. 
Cut into small cubes and enjoy!
Nutritional facts 
| | |
| --- | --- |
| Calories  | 444 |
| Fat  | 22g |
| Carbs  | 61g |
| Protein  | 4g |
Broccoli and Velveeta Cheese Casserole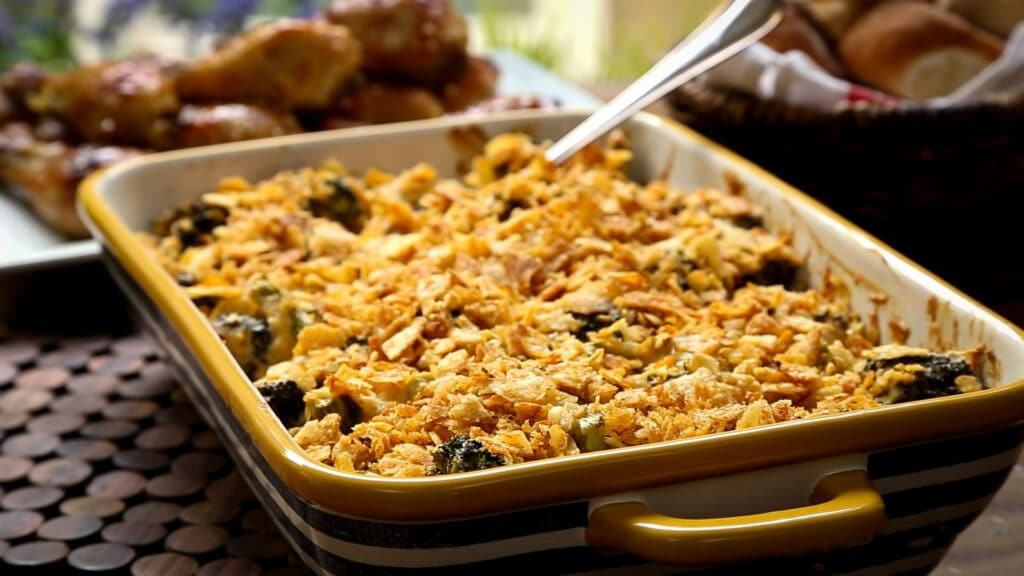 Ingredients 
2.10-ounce frozen broccoli 
⅓ cup slivered almonds 
8 ounce velveeta cheese 
¼ tablespoon garlic powder 
1 10.5 ounces condensed cream of chicken 
2 tablespoon melted butter 
1 cup soft breadcrumbs for toppings 
Cooking Procedure 
Preheat the oven at 375°F
Grease a baking dish with butter 
Boil the broccoli in salted water until they are partially cooked. 
Drain the broccoli and place them in the baking dish. 
Sprinkle the almonds on the broccoli.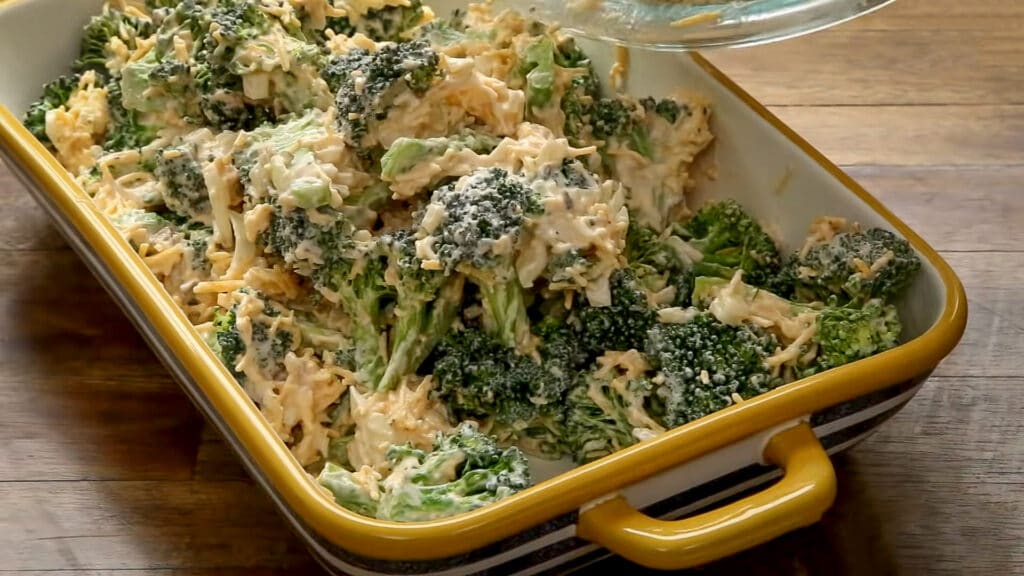 Now combine garlic powder, condensed chicken soup, and the Velveeta cheese in a saucepan on medium heat.  
Cook the mixture until the cheese is completely melted and all ingredients are combined well. 
Pour the sauce over the broccoli and almonds. 
Toss the breadcrumbs with melted butter and sprinkle it over the cheese sauce and broccoli. 
Place the baking dish inside the oven and bake until the breadcrumbs are golden brown. 
Serve hot and enjoy!
Nutritional facts
| | |
| --- | --- |
| Calories  | 382 |
| Fat  | 23g |
| Carbs  | 31g |
| Protein  | 15g |
Summing Up
Velveeta is a gluten free cheese and is completely safe for celiacs. This is also low in calories compared to traditional cheese varieties; hence can be a guilt-free option to opt for as well. Make sure to check out the recipes we mentioned if you want to enjoy the creamy goodness of Velveeta cheese even more!
Most common questions on Velveeta 
Is Velveeta a real cheese? 
No, Velveeta isn't real cheese. It provides the same gooey cheesy texture, but the ingredient list is quite different from actual cheese. 
Is Velveeta cheese bad for your health? 
Velveeta cheese isn't bad for health if you consume it in moderation. Yes, it is quite high in sodium and calories, so make sure not to consume it daily. 
Why is it not recommended to refrigerate Velveeta cheese? 
You should not refrigerate Velveeta cheese because doing so may make it grainy, and the texture may become mushy.