Tahini, also known as tahina, is a flavorful condiment originating from the Middle East. People primarily serve it as it is. It is also present in hummus and baba ghanoush as an essential ingredient and is widely used in many Mediterranean (Levantine) and Asian recipes. But is tahini gluten free? 
The simple answer to this is YES! Tahini is gluten free, because its preparation primarily involves sesame seeds only, which do not contain any gluten. However, not all tahini brands found in the stores are gluten free! 
Unlike most pastes obtained from nuts, tahini is not sweet. Instead, it has a bitter, nutty flavor. People often use it as a salad dressing too. But, then again, can celiacs consume tahini? What are some gluten free tahini brands available? In this article, we will try to answer these questions. 
Keep reading to know all about this flavorful condiment!
Is Tahini Gluten Free?
As mentioned earlier, Tahini is gluten free. But, let's see how! 
The key ingredient used in tahini is sesame seeds. Sesame seeds are gluten free, which makes tahini 100% gluten free too. Most seeds and nuts are gluten free, unless they have some added flavor. Tahini does not contain any cereal grain, which are rich sources of gluten. Hence, there is no source of gluten even if you use toasted sesame seeds or the untoasted ones. The gluten content will always remain nil.
This delicious paste does not contain wheat, rye, barley, or any kind of flour. Hence, celiacs can consume tahini. But hold! Despite such assurance, if you are buying commercial products, you should always check for the gluten free labels on the container.
Celiacs should still prefer preparing their tahini right at home (find the recipe down in this article!). You can consume it even if you are just avoiding gluten for non-medical reasons.
Related:- Is Baklava Gluten Free?
What Is Tahini?
The primary ingredient in tahini is sesame seeds. This paste forms from the grounding of these seeds. It has a smooth texture. Sesame seeds are gluten free. Hence, tahini is also gluten free in this natural state. Some manufacturers recommend refrigerating it, and some suggest otherwise.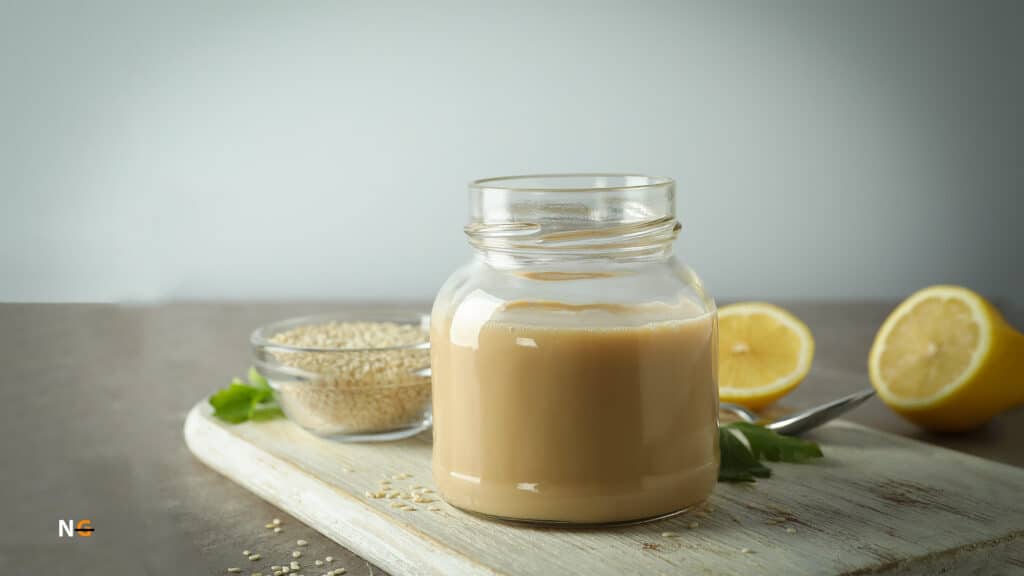 Sesame seed does not contain wheat or any grain of any sort. Thus, it is good news that this makes tahini gluten free!
The history of sesame seeds can be traced back to as early as 4000 years ago when sesame wine was served to Gods. You can find references to sesame in lots of old recipes too.
We can find one of the first references of tahini in an Arabic cookbook from the 13th century. The writer has mentioned there that tahini is an ingredient of hummus kasa. The name of this cookbook was "Kitab Wasf al-Atima al-Mutada."
Is Tahini Beneficial to You?
Health Benefits:
Tahini is a delicious dressing, but is it healthy as well? Thankfully, Tahini is safe and has plenty of health benefits. It will be a big YES! First, let's talk about how nutritious tahini is. The USDA National Nutrient Database has verified that 2 tbsp tahini contains the following nutrients:
178 calories
6.36 g of carbohydrates
0.15 g of sugar
2.8 g of fiber
16.13 g of fat
0.15 g of sugar
5.1 g of protein.
The exact amount also provides phosphorus, calcium, magnesium, and iron. It is also rich in antioxidants. And that tells how nutritious tahini can be!
The second health benefit of Tahini is that it improves heart health and might help prevent cancer. Tahini also helps people suffering from arthritis by enhancing their overall bone health. High magnesium content is good for the bones. Tahini also provides monounsaturated fats, which help prevent diabetes- 2.
Culinary Benefits:
Apart from all the health benefits, tahini also has a lot of culinary miracles. It can be used as a salad dressing itself. You can also use it as one of the ingredients for a salad dressing. Dip your vegetables in tahini, and get an enhanced taste.
You can also make several gluten free recipes using tahini. To name a few, we have hummus and gluten free tahini cookies. You can also make sauces like tahini miso sauce and avocado tahini pesto sauce.
But are there some potential risks associated with tahini? Let's find out! 
Potential Risks of Tahini:
Tahini has lots of nutrients, but it is high in calories too. Hence, you should always consume it in limited quantities.. Also, if you are allergic to sesame seeds, tahini might not be a great choice of food for you! 
Are All Pre-Packaged Tahini Gluten Free?
Tahini is generally gluten free. Most readymade ones do not contain gluten as well. But readymade packaged tahini may contain gluten to thicken its consistency. Hence, it is better to check for the brands that have gluten free labels.
A better alternative is to make your tahini at home. That way, you can stay assured that there is no additive in the sauce and relish it wholeheartedly. We have added a homemade tahini recipe later in this article. So, keep reading.
Gluten Free Tahini Brands
Tahini is a very common ingredient that we use in food preparations. When you prepare tahini at home, cross-contamination chances are meager. But, when you buy a commercial product, you may not get the desired clarity. 
Hence, it is essential to check for gluten free tahini brands. We have done the hard work for you and found these excellent gluten free tahini brands and products you can always trust. If you are buying any product from departmental stores, check the label before purchasing it. 
How to Make Gluten Free Tahini at Home?
It is an easy task to prepare gluten free tahini at home. In fact, it tastes better than the readymade ones. Also, homemade tahini is more pocket-friendly, safe, and healthy. If you prefer making your own recipe, follow the simple steps below, and you are good to go!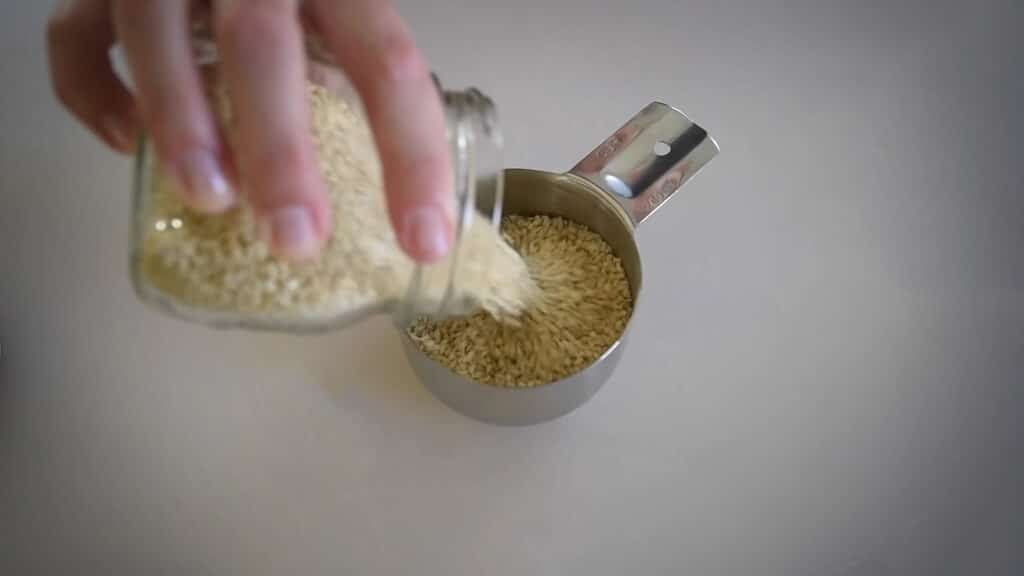 The best part about making it at home is that you can maintain the consistency of the paste. You can make it thicker or flowier. You will only need three ingredients to prepare this fantastic paste- 
Step 1: Toast the Beans
The first step is to toast the sesame seeds because it enhances the taste of the tahini. It would be best if you were extra cautious when handling sesame seeds. They tend to burn fast due to their small size. You can leave the toasted seeds for some time so that they can cool down.
Step 2: Process the Beans for Paste
The next step is to process the toasted seeds. A crumbly texture is expected. To get a smooth paste, we would add 3-4 tbsps of oil into the crumbly paste. You can reduce the oil quantity, but that would hamper the consistency of the paste. Now, add some salt to the mixture. Process it for some more time, and voilà! Your tahini is now ready for consumption.
Step 3: Storing the Tahini Paste
The storage can be a bit tricky. When you refrigerate it, the oil will separate from the rest of the product. You can stir the tahini well, and it is good to go. You can store this paste for a month or so in the refrigerator. 
Is Tahini Vegan and Dairy-Free?
Now, we already know that tahini paste is gluten free. But is Tahini vegan as well? The answer would be a YES! Tahini contains no animal product. It is also free from any dairy products, making it 100% dairy-free. Hence, even if you are lactose intolerant, you can still enjoy this delicious paste, spicing up your food. 
It is made from either raw or toasted sesame seeds. So, if you are not sesame sensitive, you can consume tahini. Not only this, you can prepare tahini even in a keto-friendly manner. It is because of its high-fat content and low carbs content. Many readymade tahini bottles have keto-friendly labels on them.
Conclusion:
By now, you can already see whether tahini is suitable for you or not. It is gluten free and vegan as well. You can even find the keto-friendly Tahini.
Can you imagine how much you can do with a simple paste from sesame seeds! So, enjoy this dressing with your salads, or make some delicious hummus out of it! Again, due to its less intense flavor, you can consume it in so many ways and ramp up your lunch or dinner!
Tahini is readily available in stores, and you can find it on online shopping platforms (like Amazon) as well.