Chocolatey, crunchy, and creamy are the three words that describe Ferrero Rocher chocolates the best. 
This Italian chocolate has been a favorite among chocolate lovers forever. But the recent surge of gluten allergies has made people conscious eaters, and they often wonder, is Ferrero Rocher gluten free? 
Unfortunately, Ferrero Rocher is not gluten free. These contain wheat flour that helps the chocolate to rise better. Wheat is a strict no when it comes to a no-gluten diet, so Ferrero Rocher is also a big no for those suffering from gluten intolerance.
Unfortunately, Ferrero Rocher is not gluten free. These contain wheat flour that helps the chocolate to rise better. Wheat is a strict no when it comes to a no-gluten diet, so Ferrero Rocher is also a big no for those suffering from gluten intolerance. 
Let's dive deep and understand why celiacs should stay away from Ferrero Rocher and if there are similar gluten free substitutes to the chocolate. 
Is Ferrero Rocher Gluten Free? Or Is It Not?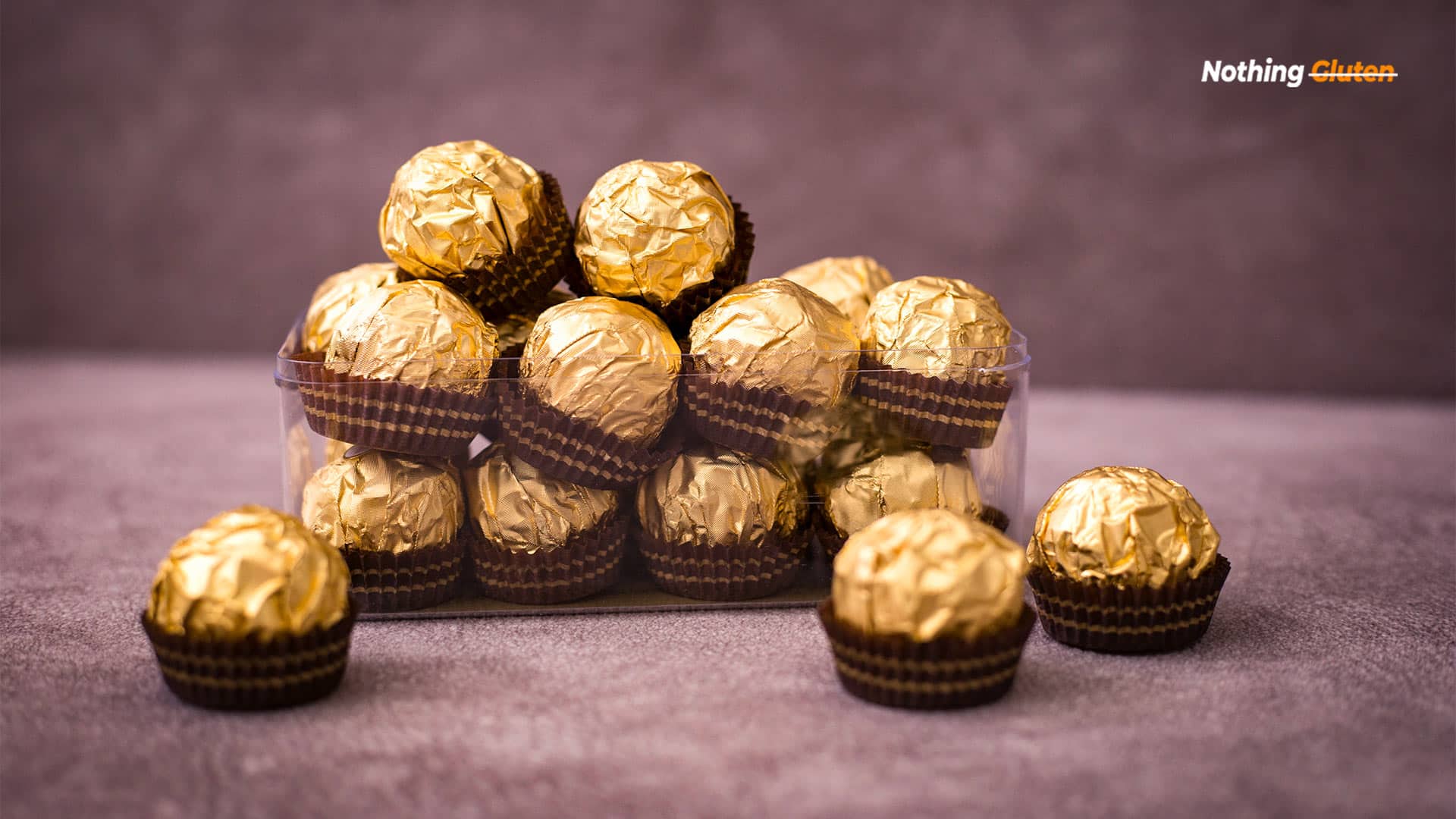 No, Ferrero Rocher is not gluten free. It might have been a great disappointment to a lot of you who can't digest gluten. 
The makers use wheat flour in the chocolate, which makes the chocolate unsuitable for people trying to stay from gluten. 
If you are a celiac or have been diagnosed with gluten allergies for quite some time, you know that you can't eat anything with wheat. 
These chocolates contain at least 14% gluten, which is way above the recommended 20ppm level suggested by the FDA. 
Hence, if you don't want to experience the side effects like- headache, bloating, nausea, skin irritation, etc., you should stay away from these golden wrapped chocolate balls. 
Tip: if you are new to this world of eating gluten free, don't skip reading the ingredient list while picking any food. It helps you know which foods are safe for you and which are not. 
What Ingredients Go In Ferro Rocher? Why Are They Not Suitable On A No Gluten Diet?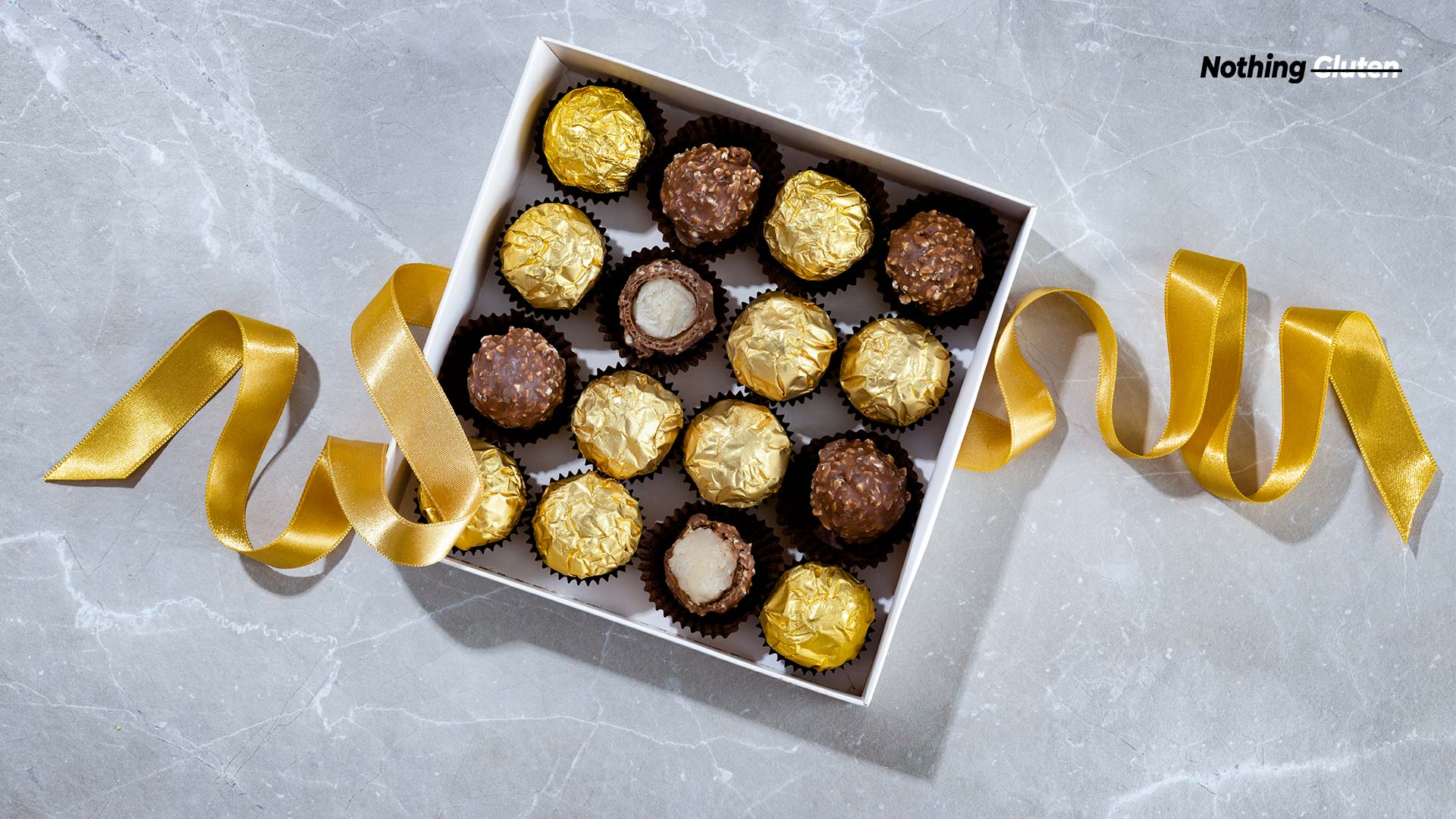 I mentioned already that wheat flour is the ingredient that makes Ferrero Rocher unsuitable for a no-gluten diet. 
But are you curious to know about the other ingredients in Ferrero Rocher? I'm sure you do. There are different flavors of Ferrero Rocher. Let's check the ingredient list of a couple of them. 
Hazelnut 
Milk chocolate (cocoa butter, sugar, cocoa mass, concentrated butter, skimmed milk powder, emulsifier (soy lecithin and vanillin) 
Wheat flour 
Palm oil 
Sugar 
Whey powder 
Raising agent 
Reduced fat cocoa 
Salt 
2. Ferrero Rocher Confetteria Raffaello 
Vegetable fats 
Wheat flour 
Desiccated coconut 
Whey powder 
Tapioca starch 
Skimmed milk powder 
Flavorings 
Emulsifier 
Salt 
Raising agents 
Is Ferrero Rocher Vegan & Healthy?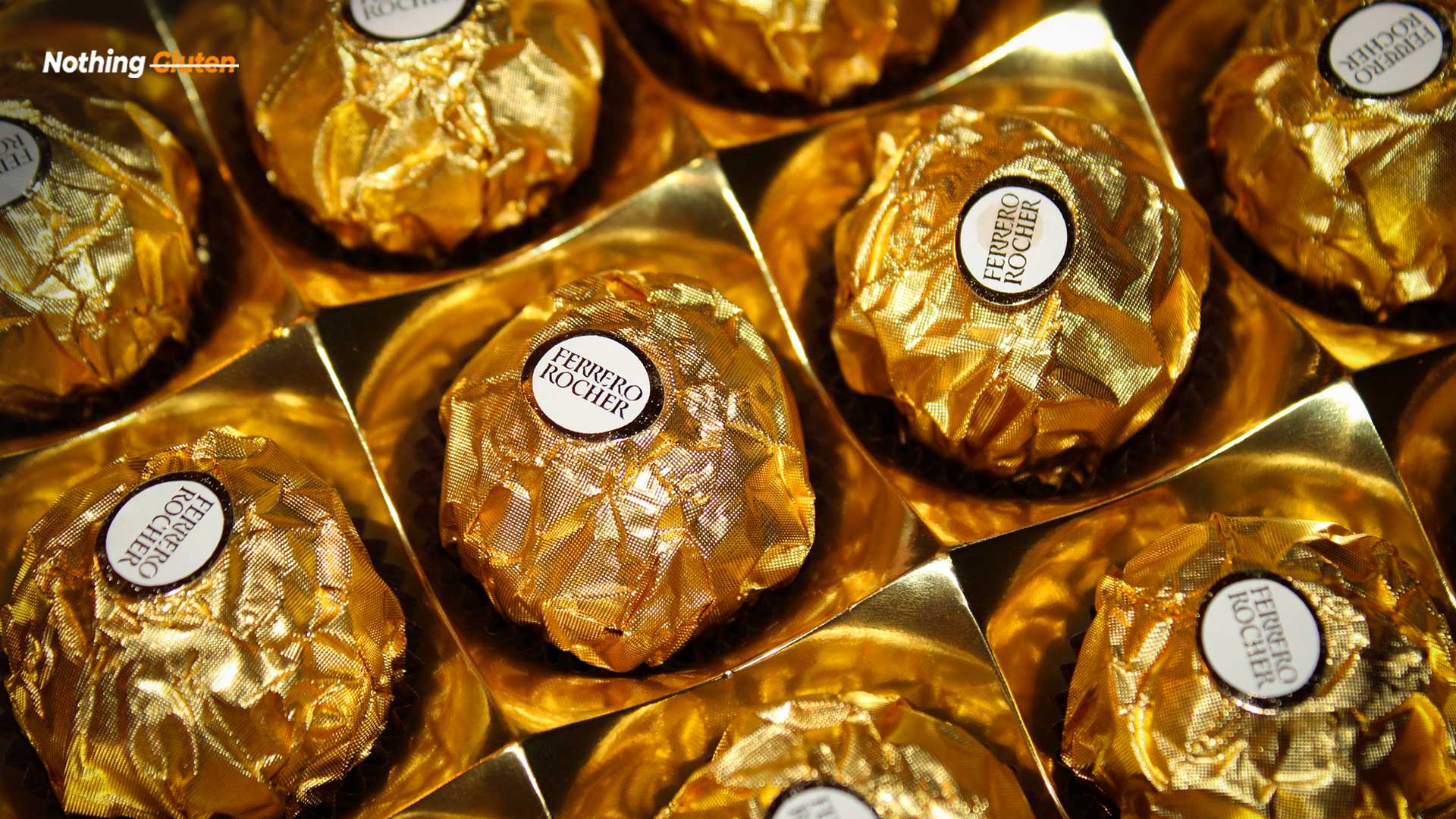 Again a big no. Ferrero Rocher is not vegan. These chocolates contain milk derivatives and other dairy products like butter, which vegans don't eat. 
Vegans don't eat anything with animal products like- milk, butter, egg, honey, cream, cheese, etc. Ferrero Rocher has milk powder, butter, and chocolate milk, a red flag for vegans. 
What Can Be A Great Substitute For Gluten Free Ferrero Rocher?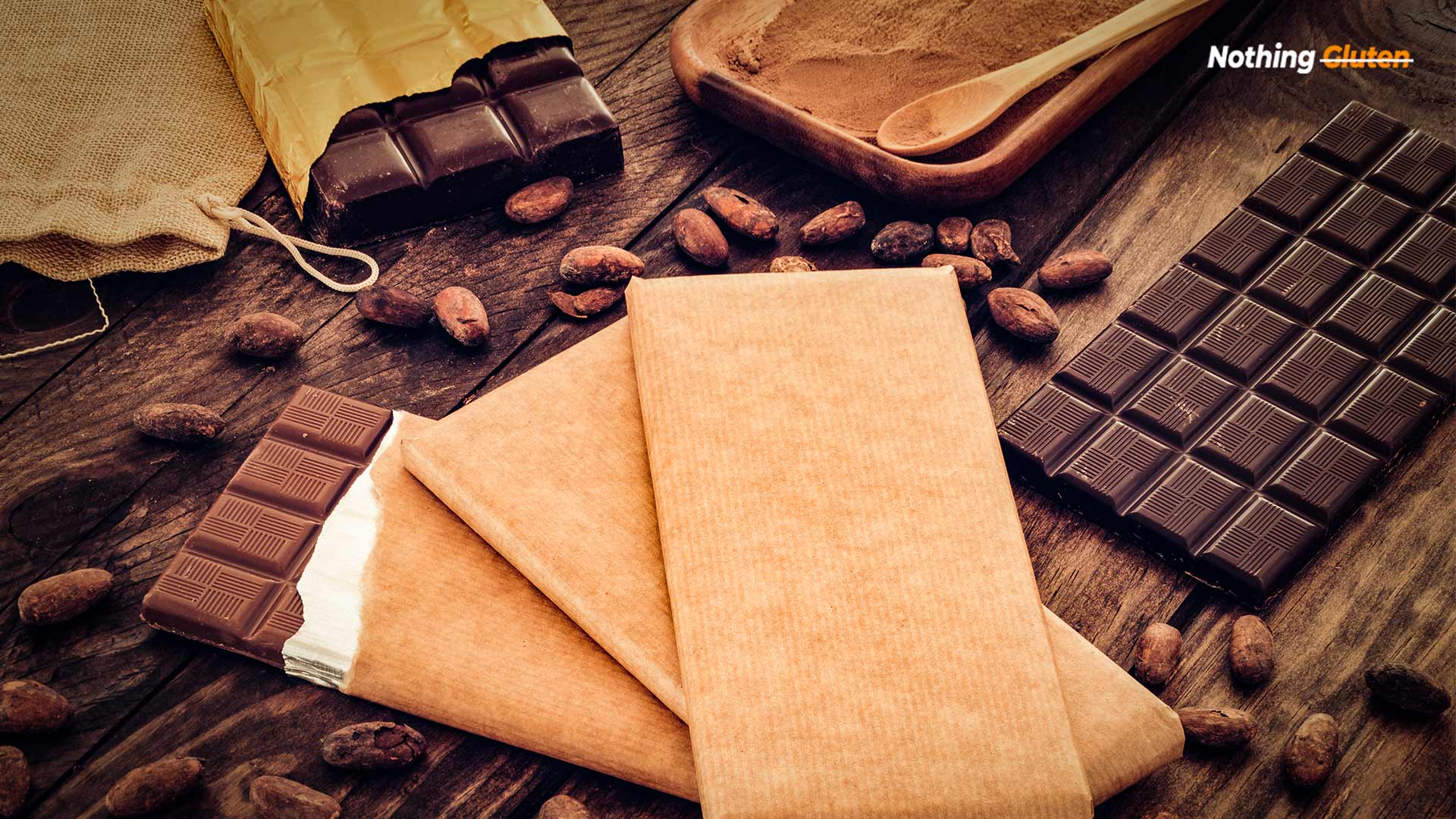 There are some gluten free chocolates that taste as amazing as Ferrero Rocher. I mentioned trying quite a few of these similar substitutes and absolutely loved them. 
Here is the list
One of the best alternatives to Ferrero Rocher is this Hazelnut Butter Bombs by Alter Eco. These chocolates are free from gluten, soy, and preservatives and are Non-GMO as well. 
You also get to pick from so many different flavors, and all of them are super tasty. 
Even though in shape and size, it does not look like Ferrero Rocher, there is no compromise on taste. This organic chocolate is free from gluten; it is vegan friendly and healthy as well. 
Hu Kitchen chocolate bars are available in different flavors, so you can pick the one you like the most. 
Lily's white chocolate style bars have three flavors; Original White Chocolate style, Cookies and Creme, and Birthday Cake. 
All the varieties are made with stevia, a great alternative to sugar. Plus, it is gluten free, keto-friendly, and low-carb, so these are not only tasty but healthy too. 
Check Out This No-Dairy & Gluten Free Ferrero Rocher Recipe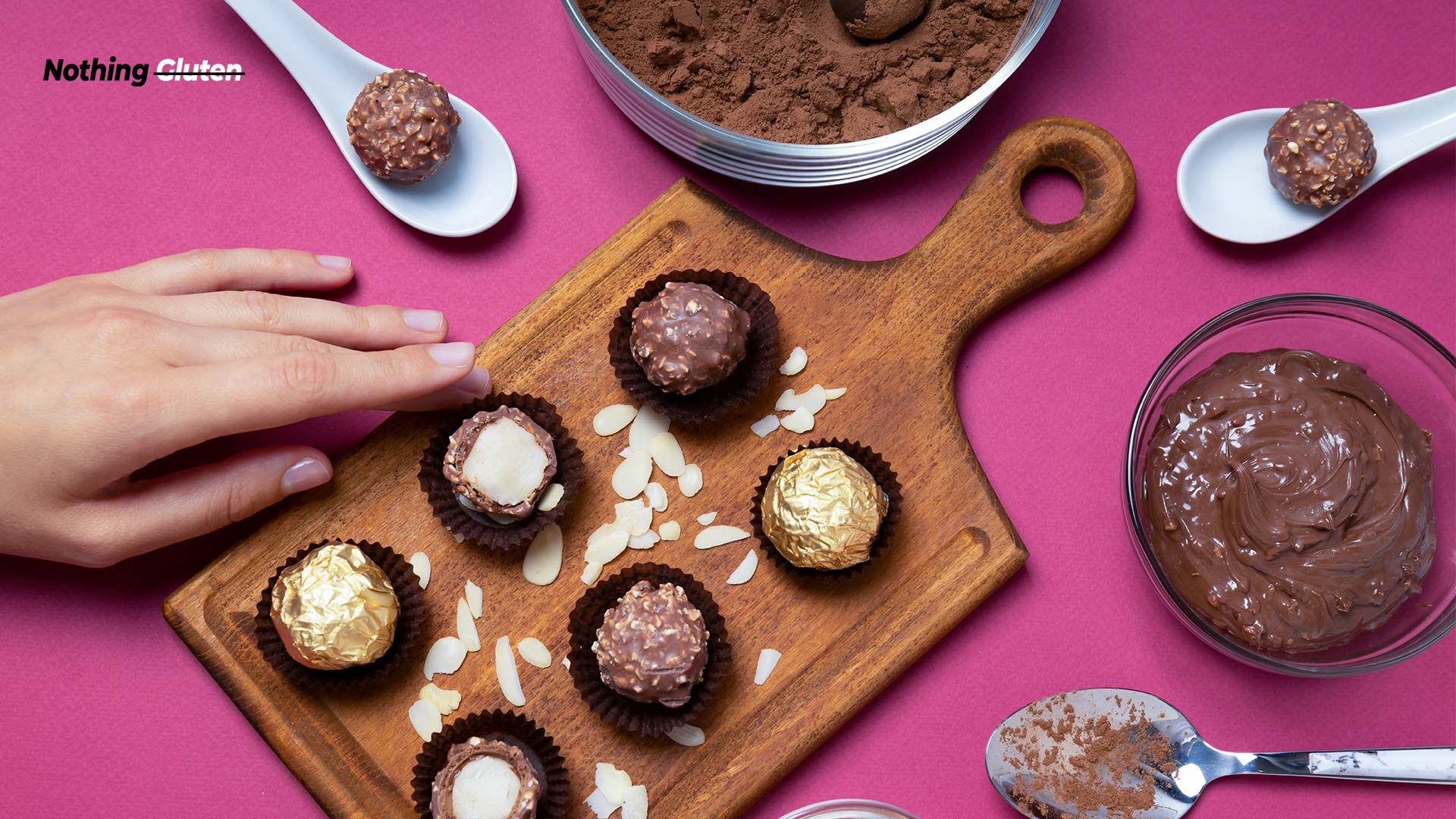 Have you ever thought of making Ferrero Rocher at home, too, without gluten? Here is a gluten free and dairy free recipe of Ferrero Rocher that is easy to make and super delicious too. Let's take a look. 
Ingredients 
Method 
Put the crushed hazelnuts in a Ziploc bag and crush further using a rolling pin. 
Mix 5 tbsp chocolate spread in a bowl with 3 tbsp chopped hazelnut. Keep it in the freezer for 45 minutes. After 45 minutes, take it out from the freezer and keep it outside for ten minutes to make it workable. 
Take some of the mixture and put one hazelnut in the center. Roll it using your hands, and make a ball with it. 
Keep the balls on a baking sheet and keep them in the freezer for 20 to 30 minutes. In the meanwhile, crush the wafers. 
Take out the chocolate balls from the freezer and leave them outside for five minutes. Run them over the crushed wafer. Put them back in the freezer. 
Melt the dairy-free dark chocolate in a double boiler and add chopped hazelnut to it. Mix nicely. 
 Take the chocolate balls out, coat them well with the melted chocolate, and put them back in the refrigerator. Once set, they are ready to enjoy. 
You can also check out this YouTube video for the recipe- 
Conclusion 
Even though Ferrero Rocher is not gluten free, you can go for the other gluten free substitutes I have mentioned. 
Or you can try out the gluten free and vegan Ferrero Rocher recipe I mentioned that tastes amazing too. Hopefully, these articles are helping you follow a complete no-gluten diet. 
To continue finding such informative articles and gluten free recipes for popular food items, keep following Nothing Gluten. 
FAQs 
Is Ferrero Rocher Gluten Free In Australia? 
No, Ferrero Rocher is not gluten free in Australia. There is no separate recipe for Ferrero Rocher sold in Australia, so gluten is still in the chocolate. 
Is Ferrero Rondnoir Gluten Free? 
No, Ferrero Rondnoir is also not gluten free. All three varieties of Ferrero Rocher, including Ferrero Rondnoir, have wheat flour, so it's a big unfit for people avoiding gluten. 
Is Lindt Chocolate Gluten Free? 
All Lindt chocolates are not gluten free. Their truffles and Lindor chocolates contain barley malt, so they are not gluten free. But they have some dark chocolate varieties that don't contain wheat or barley. 
Is Ferrero Rocher Dairy Free? 
No, Ferrero Rocher is not dairy free. Milk powder, butter, and chocolate milk are on the ingredient list, and we know these are all dairy products.