Having gluten sensitivity can be a real pain since you have to be extremely picky when it comes to food. That becomes even more challenging when you have to resist having something tempting like Hershey's syrup. Ever wondered if celiacs could have Hershey's syrup? Is Hershey's syrup gluten free? 
Hershey's chocolate syrup is gluten free along with a few other products. Hershey's discloses their allergen information clearly on their website so refer to that before laying your hands on any. 
But to avoid gluten allergies or side effects, it's best to know which Hershey's syrups are gluten free. In this article, I've listed down all Hershey's gluten free products along with their ingredient list, so continue reading to unveil the truth. 
Is Hershey's Syrup Gluten Free? 
Hershey's doesn't claim itself as an entirely gluten free brand since not all Hershey's syrups are gluten free. But there are few Hershey's options for gluten allergy people to pick which will fit perfectly in your gluten free diet.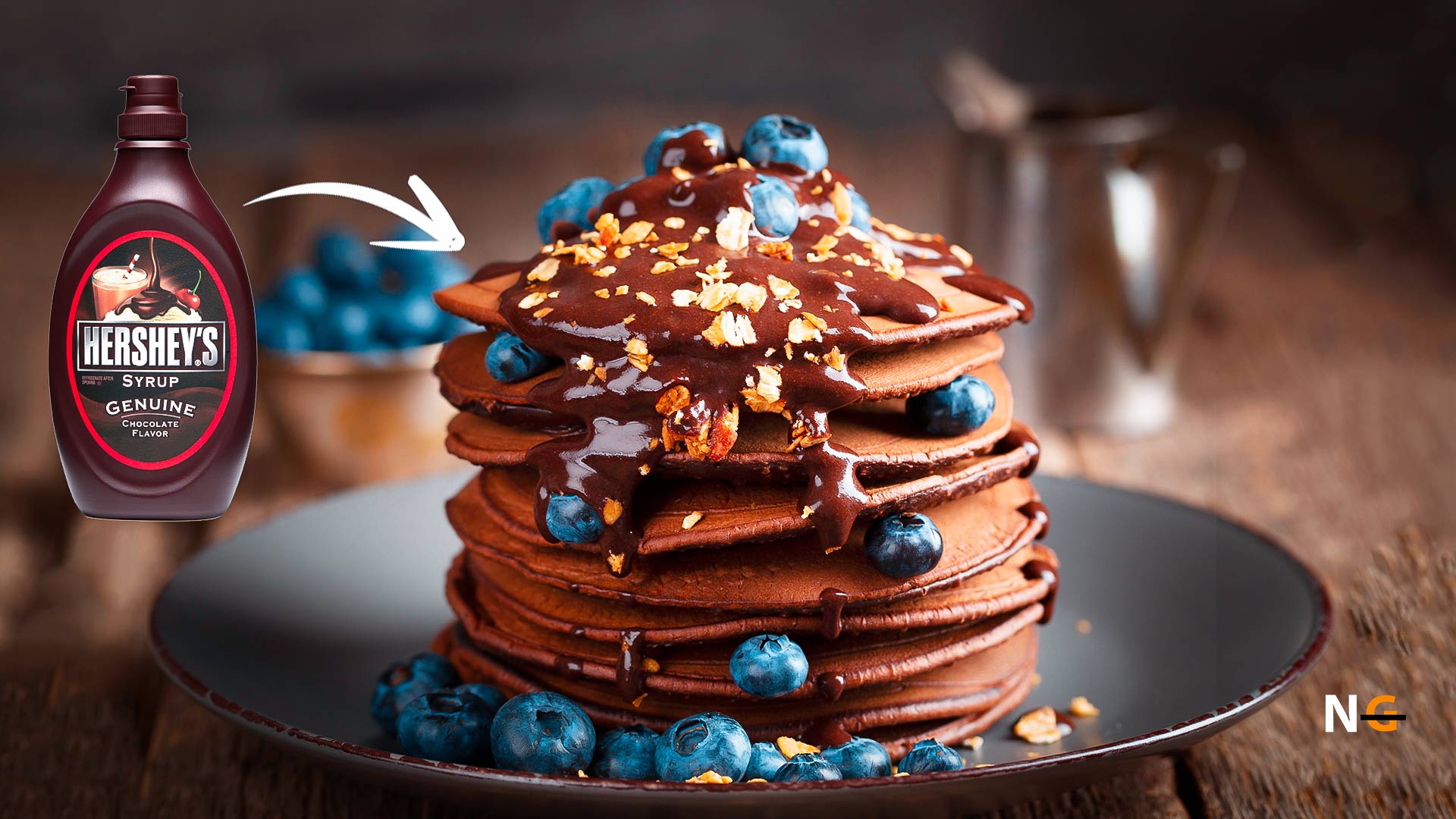 The gluten free Hershey's syrup options include- Hershey's Caramel Syrup and Hershey's Chocolate Syrup. Apart from syrups, there are other products like Hershey's chocolate, toffee, etc., that are gluten-free. To check the complete Hershey's gluten free list, click here. 
To ensure the two Hershey's syrups I have mentioned don't have any gluten products, I have gone through their ingredient list as well. Here is the ingredient list of both Hershey's gluten free syrups. 
Related Post:- Is Fudge Gluten Free?
Corn syrup 
High fructose corn syrup 
Water 
Sweetened condensed skim milk 
Contains less than 2%
Sodium citrate 
Disodium phosphate 
Artificial flavor 
Salt 
Xanthan gum 
Caramel color 
Artificial color (Yellow 5, yellow 6)
Nutritional facts per 1 tbsp 
| | |
| --- | --- |
| Calories  | 50  |
| Total fat  | 0  |
| Trans fat  | 0  |
| Saturated fat  | 0  |
| Cholesterol  | 0 |
| Sodium  | 60mg  |
| Carbs  | 13g |
| Dietary fiber  | 0 |
| Total sugars  | 10g |
| Added sugar  | 10g  |
| Protein  | 0g |
Corn syrup 
High fructose corn syrup 
Water 
Cocoa 
Sugar 
Contains less than 2%
Potassium sorbate 
Salt 
Xanthan gum 
Mono-Diglycerides 
Polysorbate 20, 60 or 80
Vanillin 
Nutritional facts per 1 tbsp 
| | |
| --- | --- |
| Calories  | 45  |
| Total fat  | 0  |
| Trans fat  | 0  |
| Saturated fat  | 0  |
| Cholesterol  | 0 |
| Sodium  | 5mg  |
| Carbs  | 12g |
| Dietary fiber  | 1g |
| Total sugars  | 10g |
| Added sugar  | 10g  |
| Protein  | 0g |
The Ever Loved Hershey's Syrup: What Is Its Backstory?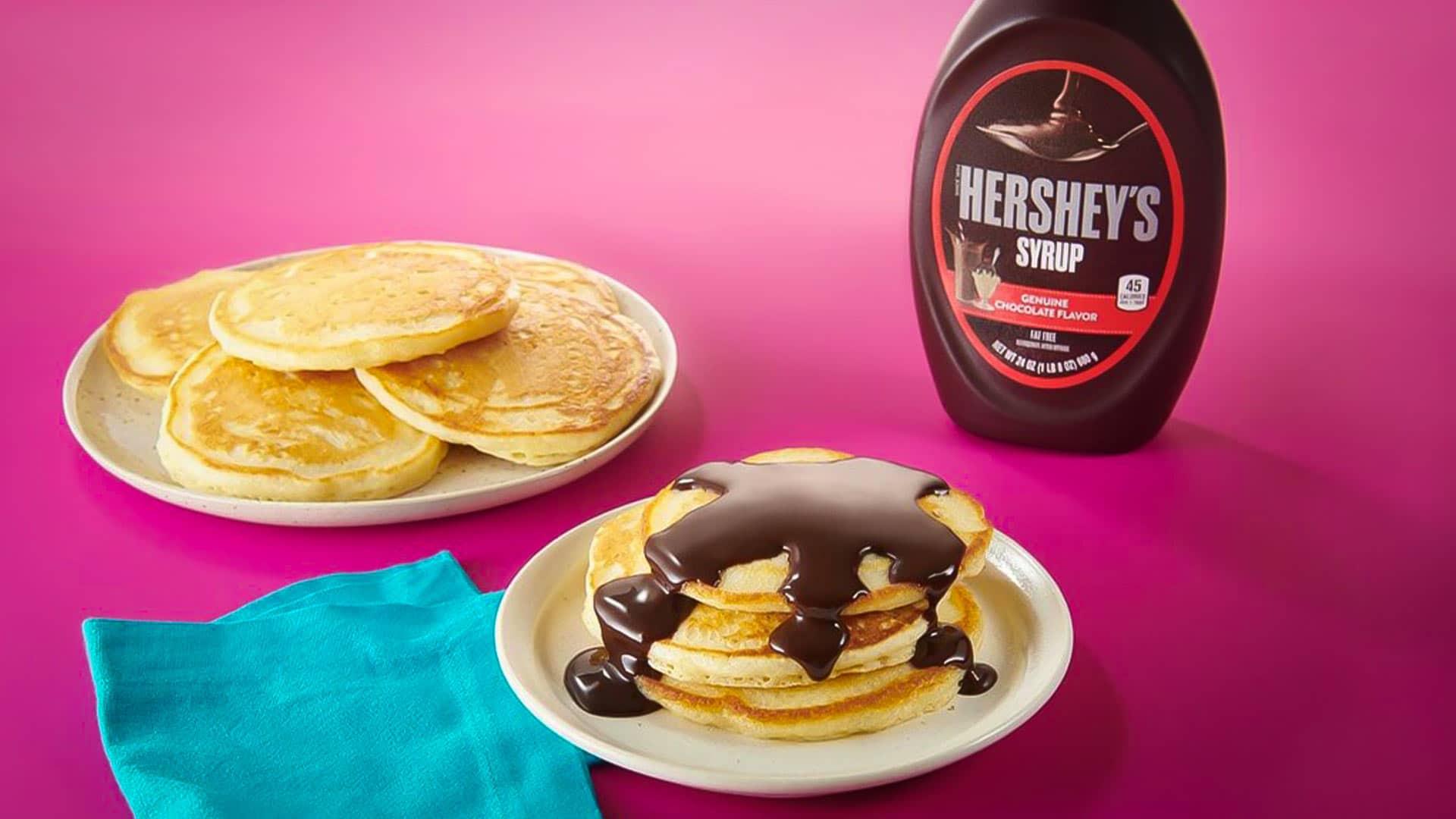 Milton Hershey is the man behind the popular range of Hershey's products. The company started off with its chocolates, but currently, they have expanded its horizon beyond its chocolate bars by including syrups and more. 
Hershey's has included several sub-brands under its name, and a few of them are- 
Skinny Pop Popcorns 
Pirate's Booty 
Real Peppers 
ONE™
The best thing about Hershey's is that they have kept a separate range of products safe for celiacs. These are made in a completely gluten free facility so that celiacs can munch on them without worrying about getting any side effects. 
Why Should Celiacs Avoid Gluten Products? Which Food Products Are Harmful To Gluten Sensitive People? 
A lot of times, people are not aware of how gluten can leave a long lasting effect on their health. Gluten sensitive people tend to ignore the side effects and take quick medications to relieve the discomfort. 
But if you ignore it for the longest time, you may have to face major health issues like malnutrition and intestinal damage. Celiacs are unable to digest gluten, and their bodies sense it as a toxin.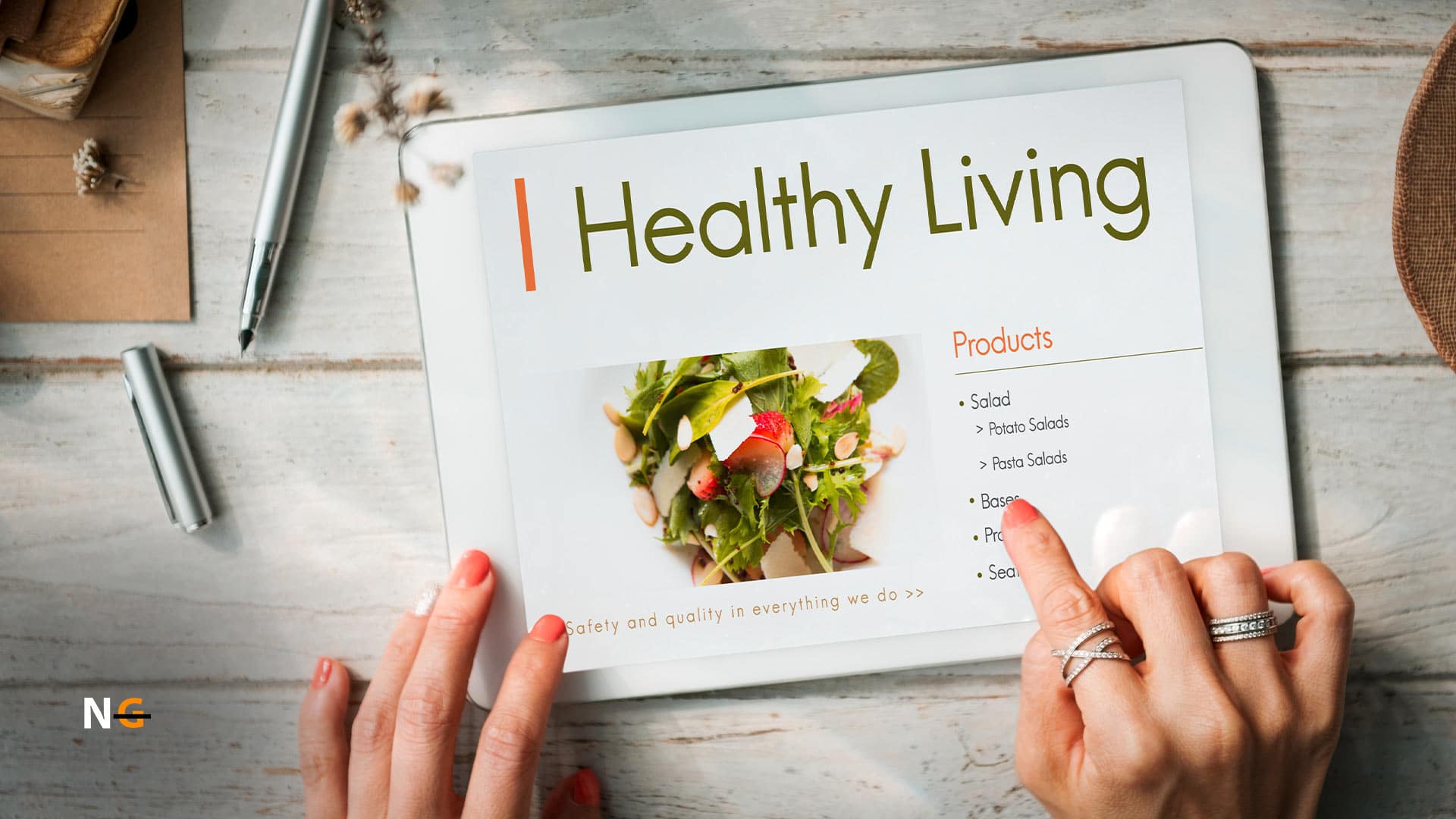 Besides long-lasting health issues, celiacs will experience temporary discomfort like headaches, bloating, diarrhea, intestinal damage, skin rashes, etc. Some of the common grains that celiacs and gluten-sensitive people have to stay away from are- 
Wheat (as a direct ingredient or additive)
Barely 
Rye 
Triticale (a cross between rye and wheat) 
Semolina 
Graham flour 
Farina 
I recommend you check the product label whenever you buy anything to check its gluten status. 
Is Hershey's Syrup Vegan Friendly? 
Now you know that Hershey's has a range of gluten free syrups which won't induce any gluten allergy. But are they equally safe for vegans? Can vegans enjoy Hershey's syrup too?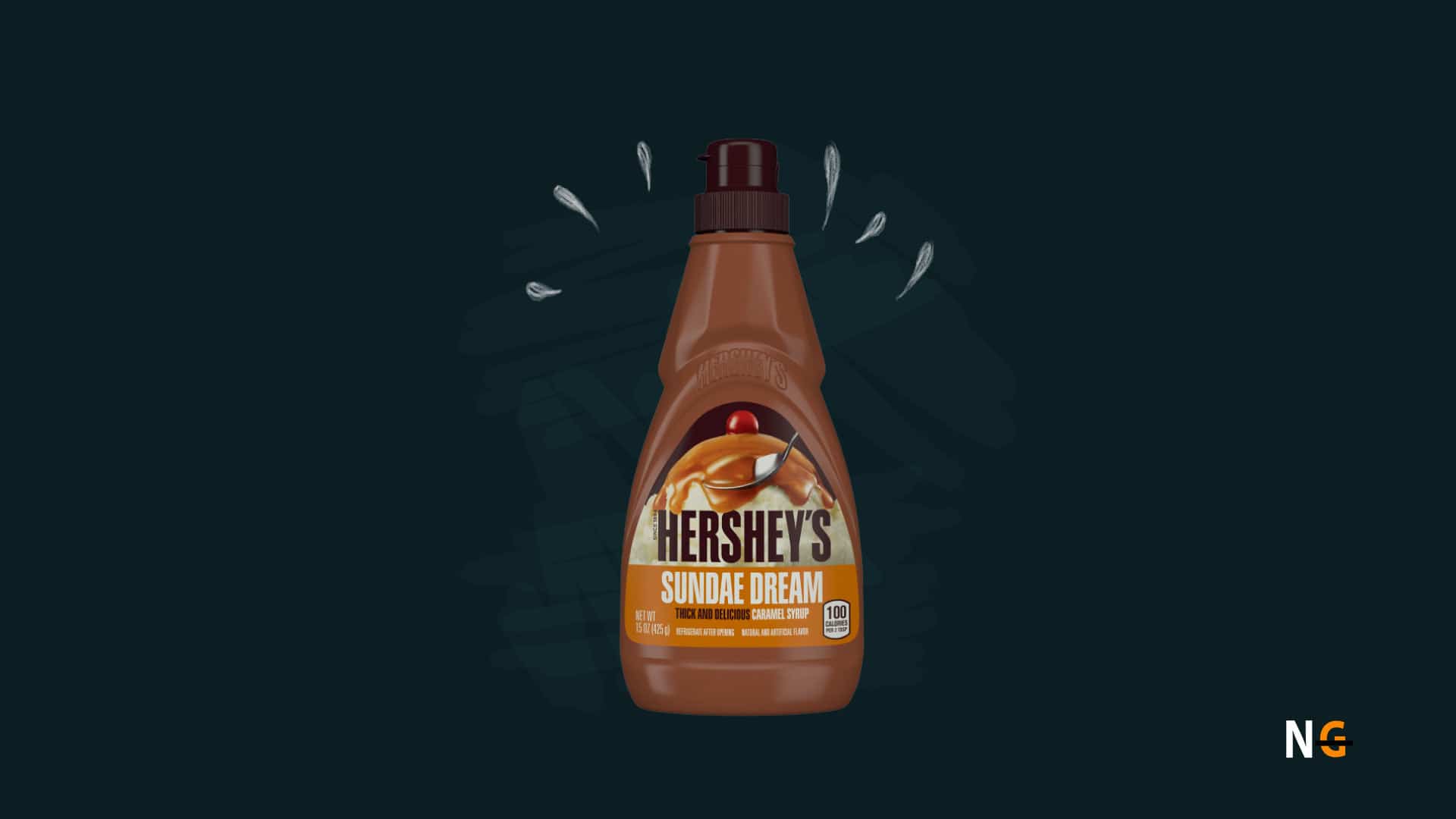 Yes, some Hershey's syrups are vegan and contain no dairy and animal products like milk, eggs, or even honey. After going through the ingredient list, I have found out that Hershey's chocolate syrup and strawberry concoction are completely vegan friendly. 
But their caramel syrup isn't vegan, so don't consume it if you're a strict vegan or are allergic to dairy or animal based products. 
Mouth-Watering Recipes To Try With Hershey's Syrup 
We mostly use Hershey's syrup in our milkshakes or just to drizzle over our desserts, but there are other mouthwatering recipes you can make with this sweet syrup. Here are a few delicious recipes I love making with Hershey's syrup, so I thought of sharing them with you as well. 
1. Hershey's Chocolate Syrup Cake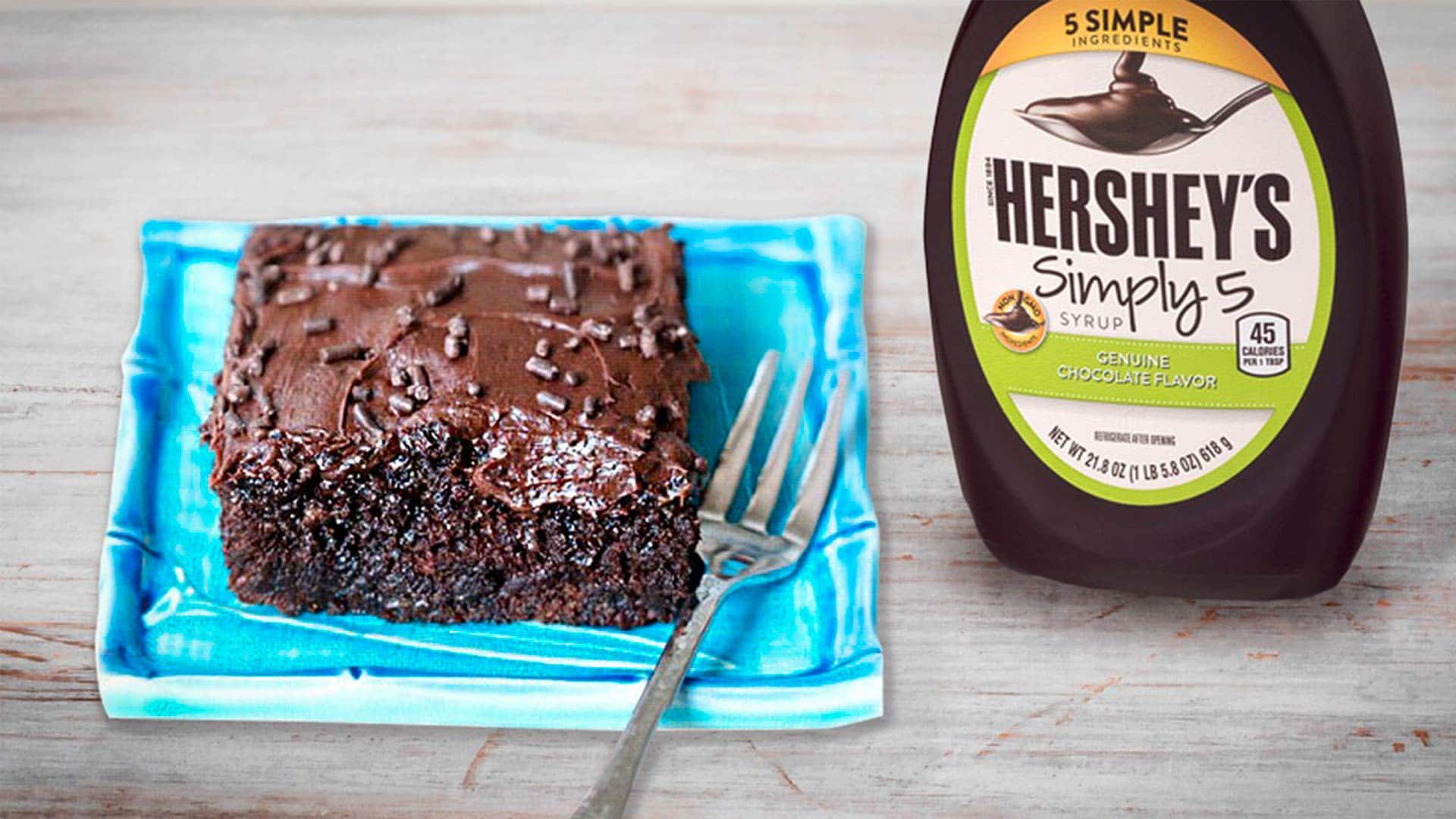 Ingredients 
1 can Hershey's Chocolate syrup 
1 cup all-purpose flour (take some extra for dusting) 
½ tsp baking powder 
1 cup sugar 
½ cup butter 
1 tsp vanilla 
4 eggs 
Directions 
Step 1
Preheat the oven to 325°F. In a bowl, mix butter and sugar using a stand mixer. Start adding the eggs one at a time and mix everything well. Now add the vanilla and Hershey's syrup and give it another nice mix. Get your hands messy by mixing the flour with your hands. 
Step 2 
Take a lightly greased baking pan and dust it with four. Pour the batter into the pan and let it bake for one hour and fifteen minutes in the preheated oven. 
Step 3 
Let the cake cool down for a few minutes. You can add a few drops of chocolate syrup from the top and enjoy!
2. Sea Salt Caramel Iced Cappuccino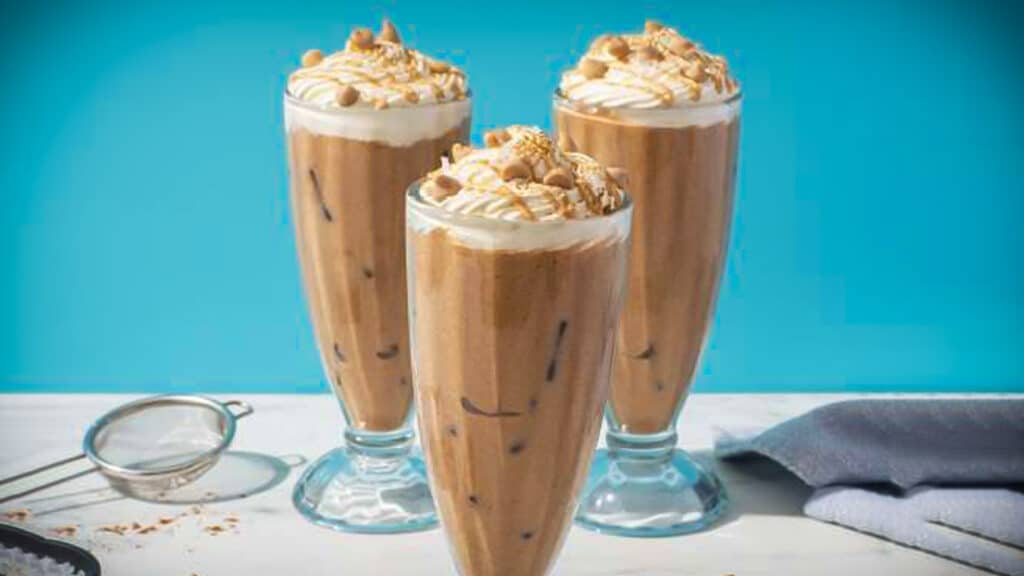 Ingredients 
½ cup Hershey's chocolate syrup 
1 cup Hershey's CHIPITS sea salt caramel chips 
2 cups vanilla ice cream 
2 cups of cold coffee
¼ tbsp cinnamon powder 
1 ½ cup whipped toppings 
¼ tsp sea salt 
Directions 
Step 1 
Firstly melt the seal salt choco chips using a double boiler. Pour the melted choco chips into the Hershey's chocolate syrup. Now in a blender, add the cold coffee, choco chips, and chocolate syrup mixture and blend well. Add the vanilla ice cream and blend again until smooth.  
Step 2 
Fill your glasses with ice and add the creamy drink. Top with whipped toppings, remaining choco chips melt, and unmelted choco chips, cinnamon powder, and sea salt. You have your sea salt caramel iced cappuccino ready. 
Takeaway 
Hopefully, you got your answer about Hershey's syrup's gluten status. A couple of Hershey's syrups do not contain gluten making it safe to drizzle over your desserts to make them extra special. 
Try the Hershey's desserts recipes mentioned here, and let me know how you like them. 
Most Frequently Asked Questions About Hershey's Syrup 
Is Hershey's syrup dairy-free? 
A few Hershey's syrups are dairy-free and have no eggs, milk, or honey. These syrups are- Hershey's chocolate syrup and the Strawberry Concoction. 
Is Hershey's caramel syrup gluten free? 
Yes, Hershey's caramel syrup is gluten free and absolutely safe for celiacs.
What is Hershey's syrup made of? 
Different Hershey's syrup has different ingredients; for instance, Hershey's chocolate syrup has Corn syrup, High fructose corn syrup, water, cocoa, sugar, potassium sorbate, salt, xanthan gum, mono-Diglycerides, polysorbate 20, 60, or 80, Vanillin.  
Can gluten allergic people have Hershey's syrup? 
Gluten allergic people have only Hershey's syrup which the brand advertises as gluten free.