Strongbow is a popular cider brand making refreshing cider drinks for years. It's one of the world's leading cider brands, dominating 15% of the entire cider market. People love having this drink as a party starter or getting a bunch of refreshments during hot summer days. 
But is this cider for everyone? Can gluten sensitive people have Strongbow? Is Strongbow gluten free?
Strongbow is gluten free since the main ingredient here is apple cider which does not contain any wheat or barley. The brand declares that all its cider flavors are made from gluten free ingredients making it safe for gluten sensitive people. 
When it comes to choosing the correct food for gluten intolerant people, there is more to learn. We will discuss every detail on Strongbow here in this article, so get complete information and continue reading till the end. 
Is Strongbow Gluten Free? 
Strongbow is made from fifty different varieties of apple grown in England's apple orchards. The mass production procedure goes through a fermentation process, and the ultimate product contains sugar and apple concentrate. 
So does this process add gluten to the cider? No, it does not. There is no chance of gluten being included in Strongbow since it does not contain wheat or barley. Gluten is a protein present in grains like rye, barley, wheat, semolina, etc., and not in any other grains or fruits.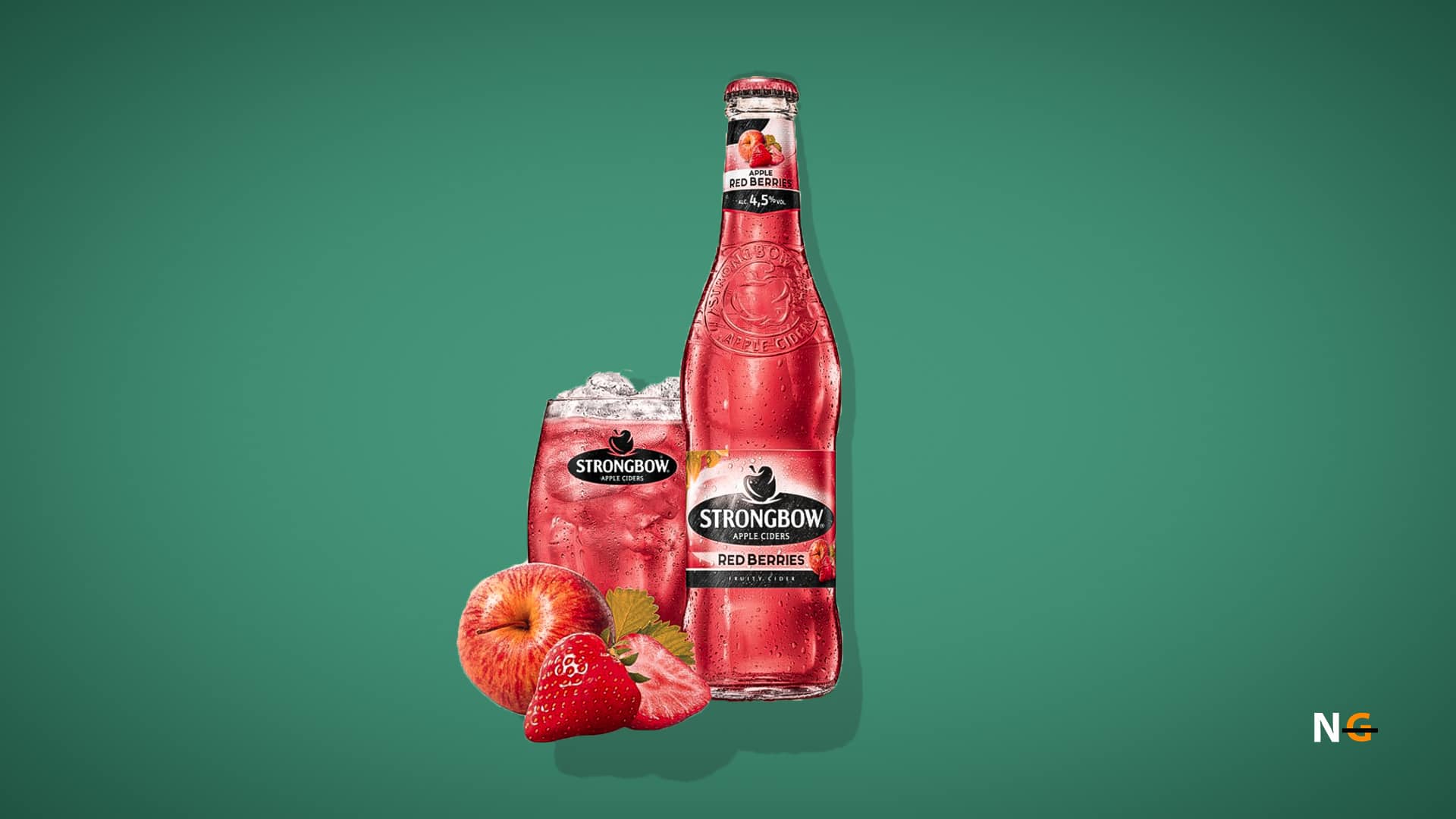 Since Strongbow only has apple concentrate, it is naturally gluten free. As long as a product does not contain any wheat or barley product, there is no gluten in it. However, chances of cross-contamination always prevail, so you need to double-check a few things. 
You must ensure that the manufacturers label the product gluten free, which means it has passed the gluten free test, contains less than 20ppm gluten, and is prepared in a gluten free facility. 
Strongbow complies with all these conditions and is a labeled gluten free cider absolutely safe for celiacs to drink. 
Also Read:- Is Mrs Dash Gluten Free?
What is Strongbow? 
You must be curious to find out the history of Strongbow, how it came into existence and who its inventors are. The popular Strongbow entered the market in 1960, and the name also holds significant importance to it. 
Strongbow was the nickname of England's greatest knight Richard De Clare and the name symbolizes the purity and quality of the cider. They have different flavors for the drink, and all of them reflect the authentic taste of apple ciders collected from Herefordshire. 
The unique taste of Strongbow comes from the bittersweet cider apples, which go through distinct care and attention to bring you the best flavor. 
Strongbow Flavors and Their Ingredient List 
Strongbow has some amazing flavors, all of which are super refreshing. Let's take a closer look at all the flavors and see their ingredient list as well.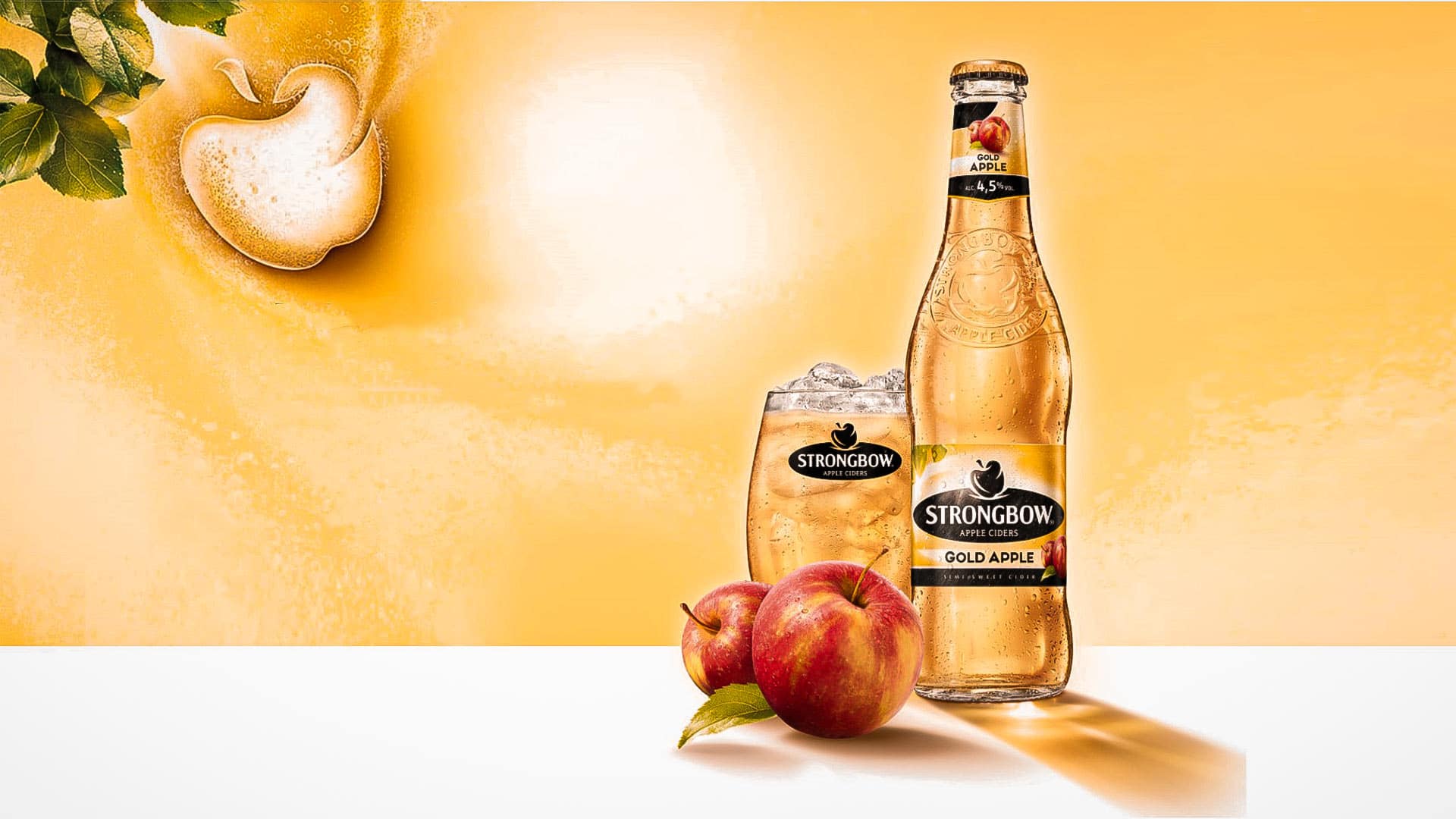 It's smooth, delicious, and presents an authentic golden apple taste. The Gold Apple has ingredients like- 
Apple juice
Water 
Sugar
Plain caramel color
Malic acid 
Potassium metabisulphite 
Natural flavoring 
Nutritional facts per 100ml 
| | |
| --- | --- |
| Energy  | 56 kcal |
| Total fat | 0g |
| Saturated fat | 0g |
| Carbs  | 7.6g |
| Sugar  | 7g |
| Fiber  | 0g |
| Protein  | 0g |
| Salt  | 0g |
It has a dominant taste of blackcurrant and blackberry and has ingredients like-
Apple juice 
Water 
Blackcurrant juice (1%)
Sugar 
Coloring concentrate (black carrot)
Malic acid 
Potassium metabisulphite 
Natural flavoring 
Natural blackcurrant flavoring 
Nutritional facts per 100ml 
| | |
| --- | --- |
| Energy  | 51 kcal |
| Total fat | 0g |
| Saturated fat | 0g |
| Carbs  | 6.3g |
| Sugar  | 6.2g |
| Fiber  | 0g |
| Protein  | 0g |
| Salt  | 0g |
It has a sweet and tangy taste with the mix of melon, berries, and apple cider. The ingredients include- 
Apple juice 
Water 
Fruit juice (of which strawberry juice is 1%)
Sugar 
Malic acid 
Potassium metabisulphite 
Natural flavoring 
| | |
| --- | --- |
| Energy  | 55 kcal |
| Total fat | 0g |
| Saturated fat | 0g |
| Carbs  | 7.3g |
| Sugar  | 7.2g |
| Fiber  | 0g |
| Protein  | 0g |
| Salt  | 0g |
Strongbow white has a sweet, acidic, and sour finish with a strong punch of refreshment. The ingredient list has- 
Apple juice 
Water 
Sugar 
Malic acid 
Potassium metabisulphite 
Natural flavoring 
Is cider in general gluten free?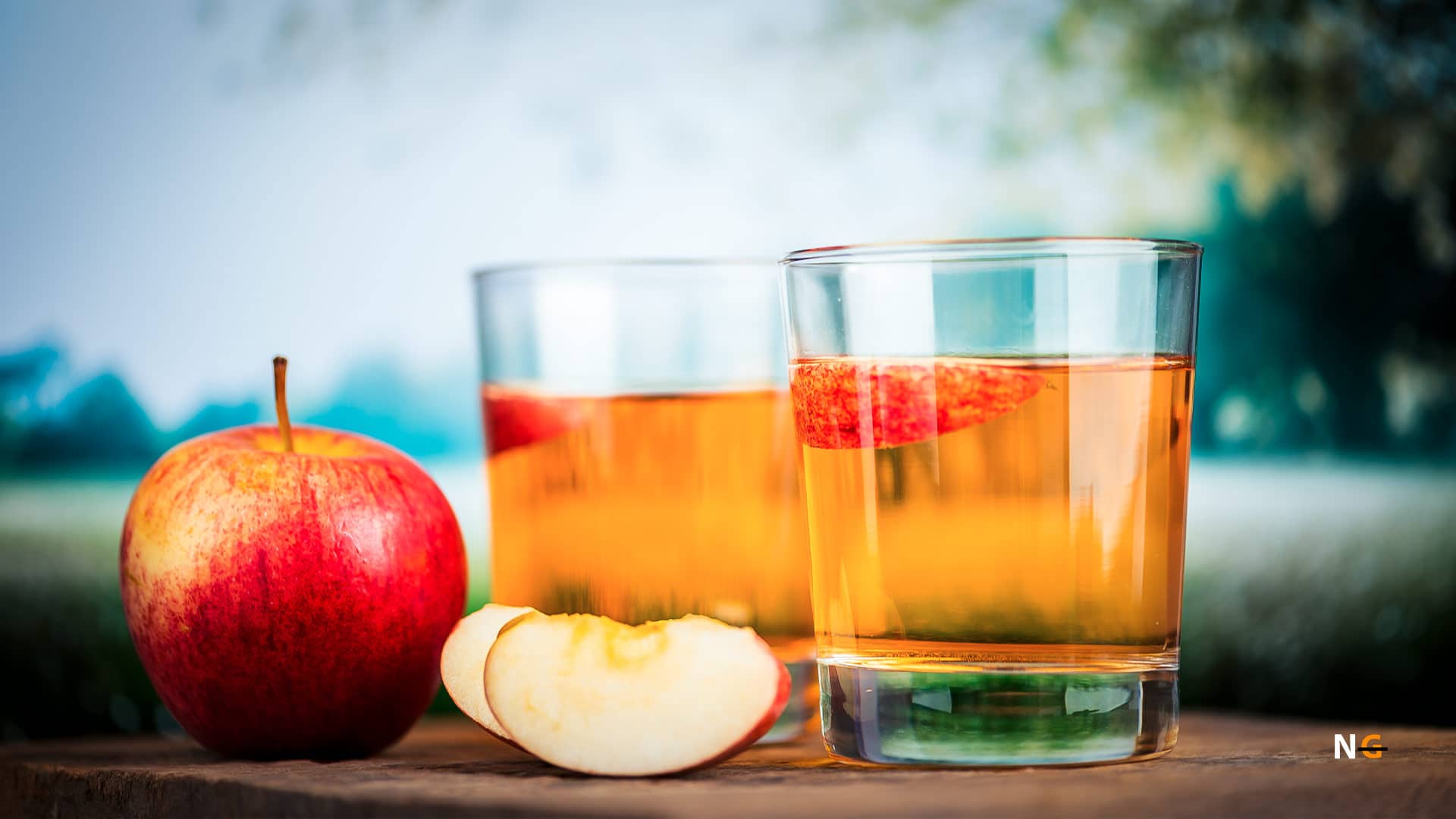 Cider is a popular alternative to beer. People with gluten intolerance can't drink beer, but that's not the case with cider since it's made from fermented apple juice, sugar, and yeast. 
These ingredients do not contain gluten, nor are they derived from gluten grains like barley or wheat. Hence, we can consider all ciders to be naturally gluten free. However, to avoid chances of cross-contamination, make sure to check the product labeling. 
Cocktail Recipes With Strongbow 
Try these fantastic cocktail recipes with Strongbow that are super easy to make and require very few ingredients, and get ready in no time. 
1. Apple Dulce De Leche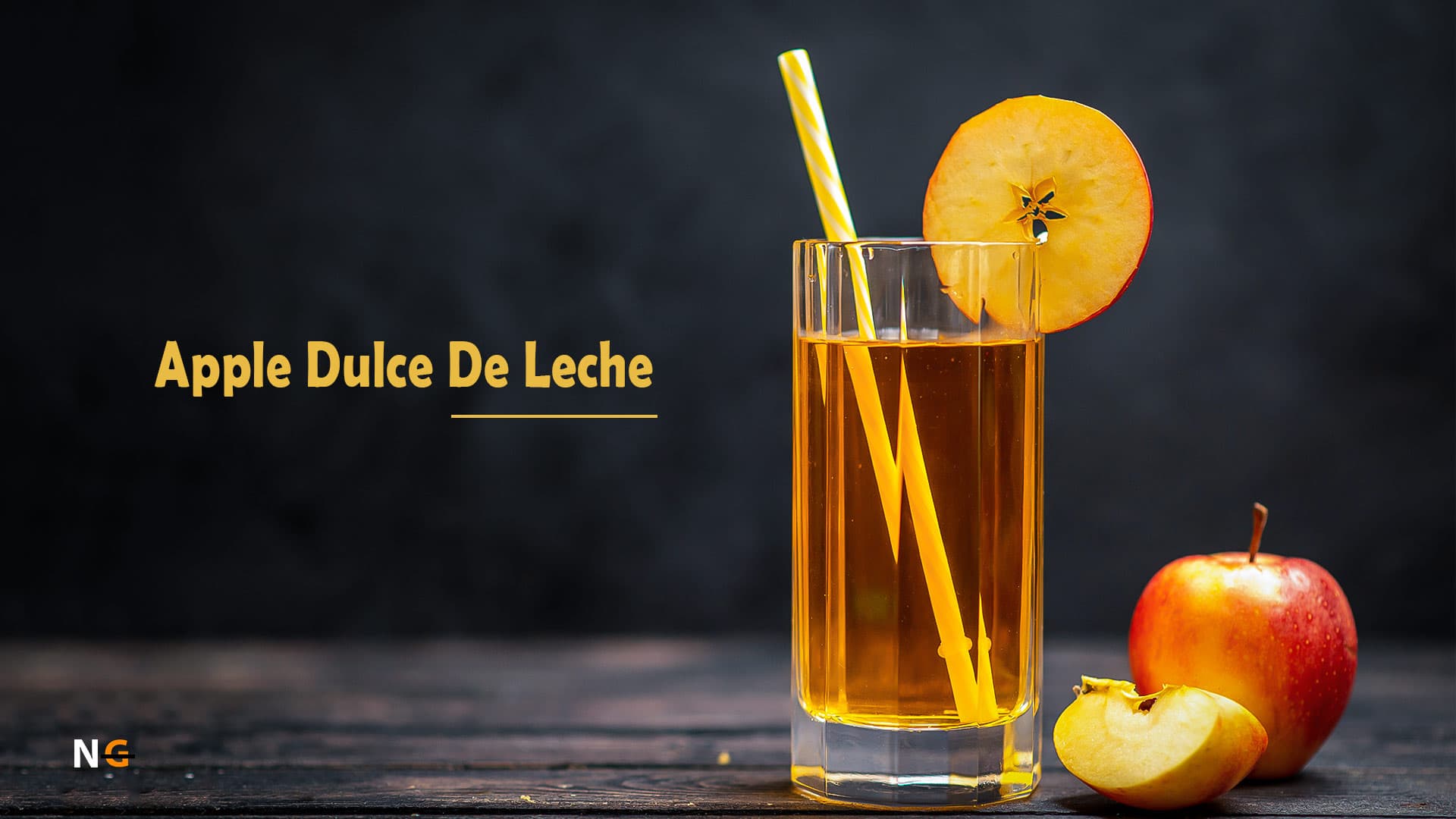 Ingredients 
2 oz Strongbow gold cider
½ oz Lemon juice 
3 tsp White wine 
1 oz Caramel infused vodka 
1 ½ oz Spiced white rum
Let's make the cocktail 
Simply mix all the ingredients- Strongbow gold, lemon juice, white wine, caramel infused vodka, and spiced white rum in a shaker. 
Moisten the rim with sugar syrup and coat with cinnamon and sugar. 
Strain the drink into the cocktail glass, and your Apple Dulce De Leche is ready!
2. Strongbow Artisanal Blend Mojito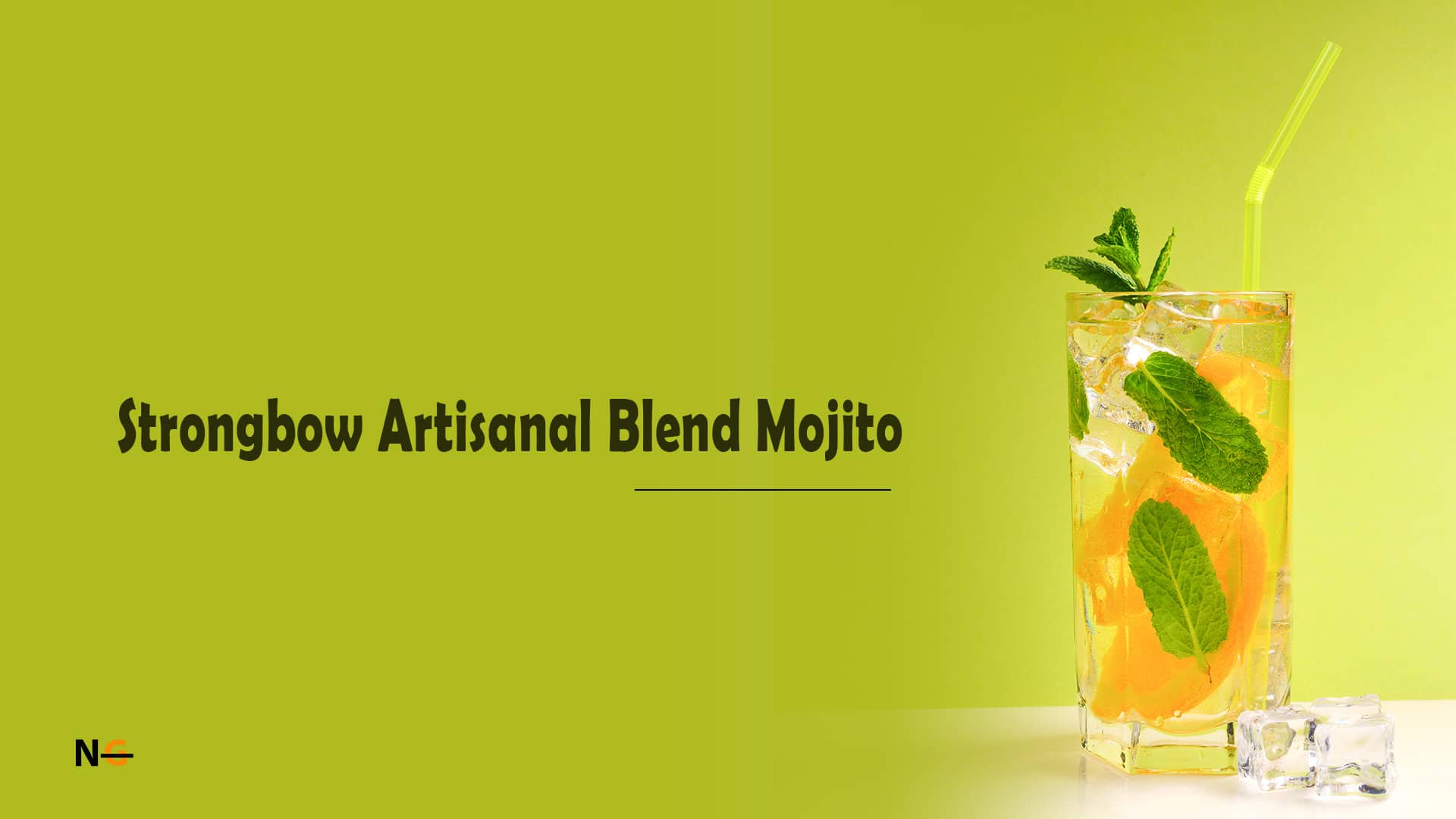 Ingredients 
3 oz Strongbow artisanal blend 
1 tbsp lime juice 
1 tsp sugar 
2 oz white rum 
5 basil leaves 
8 mint leaves 
Lime sugar for the glass rim. 
Let's prepare the drink
Moisten the rim of the glass with water and dab it on the lime sugar. 
Mix mint leaves, basil leaves, lime juice, sugar, ice, and rum in a cocktail mixer and shake well. 
Strain the mojito into the rimmed glass and top with Strongbow artisanal blend 
Finish off with some mint leaves, and your cocktail is ready. 
Wrapping Up 
Strongbow is gluten free since it's only made of apple cider concentrate and nothing else. It has multiple flavors, all of which are absolutely gluten free, making them safe for celiacs or gluten sensitive people. 
Don't forget to try our Strongbow cocktail recipes and enjoy them with your friends!
Most Frequently Asked Questions About Strongbow 
Is Strongbow similar to beer? 
While you may get a similar taste from Strongbow and beer, both are different from each other. Beer is made from malted barley, while Strongbow is made from apple cider. 
How to drink Strongbow? 
You can drink Strongbow as it is, or you can try different cocktails with it. 
Is Strongbow safe for celiacs? 
Yes, Strongbow is safe for celiacs as the company labels it as a gluten free drink. 
How much alcohol is there in Strongbow? 
Strongbow has 4.5 to 6% alcohol-based ingredients.