Sapporo is a Japanese beer brewing company producing top selling beers since 1876. The beverage got so famous that it became one of the most preferred beers in the US as well. But can everyone enjoy Sapporo Beer? Is Sapporo gluten free beer? 
No, Sapporo isn't a gluten free beer. Like all other beer brands, Sapporo also is made from barley, adding gluten into it. None of the Sapporo beer flavors are gluten free, so celiacs should stay away from it. 
Keep scrolling this article to know everything about Sapporo beers, their gluten content, and if gluten sensitive people should stay away from them. 
Is Sapporo Gluten Free? If Not, Why?
Sapporo is a rice beer, but it has barley in its ingredient list. Barley is a gluten grain meaning it naturally will be present in the beer. Therefore, it's safe to say that Sapporo isn't gluten free. 
Any food or beverage item cannot be labeled gluten free unless it passes through a gluten free test and meets all standard requirements. As per FDA declaration, food to be gluten free has to contain less than 20ppm gluten which is safe for even celiacs.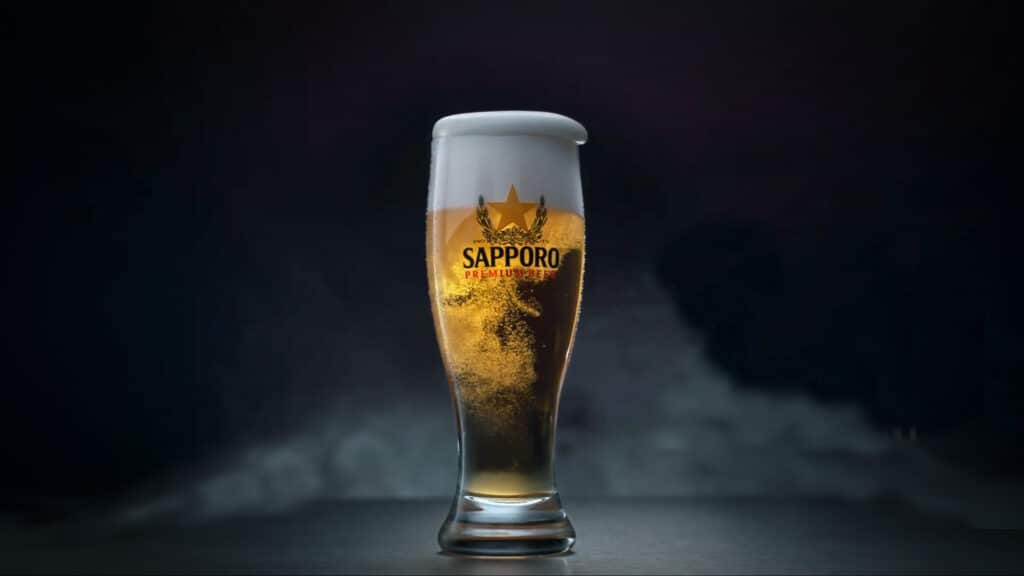 Sapporo's gluten content is way above the 20ppm benchmark; therefore, if you have celiac disease, it's better not to drink Sapporo. But can people with minor gluten intolerance have Sapporo beer? 
I am not a celiac but cannot deal with excessive gluten food items. I have tried Sapporo original beer once, and I could taste the malty beer flavor. I finished a whole can of Sapporo, and later I felt bloated. I didn't notice anything major like diarrhea or nausea, but the reactions will vary based on your gluten intolerance levels. 
What Are The Ingredients of Sapporo Beer?
Everyone loves Sapporo Beer for its crisp, refreshing taste and that sets it apart from other beers? But what is the secret ingredient which made it the top selling beer in the United States? Let's check out its ingredient list. 
Water, malted barley, hops, and yeast are the ingredients used in Sapporo beer recipes. Additionally, the beer has rice, giving the drink a refined, crisp taste. Rice is a staple ingredient in all Asian and Japanese beers making their beers taste a little different from other places. 
Here are the nutritional facts of Sapporo Premium beer per 12oz serving (the original) 
| | |
| --- | --- |
| Calories  | 140 |
| Carbs  | 10.3g |
| Protein  | 1.3g |
| Fat  | 0g |
| Alcohol by Volume (ABV) | 4.9% |
More You Should Know About Sapporo 
Sapporo is the oldest brewing company from Japan that has been producing premium beer since 1876. The company was started by Seibei Nakagawa, who left Japan for Germany at the age of 17, where he acquired the craft of brewing. 
He brought back his knowledge in Japan and started Sapporo. Sapporo beers are brewed in four common regions- Chiba, Sendai, Shizuoka, and Kyushu. The beer got so popular that the original brewery was transformed into a museum in Japan. 
The museum shows the whole history of Sapporo beer and its brewing process. You can experience the whole thing while tasting beers directly from the brewery at lower prices. 
Related Post:- Is Tahini Gluten Free?
Sapporo beer is available in four flavors- Sapporo Premium beer, Sapporo Premium Black, Sapporo Premium Light, and Sapporo Reserve beer. All these flavors have a crisp, clean taste that equals no other beer company. 
I have already mentioned the Sapporo Original premium beer ingredient list in the above section. Let's have a look at the other flavors and their ingredient list too.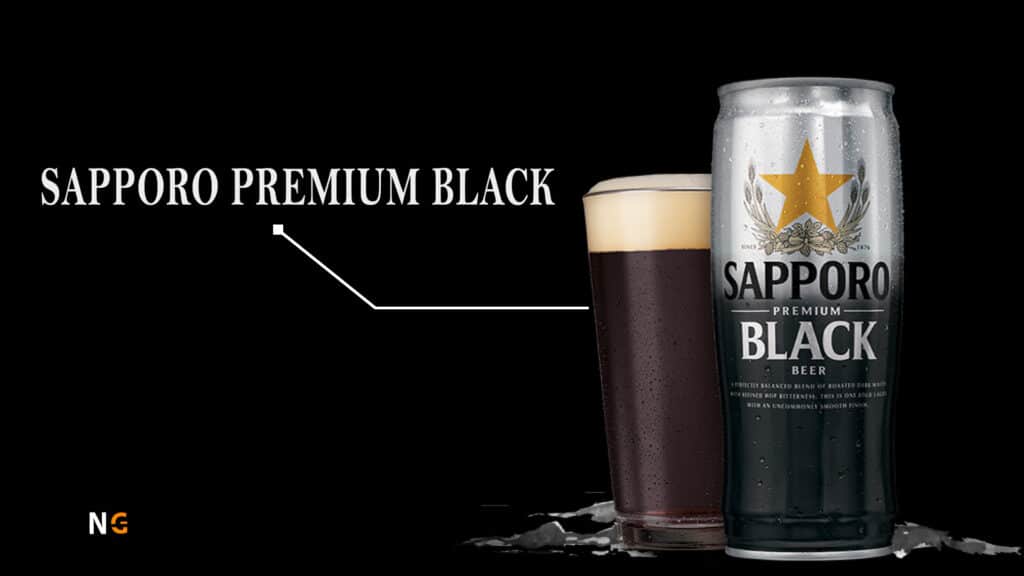 It has a bold and stronger taste made from premium barley and hops. Its somewhat sweet bitter taste makes it the best drink to pair with all spicy dishes. The ingredients include- 
Barley 
Hops 
Roasted malt 
Black coffee
Nutritional facts of Black Sapporo
| | |
| --- | --- |
| Calories  | 152 |
| Carbs  | 12.8g |
| Protein  | 2.8g |
| Fat  | 0g |
| Alcohol by Volume (ABV) | 5% |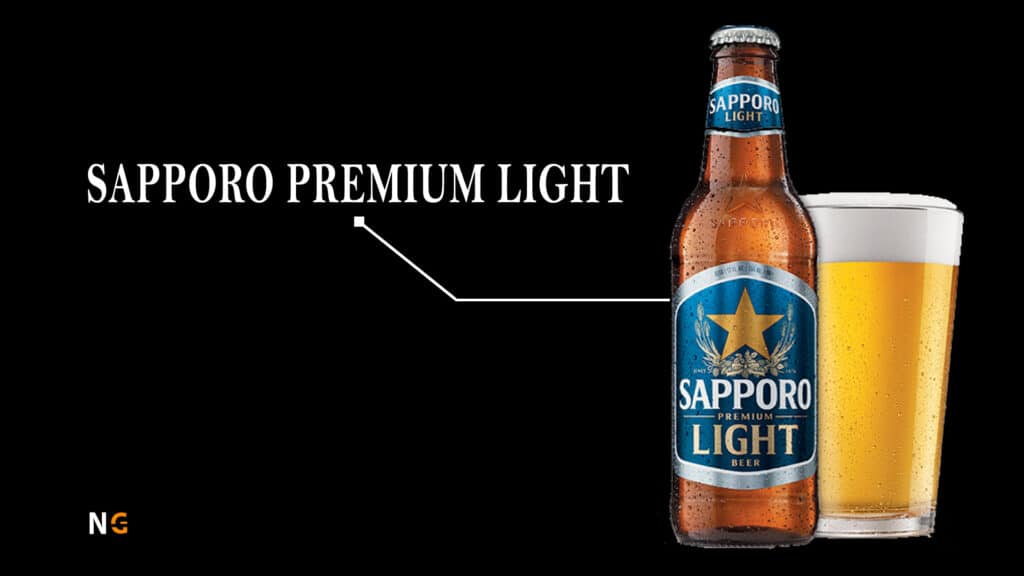 Taste the refined, smooth taste of rice beer with the Sapporo Premium Light. It's not too bitter, perfect for people who prefer a light sweet taste. Besides, if you want to taste a low-calorie beer, Sapporo light is the one for you. Sapporo Premium light has the same ingredients as the original premium, which are- 
Water 
Malted barley 
Yeast 
Hops 
The only difference between the two is that premium light has lesser alcohol content than the original one. 
Nutritional facts of Premium Light 
| | |
| --- | --- |
| Calories  | 90 |
| Carbohydrate  | 2.4g |
| Protein  | 1g |
| Fat  | 0g |
| Alcohol by Volume (ABV) | 4% |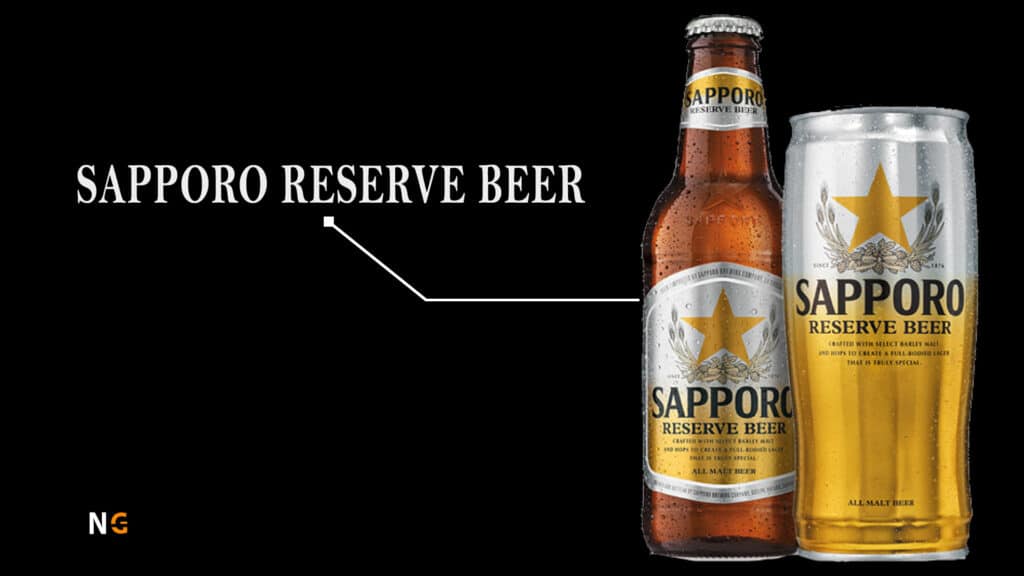 Sapporo Reserve has a more intense and complex taste. This is an all malt based beer with a supple texture and great intensity. Serve it cold or chilled to avoid the intense bitter taste. Here are the nutritional facts of Sapporo Reserve beer. 
| | |
| --- | --- |
| Calories  | 151 |
| Carbohydrate  | 11.4g |
| Protein  | 1.8g |
| Fat  | 0g |
| Alcohol by Volume (ABV) | 5% |
Gluten-Free Alternatives To The Sapporo Beer 
Celiacs and people with gluten intolerance do not have to stay away from enjoying beer as the market now has lots of gluten free options. These use rice, millet, sorghum, soy, or peas protein as alternatives to wheat, malt, or barley. 
There is a slight texture and taste difference due to the difference in grains. Here are some labeled gluten free alternatives to Sapporo beer with almost a similar flavor. 
"Buck Wild was born out of a passion to craft 100% gluten free beers that taste exactly as great as beer should."
"Anheuser-Busch has set out to create a fine, hand-crafted specialty beer made without wheat or barley. 
The brand has made Redbridge widely available to ensure that the adults who experience symptoms of severe wheat allergies or who prefer a wheat-free or gluten-free diet can enjoy sipping this beer without any second thoughts"
"All Bierly Brewing beers are made with gluten free grains like millet, rice, buckwheat, and Sorghum. Besides other ingredients like yeast, honey, spices, and hops are also gluten free."
"Wild Polly Brewing Co. unleashes distinctive, full-flavored, ancient grain beers to untap unquietly wild brews." 
"This is a sorghum-based offering by the brand Celai that is inspired by the ales of Belgium with the rustic farmhouse".
Most Asked Questions
How much gluten is in Sapporo?
Sapporo has more than 20ppm of gluten which is beyond the recommended limit for it to be gluten free. 
Does Sapporo beer have wheat?
No, Sapporo beer is made from barley, malt, yeast, and rice. 
Why is Sapporo brewed in Vietnam?
The Sapporo Vietnam brewery supplies premium beer to the Australian and Mexican markets. 
Why is Sapporo so good?
Sapporo has a very crisp, slightly sweet, and refined taste, unlike other beers, making it one of the best beers in the market. 
Conclusion 
Sapporo isn't a gluten free beer as it contains malt and barley, so it's not a safe drink for celiacs. But there are quite a few gluten free beer options, so people on a gluten/wheat-free diet might try tasting one of these.  Have you ever tried Sapporo? If yes, let us know your experience with the famous beverage.