Whether you are trying to eat healthy or want to add some greens to your diet, spinach wraps are an easy and tasty way to do so. While spinach is nutritious, healthy, and gluten free, is it the same for spinach wraps? 
Are spinach wraps gluten free? 
Spinach wraps are not always gluten free. While some makers use gluten free flour, others make it with wheat flour making them unsuitable for a gluten free diet. Moreover, the filling may also contain gluten based ingredients. 
Read further to know more about how gluten gets added to spinach wraps. Plus, I'll share with you a delicious gluten free spinach wrap recipe you can make at home. 
Are Spinach Wraps Gluten Free? Or Not?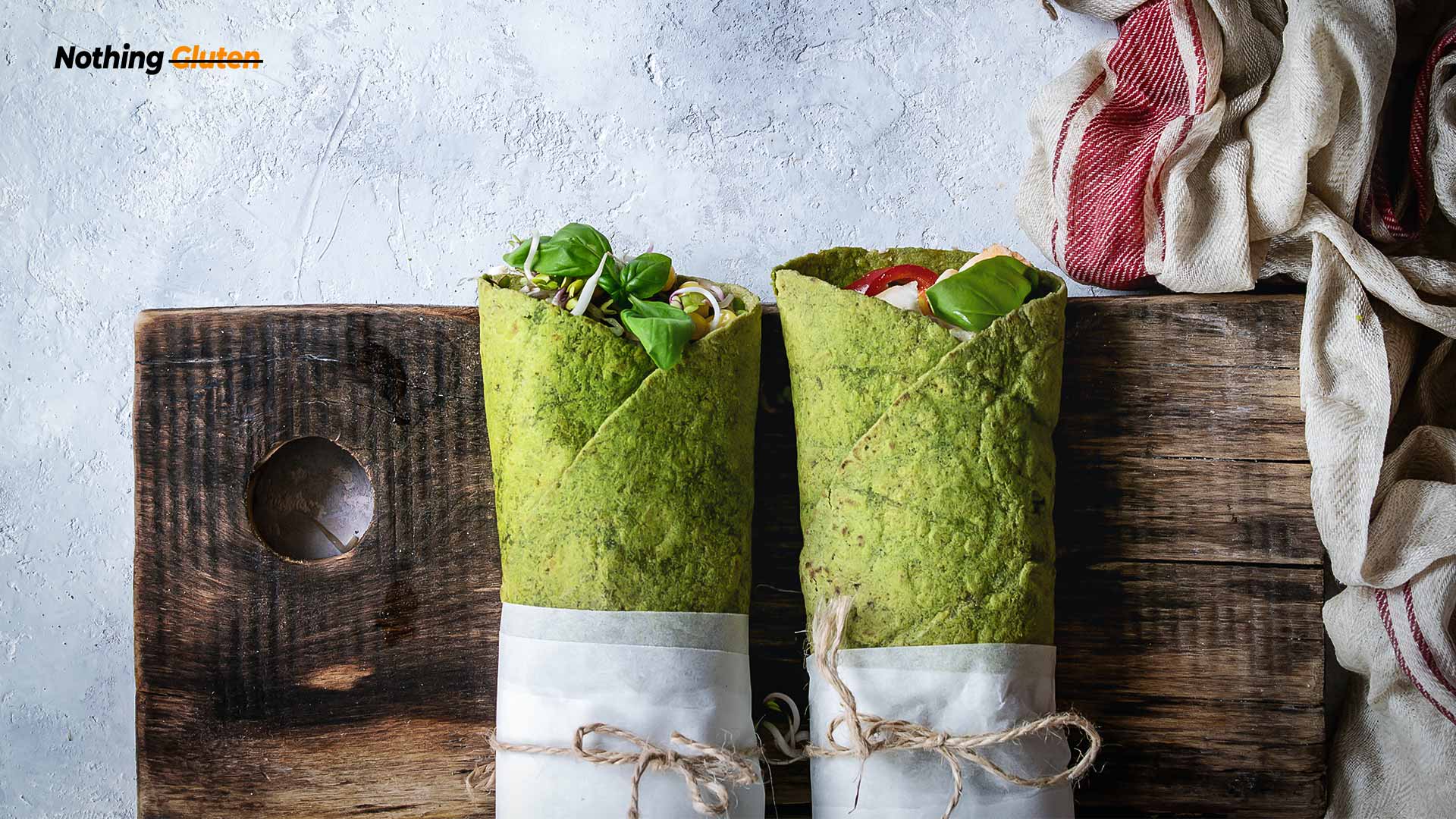 While spinach is naturally gluten free, the same is not applicable to spinach wraps. Spinach wraps are often made with wheat flour which is a gluten based ingredient. 
Spinach wraps made with wheat flour are not gluten free. Also, the filling contains multiple ingredients that may also contain gluten. Therefore, I would say eating spinach wraps outside isn't safe for celiacs. 
Moreover, spinach wraps sold in food joints have the risk of cross-contamination. They might cook the filling or the tortilla in shared utensils, increasing the possibility of gluten getting added. 
So if you want to enjoy a filling spinach wrap, it's best to make it at home. You can easily find gluten free tortillas at supermarkets, and of course, you'll make the filling in your safe home kitchen, which will also be gluten free. 
Make sure to read the package label while buying spinach tortillas. Read the ingredients and see whether it comes with a gluten free label or not. 
How Are Spinach Wraps Made & How Does Gluten Get Added?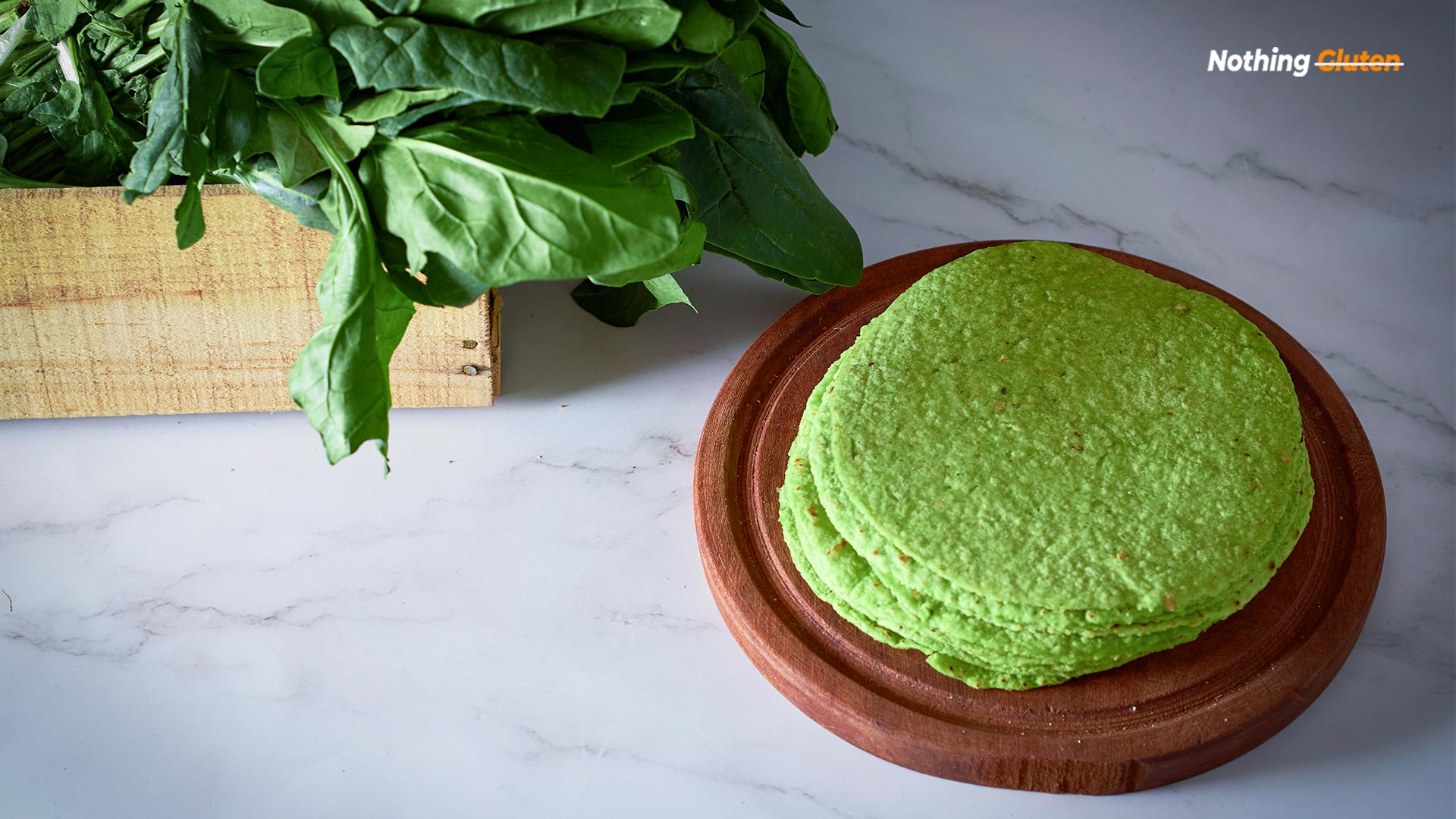 Spinach wraps are made by first blending the spinach and then mixing the greens with flour. Gluten gets added in this stage because people generally use wheat flour to make the dough. 
Spinach tortillas made with wheat flour contain gluten. Moreover, the wrap filling has multiple ingredients like chicken, tofu, other veggies, and sauces. Makers sometimes add soy sauce which too isn't gluten free. 
These ingredients add gluten in spinach wraps. But you can avoid wheat in a spinach wrap if you make it at home or only eat it at a restaurant with a gluten free menu. 
Are Spinach Wraps A Healthier Substitute Than Other Wraps?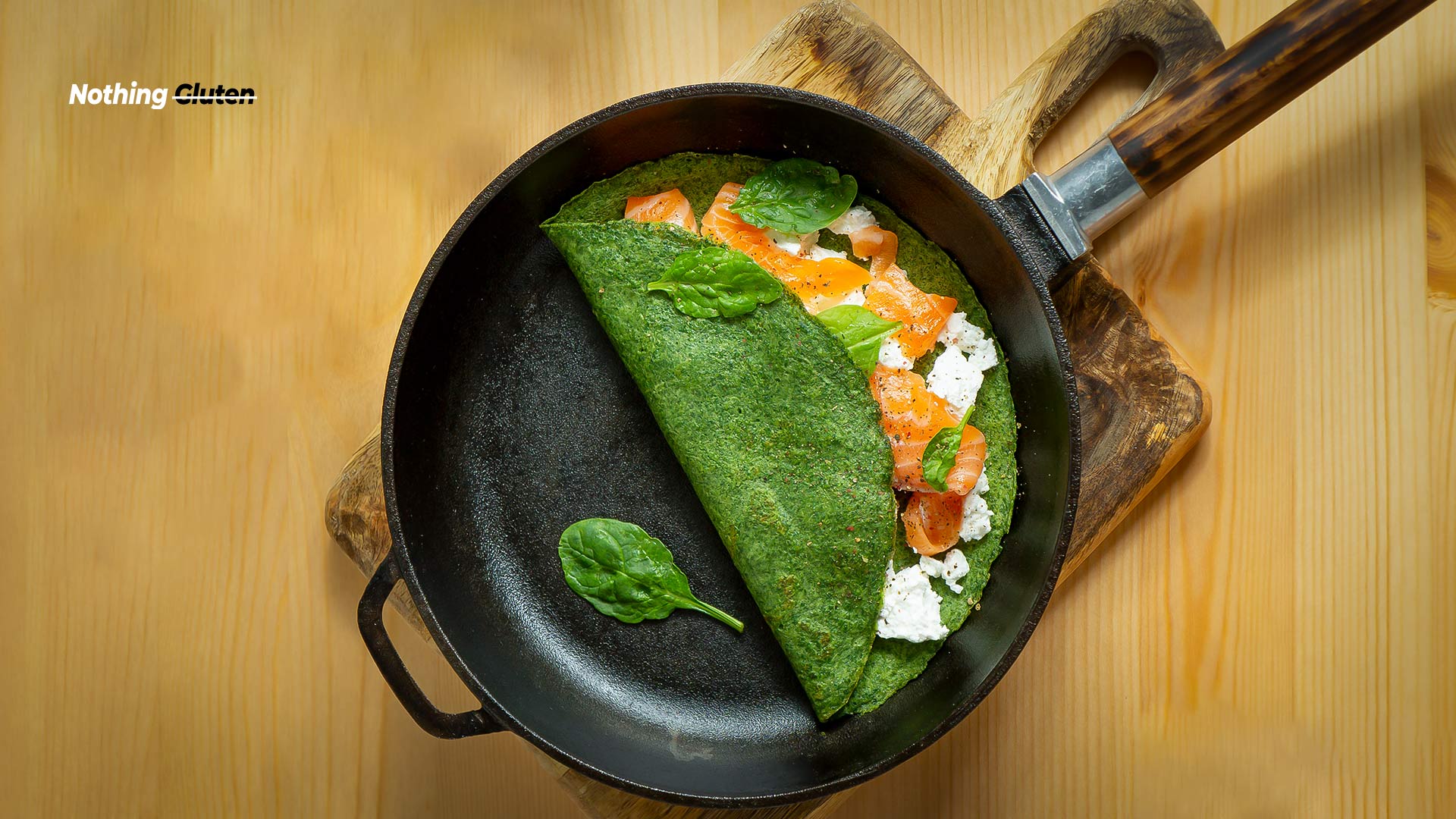 Spinach wraps you eat at food joints might look healthier, but they are actually not. These wraps only contain only a bit of spinach, and the green color you see is mainly from food coloring. The tortilla wrap is mainly made from refined flour. 
You are actually not getting your green supplements from these wraps. Plus, the filling contains lots of unhealthy ingredients as well. 
But homemade spinach wraps are healthier than the ones available at restaurants. You can blend in the spinach and add them to your flour. There is no need to add in food color. Plus, you can use healthier and gluten free flour instead of refined flour. 
Homemade spinach wraps are definitely a healthier option than regular wraps. These wraps are a good source of fiber, vitamin C and A, and other nutrients. Also, you can keep the filling healthy by adding some protein and other greens. 
Are All Spinach Wraps Vegan?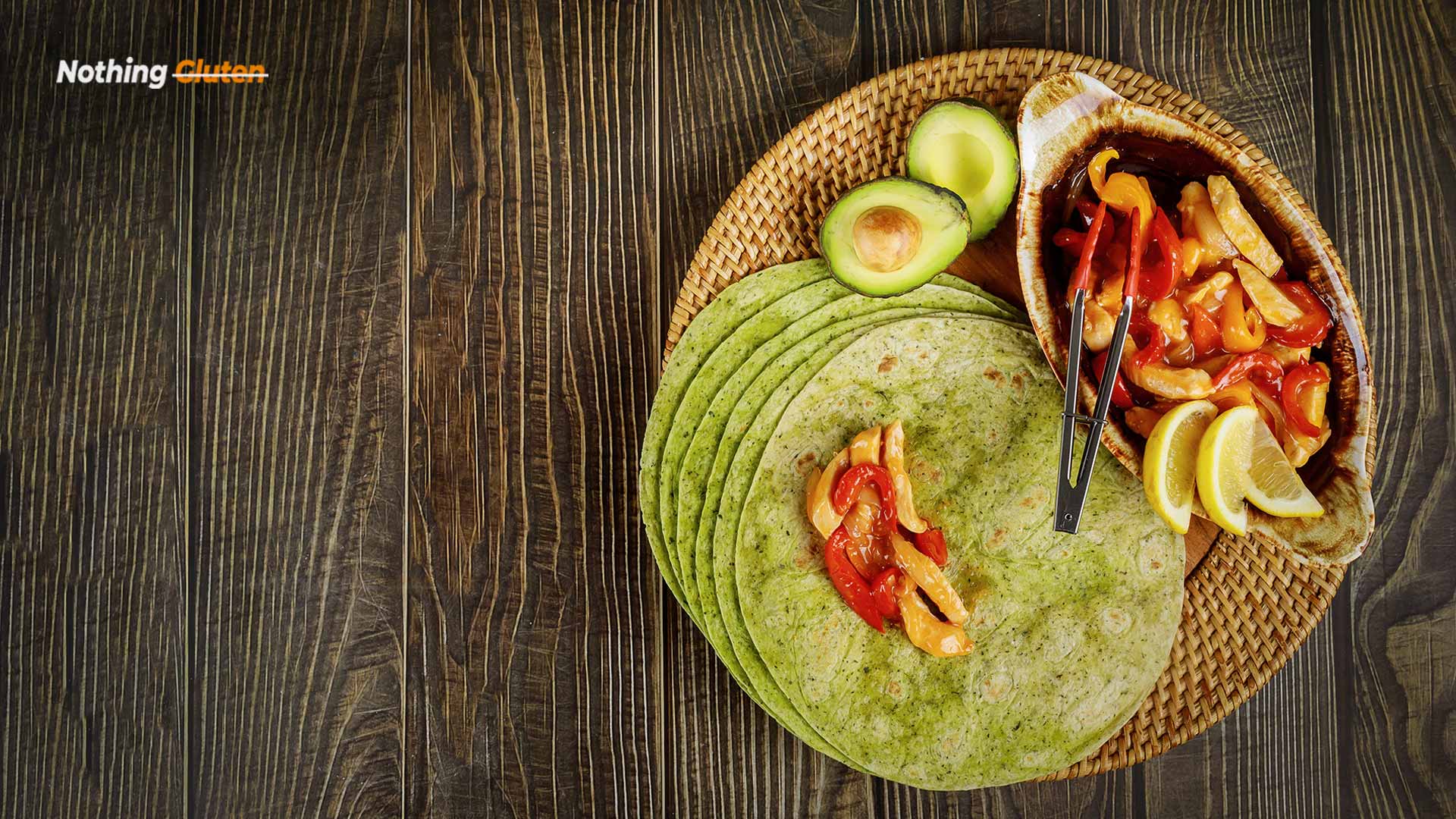 The spinach tortillas are always vegan. These are made from plant based ingredients. But the filling may contain non-vegan items. For example, the filling contains chicken or other meat and cheese. 
But you'll easily find vegan spinach wraps made with tofu and vegan cheese. 
Can I Make Gluten Free Spinach At Home? 
Yes, you can make gluten free spinach wraps at home easily. You just need some basic ingredients that are already lying in your pantry, so just pick them up and follow this recipe.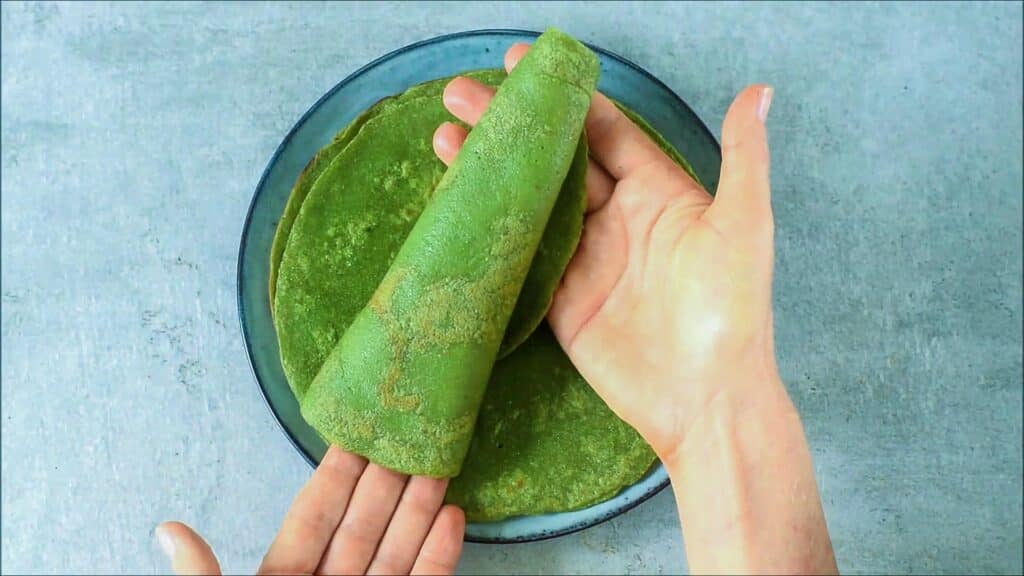 Gluten free spinach Wrap 
Ingredients for the tortilla 
½ cup tapioca flour 
1 cup chickpea flour 
60g baby spinach leaves 
⅓ tsp salt 
260ml water 
Method 
Put all the ingredients in a blend and process until you get a thick dough. You can make the dough with your hands as well. For that, first, you have to blend the spinach leaves, add them to the rest of the ingredients and knead a nice dough. 
Make small balls and roll them out using a rolling pin. 
Take olive oil or any oil of your choice, and cook the tortillas on both sides for 2 to 3 minutes. 
Ingredients for the filling 
250g chicken 
½ tsp cumin seeds
1 ½ tsp oil 
1 tsp ginger garlic paste 
½ tsp red chili powder 
One tomato chopped, or you can use 3 tbsp tomato paste 
½ tsp coriander powder 
½ tsp salt 
1 chopped carrot 
1 chopped onion 
And a handful of chopped coriander leaves 
Let's cook the Filling
Heat a pan, add oil and cumin seeds. 
When the cumin seeds crackle, add ginger garlic paste and saute for 2 minutes. 
Next, add the chopped tomato or tomato paste. Add all the other spices and some water and saute until you get a thick paste. 
Add the chicken pieces and cook until the chicken cooks. You can add some more water to prevent the filling from burning. 
Add the chopped coriander leaves at last. 
It's time to make the wrap- 
Take one tortilla, add 2 to 3 tbsp of the chicken filling and roll it well. You can grill the wraps for 1 or 2 minutes or have it as it is. 
If you are a health freak and like to eat clean, you can check out the gluten-free and keto friendly spinach wrap recipe below. 
Takeaway 
There is no assurance that spinach wraps will always be gluten free. In fact, most spinach wraps are made with refined wheat flour, as I mentioned above. 
So the only way to avoid gluten is by making the wraps in your home kitchen. Do check out my recipe for gluten free spinach wrap, and enjoy it guilt free. 
Want to see more posts like this? If yes, keep following Nothing Gluten. 
FAQs 
Are Publix Spinach Wraps Gluten Free? 
Yes, Publix spinach wraps are gluten free, have no artificial colors, and are full of fiber. 
Can Spinach Tortillas Be Frozen? 
Yes, you can freeze spinach tortillas. Frozen spinach tortillas stay fresh for six to eight months. 
Are Spinach Wraps Healthier Than Bread? 
Yes, spinach wraps are healthier than the bread provided; they contain more spinach and less refined flour. 
Does Subway Spinach Wrap Have Gluten? 
Yes, Subway spinach wrap has gluten. They are made from wheat flour, so celiacs can't eat them.