Hummus is a Middle Eastern dip that is now enjoyed worldwide as an appetizer with pita chips and tortillas. And who doesn't love to have hummus with their meals? But, if you are allergic to gluten or have celiac disease, you must know "is hummus gluten free" or not before consuming it.
The classic hummus is completely gluten free, as it is made with naturally non-gluten ingredients. But packaged hummus has additional flavoring and seasoning agents that may have gluten. Besides, there is always a chance of cross-contamination in the production units.
Until a packaged hummus dip is officially certified as gluten free, you can't trust them blindly. Besides, the manufacturing, processing, and packaging should also be done in clean facilities. But is that all that you need to know about this delicious dip? Read on!
Is Hummus Gluten Free?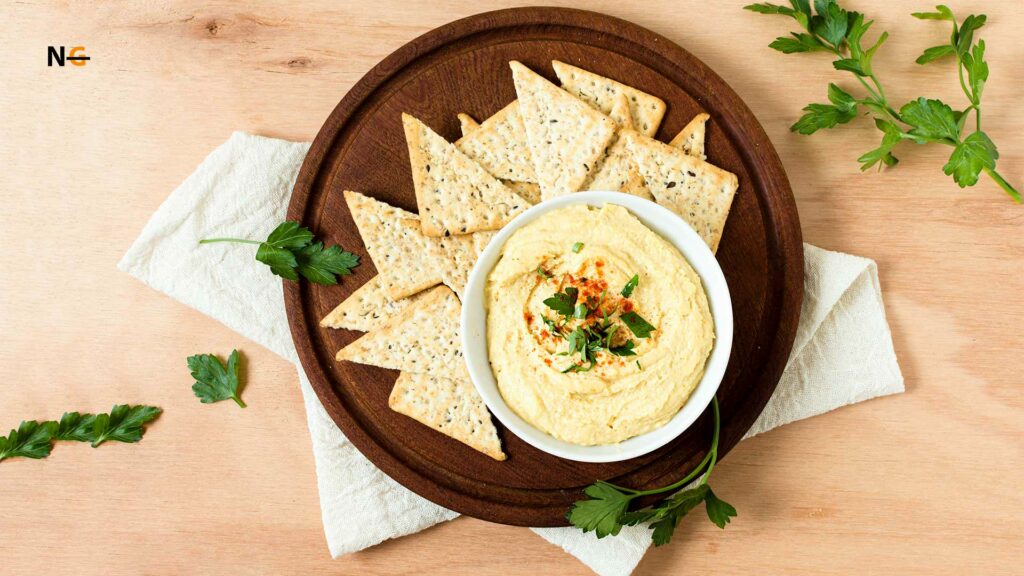 If you are a celiac patient or have gluten allergies, you need to know, "Is hummus gluten free?" The classic hummus recipe consists of just five ingredients: chickpeas, garlic, olive oil, lemon juice, and tahini, i.e., sesame seed butter with oil. All these ingredients are gluten free. So, it is absolutely safe for celiac patients to try the old-school classic hummus.
But nowadays, most brands produce packaged hummus that contains additional ingredients like taste and texture enhancers. Besides, many brands use unique flavors to give their hummus a distinct twist. And those artificial texturizers, flavorings, and seasonings may have gluten content in them. So, if you are allergic to gluten, you must read the label before consuming it.
According to the FDA, any food product that contains less than 20 PPM gluten is considered gluten free. Those products can bear a "Gluten Free" or "Free from Gluten" label to show that they are officially certified. 
But for that official seal, the product needs to be tested to check that the gluten content is within the permitted limit. The test also requires testing manufacturing and processing facilities to ensure that they're clean. 
So, if you want to consume packaged hummus, you must only consume a product that has the official gluten free certification. It will help you to be on the safe side. Otherwise, there is always a chance of cross-contamination or gluten-based ingredients. 
What Exactly is Hummus?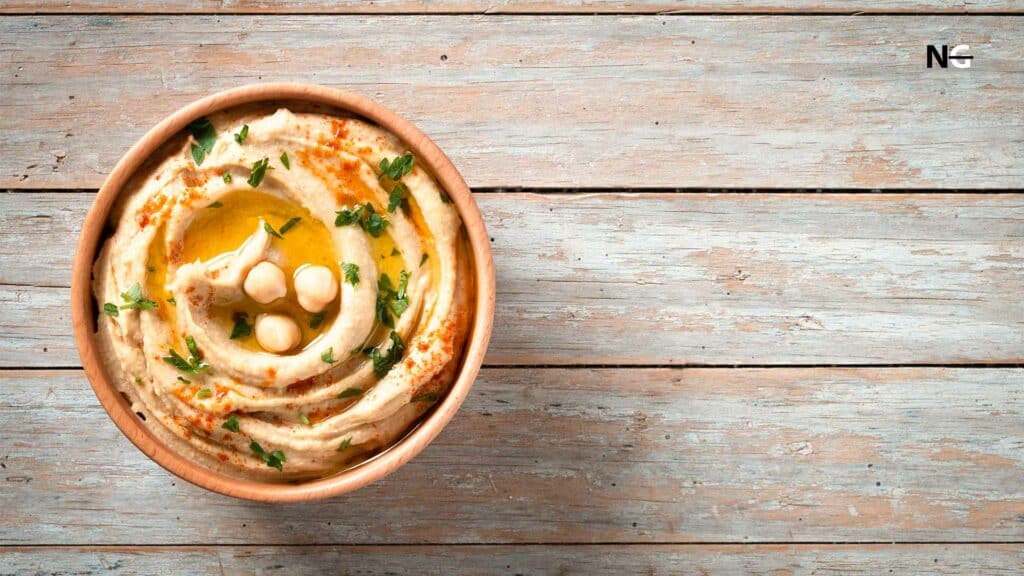 Originating in the Middle East, hummus has always been one of the most enjoyed dips all over the world. It is also enormously popular in western countries now, especially in the USA and the UK. It is typically enjoyed with pita chips, crackers, sautéed veggies, and even tortilla chips.
Hummus simply means "chickpeas" in Arabic. The earliest mention of hummus dip was first found in a recipe book in Cairo from the 13th century. Although it has been quite popular in Middle Eastern countries for ages, this dip has witnessed a massive surge in popularity and consumption in the west in the last two decades.
The classic hummus has just five or six ingredients, which have been followed by the originators of hummus sauce. The old-school hummus has the following ingredients:
Boiled and mashed chickpeas (often substituted or supplemented by garbanzo beans)
Tahini (toasted sesame seed paste with oil)
Fresh garlic paste
Freshly squeezed lemon juice
Olive oil (preferably extra virgin)
Salt (to taste)
However, there are now several modern-day versions of this delicious hummus sauce available, such as pesto hummus, guacamole hummus, and even chipotle hummus. Many brands developed some exotic blends as well, such as spinach hummus and chocolate hummus.
As you can see, hummus is mainly chickpea paste which is high in protein. Besides, it is high in dietary fiber and good carbohydrates. You will also get vital nutrients and minerals from garlic and olive oils used in hummus. 
Tahini, too, is rich in protein, healthy carbs, and good fat. That's because of the presence of sesame seeds and oil, usually olive oil. If you follow a plant-based diet, hummus can deliver a good amount of protein for faster recovery and growth.
Gluten Free Hummus Brands
Many people have doubts about whether hummus is gluten free or not, especially when they consume flavored hummus. But there are five such hummus brands that are officially certified as gluten free. And you can consume those without any worry.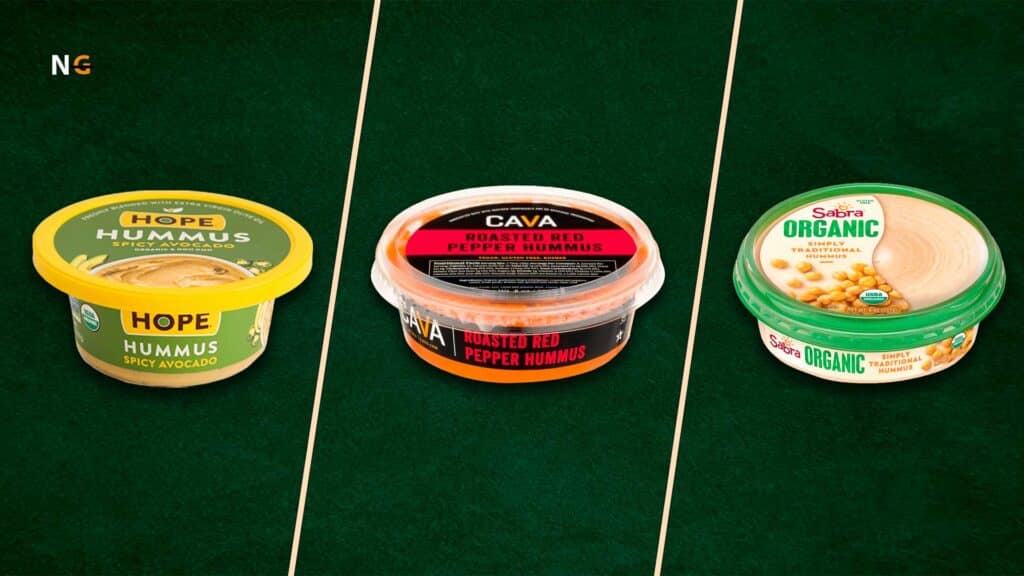 1. Hope Foods Organic Spicy Avocado Hummus: A single serving (2 tablespoons – 28 grams) of this avocado-flavored hummus has just 60 calories. Besides, it has 4 grams of carbohydrate, 4 grams of fat (0.5 gram of saturated fat), 1 gram of dietary fiber, 2 grams of sugar, and 2 grams of protein.
2. Cava Roasted Red Pepper Hummus: A typical serving of this red pepper hummus (28 grams) has just 30 calories. Besides, it has 4 grams of carbohydrate, 1 gram of fat, 1 gram of protein, and just 150 mg of sodium. This hummus dip is free from added sugar and dietary fiber.
3. Sabra Organic Traditional Hummus: A single serving (2 tablespoons) of this organic hummus has 70 calories. It also has 5 grams of carbohydrate, 1 gram of dietary fiber, 5 grams of fat, and 2 grams of protein. Besides, it has just 125 mg of sodium in a typical serving.
4. Wegmans Organic Hummus Lemon Beet: This is not just officially certified as gluten free. A typical serving of this lemon beet hummus has just 45 calories. Besides, it is loaded with 6 grams of carbohydrate, 1 gram of dietary fiber, 1gram of sugar,1.5 grams of fat, and just 125 mg of sodium.
5. Cedars Organic Original Hommus: A typical serving of this original hummus recipe has 60 calories. Besides, it has 4 grams of carbohydrate, 1 gram of sugar, 1 gram of dietary fiber, 4.5 grams of fat (0.5 gram of saturated fat), 2 grams of protein, and 115 mg of sodium.
Gluten Free Hummus Recipe
Course: Appetizers
Cuisine: Middle Eastern, Lebanese
Difficulty: Easy
We have already mentioned some of the gluten free hummus brands that you can easily buy from supermarkets and local grocery stores. However, if you are still worried about the gluten content in hummus, you better make this dip in your kitchen. And you can easily do it in a few steps, that too, with common ingredients.
Ingredients
For Tahini –

Raw sesame seeds (hulled) – 1 cup (5 oz)

Toasted sesame seeds – 1 cup

Light olive oil (or other neutral-flavored oil) – 4-8 tbsp

Salt – To taste (optional)

For Hummus –

Chickpeas / Garbanzo beans: 4 cans (15 oz – reserve the liquid)

Tahini: ¾ cup (fresh paste)

Olive oil: ¾ cup (extra virgin)

Garlic: 2 tbsp (freshly minced)

Lemon juice: 1/3 cup (freshly squeezed)

Cumin: 1 tbsp (ground)

Coriander: 1 tbsp (ground)

Parsley: 7 tbsp (freshly chopped)

Salt: 2 tsp

Black pepper: To taste (freshly grounded)
Directions
For Tahini –
Take one cup of sesame seeds that have been toasted for 3-5 minutes till lightly golden and fragrant and have been cooled down. Put it in a food processor.
Add a cup of raw sesame seeds to the processor. Process them for 1 minute to make a crumbly paste.
Add 4 tbsp of oil and process again. Pause occasionally to scrape the inside.
Check the consistency of the mix and add more oil if needed, one tablespoon at a time.
Process for 5-10 seconds each time.
For Hummus-
Take a food processor and put chickpeas, tahini, garlic, chopped parsley, and freshly squeezed lemon juice.
Pulse the processor until all the ingredients are coarsely chopped and mixed.
Slowly add the extra-virgin olive oil to the mix and stir generously with your processor.
Put grounded cumin and coriander powder into the mix and pulse the processor until it forms a smooth paste.
Add the reserved chickpea liquids from the cans to get desired consistency.
Pour the mix into a flat-bottomed pan, add salt and pepper according to your taste, and stir gently.
Drizzle a few drops of olive oil and chopped parsley and serve it with crackers or tortilla chips.
Notes
You must clean your food processor and all the utensils needed to make hummus beforehand. Otherwise, your homemade hummus may also have cross-contamination issues. Besides, you must store this hummus in an airtight container.
Final Words 
Besides gluten, you should be concerned about sugar and sodium in hummus, as packaged hummus is high in those ingredients. Consuming too much sugar or salt in any form is not good for your health. Moreover, many manufacturers also use additives and preservatives, which are not suitable for your health either.
You may still wonder, "Is hummus gluten free?" The good news is that it is naturally so, especially if it follows a classic recipe. However, flavored or packaged hummus may have gluten ingredients in them. It is better to check the "Gluten Free" label on your packaged hummus before consuming it.
FAQ
Is hummus vegan?
Classic hummus is made with chickpeas, tahini, olive oil, garlic, and lemon juice, all of which are plant-derived ingredients. So, hummus dip is completely vegan. However, many modern-day manufacturers use cheese or other milk-derived products as taste enhancers and flavoring agents. 
Is hummus dairy free?
Traditional hummus is completely dairy-free, as it doesn't use any milk-derived ingredients. But many brands nowadays use cheese, cheese powder, and milk concentrates in their flavored hummus. So, if you buy a flavored hummus dip, always check the label for ingredients.
Is tahini gluten free?
Tahini paste is made of just two ingredients, sesame seeds, and oil. Some people also add a dash of salt oil to it. But all these ingredients are completely gluten free. If you have any doubt about the cross-contamination issue with the salt, you can replace table salt with kosher salt.