Who doesn't love Bugles? Whether it's a party or a fun night binge-watching on Netflix, Bugles is the perfect salty companion. A lot of us have enjoyed munching on this snack on the tip of our fingers in childhood. But now, before having these corn chips, you might think, "Are Bugles gluten free?"
While there are no gluten ingredients in Bugles, the product label says the item "may contain milk and wheat ingredients." I know this can lead to even more confusion, and that's why I decided to write this article on it.
Below, we'll discuss what ingredients Bugles contain and if you can have these deliciously crispy chips on a celiac diet. 
What is Bugles Made from? Are the Ingredients Gluten-free?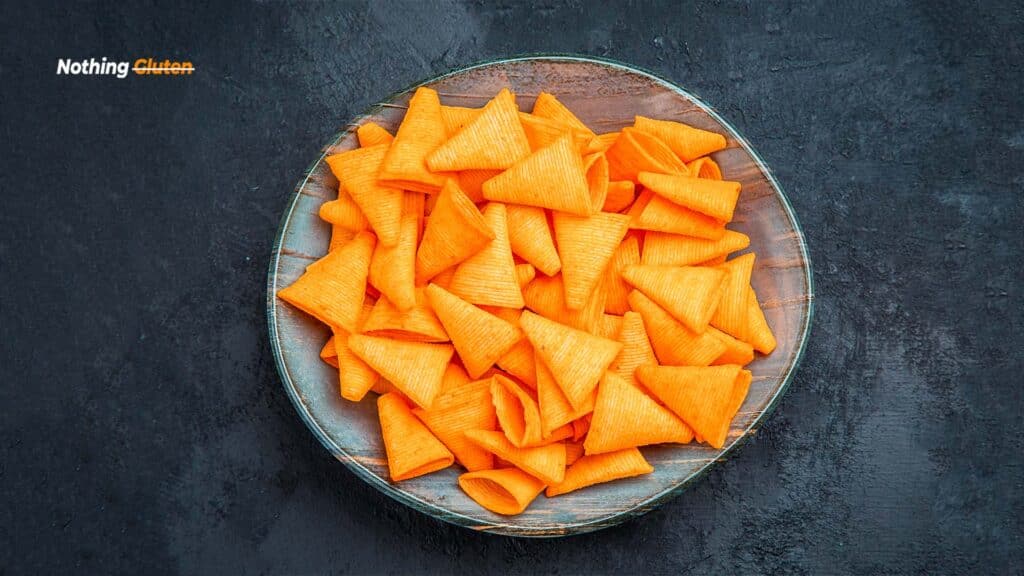 The primary ingredient of this flavorful snack is degermed yellow corn meal, which is 100% gluten-free. Other typical ingredients can include vegetable oils (like coconut or palm kernel oil), baking soda, salt, and sugar.
The question of whether these ingredients are gluten-free hinges on the main ingredient: corn. While corn is inherently gluten-free, that doesn't mean all products made from corn are free from gluten. 
This is due to potential cross-contamination during processing or the introduction of other gluten-containing ingredients, which can be the case for Bugles. 
These were the ingredients of the regular Bugles. Below, you will find information about the gluten status of other Bugles flavors. 
Bold BBQ Bugles 
The primary ingredients are the same as that of regular Bugles. The additional ingredients include salt, distilled monoglycerides, molasses, spices, fructose, paprika, brown sugar, and baking soda. The label also mentions onion powder, tomato powder, natural smoke flavor, maltodextrin, and BHT.  
Nacho Cheese Bugles 
Aside from the primary ingredients, this flavor contains dried cheddar cheese, dried buttermilk, dried whey, monosodium glutamate, reduced lactose whey, disodium phosphate, and artificial color (red 40 lake, yellow 6, yellow 5), and BHT (to preserve the flavor). 
All the ingredients in their original form are free from gluten, which means Bugles is gluten-free, provided there is no cross-contamination. 
Are All Flavors of Bugles Gluten-free?
All flavors of Bugles have "may contain wheat and milk" mentioned on their ingredient label, which may indicate cross-contamination. Here are more details about the popular Bugles flavors. 
Are Bold BBQ Bugles gluten-free?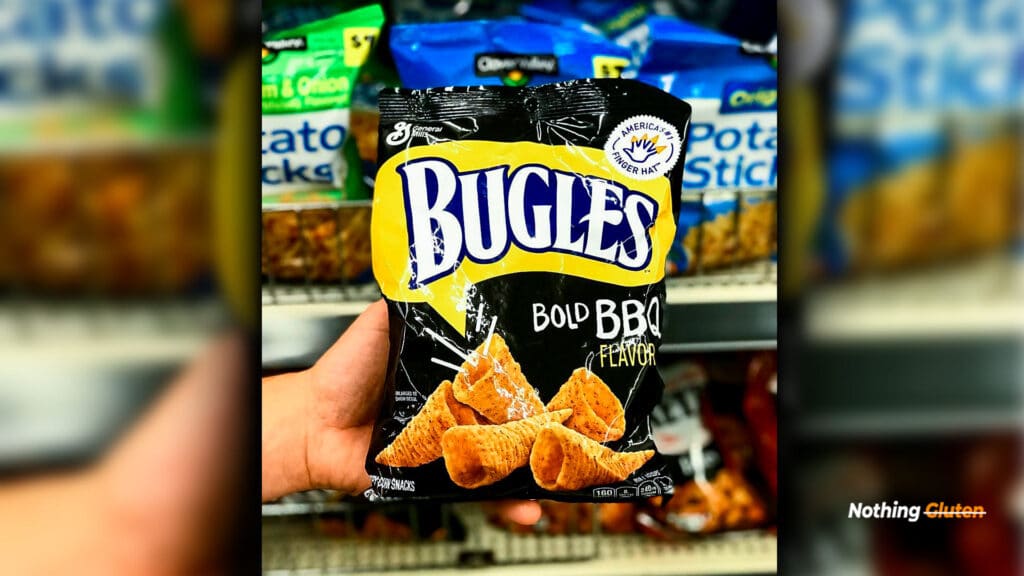 Though the ingredients do not indicate the presence of gluten, cross-contamination might be there. If you are following a gluten-free diet, it would be great to avoid this particular flavor. 
Are Nacho Cheese Bugles Gluten-free?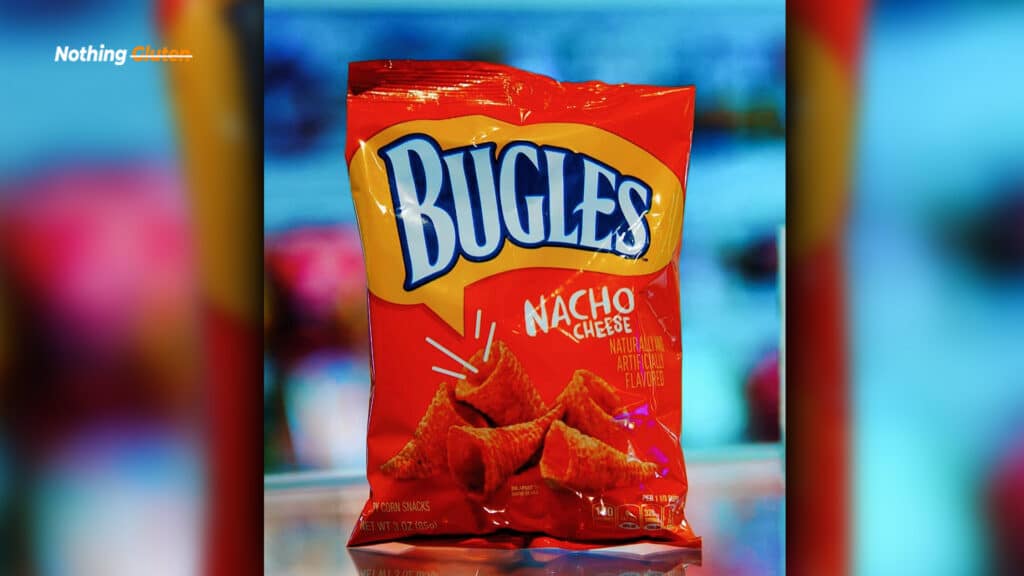 The case is the same for the Nacho Cheese flavor. It contains more seasonings and ingredients than other flavors increasing the chances of cross-contamination. 
Is Every Brand of Bugled Gluten-free?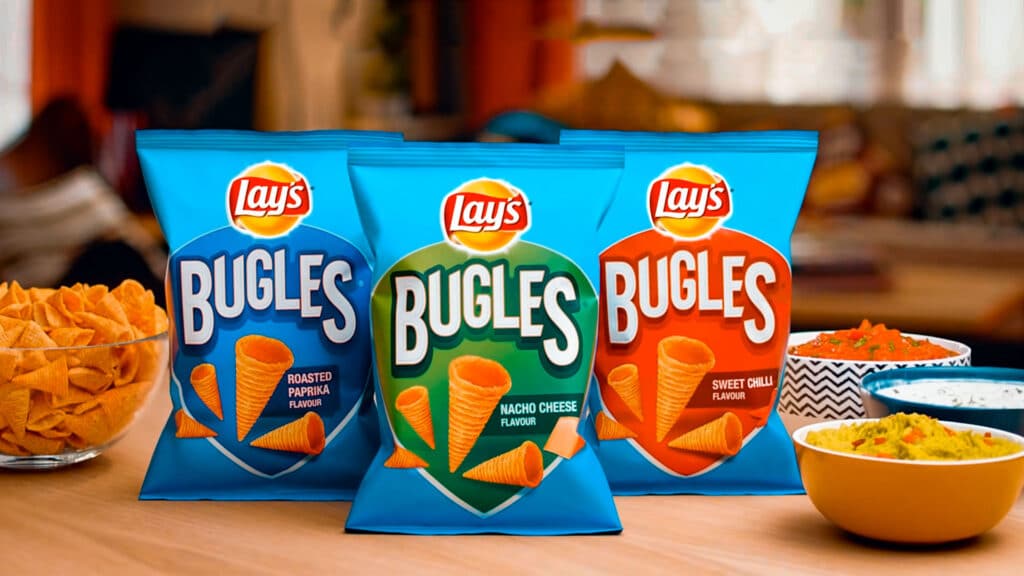 There are two popular brands that manufacture Bugles: General Mills Walker's Bugles and Tom's Bugles. The Bugled manufactured in General Mills and Walker's facilities do not contain any gluten ingredients. However, their facility also produces other wheat-containing snacks, which might lead to cross-contamination.
On the other hand, Tom's Bugles are manufactured in a facility that does not produce wheat products, so there is no risk of cross-contamination of gluten. If you love munching on Bugles, Tom's Bugles can be a great option. 
Bugles Nutritional Information: Know this Before Having These Snacks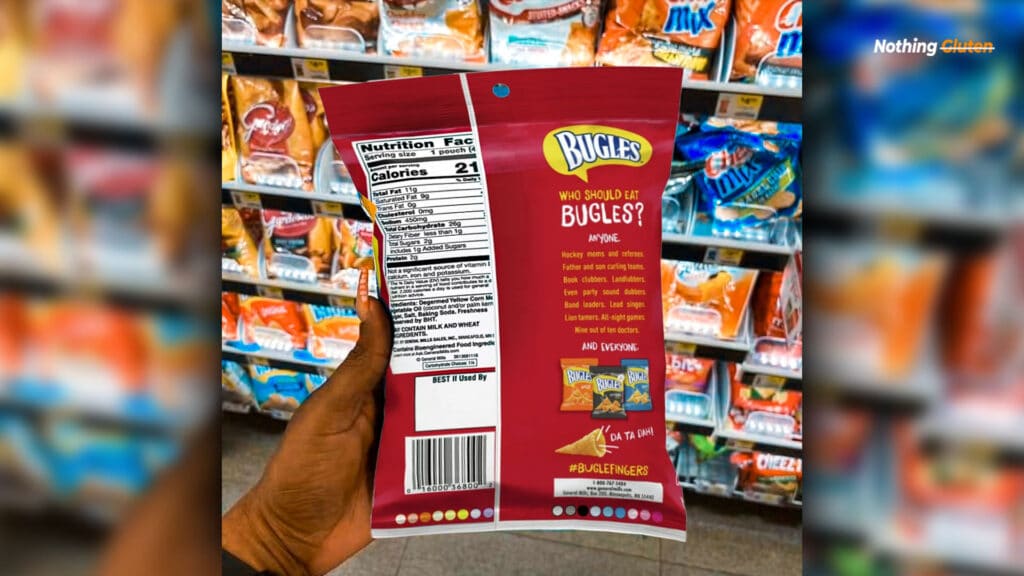 Bugles are fairly low-calorie, and the flavors do not contain anything that would raise a red flag. Here is a breakdown of the nutritional info of this popular party snack. 
Bugles Nutritional Information for a typical serving, usually around 28g or about 1 ounce)
Calories: 130
Sodium: 270 mg
Total Fat: 8 grams
Saturated Fat: 7 grams
Dietary Fiber: 0 grams
Protein: 1 gram
Total Sugars: 1 gram
The nutritional info may vary based on the specific Bugles' flavor. It is important to scan the nutritional info mentioned on the label before having these snacks. 
Gluten-free Alternatives to Bugles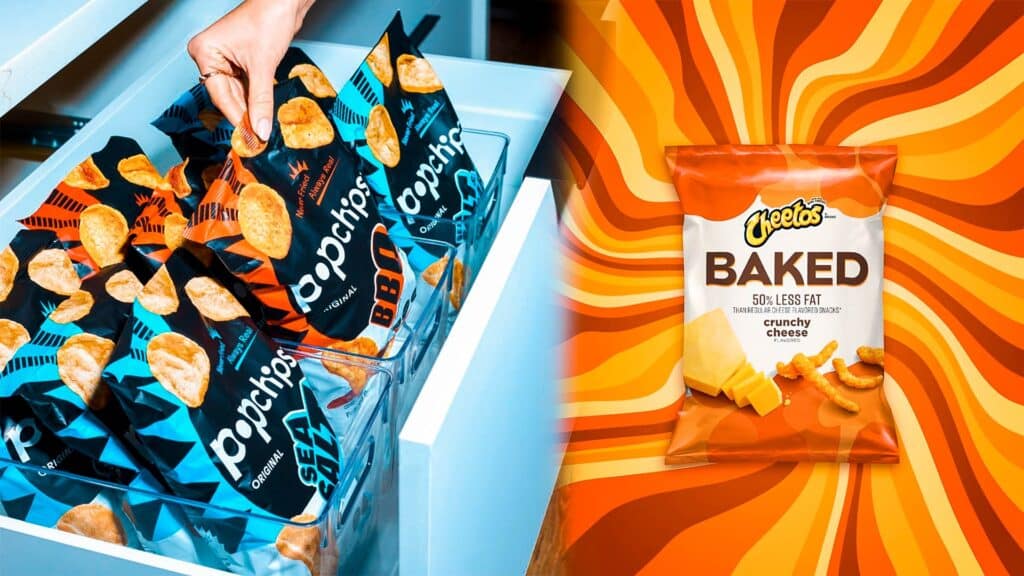 Since Bugles might have gluten, it is wise to have another snack that you are sure is gluten-free. Below, I have mentioned some popular snacks that offer the same crunch as Bugles. 
These chips come in plenty of flavors, and all of them are certified gluten-free. The PopChips Aged White Cheddar flavor contains cheese dust and milk, which means it is not vegan-friendly. 
Certified vegan, gluten-free, and grain-free, these zesty chips are soy-free. They also contain a plethora of leafy green vegetables and other nutrient-rich ingredients, making them a healthier option. 
The next gluten-free option is Thrive Market Grain-free Vegan Nacho Puffs. These are also certified non-GMO and are fried in coconut oil. 
These baked chips aren't just gluten-free, but a healthier alternative to Bugles. Also, they are free from milk ingredients, which make them vegan-friendly. The primary ingredient of these Cheetos is enriched corn meal, and you get a similar flavor to that of Bugles.
Ruffles are available in multiple flavors including BBQ. If you love having the Bugles BBQ, but can't haver them due to the potential gluten-prescence, you will love this certified gluten-free snack from Frito-Lay.
Frequently Asked Questions
Q: Can Celiacs Eat Bugles?
A: There is no solid evidence that Bugles contain gluten, but the ingredient label mentions that "it might contain traces of wheat and milk". If you follow a strict celiac diet, I'd say you should pass Bugles and have some other gluten-free snacks. 
Q: Why Were Bugles Banned In Canada?
A: Bugles were not banned, but were discontinued due to a decrease in demand. 
Q: Are Bugles Healthy?
A: Compared to most snacks, Bugles is healthier and offers vitamins and minerals (5.3%/cal). However, these are fried snacks and youn should consume them in limited quantities.
Conclusion 
Bugles corn snacks could be technically gluten friendly, but there is a risk of cross-contamination. If you truly love munching on corn snacks, consider the gluten-free options listed in this article. I hope you've found all information you were looking for around "Are Bugles gluten-free". 
Stay tuned with Nothing Gluten to know about the gluten status of your favorite foods. We also have a dedicated gluten free recipe section you'll love to check out.