Gnocchi is a staple Italian food that looks like small dumplings made from a dough of egg, semolina, wheat flour, potato, herbs, and similar ingredients. As tempting as the dish looks, people with gluten allergies have the question if gnocchi is gluten free. 
Gnocchi is not gluten free as wheat flour is one of the main ingredients in the dish. But that does not mean you can never eat gnocchi. You can easily make homemade gnocchi without adding any gluten to it. 
So how to make homemade gluten free gnocchi? Can I find any gluten free gnocchi in the market? How do you know if the gnocchi packet you picked has gluten or not? To find answers to all these questions, continue scrolling through. 
Is Gnocchi Gluten Free? 
Ideally, gnocchi isn't gluten free because it has wheat in it. Since gnocchis are like small dumplings, wheat acts as a binding agent to maintain its shape. 
Gluten is naturally present in wheat, so it will be present in gnocchi also. If you are gluten sensitive, you should know that you can't eat anything if it contains gluten grains like barley, wheat, and semolina as direct ingredients or added flavorings. 
But are there no other ways to make gnocchi gluten free? Absolutely there is. To make gluten free dumplings, you should replace all wheat flour with all purpose flour. Besides, there are gluten free gnocchi brands in the market that are a safer alternative.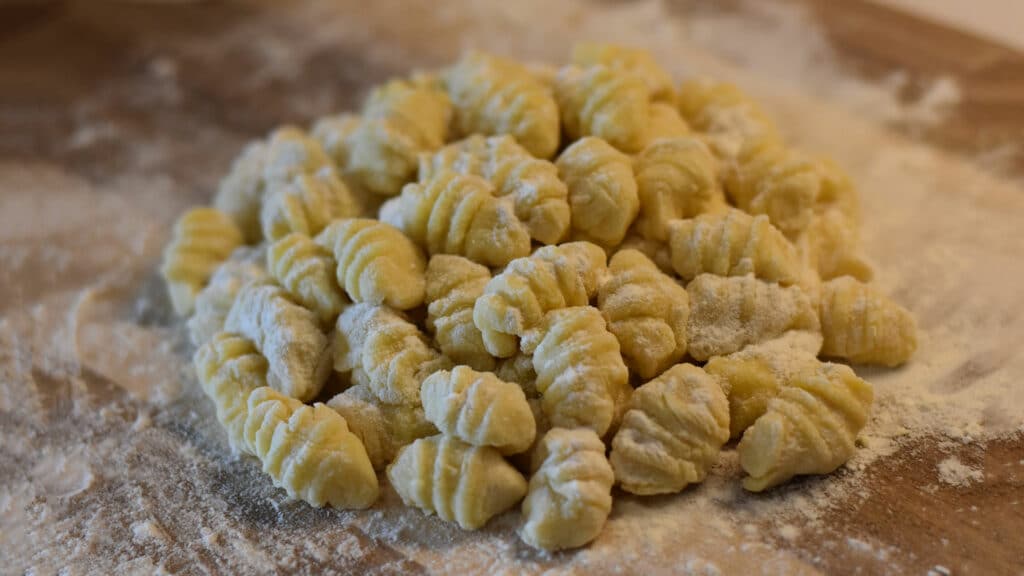 To ensure the packet you are picking has no gluten, it should contain the gluten free label. Any product with the gluten free label would mean that it has passed the gluten test and contains 20ppm or less gluten which is safe for even celiacs. 
Also Read:- Is Candy Corn Gluten Free?
Gnocchi: How Is It Made? 
Gnocchi is a traditional Italian dish that looks somewhat like snails. It's basically a dumpling made by combining semolina, wheat, potato, and other ingredients to enhance the taste. You have to boil the shell shaped dumplings and eat the same way as you would eat pasta. 
You may add these boiled dumplings into a buttery or tomato sauce and add parmesan cheese on top. Gnocchi has the flavor of potato that you can taste in every bite, and it has a little chewy texture. 
Since potato is the dominant ingredient in Gnocchi, you should carefully pick your potatoes for it. Don't use those waxy potatoes since they don't have the flavor and texture required. 
Besides, choosing potatoes, how you make them also makes a huge difference in taste. Instead of boiling them for too long, try baking the potatoes with the skin. We will share a detailed gluten free gnocchi recipe later in this article, so make sure you check out that section too. 
What If A Gluten Sensitive Person or Celiac Consumes Gnocchi?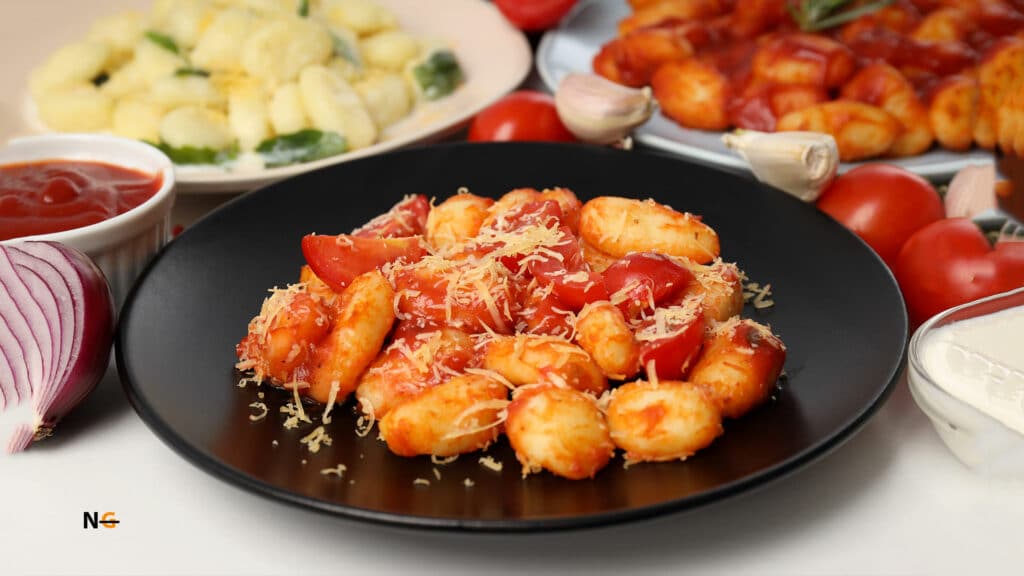 If you're gluten sensitive or have celiac disease, you should never consume gnocchi made using wheat flour. If you do so, it will trigger your gluten allergies, and you may experience side effects like nausea, headache, bloating, diarrhea, skin rashes, constipation, etc. 
These side effects may also lead to major health issues like malnutrition, unintentional weight loss, intestinal damage. But you'll be completely safe if you eat homemade gluten free gnocchi or the one you bought is certified gluten free. 
Gluten Free Gnocchi Brands 
Gluten allergic people don't have to restrict themselves from tasting gnocchi as there are a few reputed brands that make gluten free variants of gnocchi. Here are a few of them that I have personally tried- 
Corabella gluten free gnocchi is made from potato and gluten free rice. It has zero cholesterol, fat and saturated fat, making it a healthier option too. 
Another popular brand making gluten free gnocchi is this Nocca one. Its ingredients include- mashed potato, rice flour, lactic acid, potato starch, lactic acid, and potassium sorbate. 
Simply Wise Gluten Free Kale Gnocchi
Simply Wize has been making gluten free gnocchi for years, and they are absolutely safe for celiacs. It has ingredients like- rehydrated potato, potato starch, cornflour, rice flour, salt, lactic acid, and sorbic acid. 
Diffati gnocchi is not only gluten free but also vegan friendly. Its ingredients include- rice flour, rehydrated potatoes, corn starch, salt, sorbic acid, lactic acid, and turmeric. 
Gluten Free Gnocchi Recipe
Course: Recipes
Cuisine: Italian pasta
Difficulty: Medium
Can't find any gluten free gnocchi at your nearby stores? No worries! Here is a gluten free gnocchi recipe for you to try at home. Let's check out the ingredients and the cooking method in the following steps- 
Ingredients
1 ½ pound potatoes

½ cup potato starch

1 lightly beaten egg

1 tbsp sweet rice flour

½ tsp salt

2 tbsp rice flour
Directions
Preheat the oven to 400°F.
Prick potatoes using a fork and keep them on a baking tray.
Bake the potatoes for about 50 minutes until they are nice and tender.
Peel the potatoes once they cool down.
Mash the potatoes using a fork or your hands. Create a whole in the potato and add egg and mix nicely.
Take another bowl and mix salt, sweet rice flour, and cornflour. Add it into the potato and egg mixture and knead well.
Cut the dough into small portions. Slightly dust your work surface with rice flour to prevent the dough from sticking.
Now roll out one portion of the dough into a thin rope of about 1 inch.
Cut small gnocchi pieces and use the back of a fork to create the ridges.
Let the gnocchi sit for 5 minutes. Add them in salted boiling water without stirring. The gnocchi will float when it's ready. (will take around 1 to 2 minutes)
Add the gnocchi to your favorite sauce and enjoy!
Notes
You can store the gnocchi dough in the freezer for up to six months.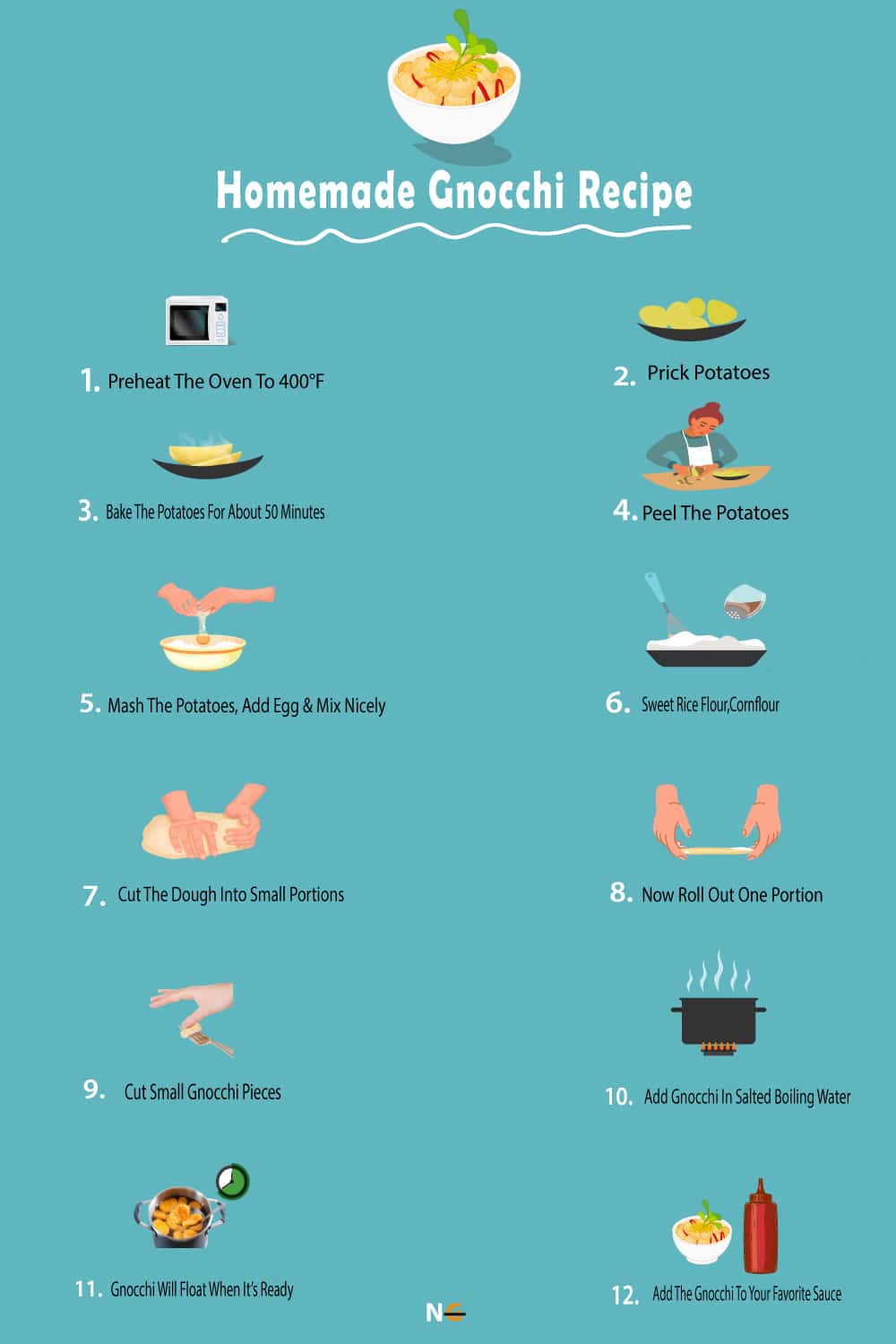 Final Words 
The original Italian gnocchi isn't gluten free because it uses wheat flour for binding. But options aren't limited for celiacs or gluten allergic people as you can make delicious gnocchi at home without adding wheat flour. We have shared the gluten free gnocchi recipe, which you can try next time you crave some!
Most Frequently Asked Questions About Gnocchi 
What is the main ingredient in Gnocchi? 
The main ingredients in gnocchi are- potato and semolina or wheat flour to make those gnocchi dumplings. 
Do all store bought gnocchi have gluten? 
No, there are gluten free gnocchis available at the stores. 
Does gnocchi have wheat? 
Yes, gnocchi has wheat flour, but you can make it without it too. 
How much gluten is there in gnocchi? 
Since the authentic gnocchi recipe isn't gluten free so the gluten content would be above 20ppm.