Vigo yellow rice is a seasoned easy to prepare meal that you can enjoy with your meat curries or seafood. You can also prepare one pot dish by combining different ingredients all together and recreating the classic Spanish delicacy. But the recurring question is, is Vigo yellow rice gluten free? 
Vigo yellow rice is gluten free. This saffron rice contains no artificial flavorings, preservatives, or color, which could add gluten to it. If cooked without adding any gluten substance Vigo yellow rice is even safe for celiacs. 
I will talk more about Vigo Yellow rice, how it is made, and other related information throughout this guide. If you are on a gluten free diet and can't digest gluten, this guide will be informative for you. Hence, keep scrolling till the end. 
Is Vigo Yellow Rice Gluten Free? 
Vigo yellow rice is entirely gluten free. It does not have any wheat or wheat substance that may add gluten into it. Vigo food has declared their Yellow rice as a gluten free product in their packaging and on their website. 
When a company declares its product gluten free, it means it has undergone the required test. The criteria for declaring anything gluten includes-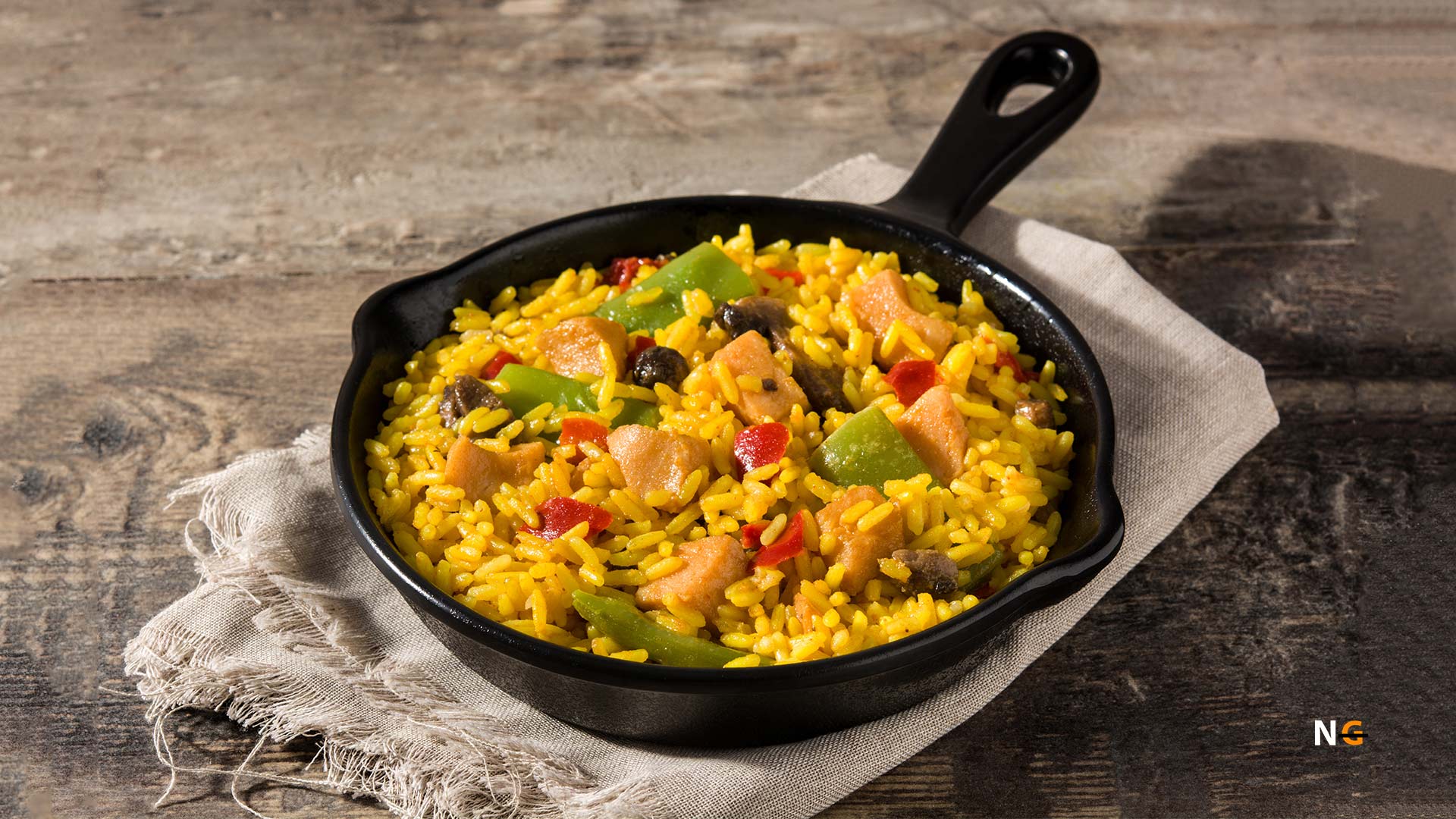 It should have no gluten related product either as a direct ingredient or as preservatives or flavorings. 
Brands have to prepare it in dedicated gluten free factories. 
It should have 20ppm or less gluten.
There should be no chances of cross-contamination. 
As Vigo Yellow rice has been declared so, it means it complies with all these conditions. Any labeled gluten free product is safe for celiacs, so the Vigo rice is safe for you as well. 
Also Read:- Is Kitchen Bouquet Gluten Free?
Vigo Yellow Rice: What Is It? 
Vigo yellow rice is a product of the company Vigo Food. They are known to create high quality food items, and Vigo yellow rice is one of their popular products. It is saffron rice that tastes similar to classic Spanish yellow rice. 
It comes seasoned and with dehydrated vegetables, so you don't have to add extra seasonings like salt while cooking it. This nutritious rice is also low in fat, so health conscious people can also have it without worrying about putting on extra calories. 
Let's have a look at all the ingredients of Vigo Yellow rice to see what makes it so tasty- 
Enriched rice (niacin, iron, thiamin mononitrate, folic acid)
Dehydrated vegetables (onion, tomato, green, and red bell peppers)
Salt 
Less than 2% of 
Garlic
Sugar 
Corn meal 
Hydrolyzed corn protein 
Maltodextrin 
Monosodium Glutamate 
Dehydrated chicken 
Saffron 
Spices 
Sodium aluminosilicate 
Celery extract 
Artificial color (FD&C Red 3, FD&C Yellow 5) 
Nutritional facts of Vigo Yellow Rice per 56g (uncooked) 
| | |
| --- | --- |
| Calories  | 190 |
| Total fat | 0g |
| Saturated fat | 0g |
| Trans fat | 0g |
| Cholesterol  | 0g |
| Sodium  | 730mg |
| Carbs  | 43g |
| Dietary fiber  | 0.5g |
| Protein  | 5g |
| Sugars  | 1g |
| Calcium  | 0% DV |
| Vitamin  | 0% DV |
| Niacin  | 8% |
| Folic acid  | 20% |
Is Vigo Yellow Rice Healthy?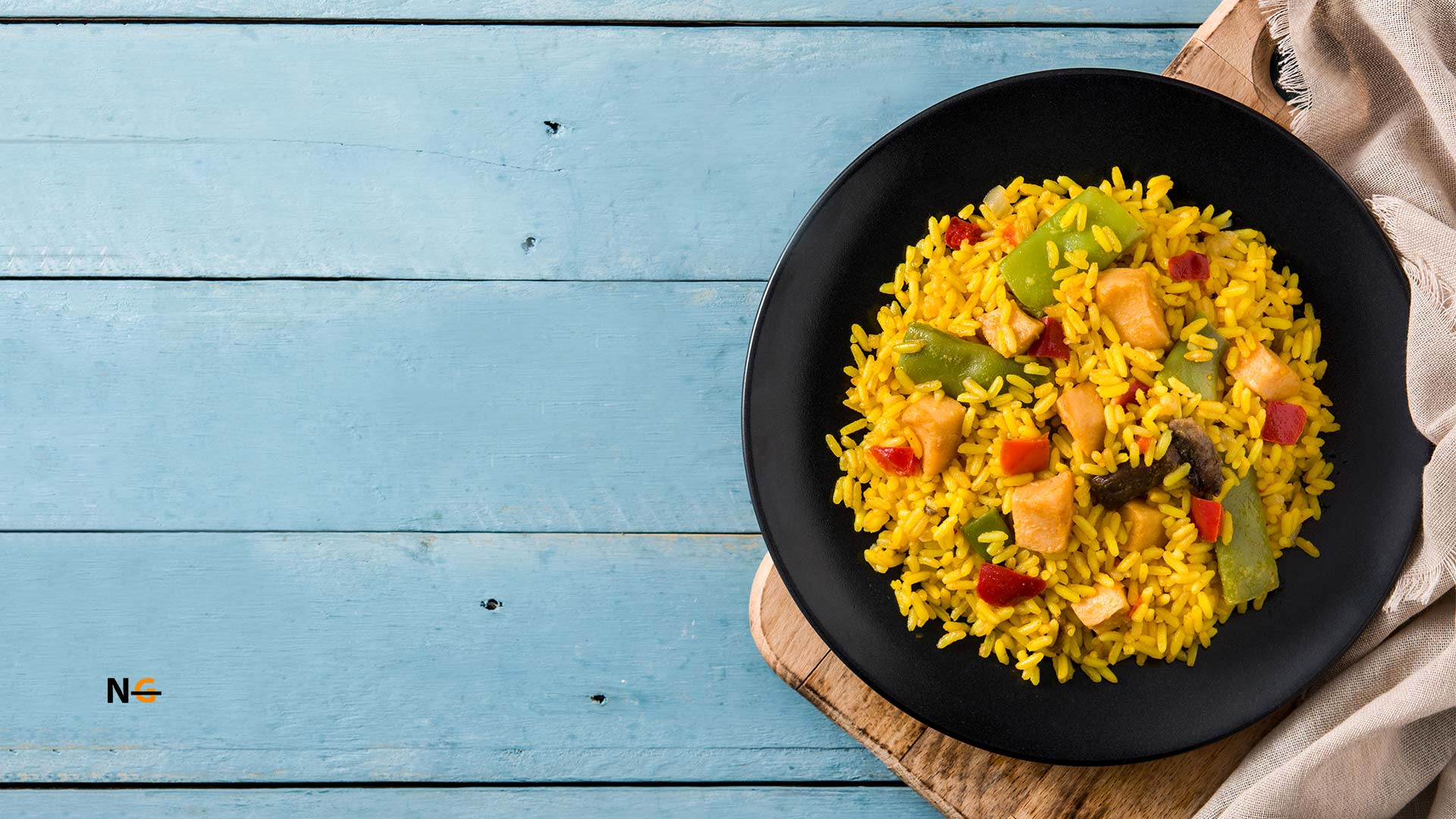 Anything you eat in moderation will not harm you, and the same goes for Vigo yellow rice. The Rice is low in sodium, making it a safer choice than most other yellow rice, but there is added sugar and maltodextrin, which is not good for diabetic people. 
Also, Vigo yellow rice has ingredients derived from animals that were possibly treated with antibiotics. So if you are picking Vigo yellow rice, don't make it a habit of consuming it every day. 
Try These Mouth-Watering Recipes With Vigo Yellow Rice
Here are some mouth-watering recipes you can try with the Vigo yellow rice to impress your family or guests. 
Yellow Rice with Chicken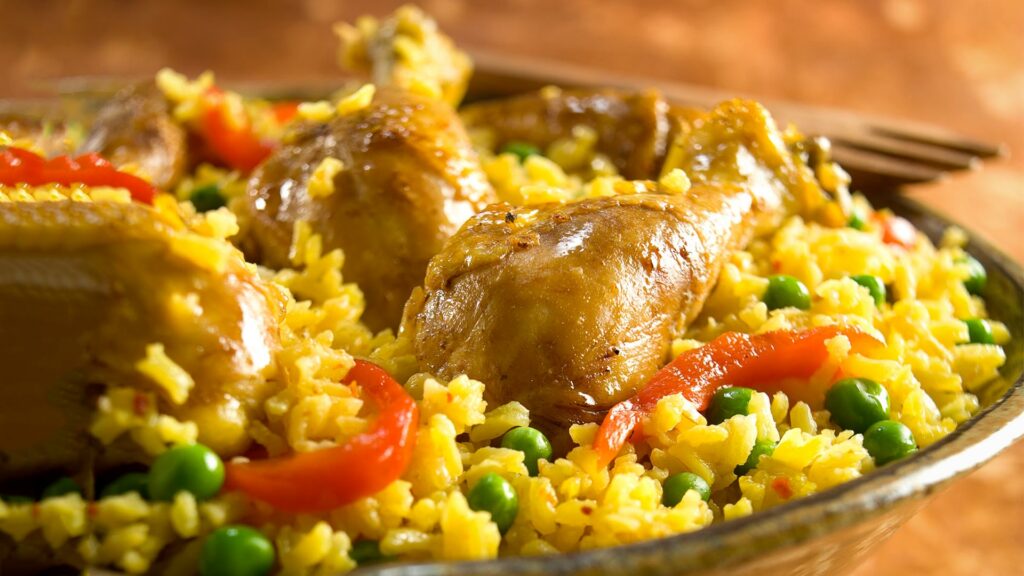 Ingredients 
One 8oz Vigo yellow rice 
Half pound cooked chicken 
One tablespoon butter or olive oil 
Method 
Take a saucepan with a lid and add 2 cups of water. Bring it to boil. 
Add butter or olive oil 
Now add the yellow rice and chicken
Give everything a nice stir while the water still boils. 
Cover the saucepan and reduce the flame
Cook for 20-25 minutes in low heat. 
After 25 minutes, turn off the heat. Use a fork to mix the rice so that all the seasonings are evenly distributed. 
Your yellow chicken rice is ready to eat!
2 Minutes Mexican Rice 
Ingredients 
2 tbsps butter 
One 8oz Vigo yellow rice 
Method 
Take a saucepan and add two and half cups of water. Bring it to a boil. 
Add the butter and then add the rice and stir in the boiling water for about a minute. 
Cover the saucepan and let the rice cook for about 20 to 25 minutes on low flame. 
Once done, enjoy your Mexican rice with the toppings of your choice. 
Final Words 
Vigo yellow rice is gluten free because, as the brand labels it, it is so. Therefore, if you're gluten sensitive or have celiac disease, you can have it without any problem. Besides, yellow rice is low in calories, and its sodium content is quite low as well, making it a healthy option to opt for. 
Did you find this guide informative? Let us know in the comments!
Most Common Questions About Vigo Yellow Rice 
Is Vigo Yellow rice healthy for people with diabetes? 
Vivo yellow rice is not healthy for people with diabetes as it contains sugar and maltodextrin, which can spike your blood sugar levels. 
Is Vigo Yellow rice good for weight loss? 
Vigo yellow rice has less sodium and calories, so it's a healthier option, but it may not be helpful for losing weight if you consume it every day. 
Is Vigo Yellow Rice safe for celiac people? 
Yes, Vigo yellow rice is safe for celiac people as it's a labeled gluten free product.