Kitchen Bouquet is caramel sauce with vegetable flavorings to add to your soups, stews, and gravies. The sauce is made by popular food brand Hidden Valley Food Products Company. But is Kitchen Bouquet safe for everyone, especially for those with gluten sensitivity? 
Kitchen Bouquet is gluten free. There are no ingredients in the caramel color sauce that has gluten, so it's safe for people with gluten sensitivity or celiac disease to have it. Further, the sauce is very low on sodium and other spices. 
It's vital that gluten sensitive people should stay informed about all food items. Hence, learning more about the Kitchen Bouquet sauce and its ingredient list is necessary. We bring you all the necessary facts regarding this sauce, so to get complete information, continue reading this article. 
Is Kitchen Bouquet Gluten Free? 
Kitchen Bouquet is a blend of vegetables, spices, herbs, and a few flavoring ingredients. The company Hidden Valley labels it a gluten free product; it contains no wheat or wheat extracts. 
Besides, the sauce is made in a gluten free factory where chances of cross-contamination are equal to none. When a brand declares any product gluten free, it has to adhere to a few FDA rules. 
Firstly, the product should have no gluten derivatives like wheat, barley, malt, rye, semolina, etc. Besides, it has to contain less than 20ppm of gluten which is safe for even celiacs, and thirdly there should be no chances of cross-contamination. 
When a product meets all these conditions only when it can declare itself gluten free, the Kitchen Bouquet flavoring sauce meets these conditions, which is why the brand labels it a gluten free product. 
Celiacs should always check the product label before picking any product if it contains the gluten free label or not. 
Also Read:- Is A1 Gluten Free?
Kitchen Bouquet: The Popular Seasoning Sauce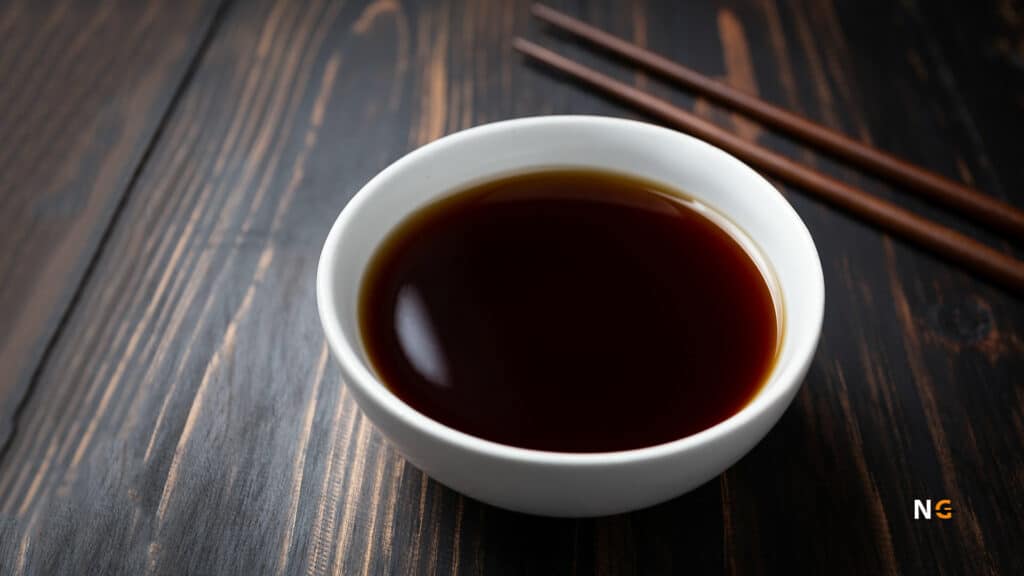 Kitchen Bouquet is a condiment to use in cooking. The sauce has a dark caramel color that can enhance the taste and texture of your dish. For decades, the brand has kept the bottle the same with a thin neck and wide body with the yellow labeling. 
The sauce is made from a vegetable base like carrots, celery, cabbage, parsley, turnips, onions, caramel color, sodium benzoate. You may add this to your stews, curries, soups, burgers, roasted meat, and a lot more dishes. Kitchen Bouquet is very low in sodium and other spices, making it a healthier alternative too. 
Besides giving your dish a nice brown color, the kitchen bouquet slightly enhances the flavors as well. The sauce is only made of plant-based ingredients, so even vegetarians can have it. 
Here are the nutritional facts of Hidden Valley Kitchen Bouquet sauce (per 60g)
| | |
| --- | --- |
| Calories  | 10 |
| Total fat | 0 |
| Sodium  | 5mg |
| Total carbs  | 3g |
| Sugars  | 2g |
| Protein  | 0 |
Is Kitchen Bouquet Vegan? 
I have mentioned in the previous section that Kitchen Bouquet is healthy as it's very low in sodium and contains very few preservatives. Another plus point of using Kitchen Bouquet is that it's a vegan sauce. 
It contains no animal or dairy products making it suitable for vegans too. All ingredients used are plant-based, mostly derived from vegetables like celery, carrots, onions, turnips, etc. People on a plant-based diet can have it guilt-free. 
Popular Kitchen Bouquet Substitutes
If you are unable to get a Kitchen Bouquet near you, don't worry. There are various other sauces similar to Kitchen Bouquet with almost the same taste. Here is a list of the sauces you can replace with a Kitchen Bouquet. 
We can call Gravy Master the exact replica of the Kitchen Bouquet. You can use it to get the same color, texture, and taste in your recipes, but Gravy Master has a stronger taste than the Kitchen Bouquet, so you should be careful with the quantity you add. 
Worcestershire sauce again provides the same color and taste as Kitchen Bouquet, but it won't give the same texture as the latter. If you are expecting to use it as a thickener, it may not work. 
Maggi Liquid seasoning has an umami taste and the same dark brown color as Kitchen Bouquet. Use it to enhance the taste, flavor, and consistency of your recipes. 
Soy sauce is present in almost all kitchens, so if you can't find Kitchen Bouquet use it for flavor and color. 
Recipes to Try With Kitchen Bouquet 
Kitchen Bouquet is a versatile sauce, so you can add it to numerous dishes. Here are my top three recipes to make with Kitchen Bouquet. Hopefully, you'll like them too. 
Brown Rice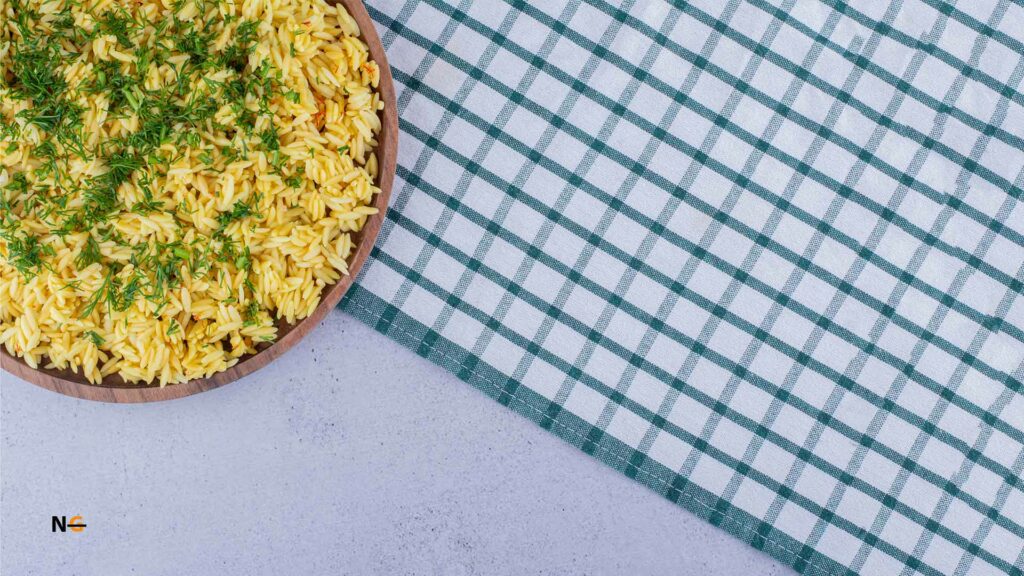 Ingredients 
1 ¼ cup water 
One cup brown rice 
Half teaspoon Kitchen Bouquet sauce 
One tbsp butter 
One tsp beef base 
Method 
Take a pot and add butter, water, and beef base and bring it to boil. 
Now add the brown rice and Kitchen Bouquet sauce to the water. 
Put the flame on low and let the rice cook for 30 minutes on a closed lid. 
Turn off the flame after 30 minutes but let the rice sit for another 10 minutes with a closed lid. 
After ten minutes, your brown rice in Kitchen Bouquet flavor is ready to serve!
Pork Stew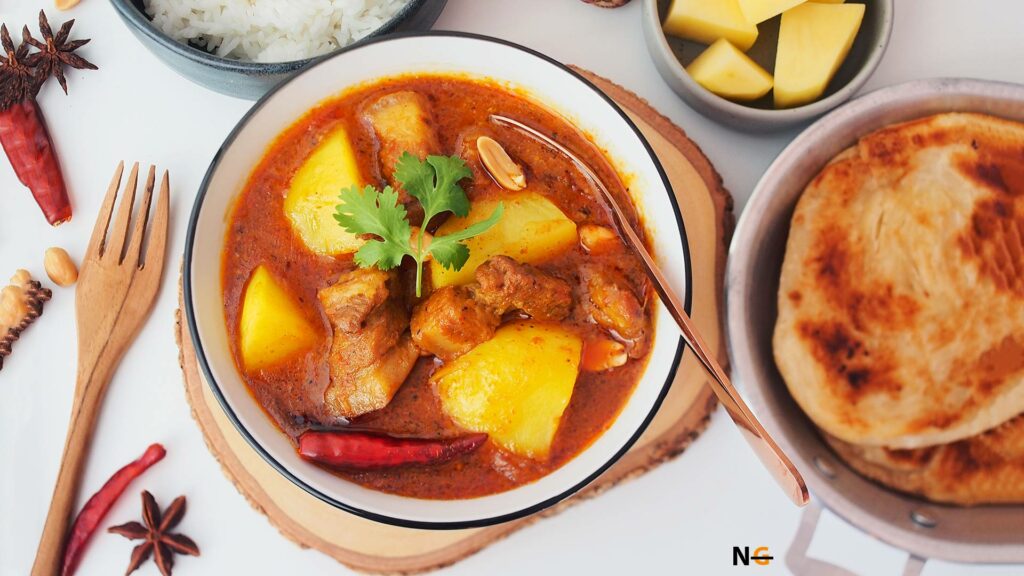 Ingredients 
4 pork chops
4 tbsp Kitchen Bouquet
2 garlic cloves
1 can cream of mushrooms
1 onion 
4 tbsp white vinegar 
¼ cup oil 
⅓ cup flour 
Red pepper flake 
4 cups water 
Pepper 
Salt 
Method 
Season pork chops with salt and pepper 
In a saucepan, heat oil and add the pork chops. Cook until they get brown. 
Keep the pork chops in a dish, and in the same pan, add onions. Cook until onions get tender. 
Add the garlic, cook for a couple of minutes. 
Now add flour and whisk till the whole thing gets brown. 
Pour the cream of mushroom and keep whisking. There should be no lumps. 
Add the red pepper flakes, pepper, Kitchen Bouquet, vinegar, and salt to taste. 
Let the stew simmer for at least two hours until the meat gets tender. 
After two hours, your stew should be ready. Serve with rice and enjoy!
Final Thoughts 
Kitchen Bouquet is a labeled gluten free sauce with no gluten substance. The sauce is safe for all gluten sensitive people, including celiacs, so now you don't have to worry about getting any gluten allergies. 
Also, try out the recipes we mentioned with the Kitchen Bouquet and let us know how they turned out!
Most Asked Questions About Kitchen Bouquet 
Do Kitchen Bouquet and liquid smoke have the same flavors? 
No, Kitchen Bouquet and liquid smoke do not have similar flavors. Liquid smoke has a stronger taste than Kitchen Bouquet. 
What are the ingredients in Kitchen Bouquet? 
The ingredients used in Kitchen Bouquet are carrots, celery, cabbage, parsley, turnips, onions, caramel color, and sodium benzoate.
What does Kitchen Bouquet taste like? 
Kitchen Bouquet has a mild beef like taste, but the sauce is completely vegan. 
Is Kitchen Bouquet available worldwide? 
Yes, Kitchen Bouquet is available in most countries.