Popular for its delicious breadsticks, pasta, and salads, Olive Garden has a lot to offer. The franchise has more than 900 eateries throughout the States, and people love relishing their fresh food. 
However, celiacs are often worried about what they can order at Olive Garden. Thus, here is an article that'll tell you everything about the Olive Garden Gluten-free menu. Also, I've covered some more information on the gluten-free items available at the Olive Garden.
Read on to know everything about what foods you can have without any allergies or irritations.
Olive Garden has made an effort to ensure that folks visiting their chains get something they want, so they introduced foods free from gluten. Also, there are a lot of delicious options you can try including pasta, breadsticks, and more. Below is a list of eight gluten-free items at the Olive Garden.
1. Herb-Grilled Salmon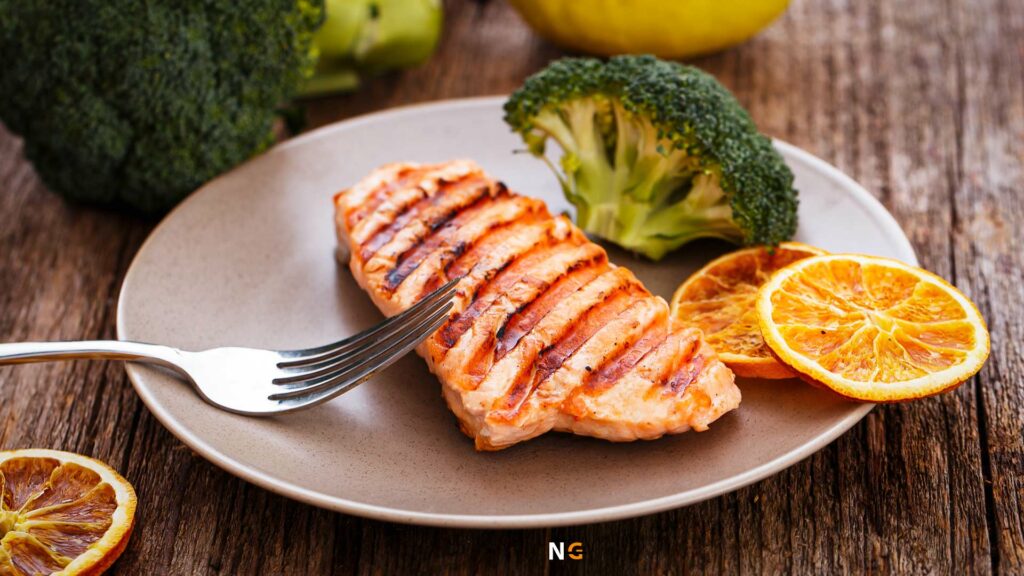 Here is an amazing option for people that are sensitive to gluten and are looking for a healthy option. The generous size of the filet is grilled perfectly and comes topped with a garlic herb butter that enhances the taste.
The fish is a little flaky and tender, the dish comes accompanied with a delicious side. Apart from the gluten-free characteristic, the Herb-grilled Salmon is low on calories and does not contain a lot of salt. Herb-Grilled Salmon is also a good option for overall heart health, and you won't feel guilty after ordering it. If you have a plan to dine out at the Olive Garden, you should order this meal.
2. Grilled Chicken Parmesan
The Olive Garden has another grilled dish that's the Grilled Chicken Parmesan, which consists of juicy chicken breasts. Perfectly smothered in a thick marinara sauce, the dish is topped with Italian cheese. Also, it houses a gluten-free rotini bed that you'll love relishing. Some of you may find it pungent but the sauce does not overpower the flavor. Pair this tasty dish with Zuppa Toscana or the salad but make sure it does not have croutons.
3. Zuppa Toscana
Zuppa Toscana is another popular dish that you'll find on the Olive Garden gluten-free menu. It's loaded with tons of spices and has a perfect Italian flavor. For starters, the big pieces of the sausages dipped into the soup give it an unforgettable flavor. Also, the right amount of mixed spices such as fennel and oregano improves the flavor. 
The mix of ingredients creates multiple layers of textures. Also, you'll find some slides of perfectly tendered potatoes, pepper flakes, and kale leaves. You don't need to pair it with anything since Zuppa Toscana is a package in itself.
4. 6 Oz Sirloin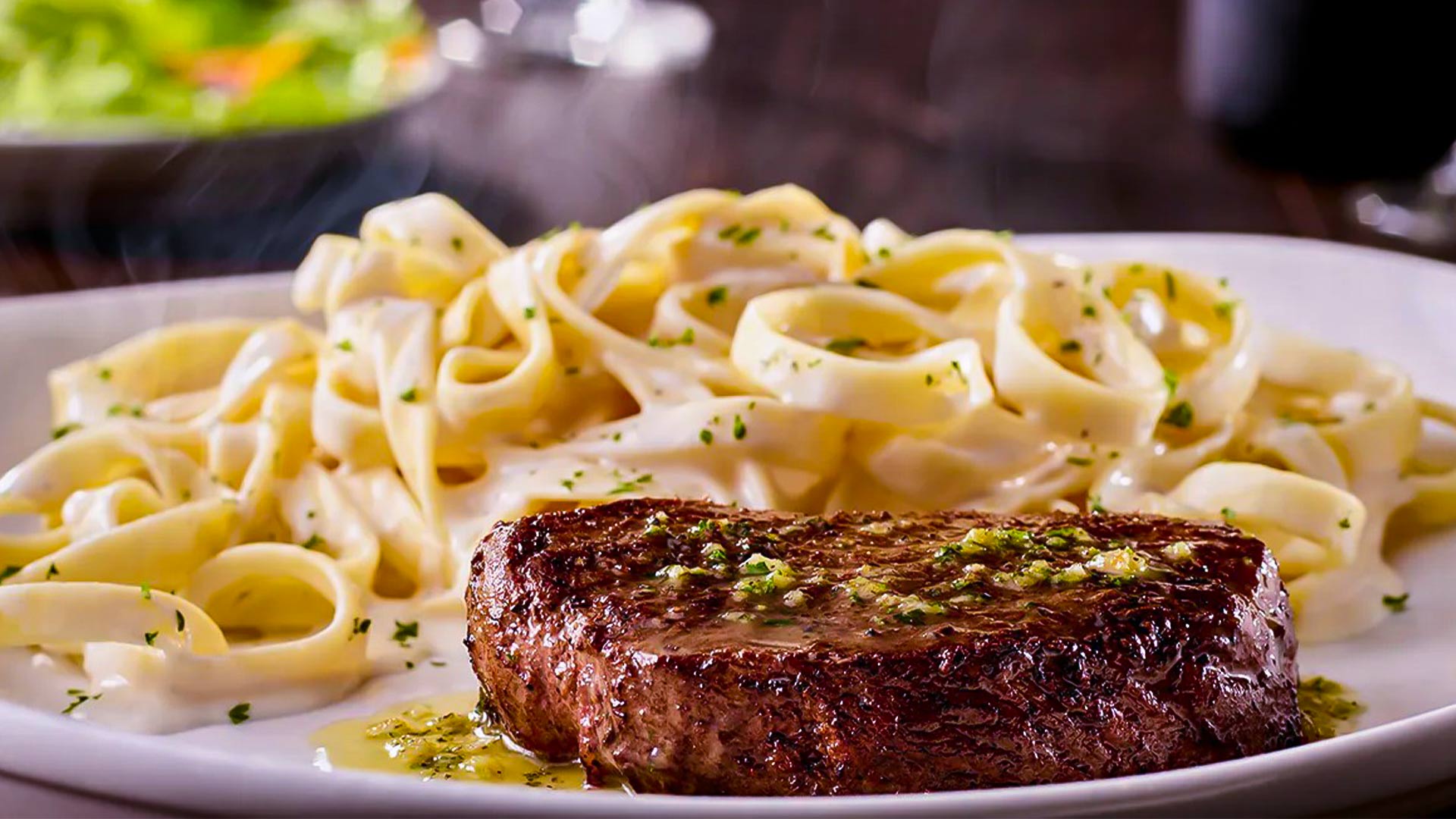 Sirloin is also a gluten-free option you can order at Olive Garden. The dish offers a well-seasoned and tender steak that tastes amazing. Furthermore, it is topped with a thick garlic sauce and is enough for a single person. You get a side of your taste along with the steal, and Olive Garden offers two celiac-friendly options you can choose from.
You can also pair it with flavored Zuppa Toscana and enjoy a heavenly flavor. You can also request the server for broccoli and other items for personalization.
5. Famous House Salad 
The Famous House Salad is a popular and highly ordered dish at the Olive Garden. The salad contains healthy ingredients, including olives, tomatoes, red cabbage croutons, and parmesan cheese. When you want this salad to be gluten-free, you should ask the staff to keep croutons away to avoid cross-contamination.
Furthermore, you can choose from a range of dressings, including the most-loved Italian dressing that has low fat characteristics. Also, there are options available, including salad dressing made from vinegar and oil. 
✍️ Note: Ask the server to skip the breadsticks, or you can opt for any protein options that are free from gluten and are low on fat as well.
Olive Garden Gluten-free food items for kids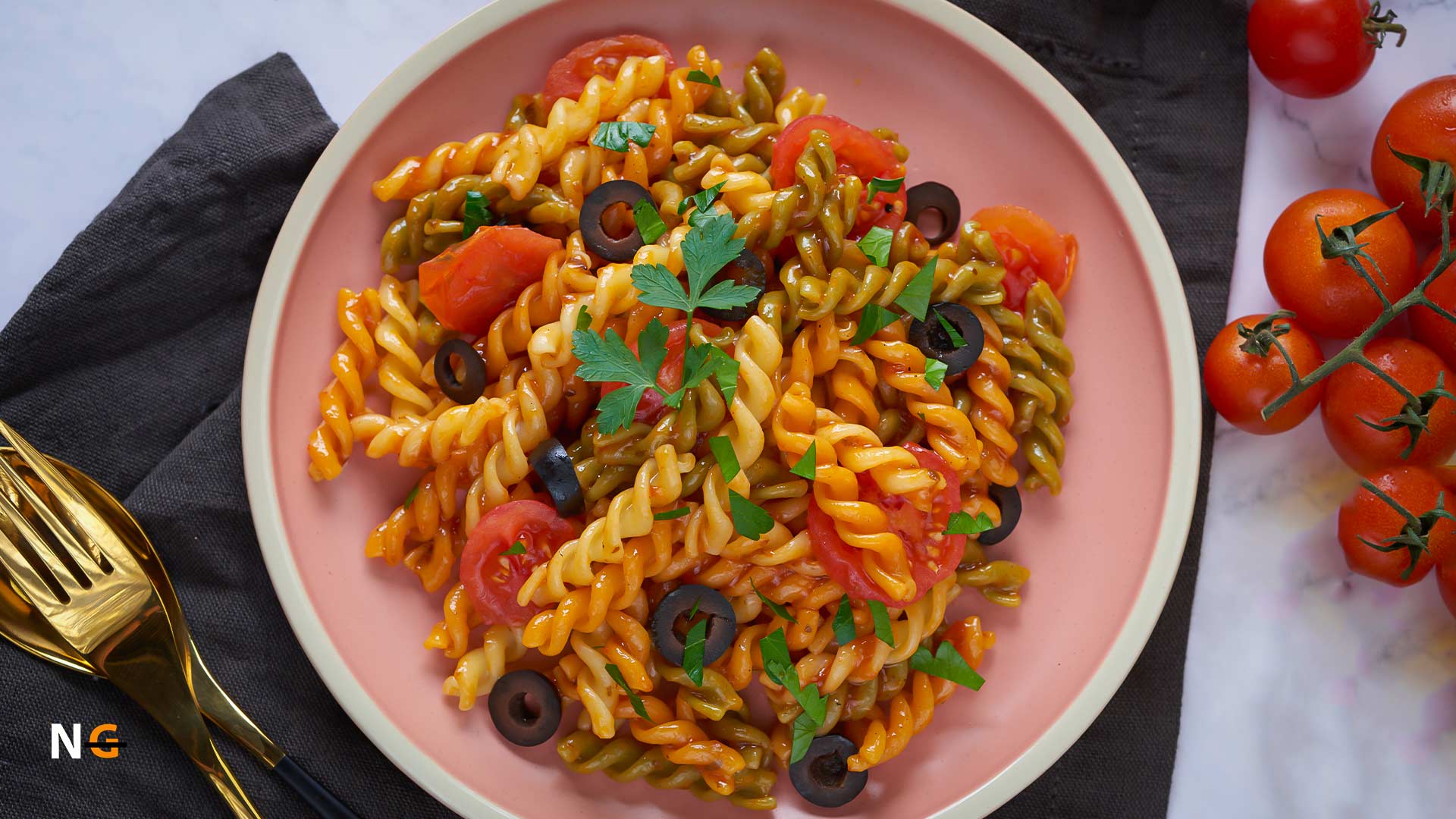 Apart from adults, Olive Garden also has something for kids. If your kid prefers food without gluten, you can order it from the Olive Garden gluten-free menu for kids. Below you'll find some items that you can order for your little ones.
Kids Rotini with Marinara 
Kids Grilled Chicken 
Kids Rotini with Meat Sauce 
Tips While Ordering Gluten-free Food at Olive Garden 
Now that you know what items are there on the Olive Garden gluten free menu, you are all set to visit the restaurant and order something delicious. Here are some tips that'll help you order gluten free food that's perfect for your celiac diet.
1. Always Let the Servers Know About Your Preference
There is nothing wrong in telling the servers about your gluten allergies, and they'll be extra sure about preventing cross-contamination. Also, they'll not provide you with the extras and toppings that have ingredients with gluten in them.
2. Do Not Eat Sides 
A lot of sides, such as the breadsticks that come along with your gluten-free food items, actually contain gluten. Therefore, you should not eat sides if you don't know about them. The same goes for the toppings and sauces. Quickly do a Google search to find if the sides and sauces served to you are gluten-free or not.
3. The Menu may Vary Depending on the Location 
The Olive Garden gluten free menu may be different depending on the location. Always ask the servers about the menu and the ingredients present in the food items to ensure you eat safely.
FAQs
Q: Does Olive Garden have gluten-free breadsticks?
A: No, the Olive Garden breadsticks are not gluten free, and you cannot have them on a celiac diet. Olive Garden provides the breadsticks with a lot of dishes, and you should avoid eating them.
Q: Does Olive Garden make gluten-free?
A: Yes, Olive Garden makes gluten free, and there are a lot of options to try. Their salads are amazing, and the toppings are also gluten-free. 
Q: Is Olive Garden Herb Grilled salmon gluten-free?
A: Yes, the Olive Garden Herb Grilled Salmon is gluten free, and you can order it without thinking twice. Just stay away from the sides and sauces you don't know about.
Q: Is everything available at Olive Garden gluten free?
A: No, not everything available at Olive Garden is gluten free, and you need to be picky about what you eat. If you have no idea about the dishes you can order, it is better to ask the server. 
Conclusion
That's everything you should know about the Olive Garden gluten free menu. All the dishes I've listed in this article are suitable for celiacs and will not cause any gluten allergies. Make sure to stay away from sauces and other things which have higher chances of cross-contamination.
Lastly, let the servers know about your preferences, and tell them to prepare your meals separately.