Americans cannot think of enjoying some nachos, chips, or tacos without ranch dressing on the side. This delicious, creamy sour dressing has covered a permanent spot, and finding a replacement is quite tricky. But is this dressing for celiac people as well? Is Ranch gluten free? 
Ranch is not always gluten free. Although the dressing does not need gluten derived ingredients, commercial manufacturers may add malt vinegar or wheat flour as a thickener.
Let's understand more about ranch dressing, its gluten status, and how safe it is for people dealing with gluten allergies in detail here in this article. If you want to know if you should consume ranch or not, keep reading till the end. 
Is Ranch Gluten Free? Does It Contain Wheat?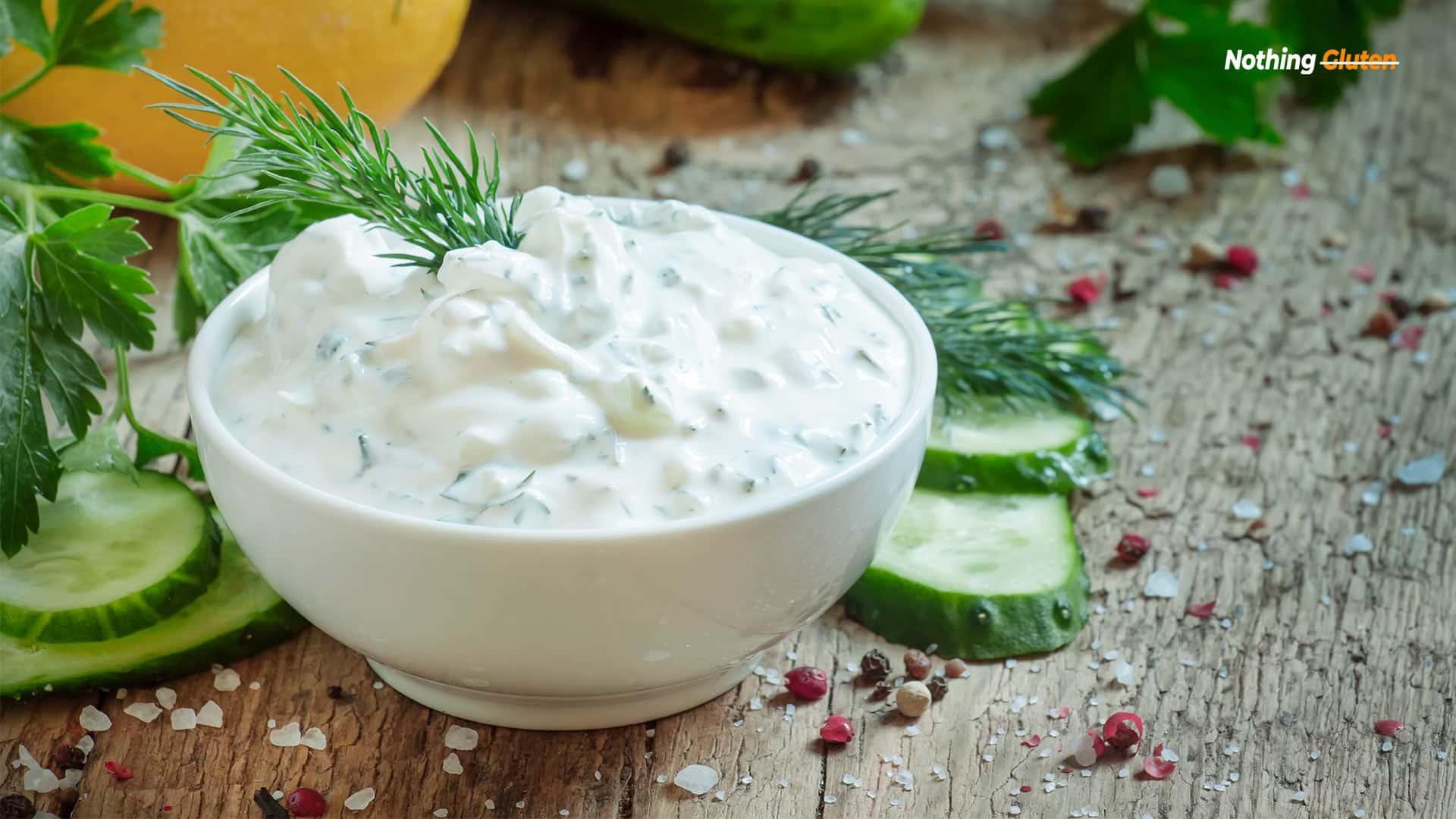 Ranch may not always be gluten free. Commercially produced ranch often contains wheat flour to enhance its texture making it unsafe for people unable to digest gluten. Ranch dressing may also have malt vinegar, another unsafe ingredient for celiacs. 
But there are brands that make gluten free ranch without adding any wheat-based flavorings or additives. But how would you know which one contains gluten and which one does not? 
Well, it's pretty simple. You just have to check the ingredient list to find any hidden gluten in ranch. If you see any ingredient derived from wheat, it's not safe for you. I suggest making fresh ranch dressing at home that eliminates all possibilities of gluten contamination. 
How Is Ranch Made? What Ingredients Go Inside This Popular Dressing?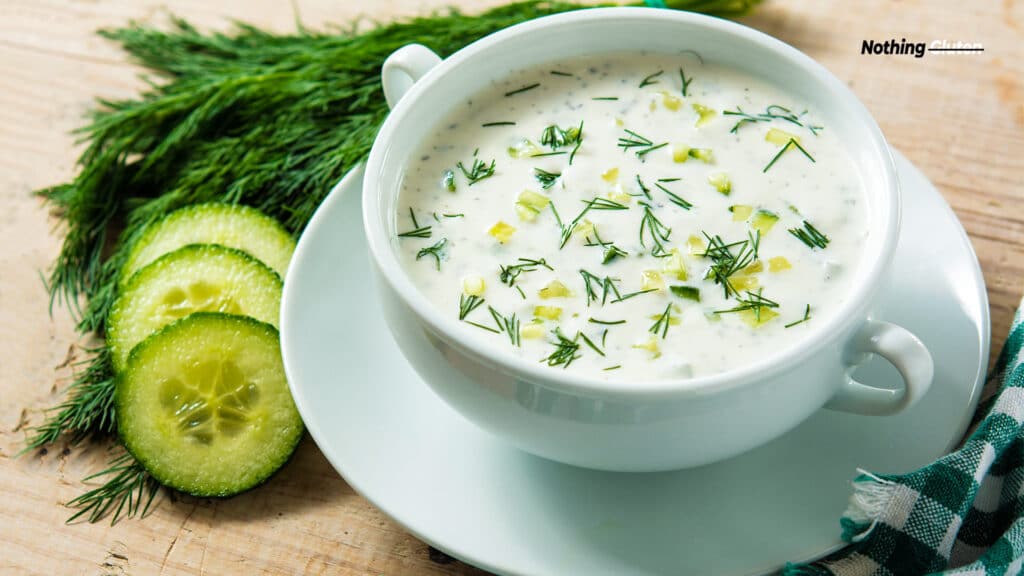 When we hear the hype about some dish or recipe, the first thing we think about is what goes inside that recipe. This is also the truth for ranch, and people often ask what the ingredients are used in it, so I thought why not answer this popular query as well. 
The main ingredients in ranch are- buttermilk, garlic, salt, paprika, pepper powder, onion, mustard, and herbs like- chives, parsley, dill, and oil. Other additions may include mayonnaise, yogurt, sour cream, and that's it. The unique combinations of these ingredients make ranch so tempting. 
But packaged ranch dressing often includes wheat flour so if you are on a strict gluten free diet, make sure not to skip the ingredient list. 
How To Identify Hidden Gluten In Readymade Ranch Dressing?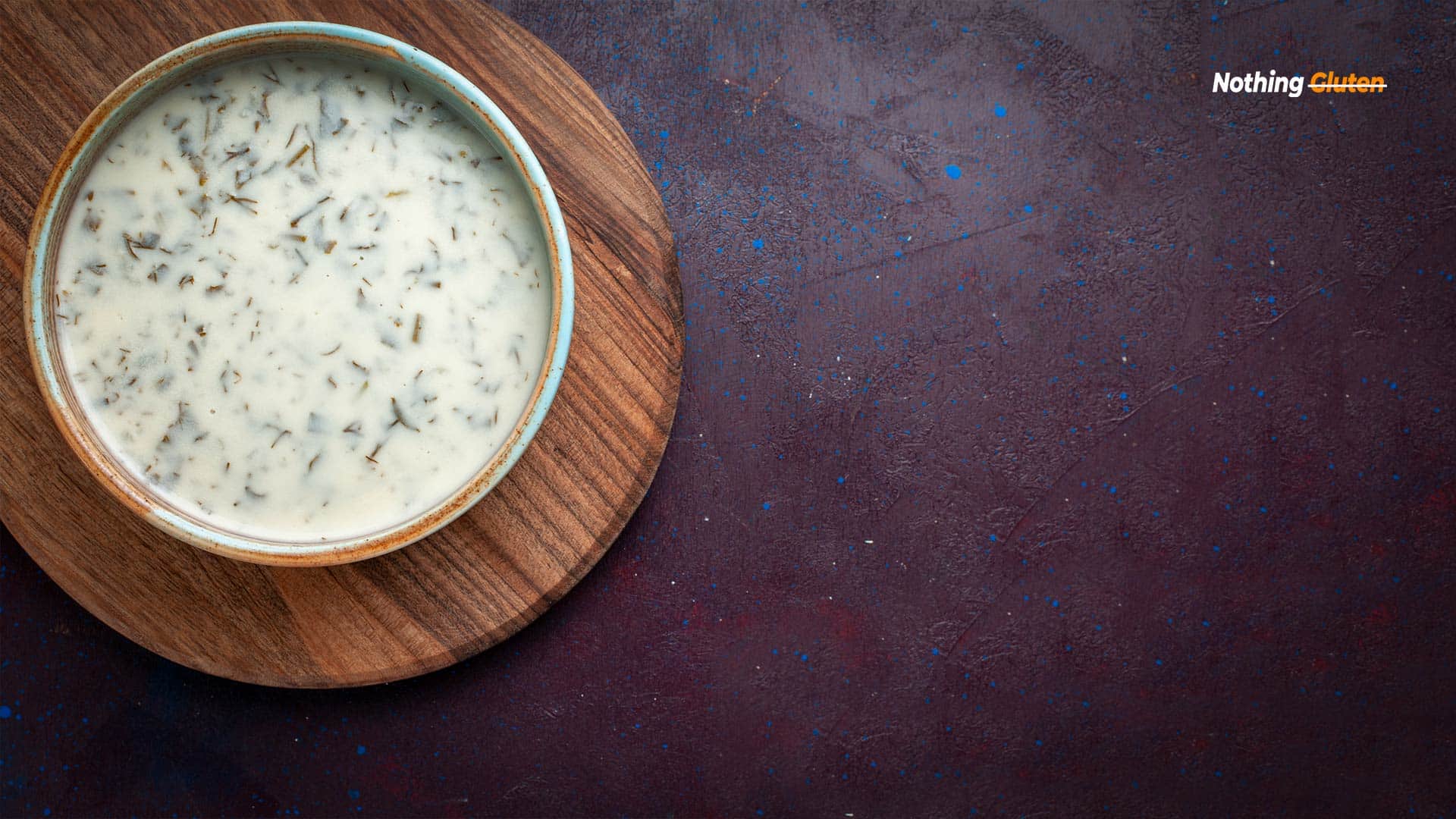 As I have been repeating throughout, the only way to find hidden gluten is by reading the ingredient label. Packaged ranch dressing will have a specific ingredient list where all the ingredients will be mentioned. 
Read it carefully and see if you find mentions of wheat thickener, malt vinegar, or anything that says wheat, barley, rye, or other gluten grains. Plus, checking the makers' website also helps find out about gluten. 
All brands' websites have an FAQ section where they answer every allergen related question. Try to go through the section; I am sure you'll find useful information there. 
Is Ranch Healthy?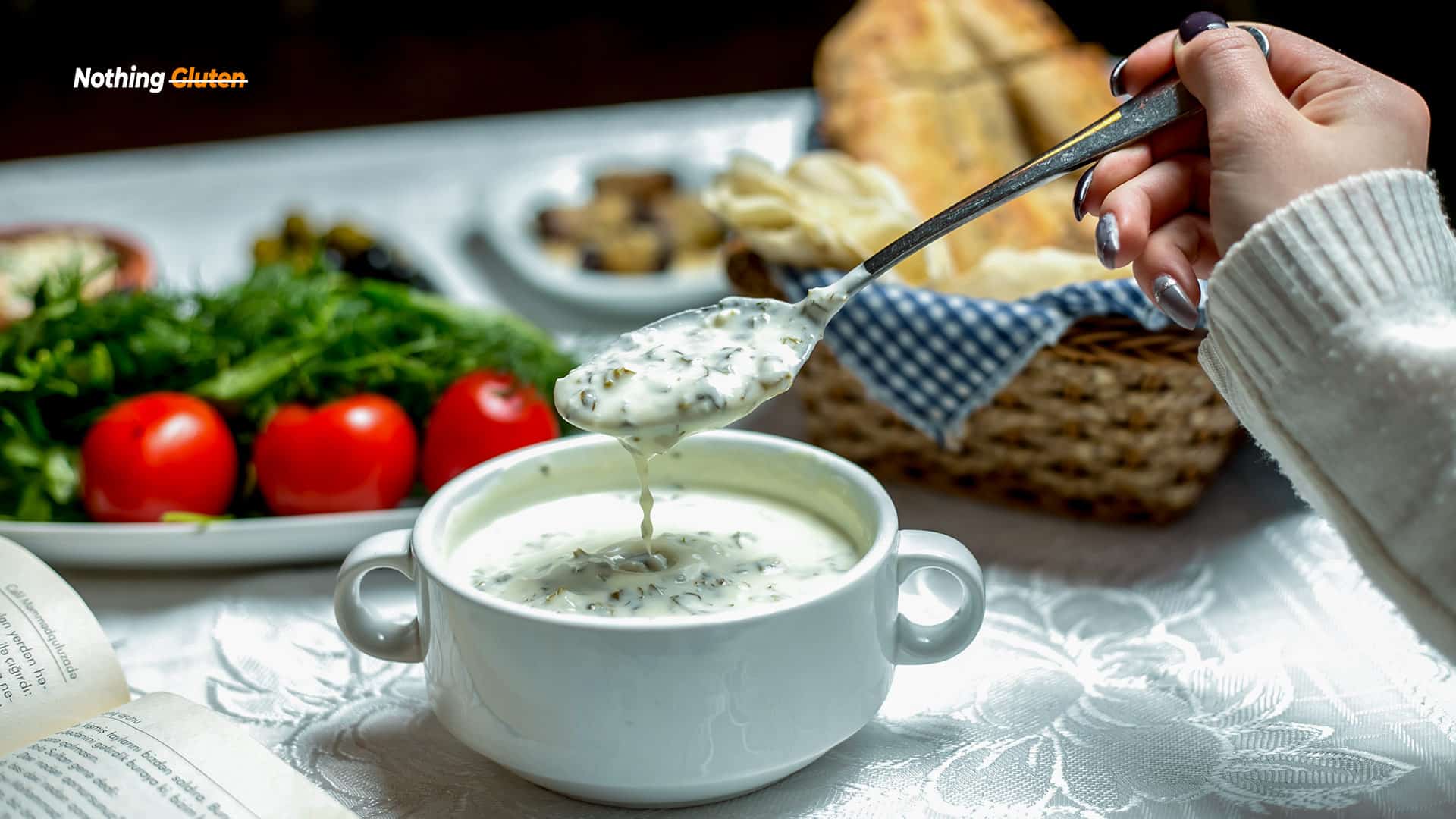 Ranch dressing contains all fresh ingredients, so at first glance, it seems like a healthy dressing to add to your meals, but that is not the case. Ranch is loaded with sodium, sugar, and saturated fat. 
Saturated fat puts you at the risk of developing high cholesterol and cardiovascular disease. Each serving of ranch dressing contains at least 2.5 grams of saturated fat, and to be honest, not all people limit their consumption to just one small serving. 
A perfect ranch dressing has to be creamy, and to get that texture; makers must add heavy buttermilk and vegetable oil. These ingredients make the dressing very high in fat content, and you can expect to get at least 14 grams of fat in each ranch serving. 
| Nutritional Facts | Per 30g |
| --- | --- |
| Calories | 129 |
| Fat | 13.4 g |
| Carbohydrates | 1.8 g |
| Sodium | 270 mg |
| Sugars | 1.4 g |
| Fiber | 0 g |
| Protein | 0.4 g |
Going by this information, it's quite clear that ranch should not become a part of your everyday food. Eating it sparingly may not affect your health, so be mindful of how often and how much you are consuming. 
Is Ranch Dressing Vegan & Dairy Free?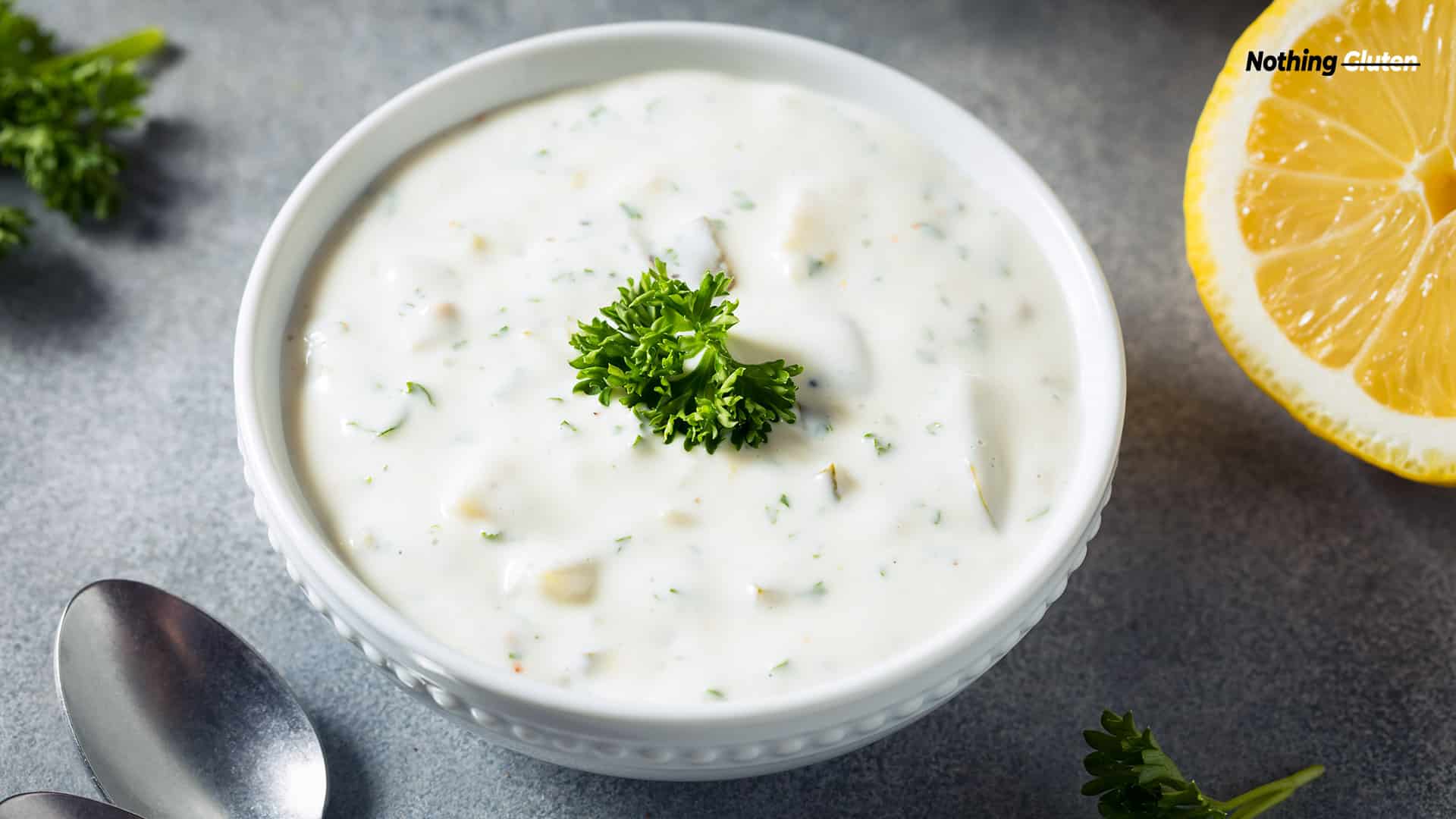 No, ranch dressing is not vegan and dairy free. Dairy products like- buttermilk, sour cream, or yogurt are irreplaceable ingredients in ranch. 
But there are vegan ranch options available in the market. They are made with dairy-free substitutes while providing the same taste and texture. Some of the popular vegan ranch dressing brands are- La Tourangelle, Just Ranch, Daiya, Primal Kitchen, etc. 
Primal Kitchen Ranch Dressing is a great choice for those who need to avoid gluten. Its ingredients include avocado oil, organic cage-free eggs, and apple cider vinegar, and it does not contain any gluten, soy, or dairy.
It's made with all natural ingredients and is completely gluten-free. They use a blend of spices and herbs to create a rich and tangy flavor that's perfect for salads or as a dipping sauce. Plus, it's organic and free from any artificial preservatives or additives.
Sir Kensington's Classic Ranch Dressing is a creamy and delicious gluten-free dressing made with high-quality ingredients like 100% sunflower oil, free-range eggs, and fresh herbs and spices. It's the perfect addition to any salad or as a dip for your favorite veggies or snacks.
This delicious dressing is free from gluten, dairy, and soy, making it a great choice for those with dietary restrictions. Its creamy texture and savory flavor are perfect for adding to salads or using as a dip for veggies.
But make sure to read the ingredient label if you are both gluten intolerant and eat vegan, as all vegan brands may not be gluten free as well. 
Try This Homemade Gluten Free Ranch Recipe
Let's make a delicious gluten free ranch dressing using some basic ingredients easily available at all grocery stores.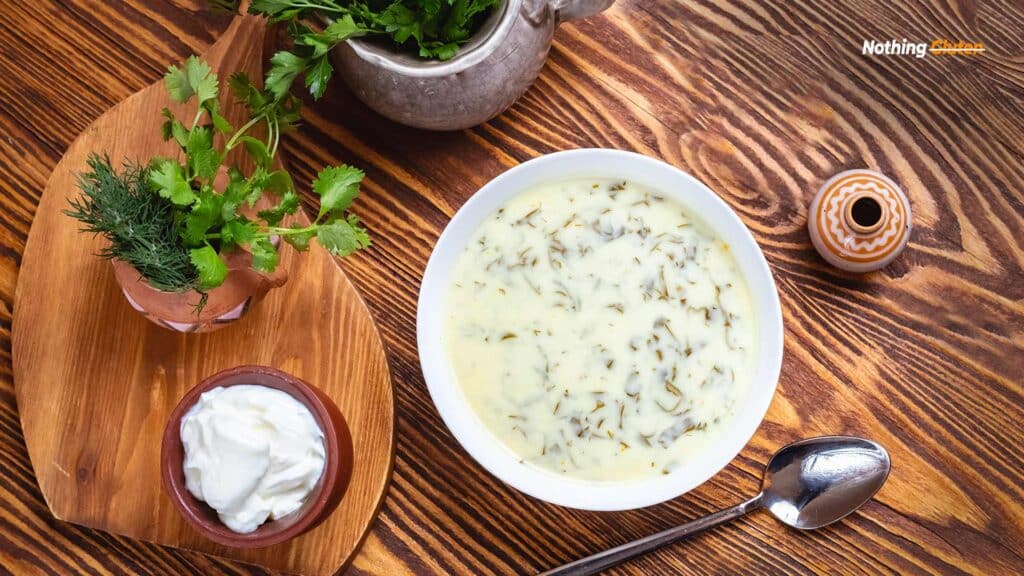 Ingredients 
½ cup buttermilk 
½ cup sour cream 
2 tbsp mayonnaise 
1 tbsp fresh cilantro 
1 tbsp fresh dill 
1 tbsp fresh parsley 
1 tbsp fresh chives 
½ tsp salt 
2 tsp lime juice 
Ground black pepper to taste 
One garlic clove (minced) 
Method 
Mix all the ingredients in a bowl and combine until nice and smooth. You can increase the quantity of buttermilk if you want a thinner consistency. Enjoy with chips, tacos, or any food of your choice. 
Conclusion 
Even though there are risks of gluten being added to ranch, you can avoid it by making the dressing at home. I have shared a complete gluten free ranch dressing recipe with you, do try it to enjoy a restaurant like ranch at home. 
Don't forget to keep following Nothing Gluten to get regular updates on gluten free food and tips to know how you can avoid gluten while eating packaged food. 
FAQs 
Is Hidden Valley Ranch Dressing Gluten Free? 
Yes, Hidden Valley ranch dressing is completely gluten free. There are no gluten additives used to make the dip thicker. 
Is Buttermilk Ranch Gluten Free? 
Yes, buttermilk ranch is gluten free unless makers use wheat flour or malt vinegar to enhance taste and texture. 
Is Caesar Dressing Gluten Free? 
Not all packaged caesar dressing is gluten free. If you make it at home, you can totally avoid gluten but be careful with the readymade ones. 
How To Know If Ranch Contains Gluten? 
You can detect gluten in ranch by reading the ingredient label and checking the manufacturer's website as well.