I know there are many fans of caesar salad. But what brings out the taste and flavor of the bland vegetables is their dressing. It's creamy, delicious, and juicy. But is caesar salad gluten free? 
Caesar dressing is not always gluten free. While most of the ingredients in the dressing are gluten free, Worcestershire sauce is not. The gluten status of the Worcestershire sauce depends on the manufacturers, as not everyone uses the same ingredients. 
The best way to avoid gluten in caesar salad is to pick the ingredients wisely. In this article, I'll tell you how to avoid gluten in caesar salad, so let's jump in and find out. 
Is Caesar Dressing Gluten Free?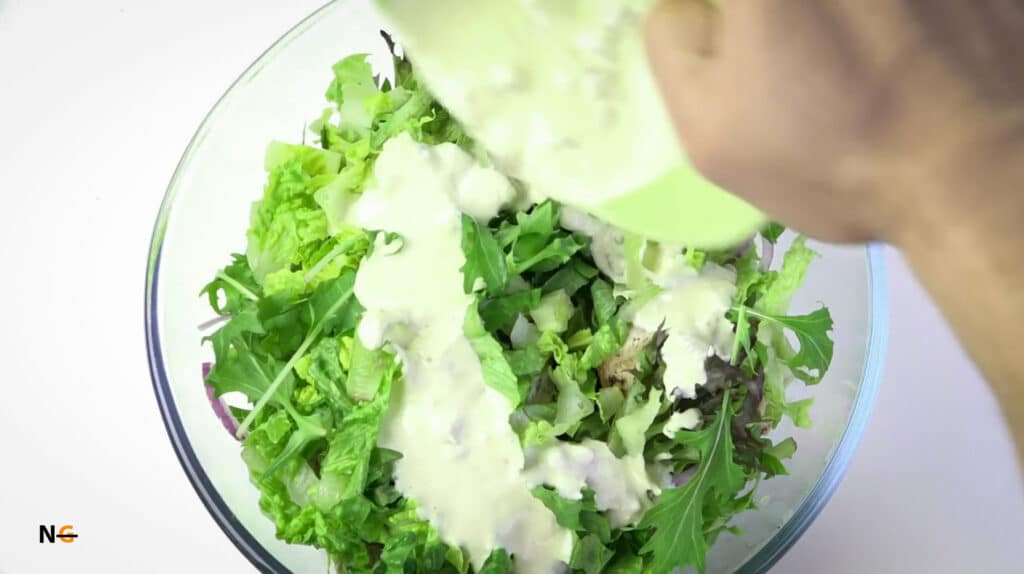 Caesar salad is gluten free only; it uses gluten free Worcestershire sauce. Worcestershire sauce is the only ingredient that can add the risk of gluten contamination in the dressing. The rest of the ingredients in the dressing are not grain-based, so they are safe to eat. 
If you are making the dressing at home, make sure you check the ingredient label. Some Worcestershire sauce contains wheat or barley malt, and they are not at all safe for people having issues with gluten. 
If you are buying a ready made caesar dressing, make sure to check the ingredient label then as well. The package should bear a gluten free tag, which ensures the product has been tested under FDA gluten free rules and is prepared in a gluten free facility. 
Lastly, while ordering Caesar salad in a restaurant, ask them about the dressing ingredients and not to add croutons to your salad. Also, you may add Gluten Free Johnsonville Sausage to your salad.
Caesar Dressing: Ingredients, Nutrition And More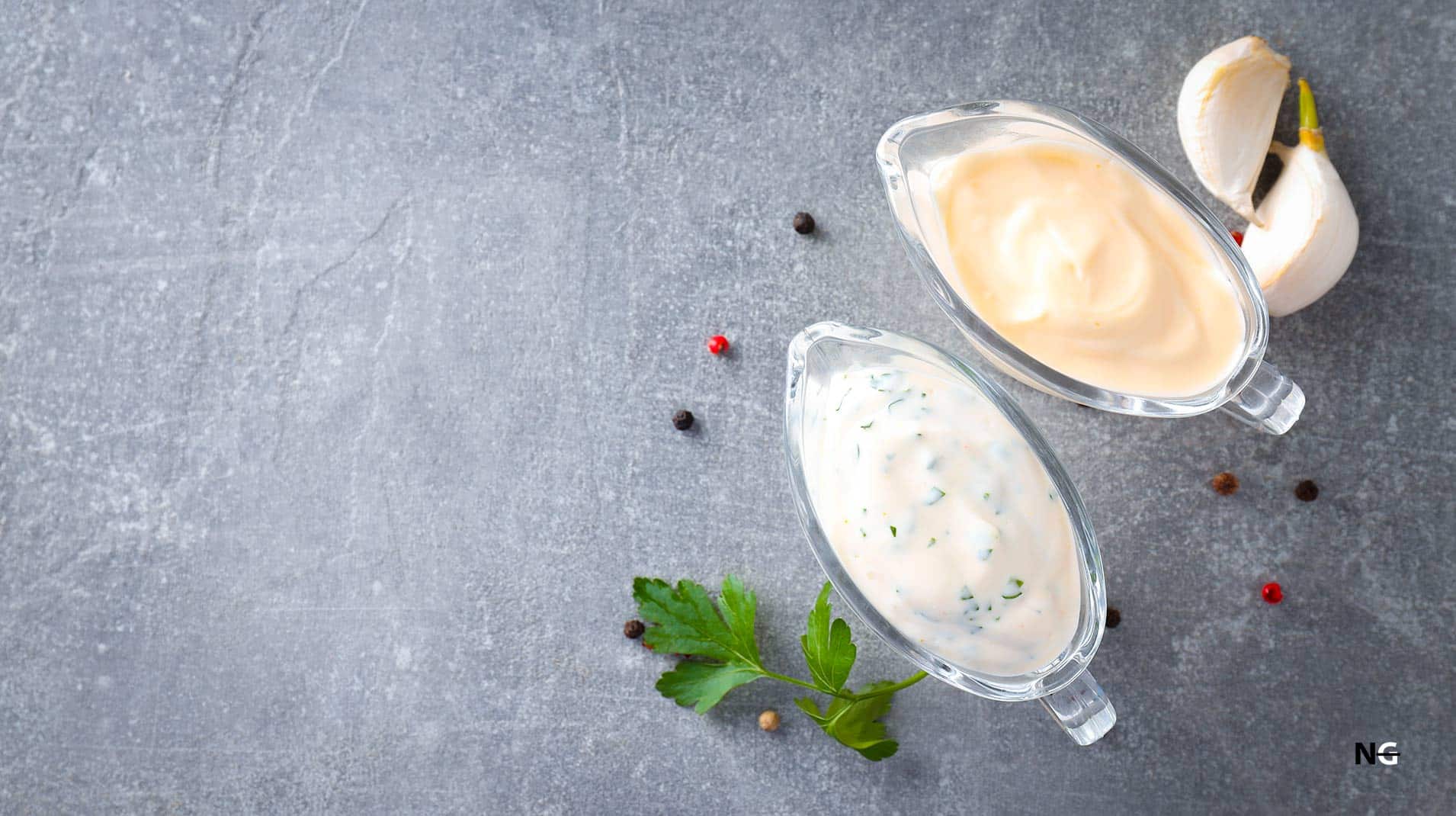 Caesar dressing is made with egg yolk, olive oil, Worcestershire sauce, mustard, lemon, garlic, and pepper. Some replace the egg yolk with sour cream or mayonnaise. Some also prefer to add some parmesan cheese for that extra creamy texture. All the ingredients are mixed well before adding them to the veggies. 
On average two tablespoons of caesar salad contains- 
Calories- 140 
Total fat- 15g 
Trans fat- 0 
Saturated fat- 2.5g 
Sodium- 260mg 
Cholesterol- 10mg 
Dietary fiber- 0g 
Total carbs- less than 1g
Sugars- less than 1g
Protein- less than 1g 
If you are wondering if caesar dressing is healthy enough for daily consumption, the answer is a straight no. as you can see from the above nutritional information, the dressing is relatively high in sodium. Plus, it contains saturated fat, so you must not eat it on a daily basis. 
However, enjoying caesar dressing once in a while should not pose any serious health issues. Moderation is always the best thing when it comes to eating food like caesar dressing. 
Is Caesar Dressing Vegan?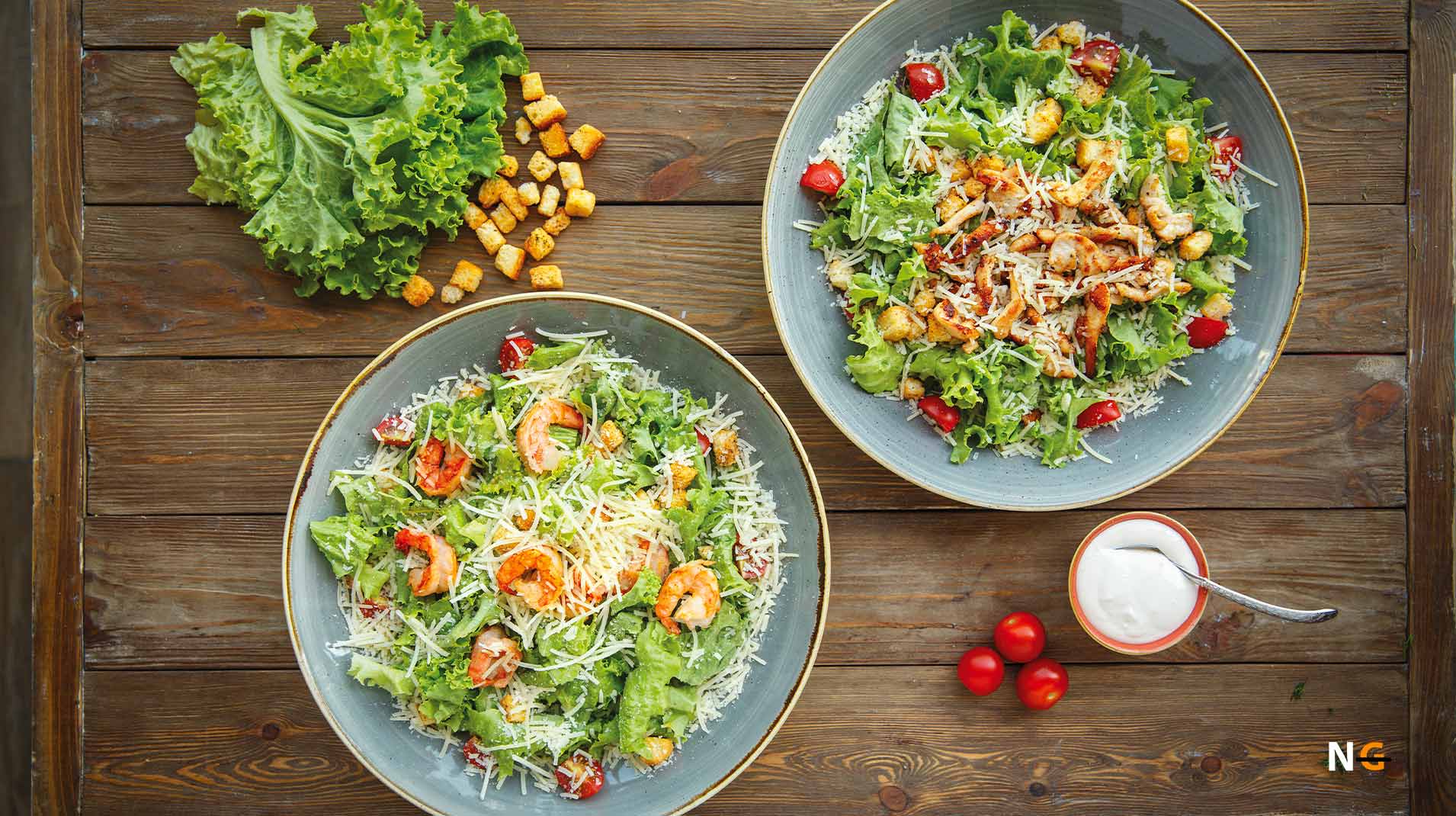 The traditional caesar dressing is not vegan. It contains all the ingredients like- egg, sour cream, mayonnaise, and cheese, which vegans avoid. But vegan caesar dressing is also available where the dairy products are replaced with vegan mayonnaise or sometimes hummus. 
Check Out These Gluten Free Salad Dressing Brands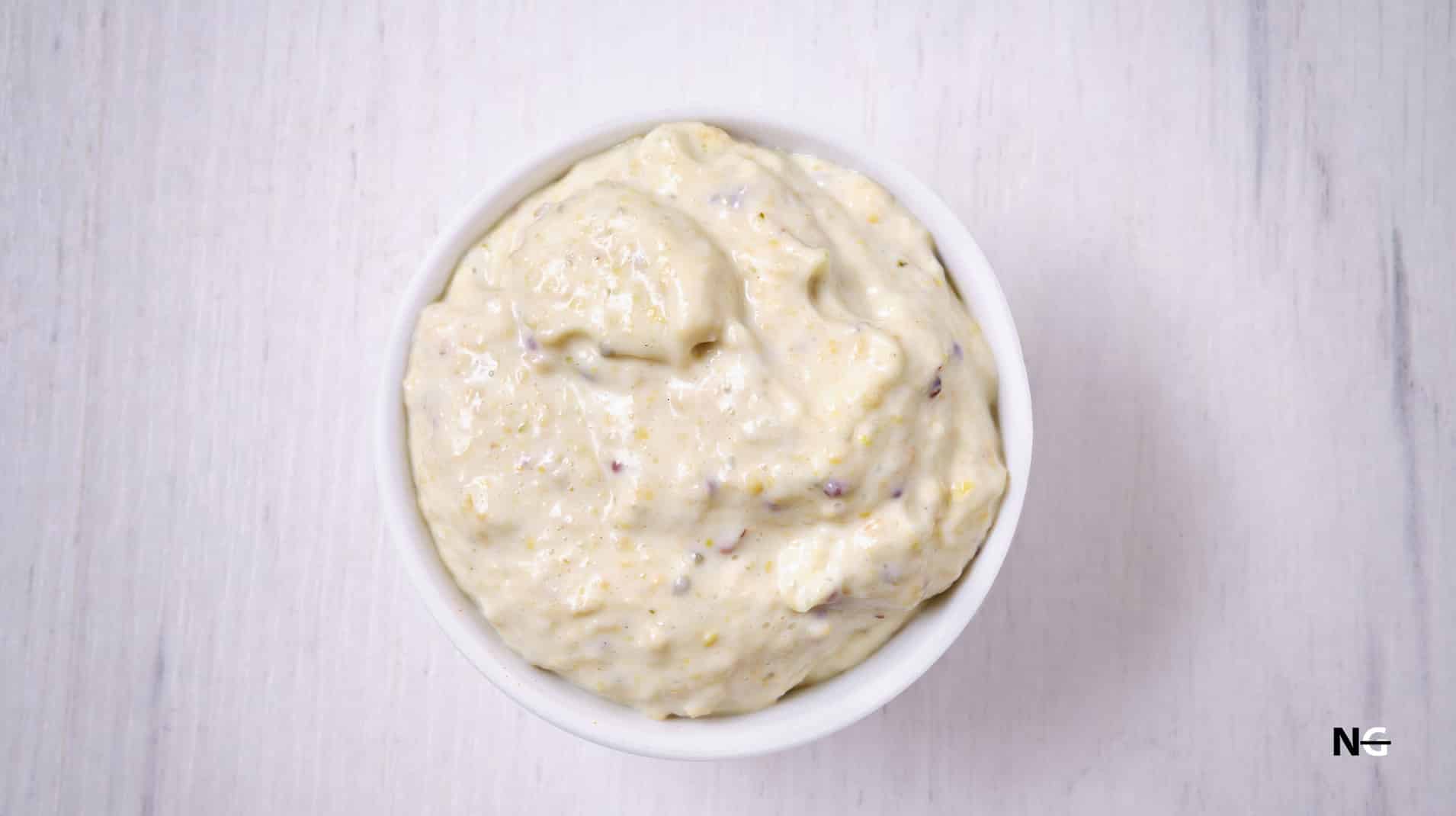 Here are some salad dressings brands that are gluten free and as tasty as caesar dressing. Apart from caesar dressing, I added some other dressings as well, which are equally delicious. If you get bored of your everyday caesar dressing, you can try these- 
Kraft Caesar dressing does not contain any gluten ingredients. However, the maker does not add the gluten free tag on its packaging. Therefore, consuming the dressing is dependent on personal preference. 
Vinaigrette is one of the most loved salad dressings. This Newman's Own Balsamic vinaigrette is a favorite pick among salad lovers; there are no artificial colors and preservatives as well. 
This is yet another amazing caesar dressing with 58% fewer calories and 60% less fat and gluten free and works great as a dipping sauce as well. 
If you are looking for a salad dressing that is gluten free, keto-friendly, and dairy-free, there is nothing better than the Primal Kitchen sesame ginger vinaigrette. It works as a salad dressing, a drizzle over your grilled dishes, and a dipping sauce too. 
Recipe For Gluten Free Caesar Dressing: Quick & Easy 
Making the caesar dressing at home is the safest way to avoid gluten. You know what ingredients you are adding and the utensils you are preparing it in. Here is a quick and easy Caesar dressing recipe that you can give a try-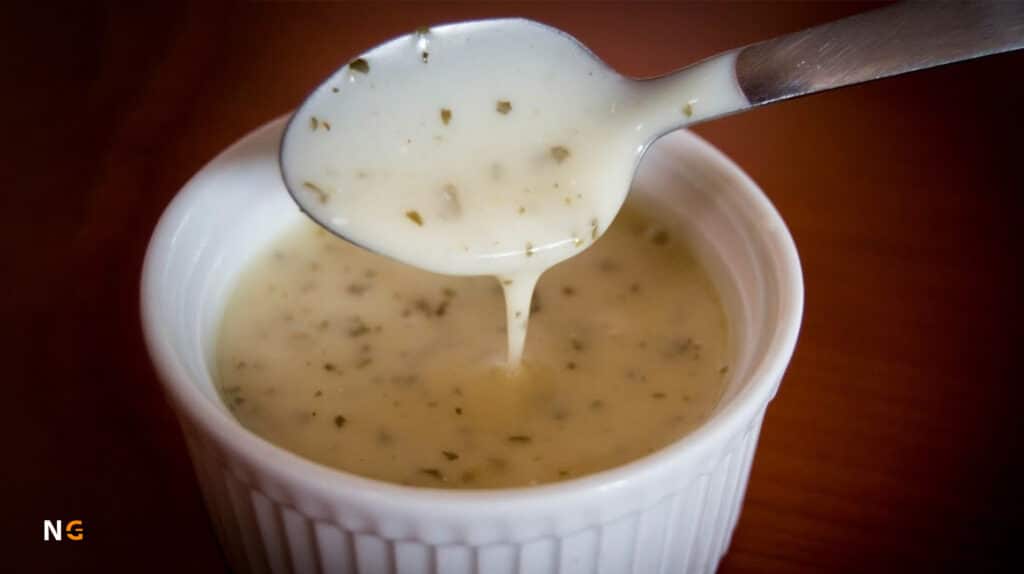 1. Gluten-free caesar dressing 
Ingredients 
⅔ cup mayonnaise 
2 cloves grated or minced garlic 
¼ cup olive oil 
1 tsp Worcestershire sauce (gluten free) 
¼ cup grated parmesan cheese 
1 tsp dijon mustard 
Juice of half lime 
Salt to taste 
Ground black pepper to taste 
Method 
Take a bowl and whisk together all the ingredients until smooth and creamy. That's it; your homemade gluten free caesar dressing is ready. Pour it over your salad and enjoy. 
Conclusion 
Hopefully, this article could help you find the best way to avoid gluten in a caesar salad. Checking the ingredient label is the key to avoiding gluten not only in Caesar salad but in other foods too. 
If you are not too sure about eating caesar salad at a restaurant, make it at home. I shared the recipe for gluten free caesar dressing; try it and let me know how it turned out. 
Nothing Gluten is a reliable platform to educate yourself about gluten free food, so to see more such informative posts, keep following. 
FAQs 
Is Honey-Mustard Dressing Gluten Free?
Yes, honey-mustard dressing is gluten free. Both the base ingredients in the dressing are not from the gluten grain family; hence gluten intolerant people can safely eat this dressing. 
Which Salad Dressings Are Gluten Free? 
Salad dressings made without gluten are- vinaigrette, mayonnaise, Italian dressing, ranch dressing, and dressings made with yogurt or buttermilk and herbs. 
Does Caesar Dressing Contain Dairy? 
Yes, caesar dressing contains dairy. Sour cream, cheese, or mayonnaise is present in the dressing. Hence it's not dairy-free. 
Is Balsamic Dressing Gluten Free? 
Yes, balsamic dressing is always gluten free. It's mainly made from balsamic vinegar, red wine, or champagne. These ingredients are always free of gluten.