While making everything at your home is safe and healthy, cooking things like sausage is difficult. What is even more difficult is finding a gluten free sausage brand. 
Johnsonville is a common name for processed food like sausage and meatballs, but is it a celiac-friendly brand? Is Johnsonville sausage gluten free? 
Yes, Johnsonville sausages are gluten free, but not all of them. The Johnsonville brown sugar and honey variety sausages are not gluten free. But the makers keep changing their ingredients, so check the ingredient list while buying one. 
Finding gluten free food can be tricky, which is true with Johnsonville sausages as well. Let's dive deep into the topic and find out the ultimate truth about whether Johnsonville sausage fits in a gluten free diet or not. 
Is Johnsonville Sausage Gluten Free?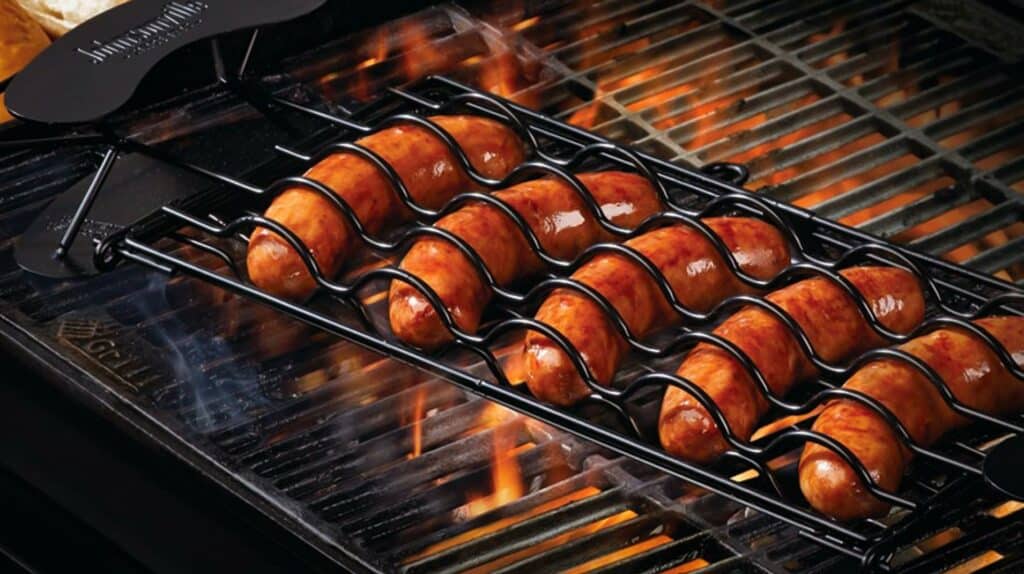 Yes, Johnsonville sausage is gluten free, as declared on the maker's website. They stated that all their products, except their meatballs, teriyaki flamed grilled chicken, and fresh and smoked beer brats are made with ingredients that don't contain gluten. 
Such a declaration helps concerned people pick any food. Since they have clearly mentioned that their sausages don't contain gluten, it indicated they are safe for people who find digesting gluten difficult. 
However, the ingredients may change with time; therefore, whenever you pick any Johnsonville sausage, read the ingredient label well. Sometimes gluten may get added through the additives or artificial flavorings, so be on the lookout. Don't forget to try Gluten Free Soba Noodles recipes.
What Goes In Johnsonville Sausages?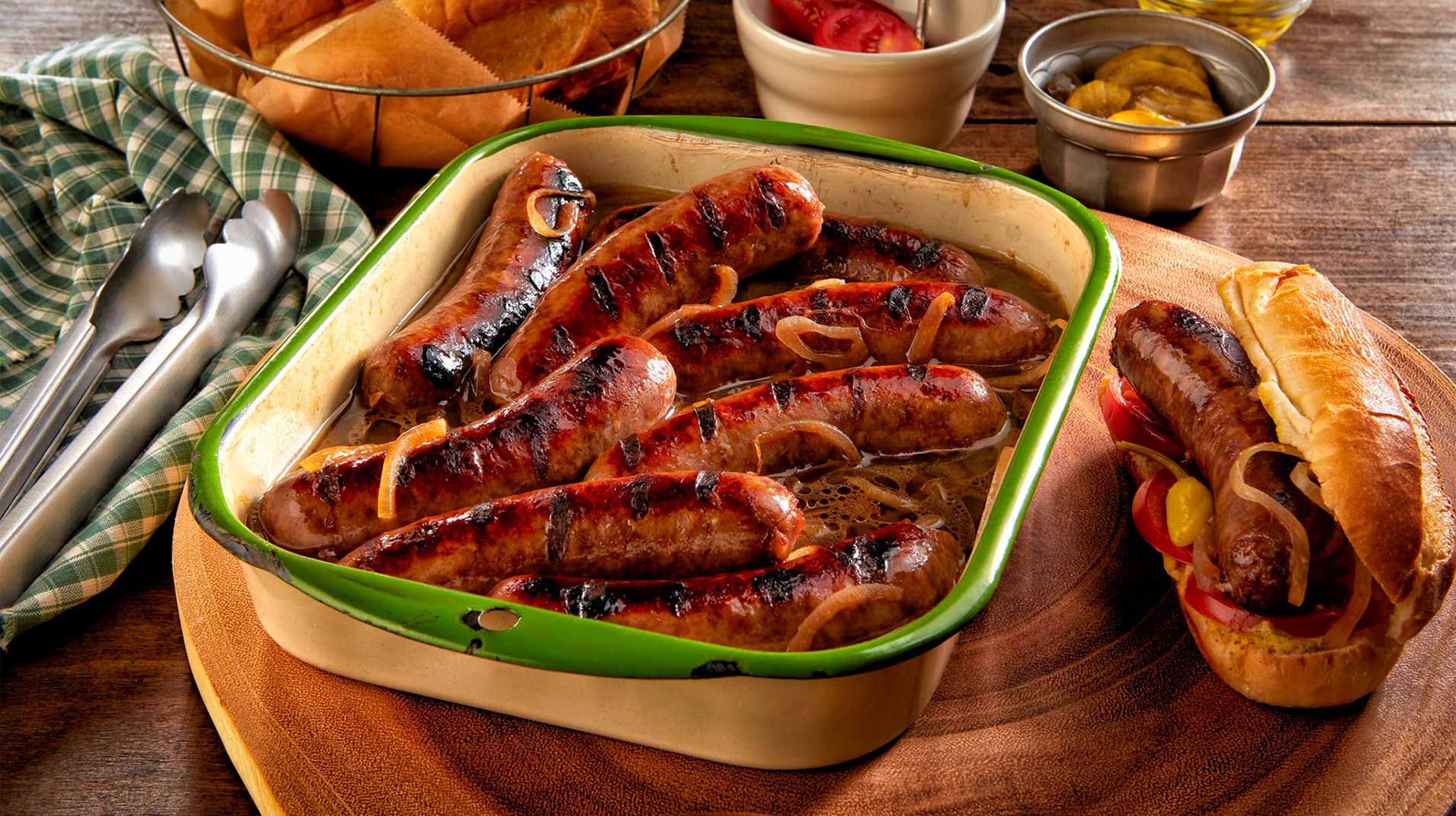 The main ingredients in Johnsonville sausage are- 
Less than 2% of 
Salt 
Corn syrup 
Dextrose 
Potassium lactate 
Monosodium glutamate 
Spice 
Natural flavors 
Sodium phosphate 
Natural flavors 
Other flavorings 
Caramel color 
Sodium diacetate 
BHA 
Citric acid 
Propyl gallate 
These ingredients may vary based on the sausage flavor and type. Make sure you go through the ingredient list and see if you are allergic to any specific ingredient. 
Here is a look at the nutritional facts of Johnsonville Breakfast Sausage per 45g
Calories- 150 
Total fat- 13g 
Trans fat- 0g 
Saturated fat- 4.5g 
Cholesterol- 30 mg 
Sodium- 390 mg
Total carbs- 2g 
Dietary fiber- 0g 
Sugars- 0g 
Protein- 0g 
Are All Johnsonville Products Gluten Free?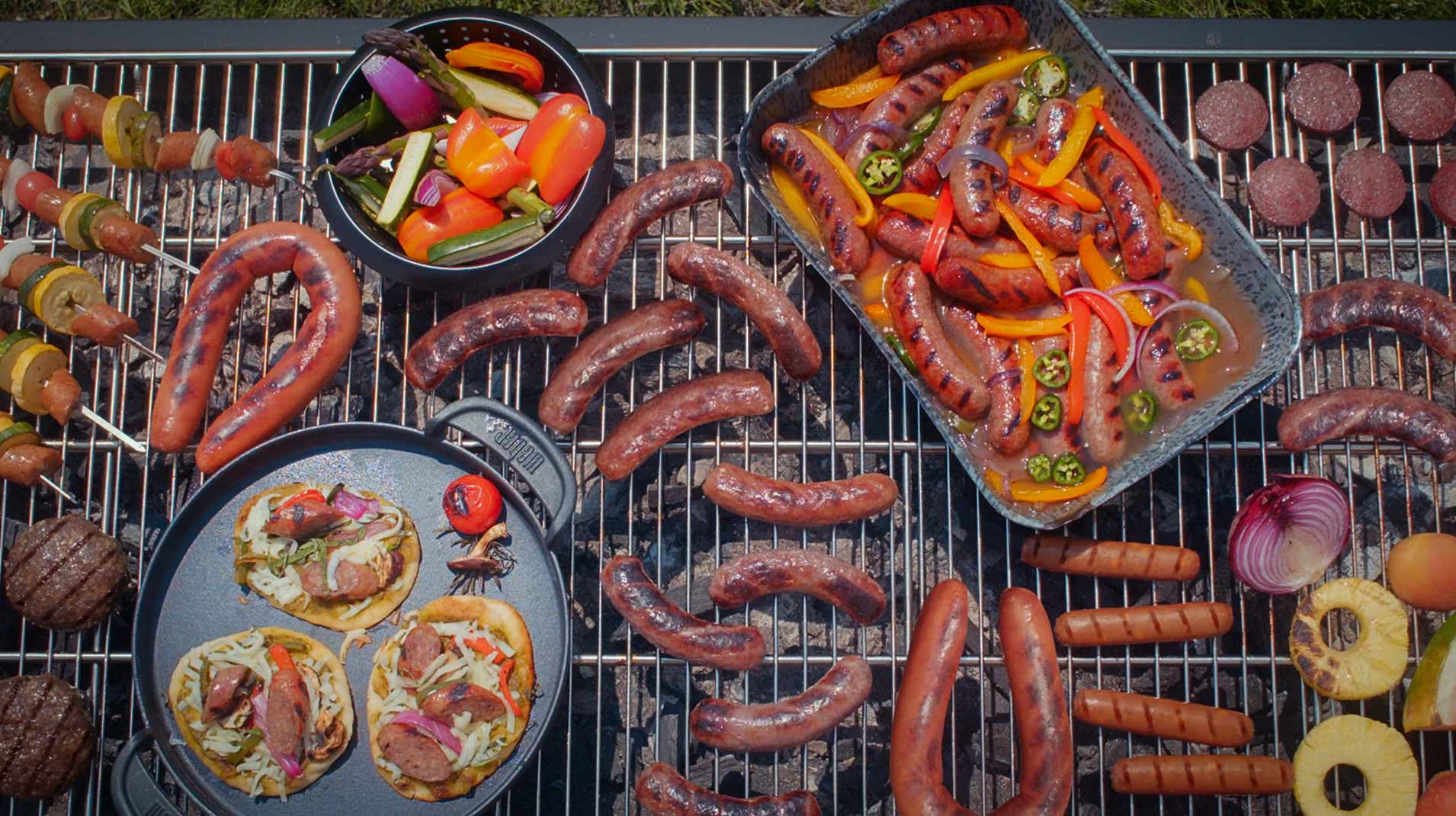 Yes, as I have already mentioned, only a few Johnsonville products are not gluten free. But the rest of their food range is made without adding any wheat or barley products. However, never ignore the ingredient label while buying anything from Johnsonville. 
If you see any additives you are unsure of; it's better to avoid them. 
Is Johnsonville Sausage Healthier Than Others?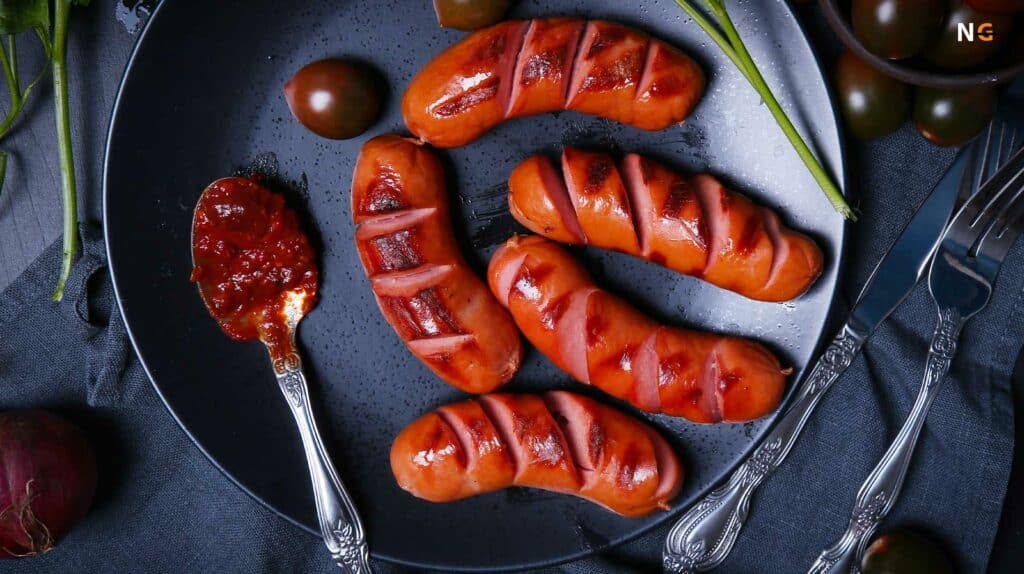 No, Johnsonville sausage is not healthier than others. In fact, any kind of processed meat is not healthy at all. The Johnsonville sausages contain a very high amount of sodium and have more than 20% of recommended sodium. 
Plus, they add a very controversial synthetic additive BHA. It is mainly used to increase the shelf life of oil, oil-containing foods, and fats and is not at all healthy. 
These sausages are also high in saturated fat, which is one of the prime causes of bad cholesterol buildup. Having said that, you can enjoy the Johnsonville sausages once in a while. Eating in moderation won't cause any severe health impacts. 
But don't make eating Johnsonville sausages a habit. I know these are easy-to-make breakfast meals, but long term consumption is harmful to your health. 
Gluten Free & Delicious: Check Out These Recipes With Johnsonville Sausages 
Sausages are quick and easy to make. All you need to do is just seer them in the pan for a couple of minutes, and they are done. This is the simple way to eat sausage, but there are other sausage recipes you can try your hands too. So let's take a look at a few of them- 
1. Italian Sausage and Quinoa Stuffed Pepper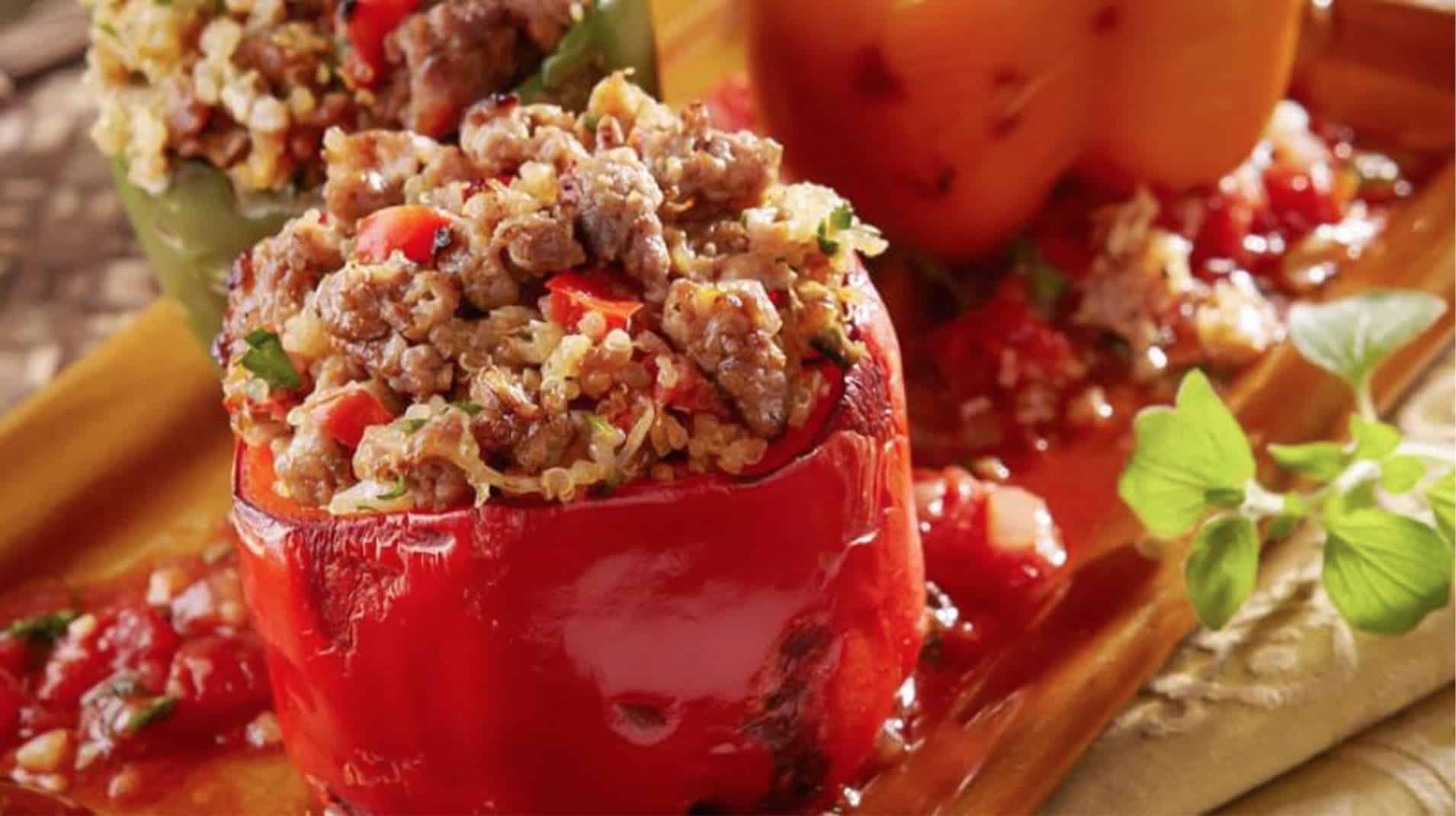 Ingredients 
1 package of Johnsonville Fresh Italian Mild Sausage 
1 finely chopped red onion 
1 tbsp olive oil 
1 chopped medium sized red bell pepper 
3 chopped plum tomatoes 
2 tbsp chopped parsley 
4 ounces chopped mushrooms 
1 ½ cup cooked quinoa 
½ tsp salt 
½ cup grated parmesan cheese 
1 tsp paprika 
¼ cup sliced and toasted almonds 
6 medium sized bell peppers (seed removed, cored, and top removed) 
Method 
Saute the sausage in medium heat. Crumble the sausage with the spatula while it's cooking. Cook them for about 7 to 8 minutes until the sausage gets brown. Transfer it to a plate and keep it aside. 
Heat oil in the same pan and saute the chopped onions and peppers until they get soft. Add mushrooms, tomatoes, and salt, and saute for five minutes more. 
Turn off the heat. Add sausage, cooked quinoa, parsley, parmesan cheese, and paprika to the cooked vegetables and mix everything well. Taste and check if it needs more salt. 
Preheat the oven to 350°F. Studd the whole bell peppers with the cooked mixture and place them in a baking tray in an upright position. Cover and bake for about an hour. Serve with toasted almonds, and enjoy. 
2. Three Cheese Italian Style Chicken Sausage And Veggie Kabobs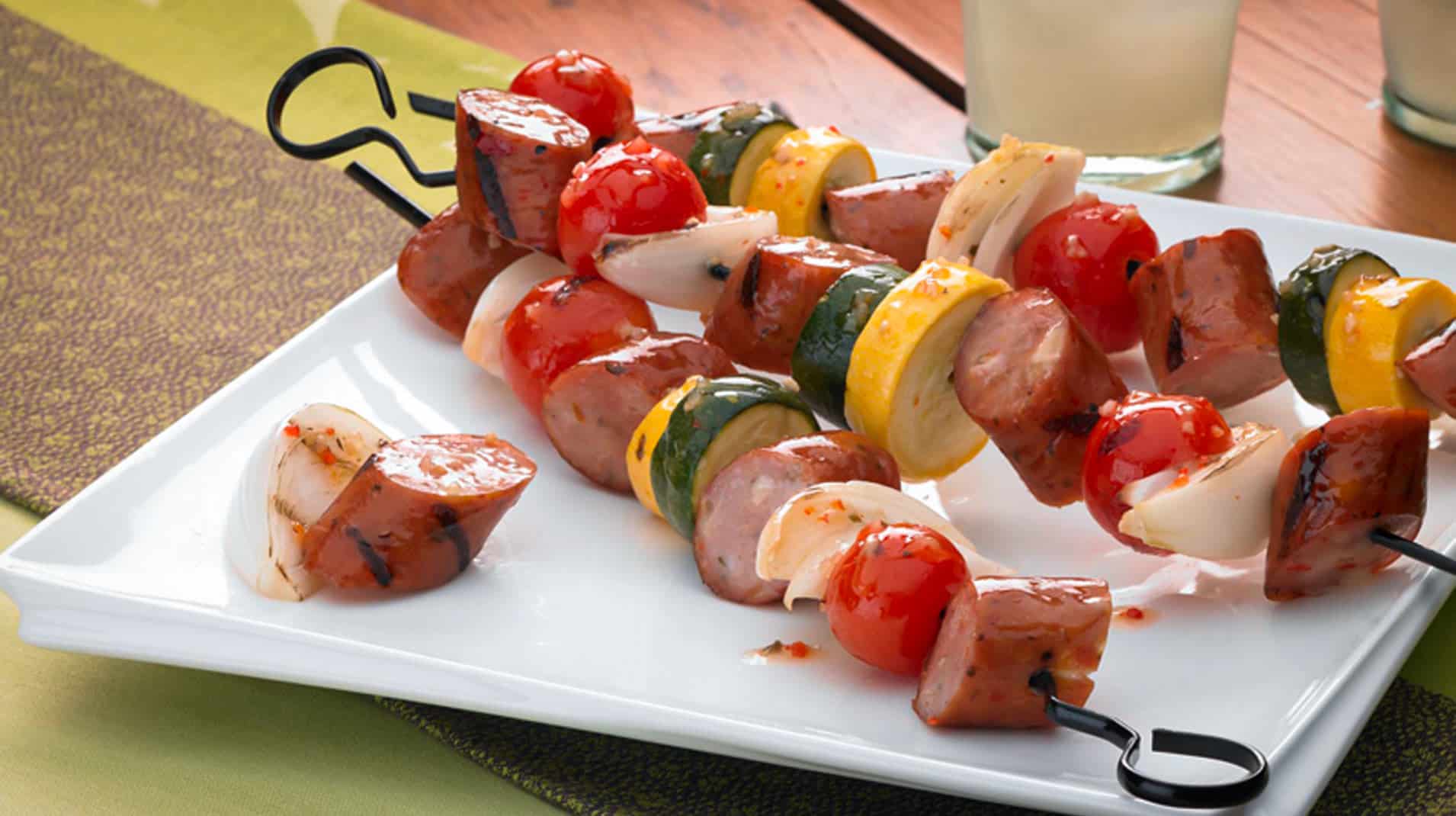 Ingredients 
1 package Johnsonville Three Cheese Italian Style chicken sausage 
1 yellow summer squash (cut into half inch slices) 
1 zucchini (cut into half inch slices) 
1 cut onion (cut into wedges) 
1 ½ cup Italian dressing 
1 cup cherry tomatoes 
Method 
Take a ziplock bag and add zucchini, cherry tomatoes, squash, onion, and Italian dressing. Keep the bag in the refrigerator for half an hour. 
Preheat the grill to medium. Take metal or wooden skewers and thread the sausage and veggies. Grill them until they turn brown. Brush the skewers with the rest of the Italian dressing and keep turning them while cooking. 
Conclusion
Sausages are a quick and delicious thing to eat. But finding a reliable and gluten free brand can be tricky. Johnsonville sausages are gluten free and are available in multiple flavors, so now you at least know one sausage brand that is safe for you. 
To get more such updates on gluten free food, keep following Nothing Gluten. Share this post with your friends who are looking for gluten free sausages just like you. 
FAQs 
Is Johnsonville Italian Sweet Sausage Gluten Free? 
Yes, Johnsonville Italian sweet sausage is gluten free. The Italian sausages are free from any artificial flavors and colors as well.
What Are Johnsonville Sausage Casings Made Of?
The Johnsonville fresh breakfast and dinner sausages use natural pork casings, and all of their casings are edible.   
Is German Bratwurst Gluten Free? 
Yes, German Bratwurst sausages are gluten free and free from gluten allergy causing ingredients. 
Which Sausage Brands Are Gluten Free? 
Some of the gluten free sausage brands are- Al Fresco, Hebrew National, Aidells Sausage Company, Applegate, Bass Farm, etc.