Rasmalai is a Bengali dessert made with cottage cheese balls dipped in creamy milk syrup. Originating in India, this creamy, refreshing delicacy is adored by many around the world. 
But the question we, gluten intolerant individuals, need to unravel is, is ras malai gluten free? 
Yes, the authentic ras malai recipe is gluten free. It contains cottage cheese, milk, sugar, saffron, and some aromatic spices like cardamom, saffron, etc. And none of these ingredients contain gluten. 
However, some ras malai contain wheat or semolina in addition to the other ingredients, making the dessert unsuitable for gluten sensitive people. 
Keep reading to discover if celiacs can enjoy ras malai without the fear of triggering a gluten allergy, and explore some delicious gluten free ras malai recipes. 
Does Ras Malai Contain Gluten?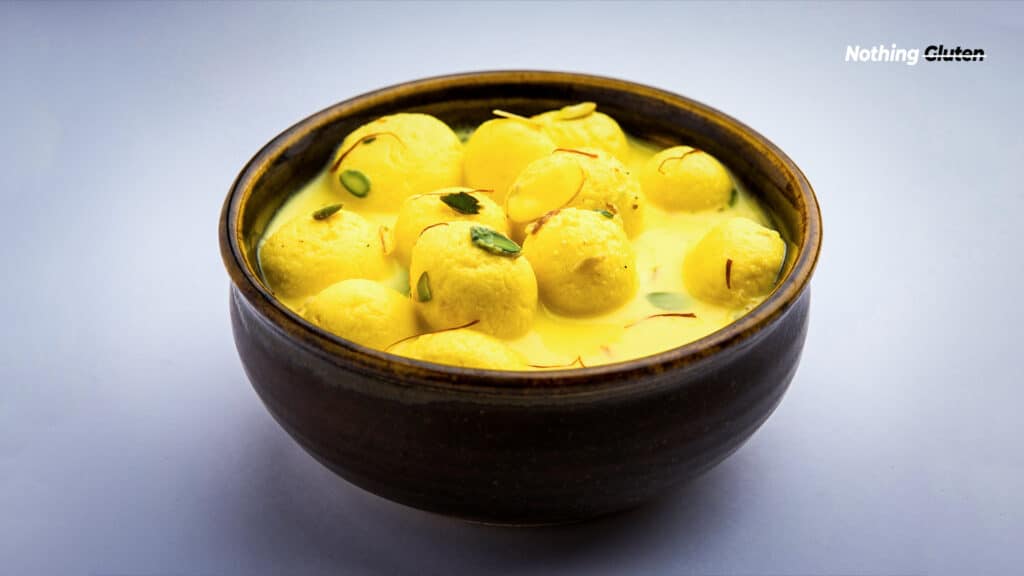 Rasmalai may or may not contain gluten. As stated, the authentic ras malai recipe does not have any gluten-containing ingredients. This lactose-heavy dessert is mainly made with cottage cheese and milk. 
Even though the ingredients of ras malai don't naturally contain gluten products, some makers add wheat flour to enhance the texture of the spongy balls of cottage cheese dunked into the creamy milk. 
As you may know, gluten is inherently found in wheat, barley, rye, semolina, and similar grains; people with a gluten allergy cannot have them. 
Hence, ras malai isn't safe for celiacs or gluten-allergic people if wheat flour or semolina is present in the recipe. 
So make sure to always read the ingredient list while buying packaged ras malai. Moreover, if you're getting the dessert from a confectionery or local sweet shop, don't forget to inquire about the ingredients used. 
What Are The Ingredients Of Traditional Ras Malai?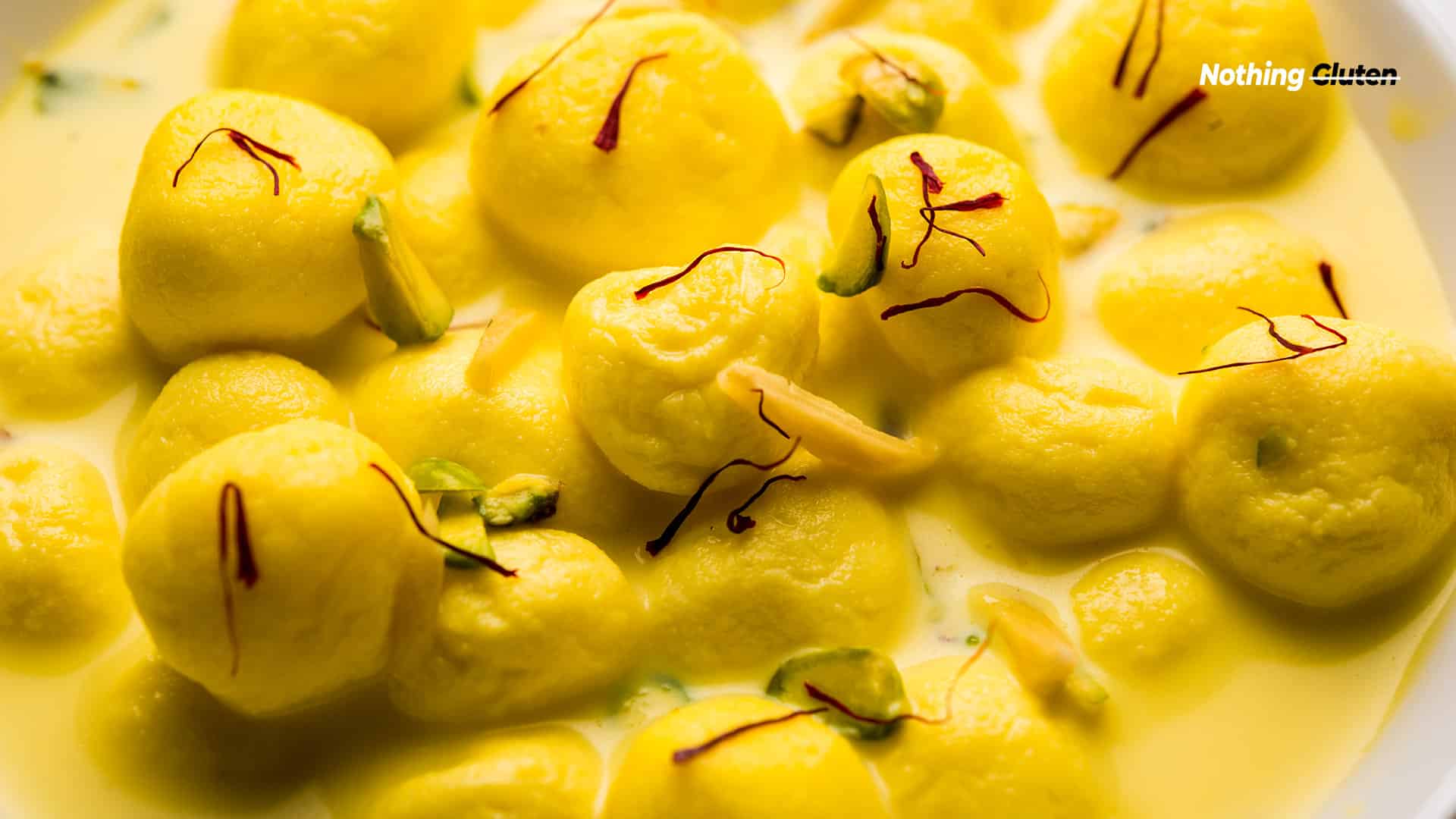 The traditional ingredients of ras malai are as follows: 
Milk: It's used in two different ways: to make the cottage cheese balls, and a large quantity is required to make the thick creamy syrup called "ras." 
Sugar: Sugar is added to sweeten both the syrup and the cheese balls. 
Paneer or Chhena: This is the Indian version of cottage cheese made by curdling the milk. 
Vinegar or lemon juice: Either of the ingredients is used to curdle the milk, which also adds a slightly tangy flavor to the cottage cheese. 
Cardamom: Cardamom powder flavors the milk while adding a slightly sweet flavor. 
Saffron (optional): Saffron adds a beautiful golden color to ras malai. 
Mixed nuts (optional): Finely chopped almonds, pistachios, and cashews are added to garnish the ras malai and add a nutty flavor to it. 
Is Ras Malai Vegan And Dairy-Free?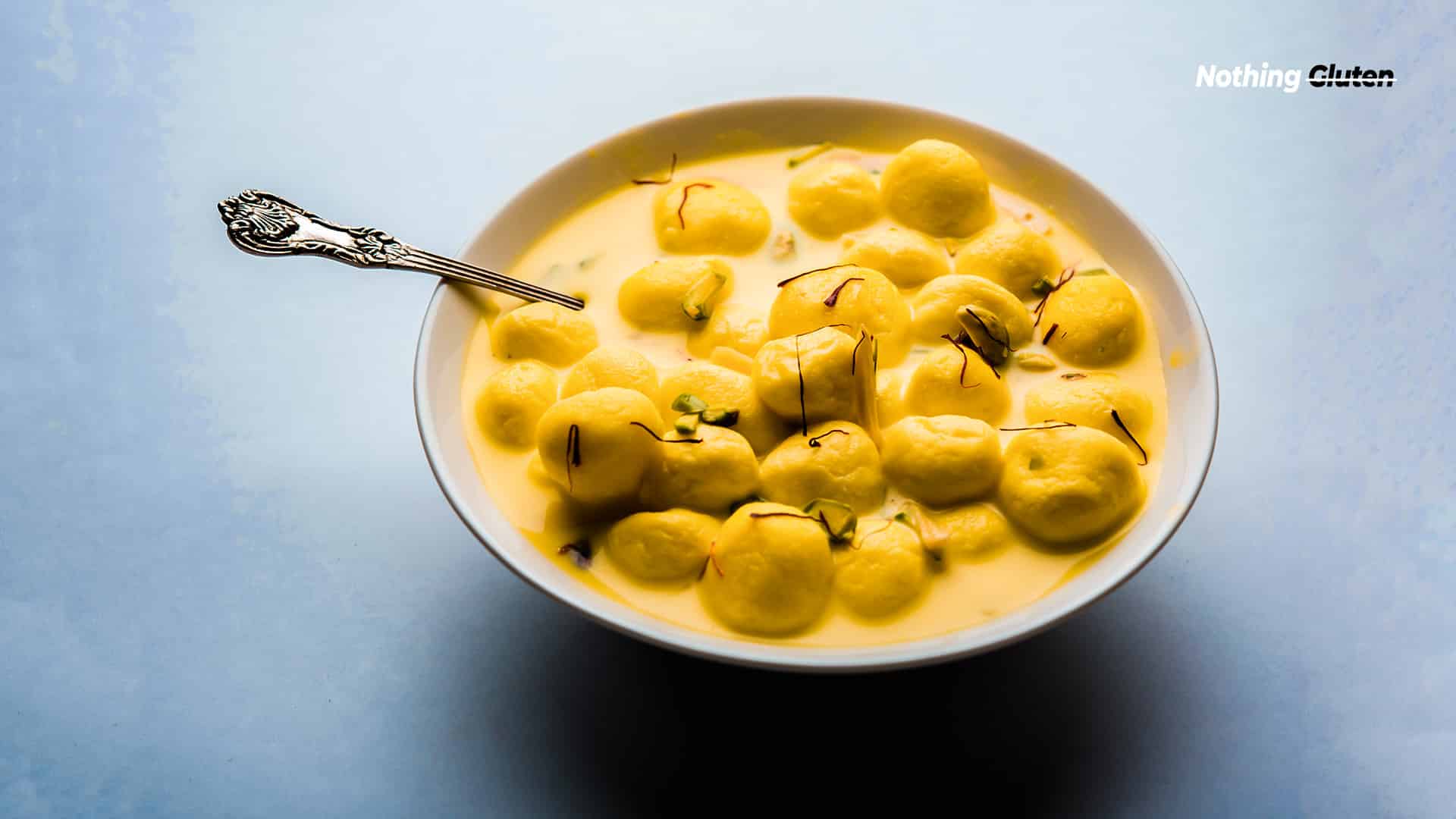 No, ras malai is not vegan or dairy-free. Dairy is the main ingredient in ras malai. Hence, this is not the best dessert for vegans. 
However, if you're following a vegan or dairy-free diet, there are alternative ways to enjoy this delicious dessert. 
Some modifications you can make are:
Replace the dairy milk: Instead of regular milk, use a non-dairy milk alternative to make both the syrup and the "paneer" balls. Almond milk and cashew milk are excellent choices because they have a naturally creamy and slightly sweet flavor. Soy milk, oat milk, or any other plant-based milk can also be used.
Use a vegan cheese substitute: Paneer is a type of cheese, and to make Rasmalai vegan, you'll need to use a dairy-free cheese substitute. Tofu can be used as a direct replacement for paneer. Use silken tofu for a texture closest to that of paneer.
Alternative sweeteners: Rasmalai is sweetened with sugar, which is generally considered vegan. However, if you're concerned about the processing methods used for the sugar in your area (as bone char can sometimes be used to refine sugar), you could opt for a different sweetener like maple syrup, agave syrup, or a vegan sugar brand.
Gluten Free Rasmalai Recipes To Try 
Course: Dessert
Cuisine: Indian
Difficulty: Medium
Try this gluten free ras malai recipe, which is equally delicious and safe for celiacs: 
Ingredients
For the Chenna/Paneer Balls:-

1 liter Milk (Preferably full fat)

2 tablespoons Lemon juice or vinegar

For the Sugar Syrup:-

1 cup Sugar

5 cups water

For the Milk Syrup (Ras):-

1 liter Milk

1/2 cup Sugar (adjust according to your preference)

4-5 Green cardamom pods, crushed

A pinch of Saffron strands (optional)

2 tablespoons Almonds or Pistachios, chopped for garnishing
Directions
Make the Chenna/Paneer Balls:-
Boil 1 liter of milk in a heavy-bottomed pan. Once it starts boiling, lower the heat and add lemon juice or vinegar.
The milk will begin to curdle. Once the greenish whey separates entirely, remove the pan from the heat.
Drain the curdled milk into a muslin cloth or cheesecloth. Rinse it under cold water to remove the sour taste of lemon or vinegar.
Hang it somewhere and let the excess water drain for about 45 minutes. Then, take the chenna out on a plate.
Knead the chenna until it becomes smooth, and then divide it into small portions. Shape each portion into a smooth ball and flatten slightly. Make sure there are no cracks.
Cook the Paneer Balls in Sugar Syrup:-
In a wide pan, add sugar and water to make the syrup. Bring it to a boil.
Once the syrup is boiling, gently drop the paneer balls in it. Cover the pan and cook for about 10-15 minutes on medium heat. The paneer balls will double in size.
Prepare the Milk Syrup (Ras):-
While the paneer balls are cooking, start preparing the milk syrup. Boil 1 liter of milk in a heavy-bottomed pan.
Add sugar, crushed cardamom pods, and saffron strands. Let it simmer on low heat until it reduces to about 75% of its original quantity.
Keep stirring occasionally to prevent it from burning at the bottom.
Assemble the Rasmalai:-
Once the paneer balls have cooked, remove them from the sugar syrup and gently squeeze them to remove the excess syrup. Be careful, as they will be soft and can break easily.
Add these paneer balls to the reduced milk. Let them soak for at least 2-3 hours before serving.
Garnish with chopped almonds or pistachios.
Serve:-
Serve the Rasmalai chilled. You can keep it in the refrigerator for a few hours before serving it for the best taste. And enjoy your homemade gluten-free Rasmalai!
FAQs
Q: Is Rasmalai Made of Maida? 
A: The small dairy balls in ras malai may contain maida along with paneer and milk. 
Q: Is Rasmalai Good for Health? 
A: Rasmalai is healthier than most sweets because it contains low fat and is high in protein. But the dessert contains lots of sugar; hence moderate consumption is advised. 
Q: Which Essence is Used in Rasmalai? 
A: Saffron or rose water essence is commonly used in ras malai. 
Q: Does Rasmalai Contain Eggs? 
A: No, ras malai does not contain eggs. 
Conclusion
To conclude, it'll be safe to say that the gluten status of ras malai largely depends on the ingredients used. When prepared traditionally, celiacs can enjoy the creamy goodness of ras malai. 
But it's essential to remain vigilant when consuming commercially produced or store-bought ras malai. 
Did you find this extensive guide on the gluten status of ras malai useful? Let me know in the comments. Stay tuned for more discussions, tips, and amazing recipes for a healthy and gluten free lifestyle.