If you're a food enthusiast with gluten sensitivity or celiac disease, you know the struggle of navigating through menus and deciphering ingredient lists to ensure your meals are gluten-free. It can be particularly challenging for popular and flavorful dishes like biryani. 
Is biryani gluten free?
Yes, biryani can indeed be gluten-free! Traditionally, it is prepared using fragrant basmati rice, which is naturally free from gluten.
However, not all types of biryani are celiac-friendly, so I'm here with this detailed article. Read on to know if you can have biryani while following a gluten free diet. 
Does Biryani Contain Gluten?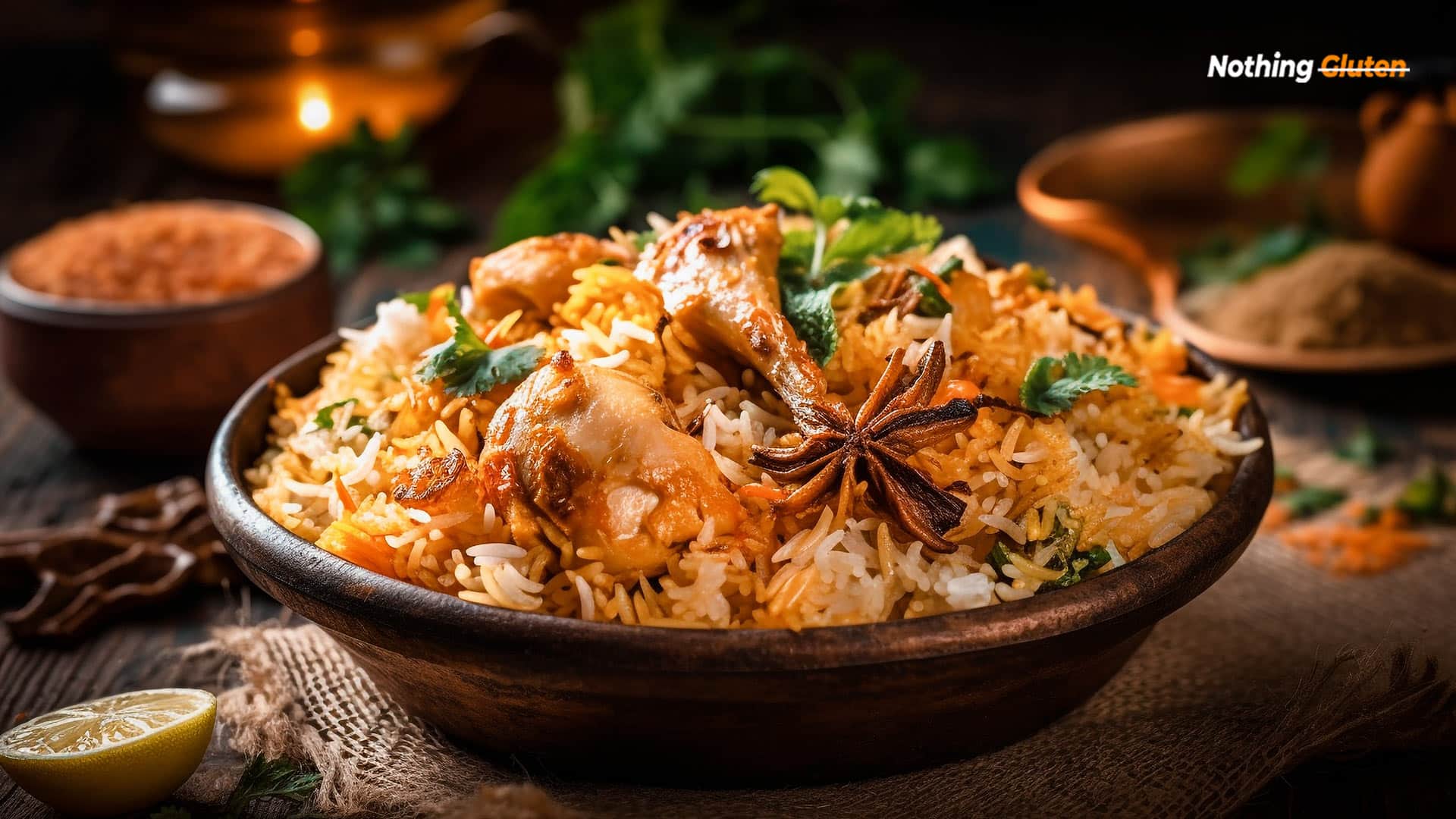 Depending on the recipe and ingredients used, biryani might contain gluten. In its traditional form, such as basmati rice and certain spices, biryani is gluten free. But, most restaurant chains have experimented with this flavorful dish, as a result, it might contain gluten.
The primary source of gluten in biryani typically comes from wheat-containing ingredients like wheat flour, spices, or certain additives. For instance, some recipes call for fried onions, which are often coated with wheat flour before frying. 
Additionally, pre-made spice blends or sauces used in biryani may contain hidden sources of gluten. Cross-contamination can also occur in restaurants or shared kitchen environments, where utensils or cooking surfaces may come into contact with gluten-containing ingredients.
What Type Of Biryani Is Gluten-Free?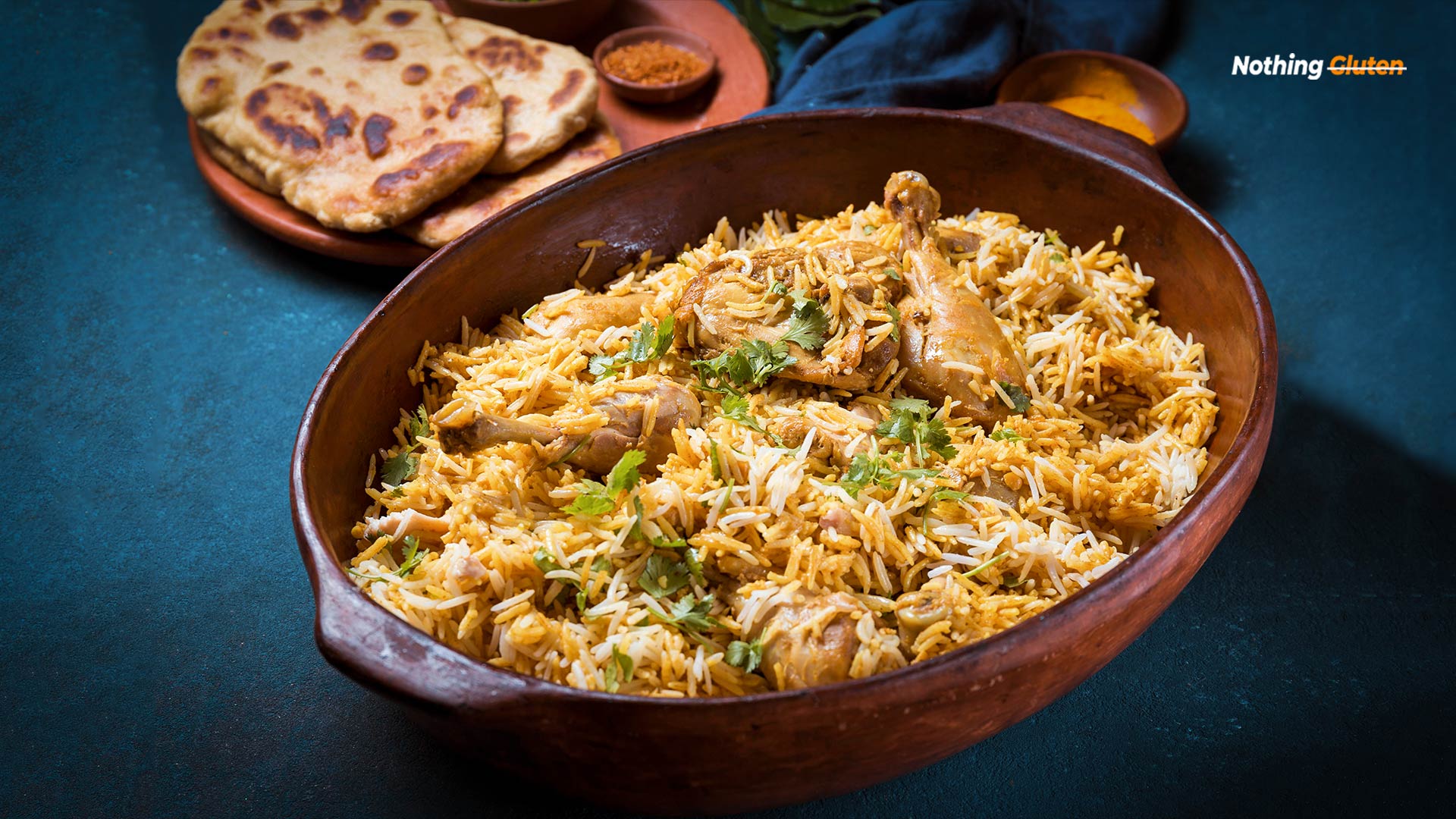 Several types of biryani can be made gluten-free with appropriate ingredient substitutions and careful preparation. Here are a few popular types of biryani that can be adapted to be gluten-free:
#1. Vegetable or Veg Biryani
Vegetable biryani is a flavorful rice dish that combines an assortment of vegetables, aromatic spices, and fragrant rice. By ensuring that the spices and seasonings used are gluten-free, vegetable biryani can easily be made celiac friendly.
#2. Chicken Biryani
A classic variation of this beloved dish features tender chicken pieces cooked with rice and a blend of aromatic spices. It's essential to use gluten-free spices, ensure the chicken is not marinated with any wheat-based ingredients, and steer clear of similar additives or pre-made spice mixes.
#3. Lamb or Mutton Biryani
Lamb or mutton biryani is a rich and flavorful variation that combines succulent meat with fragrant rice and spices. When preparing this type of biryani, use gluten-free spices, ensure the meat is free from any marinades that contain wheat.
#4. Fish or Seafood Biryani
This type of biryani is a delightful option for seafood lovers. To make it gluten-free, choose fresh seafood and spices and seasonings. Additionally, be cautious when using pre-made sauces or spice mixes, as they may contain hidden sources of gluten.
There are just a few types, any biryani that is made using traditional ingredients does not contain gluten. I highly suggest preparing it at home, as there is a risk of cross-contamination when you order it at a restaurant. 
Tips To Order Gluten-Free Biryani At A Restaurant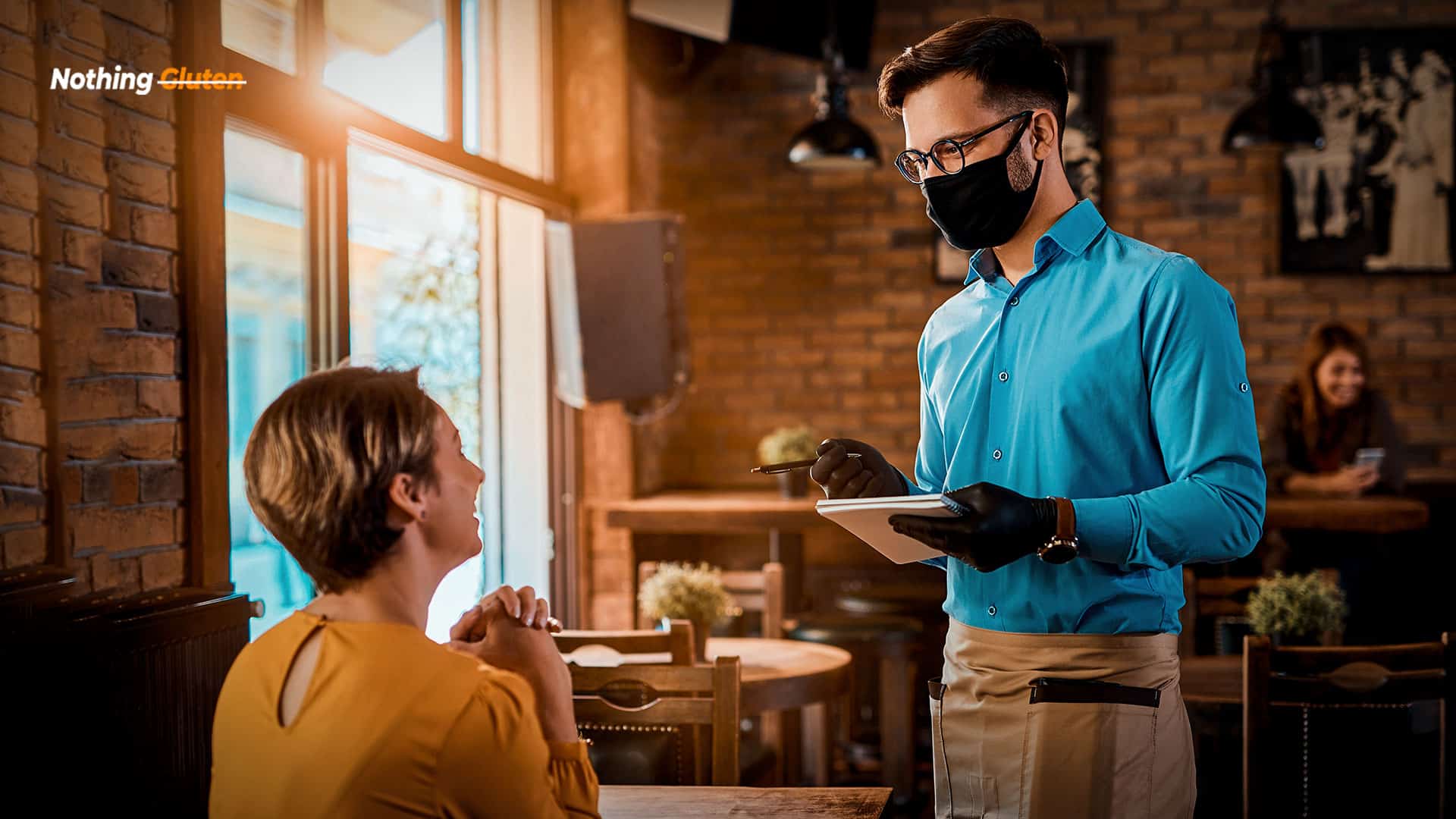 If you have decided to relish biryani at your favorite restaurant, then there are a few things you must keep in mind. 
i). Research Ahead Of Time
Before visiting the restaurant, do some research online or call ahead to inquire about their gluten-free options. Many restaurants now provide information about their gluten-free offerings on their websites or menus.
ii). Communicate Your Dietary Needs
Inform your server about your gluten intolerance or celiac disease, and clearly express your requirement for a gluten-free meal. Ask them to convey this information to the kitchen staff to ensure proper handling of your order.
iii). Understand the ingredients
Ask for a detailed list of ingredients used in the biryani preparation, including the spices, sauces, and any potential additives. Inquire specifically about ingredients that contain wheat or spice blends that may contain gluten.
iv). Check for cross-contamination
Know about the restaurant's procedures for preventing cross-contamination in the kitchen. Confirm if separate utensils, pans, and cooking surfaces are used for gluten-free dishes to minimize the risk of gluten exposure.
v). Stay vigilant with condiments and sauces
Pay attention to condiments and sauces served alongside the biryani, as they can sometimes contain gluten. Check if they offer gluten-free options for accompaniments like raita or chutney.
vi). Trust Your Instincts
If you have any doubts or uncertainties about the restaurant's ability to provide a gluten-free meal, it's better to err on the side of caution and choose a different dish or eat at a different establishment.
By following these tips and advocating for your dietary needs, you can enjoy a safe and satisfying gluten-free biryani experience at a restaurant. 
Remember, open communication with the restaurant staff is key to ensuring that your meal is prepared with the necessary precautions to avoid gluten contamination.
Gluten Free Biryani Recipe 
Course: Main
Difficulty: Medium
Worried about trying biryani at a restaurant? Well, you can prepare it at home and enjoy the rich flavors without any gluten allergies. Below I have listed the ingredients and the complete recipe.
Ingredients
1 lb (450g) chicken, cut into pieces

2 tomatoes, chopped

3 cloves of garlic, minced

1 teaspoon turmeric powder

2 green chillies, slit lengthwise (adjust to taste)

1/2 cup plain yogurt

1 teaspoon red chili powder (adjust to spice preference)

1 teaspoon cumin powder

1 teaspoon coriander powder

1 large onion, thinly sliced

1-inch piece of ginger, grated

A pinch of saffron strands (optional)

1/4 cup warm milk (optional, for saffron)

2 cups basmati rice

Handful of fresh cilantro leaves, chopped

Handful of fresh mint leaves, chopped

1/2 teaspoon garam masala powder

Cooking oil or ghee (clarified butter)

Salt to taste

For the marinade:-

1 tablespoon ginger-garlic paste

1/2 teaspoon turmeric powder

1/2 cup plain yogurt

1 teaspoon red chili powder

For the garnish:-

Fried onions (gluten-free)
Directions
Rinse the rice under cold water until it runs clear. Soak the rice in water for approximately 30 minutes, then drain and set it aside. In a bowl, combine the chicken pieces with the marinade ingredients: ginger-garlic paste, yogurt, red chili powder, turmeric powder, and salt.

Ensure that the chicken pieces are well-coated and allow them to marinate for a minimum of 30 minutes (or longer for enhanced flavor).
Heat oil or ghee in a large, heavy-bottomed pan or Dutch oven over medium heat. Sauté the sliced onions until they turn golden brown and caramelize. Set aside a handful of onions for garnishing later.

To the remaining onions in the pan, add grated ginger, minced garlic and slit green chilies. Saute until fragrant, then add the chopped tomatoes and cook till they get soft and release their juices.

Add the marinated pieces of chicken to the pan and cook until they are no longer pink and partially cooked. Stir occasionally for even cooking.
In a separate small bowl, whisk together the gluten-free spices: red chili powder, turmeric powder, cumin powder, coriander powder, and garam masala.

Add this spice mixture to the chicken and coat it evenly. Lower the heat, and gently combine the soaked and drained basmati rice with the chicken and some spices.
Pour enough hot water into the pan to completely cover the rice and chicken. Season with salt to taste. Increase the heat to medium-high and bring the mixture to a boil.

Once it boils, quickly reduce the heat to low, cover the pan with a tight-fitting lid, and let it simmer for around 15-20 minutes or until the rice is cooked and the chicken is tender. If desired, soak saffron strands in warm milk for added flavor and color.
Remove the pan from heat once the rice and chicken are cooked. If using saffron, drizzle the saffron-infused milk over the rice and gently mix to distribute the color. Cover the biryani and let it rest for a few minutes, allowing the flavors to meld together.
Before serving, garnish the biryani with the reserved fried onions, cilantro leaves, and mint leaves. Serve the gluten-free chicken biryani hot, accompanied by raita (yogurt sauce) or a side salad.
Notes
The recipe of the biryani is almost identical, no matter what type you are preparing. Be mindful of the ingredients, and make sure not to do any wheat-related cooking simultaneously.
Is Biryani Dairy-Free?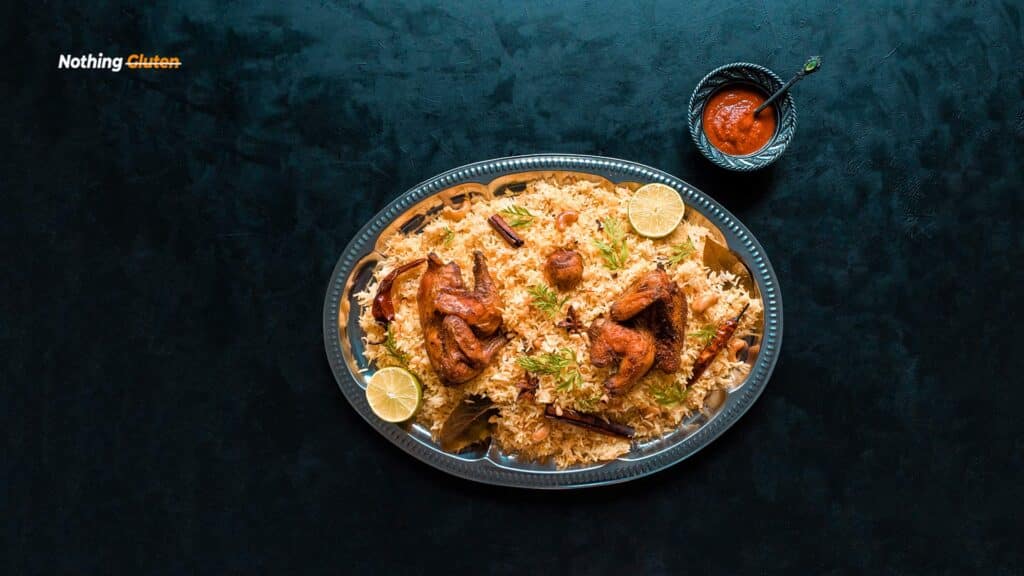 No, biryani is not dairy-free because it requires yogurt as a marinade or an ingredient in the cooking process. However, it is possible to make dairy-free biryani by using dairy-free yogurt alternatives or omitting the yogurt altogether.
What Indian Foods are Gluten-free?
There's nothing as delicious as the Indian cuisine, but most dishes either contain wheat or wheat-containing ingredients, adding gluten. There is still a variety of gluten free options that you can try.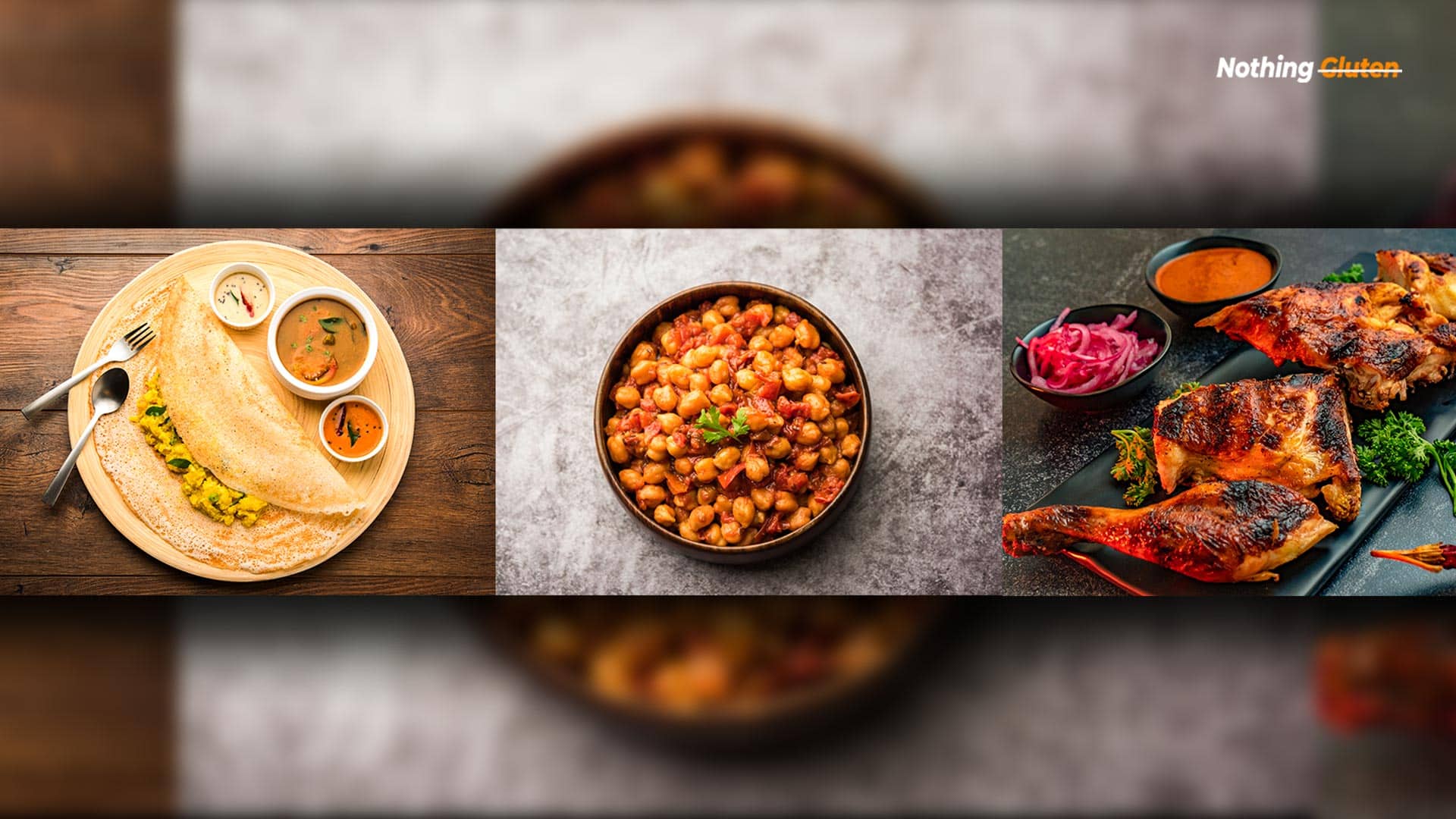 A thin, crispy fermented crepe made from rice and lentils, typically served with chutney and sambar.
3. Chana Masala
A flavorful dish made with chickpeas, tomatoes, and aromatic spices, usually served with rice or gluten-free flatbreads like roti or puri.
3. Tandoori Chicken
Marinated chicken cooked in a clay oven (tandoor) with a blend of spices, yogurt (can be substituted with dairy-free alternatives), and lemon juice.
4. Palak Paneer
A vegetarian dish consisting of creamy spinach cooked with spices and cubes of paneer (Indian cottage cheese).
5. Rajma or Kidney Beans
A popular North Indian dish featuring red kidney beans cooked in a rich and spiced tomato-based gravy, typically enjoyed with rice.
6. Pani Puri
An amazing street food snack consisting of crispy hollow puri shells filled with spiced potato mixture and tangy tamarind water.
FAQs
Q: Is Chicken Biryani Gluten Free?
A: When made following the traditional recipe and spices, chicken biryani is free from gluten. Try to avoid restaurant-made or biryani pre-mixes to fend off gluten reactions.
Q: Are Any Indian Breads Gluten-Free?
A: Yes, there are gluten-free Indian bread options available, such as Jowar Roti, Bajra Roti, Makki ki Roti, rice flour roti, appam, and uttapam. There are some types of Indian bread you should not eat, such as naan. 
Q: Does potato have gluten?
A: No, potatoes are naturally gluten free, and you can even have them in your biryani. 
Conclusion 
Biryani can be gluten-free with the right ingredients and preparation. Make sure to follow the recipe listed in this article or use the tips I've shared if you are planning to order biryani at a restaurant. 
Being mindful of such things can help you enjoy the best flavors of the world while avoiding gluten allergies or other diseases. 
Stay tuned with Nothing Gluten to know the legit gluten status of your favorite dishes.