Hot sauce is the best condiment that can take your dish from zero to a hundred with just a few drops. But is celiac disease or gluten sensitivity stopping you from having it? 
It's a great pain that people like you and me have to restrict and question everything before putting it in our mouths, including hot sauce. So you might be wondering about the gluten status of hot sauce and thinking, is hot sauce gluten free?
Most hot sauces are gluten free as they are free from gluten ingredients like wheat, barley, or rye. But hot sauces are only safe for celiacs when they bear the gluten free tag indicating the product has adhered to all gluten free conditions. But unfortunately, not all hot sauces come with a gluten free tag. 
You might still have a lot of questions regarding the gluten free guideline and how to ensure a hot sauce is completely safe for consumption. I'll answer everything as we proceed in the article, so continue reading to get complete information. 
Is Hot Sauce Gluten Free?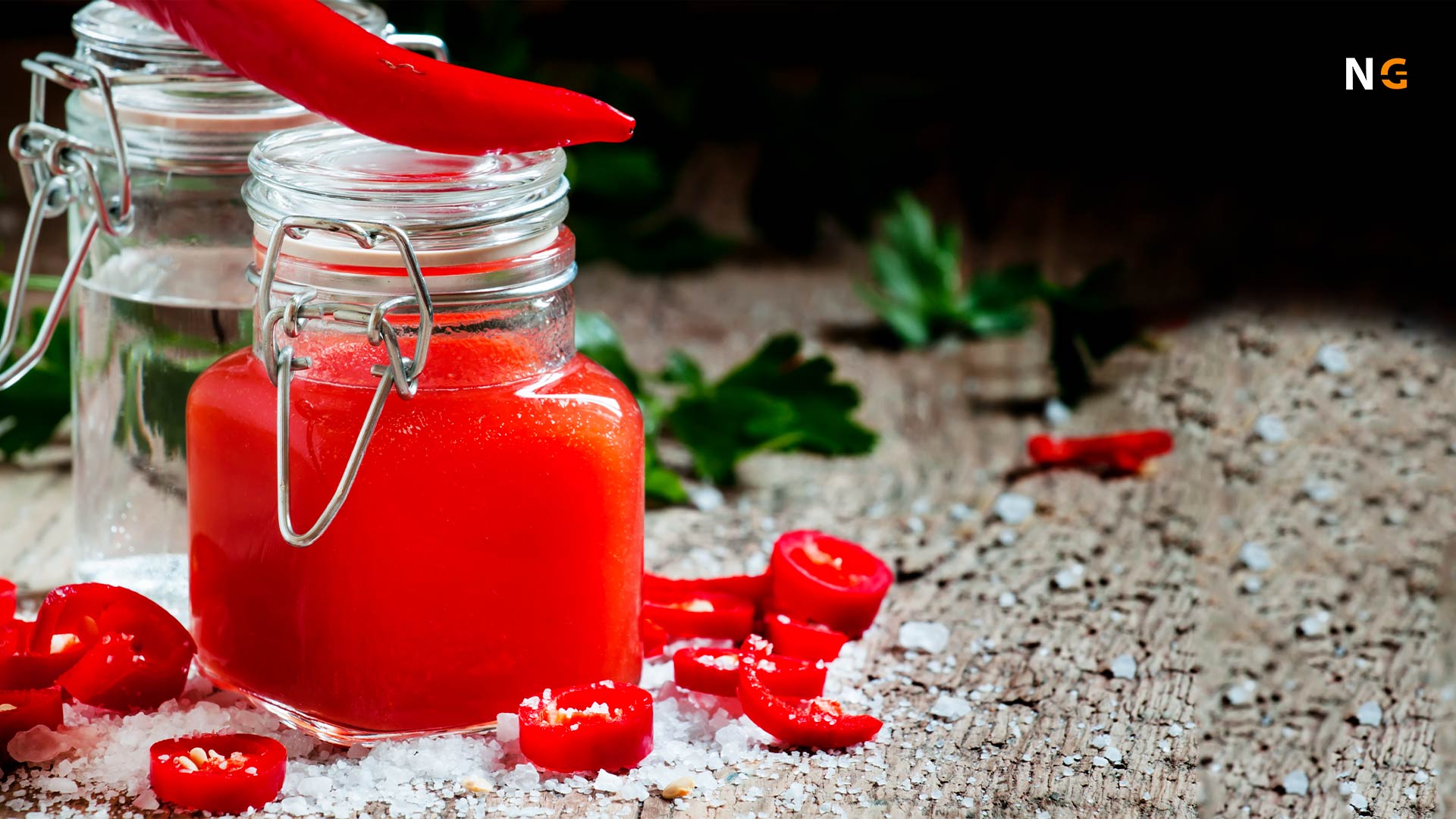 Going by the ingredient list, most hot sauces are gluten free. Hot sauces are free from grains like wheat, barley, and rye as direct ingredients or additives. The key component in hot sauce is chili peppers which give the perfect heat to the condiment. 
Other ingredients used are- salt, vinegar, water, and sometimes citrus extract. Chili sauce, which is not very hot, is fruit or vegetable-based, and chili pepper is added in lesser quantities. 
The ingredients I have mentioned are not from the gluten family, so consumers can rest assured that they are not putting any gluten items in their mouths. 
But is that all to consider hot sauce gluten free? Unfortunately no. A product needs to adhere to a few more necessary conditions for it to be entirely safe for celiac and gluten intolerant people. 
If you are wondering what these conditions are, here is a breakdown of the same- 
First and foremost, it should have no gluten ingredients. 
The makers have to prepare it in a gluten free facility 
It has to contain less than 20ppm gluten which is considered safe for celiacs as declared by the FDA.  
Do all hot sauces adhere to these conditions? No, which is why all hot sauces don't bear the gluten free stamp on their packaging. Even though the sauce may not have any gluten free ingredients, the manufacturers may prepare it in a gluten free facility, making it unsafe for gluten sensitive people. 
Hence, I would suggest you get your hands on only the product which bears the gluten free tag. 
Related Posts:– Are Rolos Gluten Free?
Which Hot Sauce Brands Are Gluten Free?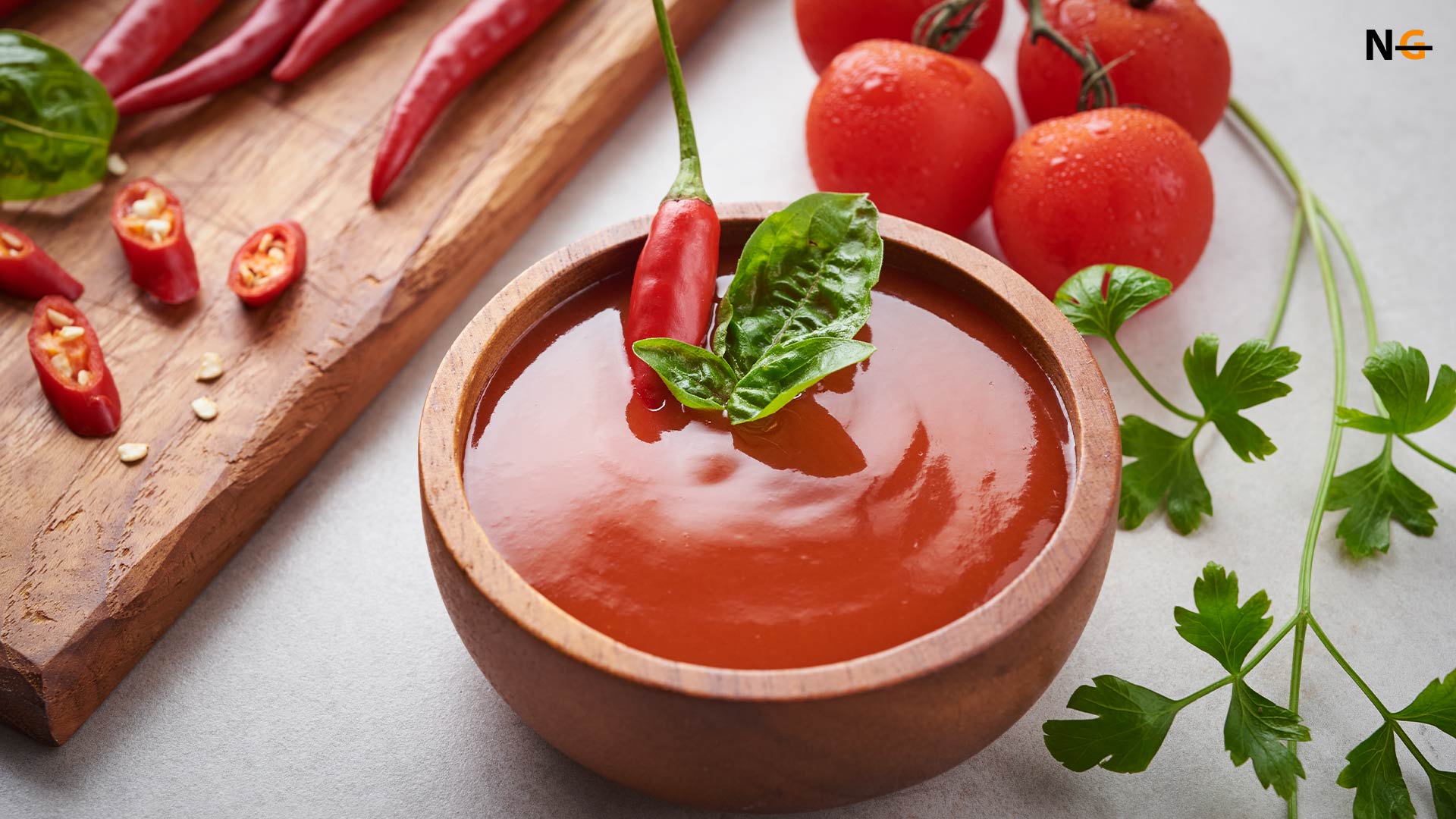 Here is a list of hot sauce brands that are certified gluten free and safe for gluten sensitive people- 
Dave's Gourmet has a range of hot sauces, with heat levels from barely medium hot to insanely hot. All the sauces are gluten free, low fat, and low sodium, so celiacs can go for it. 
Frank's Red Hot sauce is another best testing gluten free sauce gluten intolerant people can have without worrying about side effects. Cayenne pepper is the key ingredient here, and other ingredients include vinegar, water, salt, and garlic powder. 
Tabasco is one of the oldest and most popular hot sauces that's been in the food market for years. The best part is it's gluten free and has no allergy inducing ingredients. Tabasco comes in seven flavors, and according to the makers, all are gluten free. 
Cholula is another popular hot sauce not only for its authentic Mexican flavors but also for being gluten free. The sauce has no added sugars and is made with habanero peppers, carrots, garlic, and tangerine. 
Are Hot Sauce Vegan?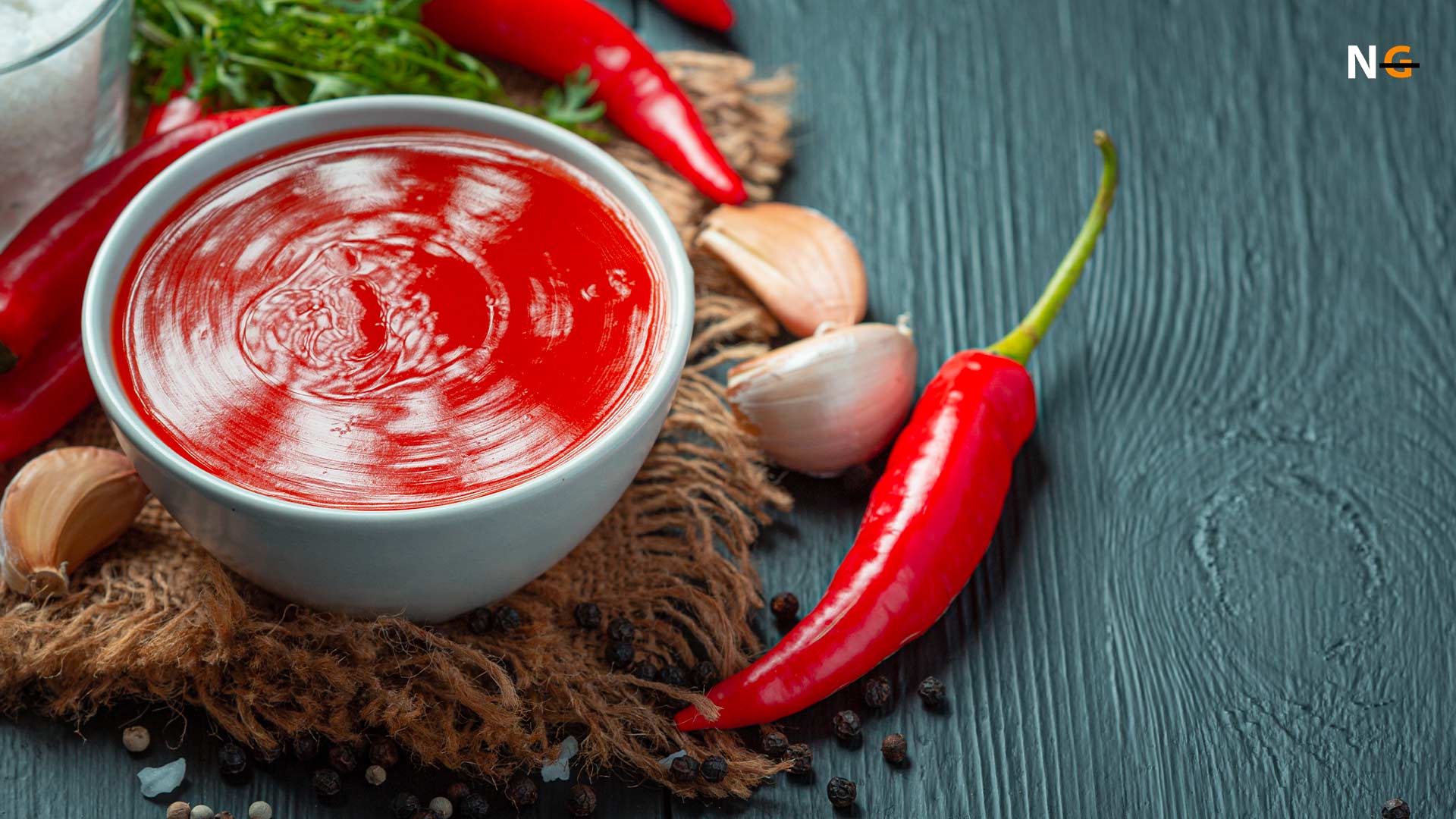 Most hot sauce brands are vegan, and they refrain from using any animal-derived ingredient. But some makers use honey and other animal derivatives making the sauces unfit for the vegan diet. 
Since vegans avoid any animal derivatives like honey, milk, and similar products, hot sauce with honey won't fit in their vegan diet. Reading the ingredient list would make it clear whether the hot sauce you picked is vegan friendly or not. 
Some of the brands that make vegan hot sauces are- Tabasco, Sriracha hot sauce, Cholula, Frank's Red Hot, etc. 
Are Hot Sauce Healthy?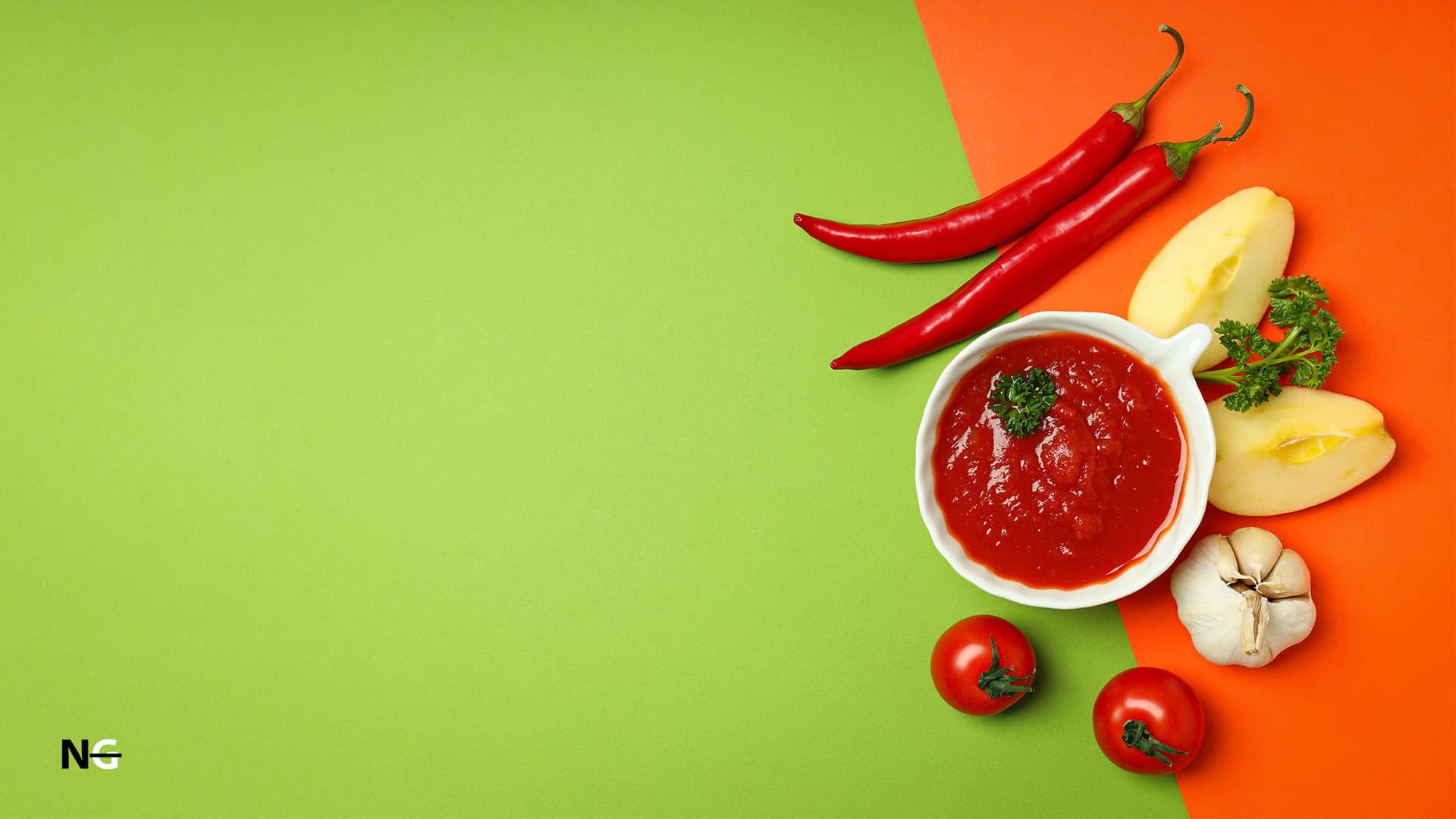 Hot sauce is healthy, and you can have it without worrying about any major health issues. The chili peppers contain capsaicin which is an antioxidant. It also has proven anti-inflammatory and anti-cancer properties. 
Additionally, hot sauces don't have fat and carbs but have a good amount of vitamin C. But the only drawback of hot sauce is that it can be high in sodium. On average, 5ml of hot sauce contains 124 mg of sodium which is quite high considering such a small amount of the sauce. 
Here is the nutritional facts of one teaspoon of hot sauce- 
Calories- 0
Fat- 0g
Carbs- 0g
Sodium- 170mg 
Protein- 0g
Fiber- 0g 
Can You Make Gluten Free Hot Sauce At Home? 
Yes, you can definitely make gluten free hot sauce at home. Making hot sauce is easy as it requires basic ingredients readily available in every home kitchen. I have made my own hot sauce, and here is the recipe I followed. 
Homemade gluten free hot sauce recipe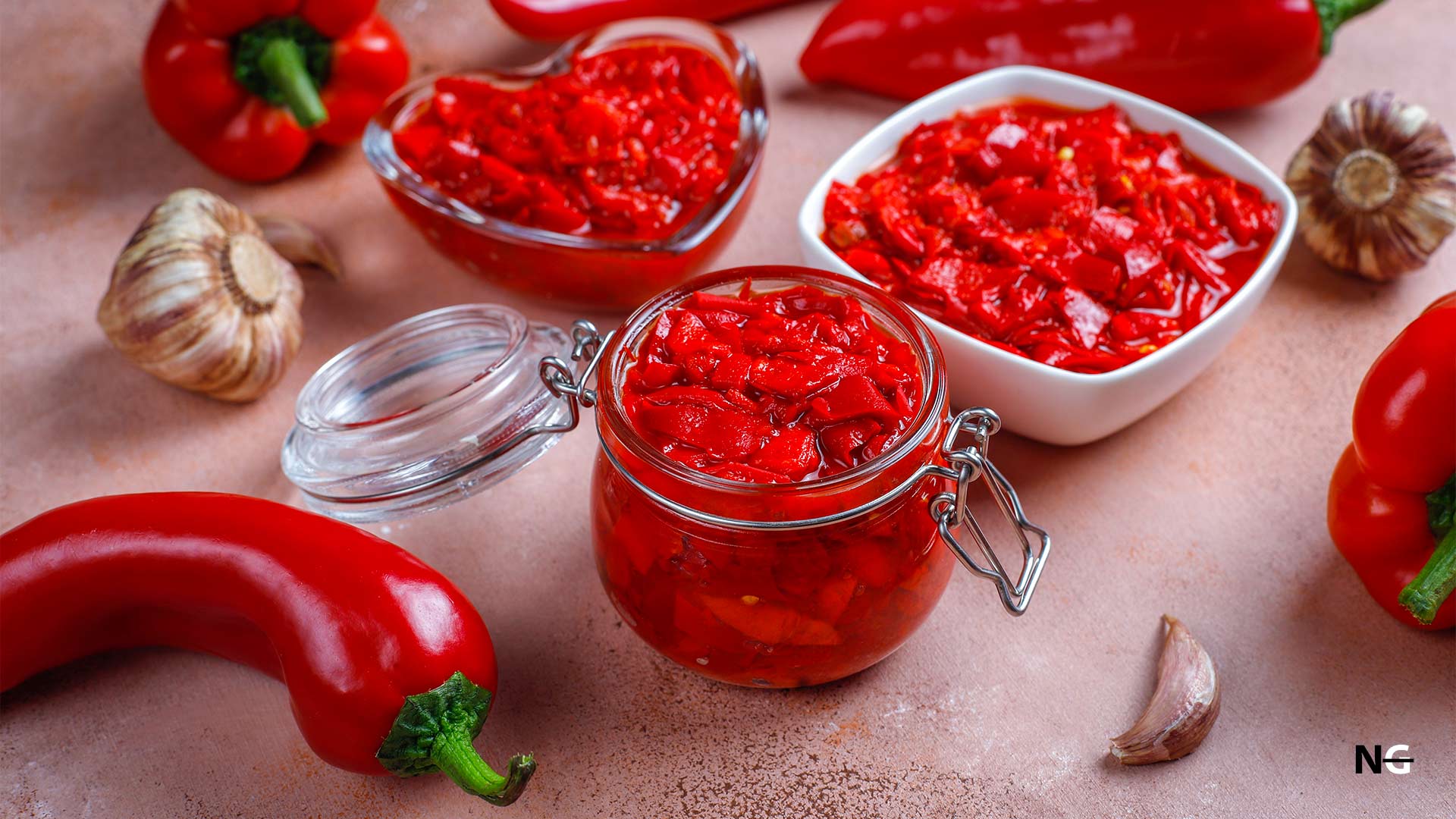 Ingredients 
2 jalapeno peppers 
20 red Anaheim peppers 
1 ½ cups rice vinegar 
4 garlic cloves 
½ tsp fine salt 
2 tbsp honey (organic) 
Method 
Step one
Wash the peppers well, split them in half, and chop off the heads. Take a saucepan, add the peppers, garlic, vinegar, and salt and add some water. On medium to low heat, boil the sauce for about 20 minutes until all the ingredients become soft and mushy. 
Step two 
Transfer the mixture into a blender and start grinding on low speed and gradually increase it to high speed. Continue blending for about 2 minutes until you get a thick, smooth paste. Now add honey and blend again. Store the sauce in a container in the refrigerator. 
Try These Delicious Recipes With Hot Sauce: All Gluten Free? 
Adding hot sauce to your recipes can elevate their taste to another level. Here are some of the finger licking and easy recipes to make with hot sauce and impress your family. Let's have a look- 
1. Spicy Shrimp With Rice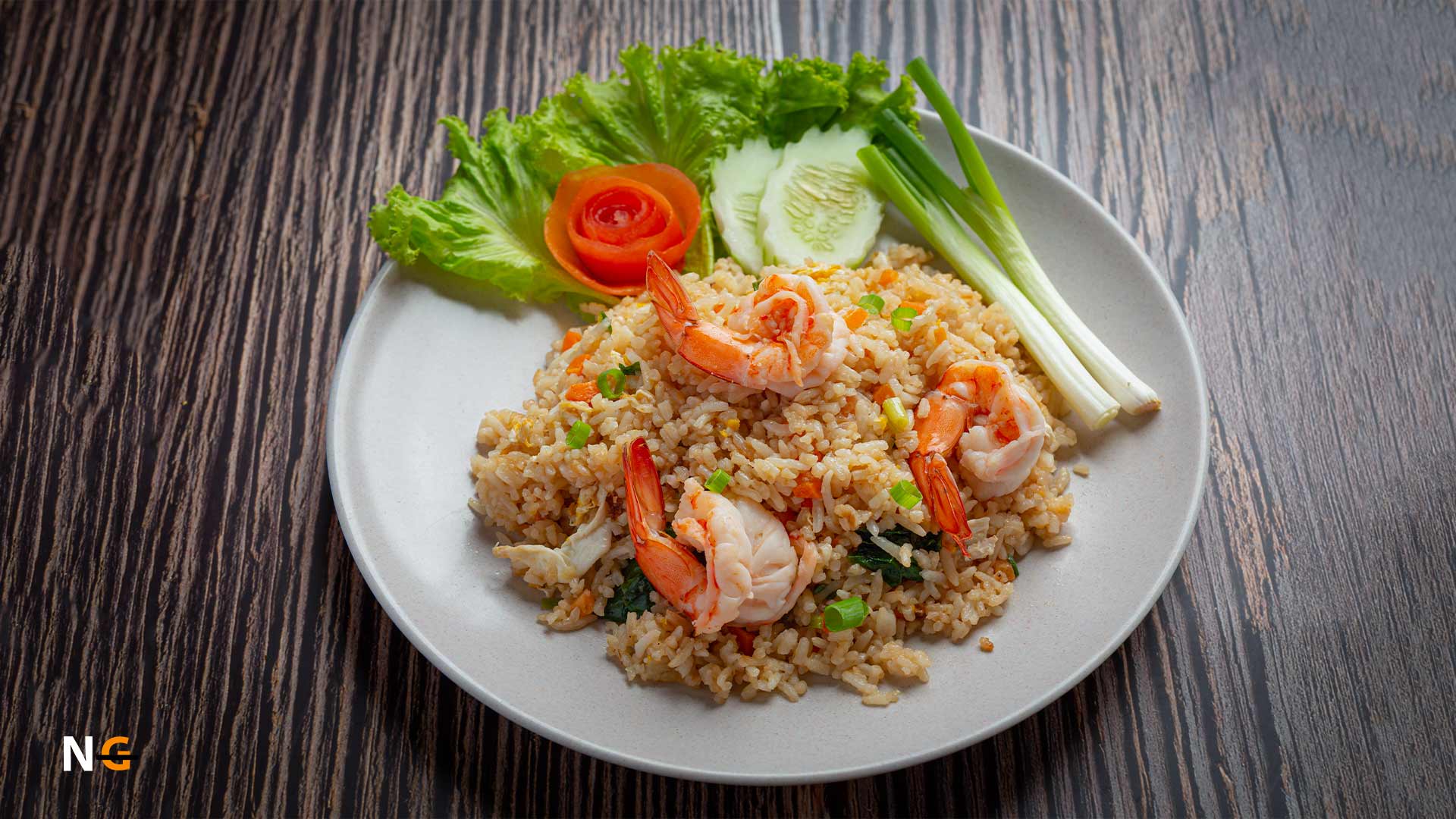 Ingredients 
2 tbsp gluten free hot sauce 
1 finely chopped onion 
1 tbsp olive oil 
1 chopped green pepper 
3 minced garlic cloves 
½ cup chicken broth (reduced sodium) 
1 can of tomato sauce 
½ cup minced parsley 
1 jar diced pimientos 
¼ tsp pepper 
¼ tsp onion salt 
2 pounds large shrimp (deveined and peeled) 
2 to 3 cups cooked rice 
Method 
Sauce onion and garlic in a skillet until they get tender. Add garlic and cook for about a minute. Add the rest of the ingredients except the shrimp and bring the sauce to a boil. Let the sauce cook for about ten minutes on low flame with the lid on. 
After ten minutes, add the shrimps and cook for 5 to 7 minutes more until the shrimps turn pink. Serve with cooked rice and enjoy. 
2. Roasted Tomato Salsa 
Ingredients 
¼ tsp gluten free hot sauce 
12 tomatoes (sliced and deseeded) 
6 minced jalapeno peppers 
2 tbsp olive oil (divided) 
12 thinly sliced green onions 
1 bunch of cilantro (chopped) 
1 tbsp ground cumin 
¼ cup lime juice 
1 tbsp smoked paprika 
4 cloves garlic 
1 tbsp ground chipotle pepper 
2 tsp lime zest 
1 finely chopped sweet yellow pepper 
Tortilla chips 
Method 
Step one 
Take a baking pan and arrange the sliced tomatoes to the cut side down. Drizzle one tbsp of oil. Broil the tomatoes for about 4 minutes until the skin comes off. Once done, let the tomatoes cook and drain well. 
Step two 
Transfer the tomatoes into a food processor and pulse until they get chunky. Put them in a large bowl. Now add cilantro, lime zest, and the remaining oil to the food processor and process to blend everything well. Add this to the processed tomatoes. 
Step three
Add the rest of the ingredients to the tomatoes and oil mixture and stir everything well. Let the salsa rest for about an hour for the flavors to come out strong. Serve with tortilla chips, and enjoy. 
Conclusion 
Hopefully, you got a clear answer to whether the hot sauce is gluten free or not. Making gluten free choices can be difficult at times, but with careful observation, you can pick the right product. 
Take note of the factors I mentioned to find the best gluten free hot sauce, or you can try making one following the recipe I shared. 
FAQs 
Is Tabasco Sauce Gluten Free? 
Yes, Tabasco sauce is gluten free and adheres to all the FDA guidelines as declared on the company's website. 
Is Sriracha Gluten Free? 
Yes, Sriracha is a gluten free chili sauce made with only chili peppers and some gluten free spices. 
Can Celiacs Have Hot Sauce? 
Celiacs can have hot sauce which bears the gluten free tag. Make sure to check the ingredient list while picking one. 
Is Crystal Hot Sauce Gluten Free? 
Yes, Crystal hot sauce is gluten free and non-GMO as it is made with pure cayenne peppers.