It's no mystery that France, Italy, and Switzerland produce some of the best cheese varieties. They have rich and complex flavors that appeal to a refined tongue. But if you're more into creamy, cheesy fun, string cheese options like the Frigo String Cheese are the best. But is Frigo String Cheese gluten free?
Frigo Cheese Heads is a brand that offers a wide range of string cheese options. These are made using naturally gluten free ingredients and are popular among most celiac patients or gluten-sensitive people. But they are not certified or tested to eliminate the chances of cross-contamination. 
What are the ingredients used in Frigo String Cheese? Does the product contain allergens or other harmful components? Today, we will find out all about the world's favorite cheese snack, i.e., Frigo String Cheese!
Is Frigo String Cheese Gluten Free?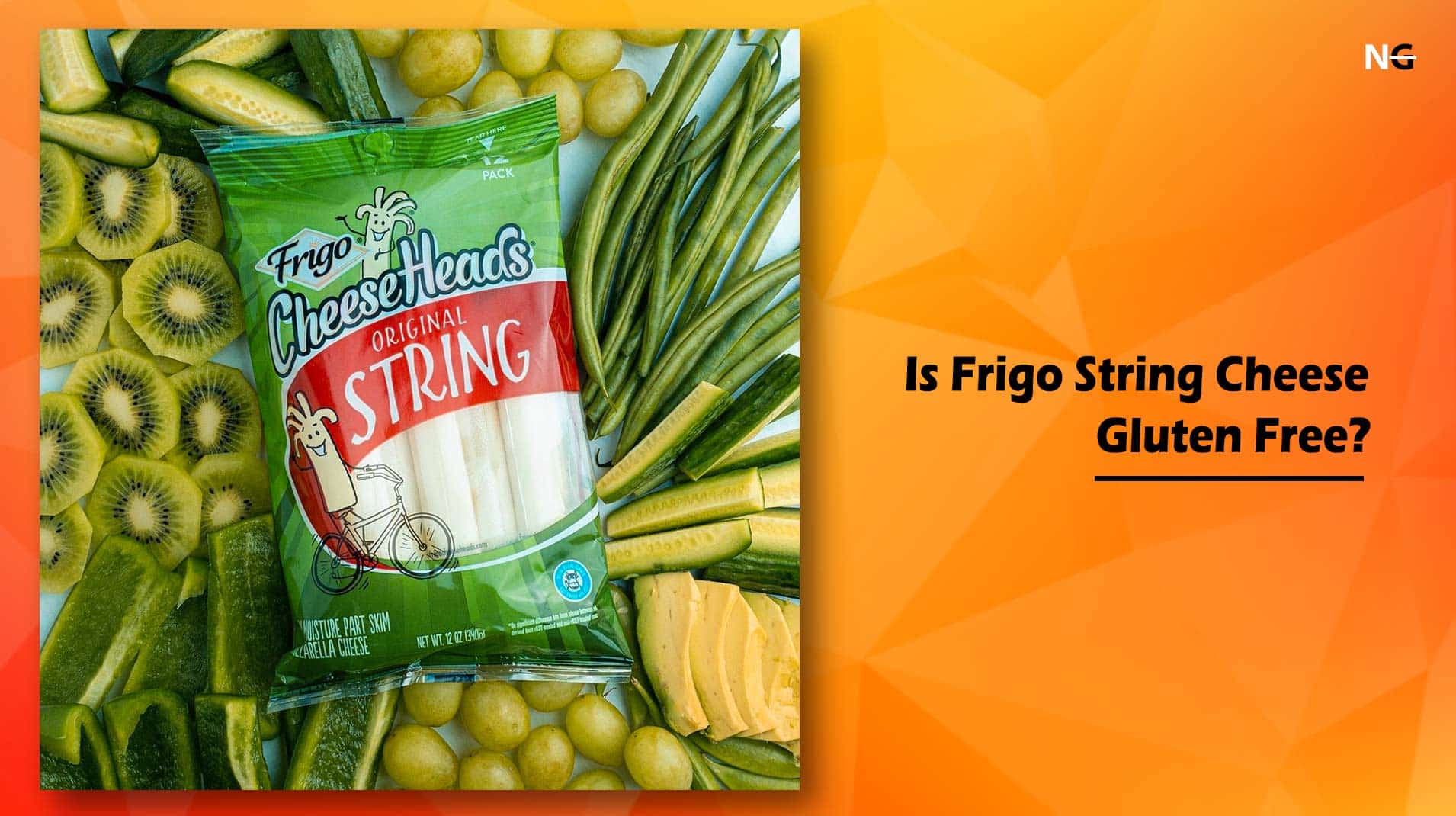 Everyone loves string – well, everyone except the snooty Monica Gellers of the world who look down on mozzarella sticks or jalapeno poppers and want to live in blue cheese houses! For the remaining people like the Howard Wolowitzes of the globe, string cheese is the greatest snack ever. 
Frigo String Cheese is often the first choice when it comes to this snack. But is Frigo String Cheese gluten free and safe for people with celiac disease or gluten sensitivity? This cheese is considered a healthy option in general for people who are medically required to stay away from gluten.  
If you look at the list of ingredients used in this product, you will not find a trace of gluten there. That's because this is a kind of low-moisture mozzarella cheese made using naturally gluten free ingredients like pasteurized part-skim milk, along with enzymes, salt, and cheese cultures. 
Frigo also produces other cheese stick varieties. These include the Swirls (with mozzarella and cheddar) and Colby Jack (with Colby and Monterey Jack). Both contain the ingredients in String Cheese in different forms and qualities, along with annatto color. Swirls' list of ingredients also includes cream and skim milk.  
There are other variants of the string cheese, as well. For instance, you can cheese the Light String Cheese or the Superstring Whole Milk String Cheese. They, too, contain similar ingredients. All these ingredients are inherently free from gluten grains. 
Thus, the stick varieties of Frigo are safe for a gluten free diet. Its ingredients list doesn't mention possibly gluten-containing additives, either. Most celiac patients or gluten intolerant people enjoy Frigo String Cheese without experiencing allergic reactions.
However, if you're severely sensitive, be warned. Even though most people trust this cheese as a gluten free option, it is not certified to carry the "gluten free" seal. That means it has not undergone any test to check if the production or packaging units are clean or if the final product has trace gluten above the permissible level of 20 ppm. 
So, the possibility of cross-contamination in the facilities cannot be ignored entirely. If the units handle other products or ingredients that contain gluten, direct contact with those can add gluten content to your favorite string cheese. It's likely not a big threat, but you should still consume small amounts only to test it.    
Is Frigo String Cheese Healthy?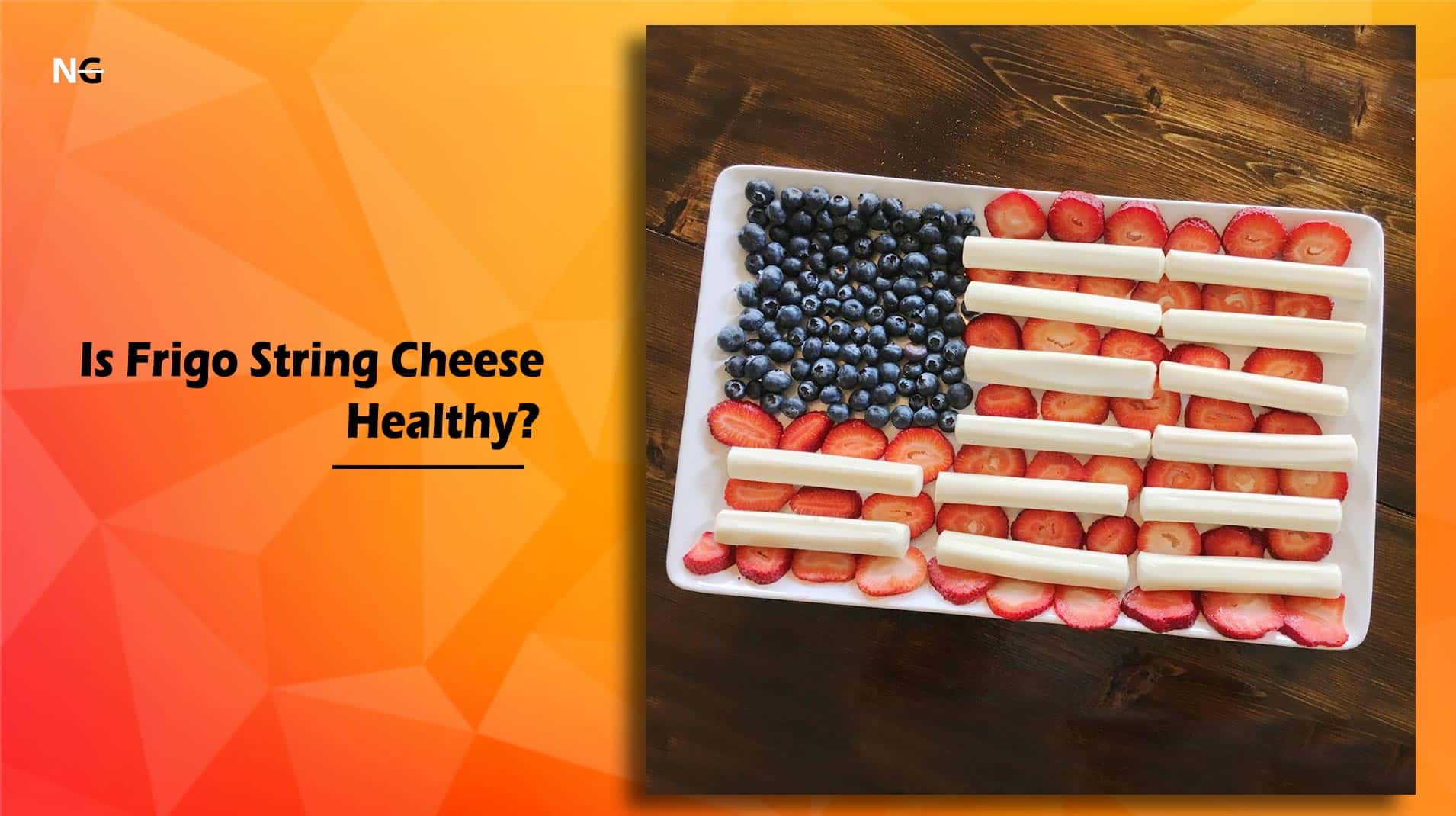 Frigo String Cheese is everyone's go-to cheesy snack, thanks to its creamy taste and texture. It's in the pantry of almost every household – and the lunchbox of every kid in the US. But we all know that cheese itself is full of fat. On top of that, Frigo String Cheese is moderately processed.   
So, is Frigo String Cheese healthy? One of the factors that makes it a safe choice is that it is free from all allergens except dairy. In addition, it does not contain preservatives or additives that may harm you. It is marketed as 100% real cheese. Each stick, loaded with 80 calories, contains 6 g fat, 6 g protein, and 1 g carb. It also has 220 mg of calcium. 
Thus, you can consider it a healthy snack. There are healthier variants of the string cheese, too. You can choose Superstring Whole Milk String Cheese that's loaded with Vitamins A and D and is an excellent source of calcium. Or go for Light String Cheese – with more protein and less fat and calories. Clearly, Frigo Cheese Heads produces healthy snacks. 
Is Cheese Gluten Free?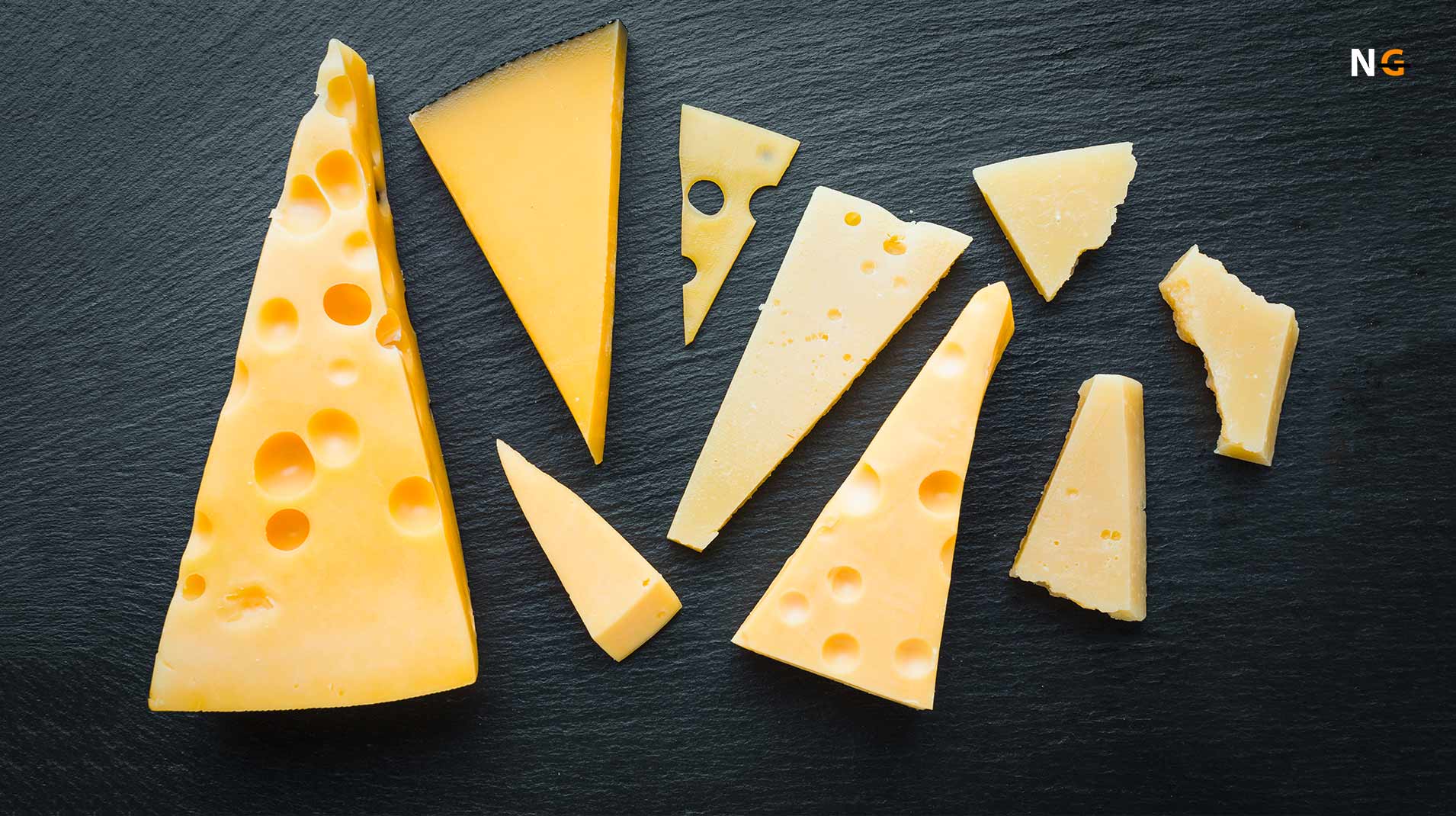 All cheese varieties are made from milk and contain good bacteria, an enzyme called rennet, and salt. If the cheese variety is pure and natural, it will only have these ingredients – all of which are naturally free from gluten. 
There's always a slight chance of cross-contamination in the facilities – but that's rarely true in high-quality cheese production units. Sometimes, clue cheese may contain mold cultures derived from rye or wheat bread. So you should be careful about its manufacturing process. Also, find out whether the cottage cheese you buy has wheat-based starch.  
However, you may find gluten in fully or moderately processed cheese, flavored cheese, fat-removed and salt-removed cheese, and cheese products. They may have additives to enhance the texture, color, and taste. These additives may contain gluten – and so can the preservatives. 
Nowadays, you'll find many amazing non-dairy cheese varieties. They come from plant sources – and the ingredients may contain gluten. Some of the best plant-based cheese alternatives without gluten content are made from avocado. Another great gluten free vegan cheese is nutritional yeast.   
The addition of gluten may not be due to the presence of wheat, barley, rye, or their derivatives. The cheese you're buying can come in contact with gluten during manufacturing or processing. So, you have to be careful about non-certified cheese, as well as loose cheese sold on open deli counters.
Gluten Free String Cheese Alternative Brands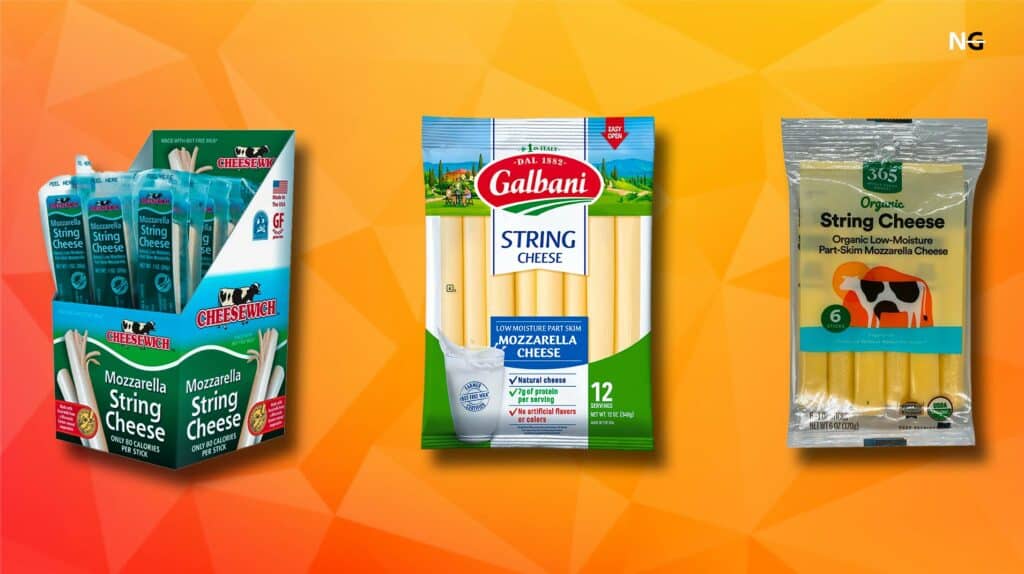 Now, let's take a look at some of the best gluten free string cheese brands. Some of them are certified gluten free, while the others are inherently free from gluten. Let's take a look:  
365 Organic String Cheese – The product isn't tested. But the brand is committed to clarity regarding ingredients. So its gluten-free label can be trusted.
Cheesewich String Cheese – The regular and smoked variants of mozzarella string cheese flaunt the GF label on the package, indicating that they are safe for you. 
Daiya – This faux "cheese" is a dairy-free and plant-based cheese option – with the flavor of mozzarella. It is also certified as gluten free making it ideal for you.
Galbani String Cheese – This mozzarella cheese variant with a deep flavor profile is a safe option because of the gluten free ingredients, though it's not certified.
Horizon Organic String Cheese – This product is a niche favorite with an off-beat taste. Though it is not certified, users say it is perfect for a gluten free diet.
Kraft String Cheese – This is another brand that isn't certified but ensures the health and safety of people with allergies. Its cheese is without gluten – and safe. 
Kroger String Cheese – This is a healthy and safe cheese option for you, as indicated by the information on the website. It is naturally gluten free – and healthy. 
Organic Valley Stringles – This Organic Valley cheese with a rich taste and texture has ingredients that are naturally gluten free – and are made in clean units. 
Sargento String Cheese – This string cheese has a classic taste with a hint of tartness. Though it's not certified, the brand says it's perfectly safe for a gluten free life.  
WW (Weight Watchers) String Cheese – The brand has three string cheese varieties that are marketed as and considered gluten free though they are not tested.  
Gluten Free Mozzarella Stick Recipe
Frigo String Cheese might be a popular snack all by itself. But you can also make delicious mozzarella sticks with this snack. Wait! Doesn't a mozzarella stick have wheat flour? Well, not our recipe! Here's a gluten free mozzarella stick recipe – for the air fryer!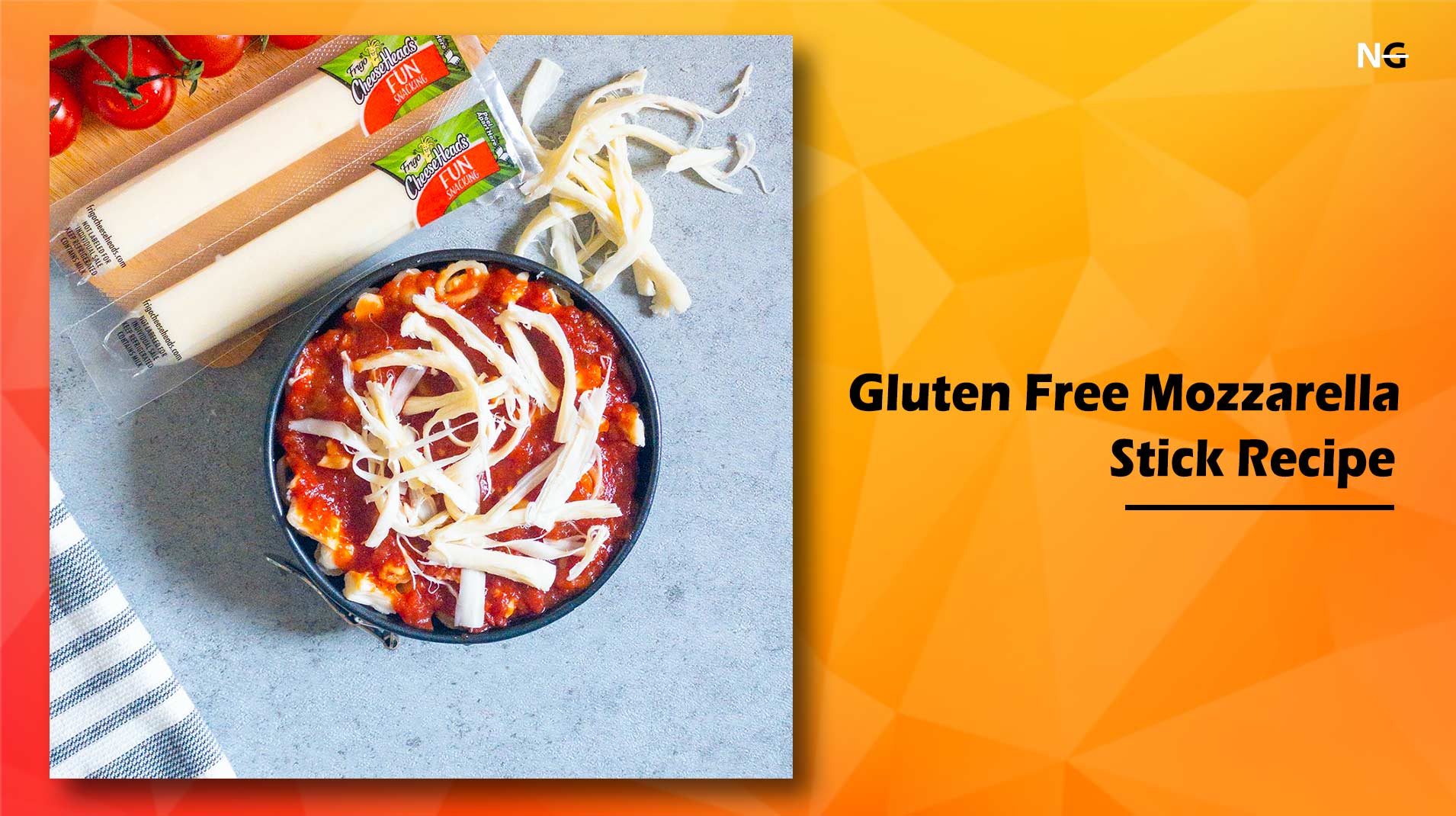 Ingredients:
String cheese sticks – 6 pieces
Eggs – 1-2 pieces 
Almond flour – 1/3 cup
Parmesan cheese (powdered or grated) – 1/2 cup
Garlic powder – 1/2 tsp
Italian seasoning – 1 tsp
Salt – 1/4 tsp
Instructions:
Start by lining the air fryer basket with tin foil.
Cut the string cheese sticks in half.  
In a bowl, beat the eggs for your egg wash. 
In a dish, add the dry ingredients and mix them to form the breading mix. 
Put each cheese stick in the egg wash. 
Roll it in the breading mix, pressing slightly to make the pieces stick. 
Repeat the process of dipping in the egg and rolling in the bread. 
Place the uncooked mozzarella stick on a plate and refrigerate for an hour. 
Grease the tin-foiled fryer lightly and put the cheese sticks in it. 
Cook the sticks at 375 F for 7-10 min.   
Your mozzarella sticks are ready! It's not only gluten free but also keto-friendly. If you don't have access to an air fryer, you can also deep-fry the sticks till they turn golden. Serve them while they're still hot with some gluten free dip.
Final Words
Frigo String Cheese is just just a delicious snack. It is also a healthy option. But you may wonder, is Frigo String Cheese gluten free? Now you know that it is considered a safe option for people with celiac disease or gluten intolerance. You can also add a certified string cheese option to your diet to be absolutely safe! 
FAQ
Is string cheese gluten free?
String cheese from a trusted brand has pure and natural ingredients like milk, cultures, enzymes, and salts. They are inherently gluten free. String cheese is moderately processed – and may have gluten-based additives. Cross-contamination in the facilities may also add gluten to it.  
Is Frigo String Cheese vegan?
Frigo String Cheese contains pure and natural ingredients – including dairy products. Frigo Cheese Heads has a wide range of cheese sticks, all of which have milk, cream, etc. Thus, these products are non-vegan. But this cheese is a good fit for a vegetarian diet that allows milk consumption.
Does Frigo cheese cause allergies? 
Frigo Cheese Heads is a brand that maintains complete clarity about allergen content in its products. According to the list of ingredients, its cheese products do not contain allergens – except dairy. So, if you have any allergy other than lactose intolerance, you can enjoy Frigo cheese safely.