Candies are absolute love, whether you are a kid or not. And when it comes to the fruity chewy Starburst candies, I can't stop myself, and I'm sure neither can you. But celiacs always feel restricted while picking their food, including Starburst candies. 
Is Starburst gluten free and safe for gluten allergic people? Yes, Starburst candies are gluten free and contain no wheat or barley but only the ones available in the U.S. 
But food items just without wheat or barley aren't enough to consider gluten safe. There are a set of conditions they must adhere to. Does Starburst adhere to such conditions? Are they completely safe on a no gluten diet? Keep reading to find out. 
Is Starburst Gluten Free?
All Starburst candies available in the U.S. are gluten free. Wrigley's, the company that makes Starburst, revealed on their website that these fruity candies, including their seasonal flavored candies, are free of wheat in any form.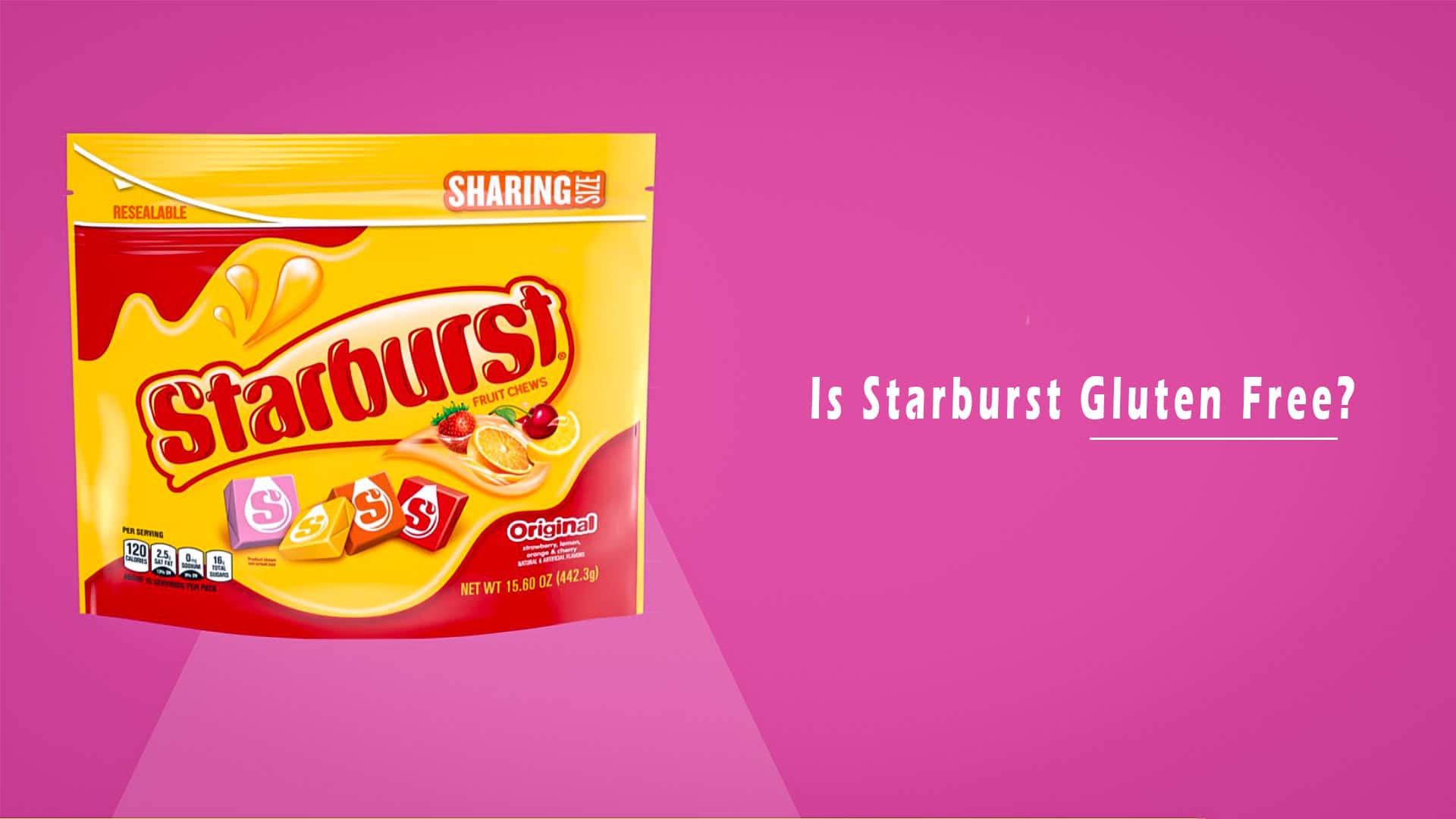 As none of the Starburst candies available in the U.S. contain gluten, it's safe to say there are no chances of cross-contamination through shared equipment. What about Starburst candies made in Australia or New Zealand? Are they gluten free too? 
Sadly no. Wrigley's Starburst sold in these two countries contains thickener and glucose syrup which are extracted from wheat. So as of now, I can only say that Starburst, available only in the U.S. candy stores, is safe for gluten allergic people. 
Also Read:- Is Raisin Bran Gluten Free?
What Are The Ingredients Of Starburst?
Wondering how Wrigley's make their juicy fruit flavored Starburst original candies? What do they add to their recipe? Here is the complete list of Starburst Original Fruit Chews candies- 
Corn syrup 
Sugar 
Hydrogenated Palm Kernel Oil 
Less than 2% of 
Tapioca dextrin 
Citric acid 
Apple juice from concentrate 
Gelatin 
Modified corn starch 
Artificial and natural flavors 
Colors: Red 40, Yellow 5, Yellow 6, Blue 1
What Starburst Products Are Gluten-Free?
Starburst has a variety of candies to pick from; these include- chews, gummies, airs, minis, and swirlers. All these candies are gluten free and are made using tapioca or cornstarch instead of wheat starch; hence are safe options for gluten sensitive people.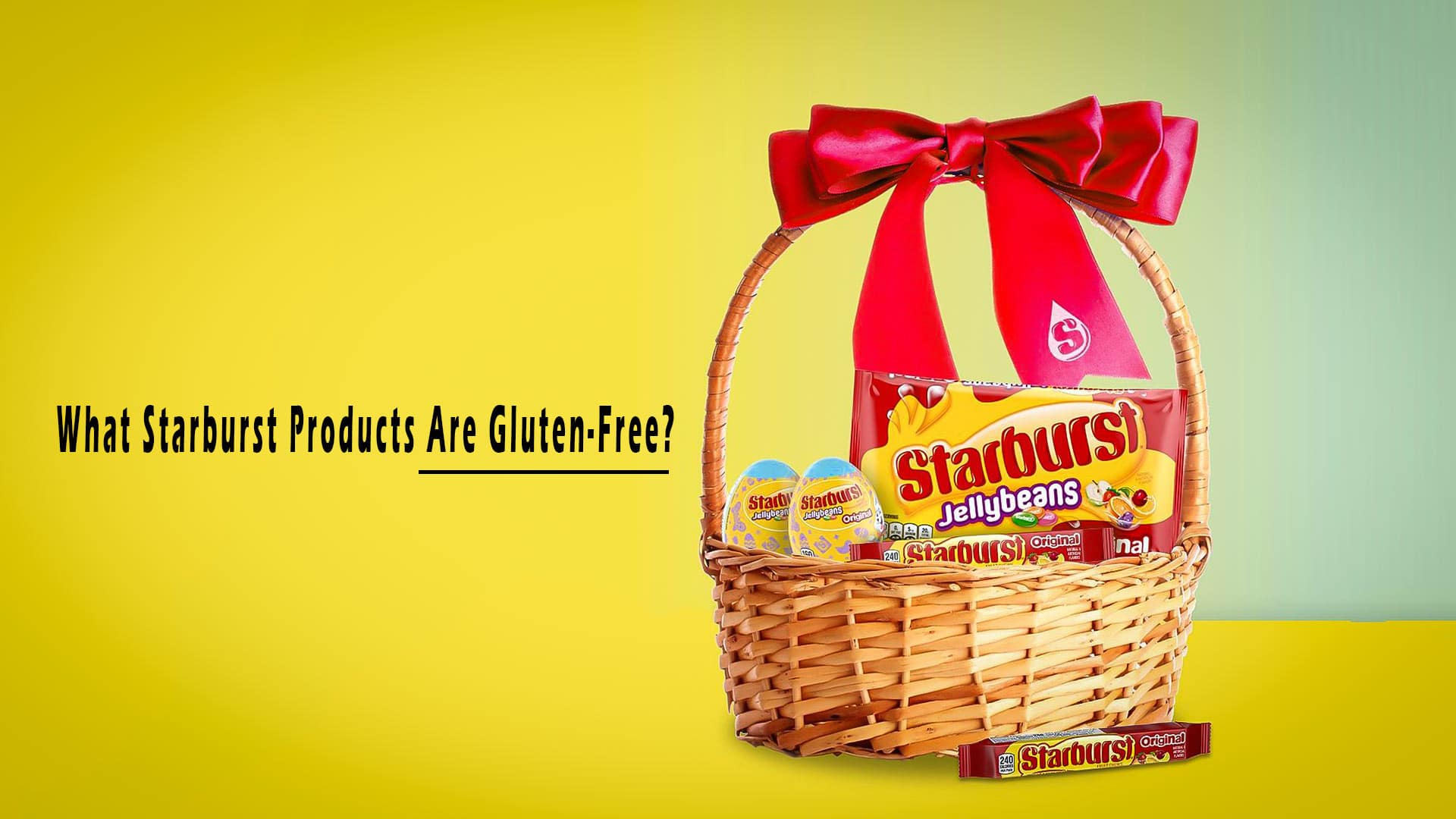 Some of the common Starburst gluten free candies are- 
Starburst Tropical Fruit Chews 
Starburst Original Fruit Chews 
Starburst All Pink Fruit Chews 
Starburst Jelly Beans 
Starburst Swirlers Chewy Sticks 
Starburst Sours Gummies Candy
Starburst GummiBursts Candy 
Is Starburst Vegan?
No, Starburst isn't vegan because their candies are made from gelatin and confectioner's glaze. Gelatin is a protein prepared by boiling animal (beef/pork) skin, bones, or ligaments). 
Confectioner's glaze is also made by secreting lac beetles. A vegan diet doesn't include any food that has ingredients derived from animal parts. 
Starburst Nutritional Facts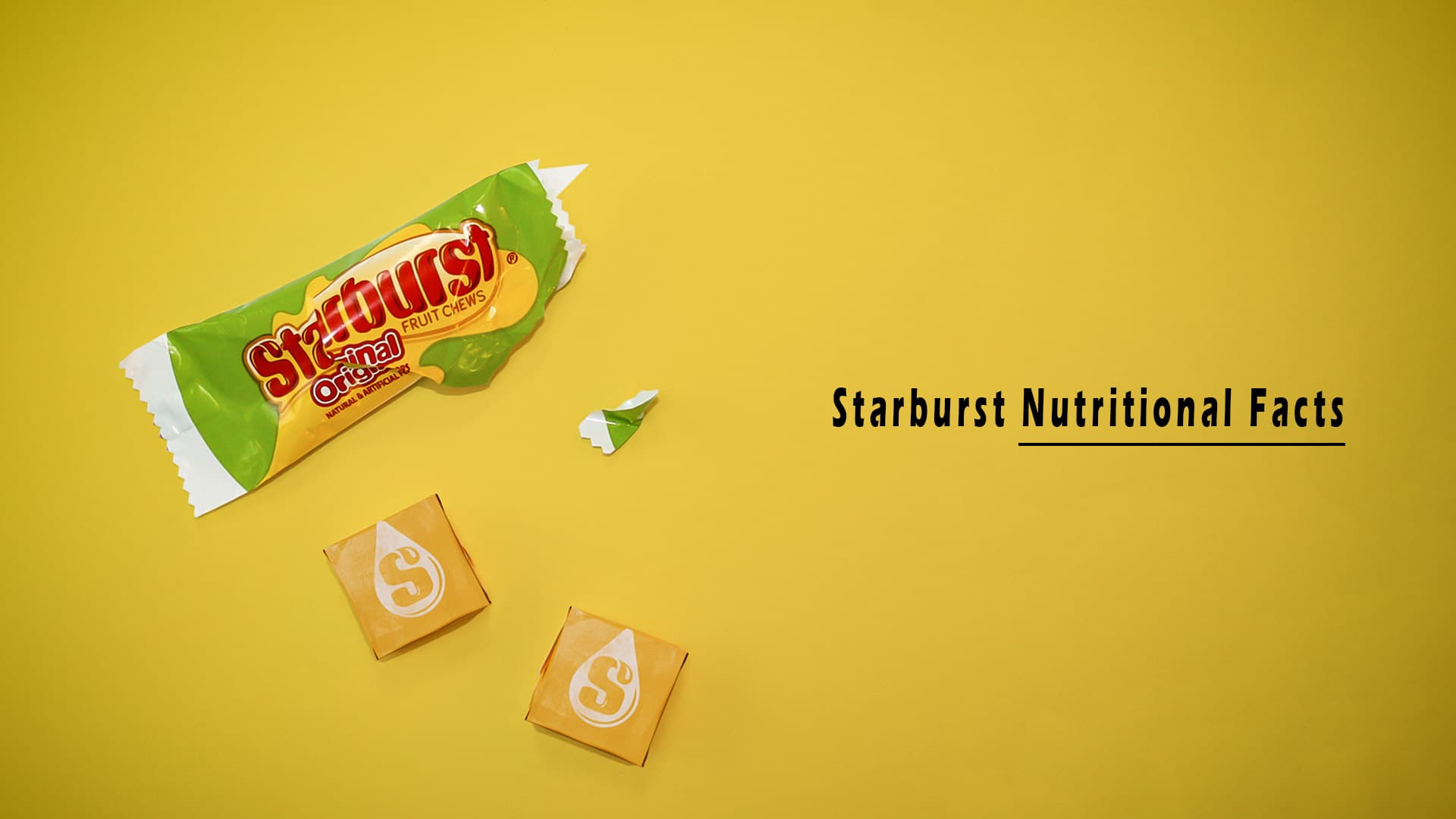 Talking about Starburst nutritional facts, the candy has no fiber or protein. It's just a sweet treat with a lot of sugar and calories and with no essential nutrients. To make my point clear, here are a few Starburst candy flavors and their nutritional facts- 
Starburst Original 
Calories- 120
Fat- 2.5g
Saturated fat- 2.5g
Sodium- 0g
Carbs- 24g
Total sugars- 16g
Added sugars- 16g 
Protein- 1g 
Starburst Air (Original) Nutritional Facts per 1oz 
Calories- 100
Fat- 0g
Sodium- 0mg
Carbs- 23g
Total sugars- 19g
Added sugars- 10g 
Protein- 1g 
Starburst Sour Gummies Nutritional Facts per 1oz  
Calories- 100
Fat- 0g
Sodium- 0mg
Carbs- 23g
Total sugars- 19g
Added sugars- 19g 
Protein- 1g 
Starburst Air Sour Tropical Gummies Nutritional Facts per 1oz  
Calories- 110
Fat- 0g
Sodium- 50mg
Carbs- 25g
Total sugars- 20g
Added sugars- 20g 
Protein- 1g 
Starburst Not Gluten Free In Australia: Why?
Starburst isn't gluten free in Australia as declared by Wrigley's. While most of the ingredients are the same, the Australian recipe has wheat starch used as a thickener and glucose syrup which also has gluten. 
We know anything with wheat isn't gluten free; hence Starburst candies available in Australia as well as in New Zealand contain gluten. 
Starburst Gluten Free Recipes: Must-try Flavorful Delicacies 
Starburst is tasty as it is but did you know you can use this candy to make some delicious sweet treats and drinks as well? You heard it right. Here are a couple of recipes to try with Starburst to make the candy taste even better. 
1. Starburst Chewy Rice Krispie Treats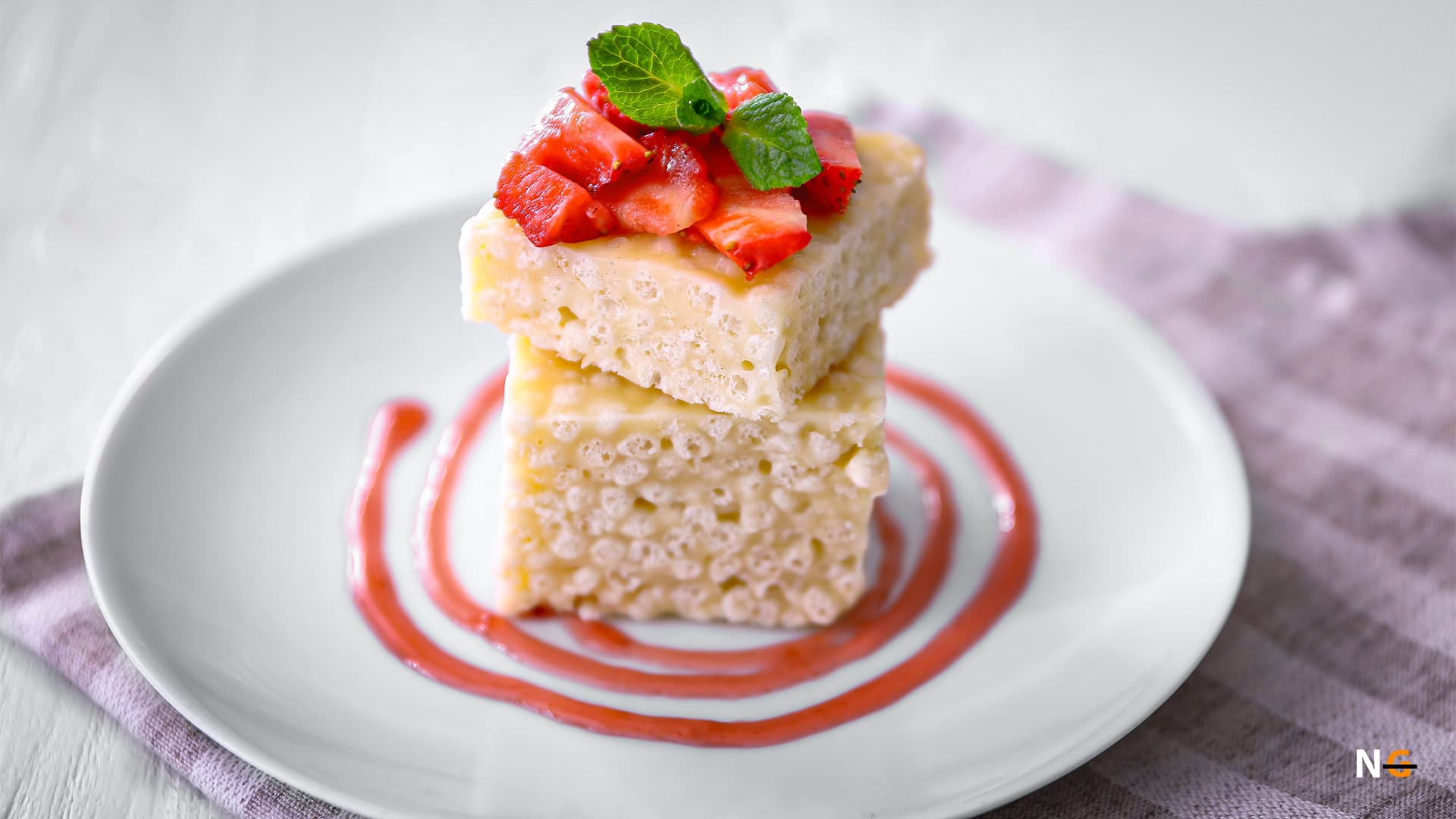 Ingredients 
40 pieces of Starburst candies (take different flavors) 
7 cups mini marshmallows 
5 tbsp unsalted butter 
6 cups rice Krispie cereal 
Nonstick cooking spray 
Method
Step one 
Take a parchment over a silencing rolling mat. Take Starburst candies, and by using a rolling pin, roll and flatten the candies into a thin square. Now press the candy pieces together into any shape you like. It should be wide enough to cover at least a 9 inch by 13 inch baking pan. 
Step two 
Grease the baking pan using the non-stick spray. Melt 4 tbsp butter in a stockpot in medium heat and slowly add 6 cups of marshmallows. Stir until the marshmallows melt completely. 
Step three 
Turn off the heat and add the Rice Krispies to the butter marshmallow mixture. Stir until the Krispies are well coated in the marshmallow. Now transfer it into the greased baking pan and flatten it using your hands or spatula. 
Step four 
Place the Starburst candy layer over the Rice Krispie layer while it is slightly warm. If the candy layer isn't sticking well, add another layer of melted marshmallows. 
Now melt the remaining butter and the remaining one cup mini marshmallow together. 
Brush this gooey mixture over the candy and rice Krispie dish and let it rest at room temperature. Once it is set, cut it into small squares and serve. 
2. Pink Starburst Margarita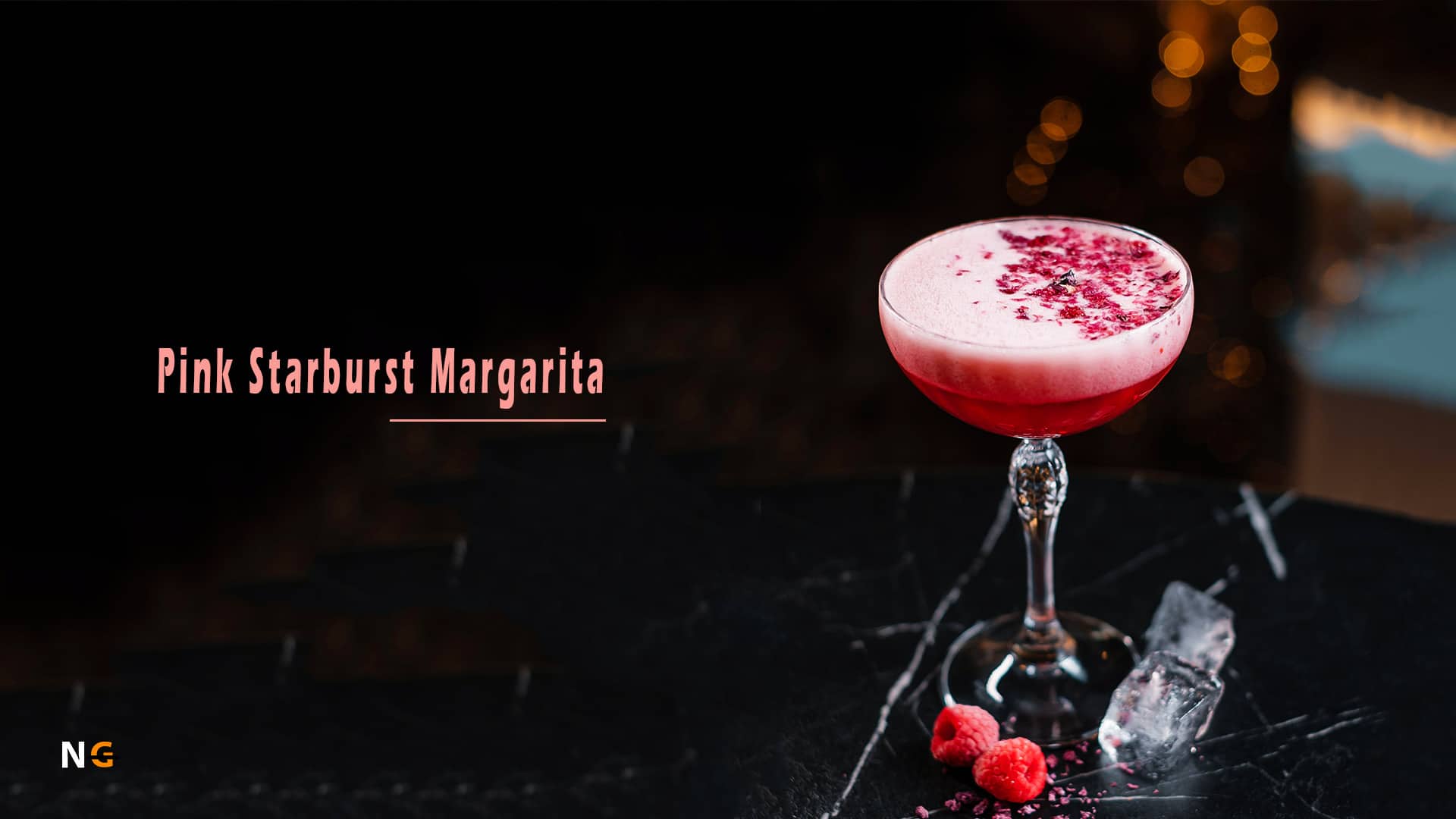 Ingredients 
5 to 10 pieces of Starburst All Pink Chewy Candy 
2 oz Tequila of your choice (gluten free) 
1 oz lime juice 
1 oz tripe sac 
½ oz simple syrup 
Powdered sugar/ lime wedges for garnishing 
Method 
Step one
Drop Starburst into the tequila bottle and keep overnight to create the Starburst infused tequila. 
Step two 
Take a cocktail shaker and mix lime juice, tequila, triple sec, simple syrup, ice, and shake well. Rim the cocktail glasses with sugar and lime juice. Strain the drink into the prepared glasses and garnish with lime wedges. 
FAQs
Q: Are Starbursts safe on a gluten free diet? 
A: Yes, people on a no gluten diet can have Starburst since it is free of any wheat substance. But be careful if you are picking your Starburst candies from an Australian market because these contain gluten. 
Q: Are all Starburst candies gluten free? 
A: Yes, all Starburst candies available in the U.S. are absolutely gluten free. 
Q: Are Starbursts dairy-free? 
A: Yes, Starbursts are dairy-free, but they contain gelatin, so it's not a vegan or vegetarian candy. 
Conclusion 
Starburst candies available in the U.S. are gluten free and contain no wheat. But the same isn't true for Starburst available in Australia and New Zealand. 
Although the candy is very delicious, they are very high in sugar, so you might want to consume it within limits.