Mustard flour is the powdered form of various mustard seed types. It's a common seasoning in almost all cuisines especially used in meat-based dishes. But can everyone have mustard flour? What is the gluten status of mustard flour? 
Is mustard flour gluten free? Mustard flour is gluten free and does not have any harmful ingredients that may induce gluten allergy. 
But when you buy packaged food, it contains multiple other ingredients, preservatives, and additives. These may put anything at the risk of getting contaminated with gluten. Hence. Let's throw a glance at if the packaged mustard powder you see in the supermarket is free of gluten or not. 
Is Mustard Flour Gluten Free? 
Mustard powder is completely gluten free in its natural form. It's made of just one ingredient, that's mustard seed flour which is not a gluten grain. If you're making mustard flour at home, there is nothing to worry about getting any gluten allergy.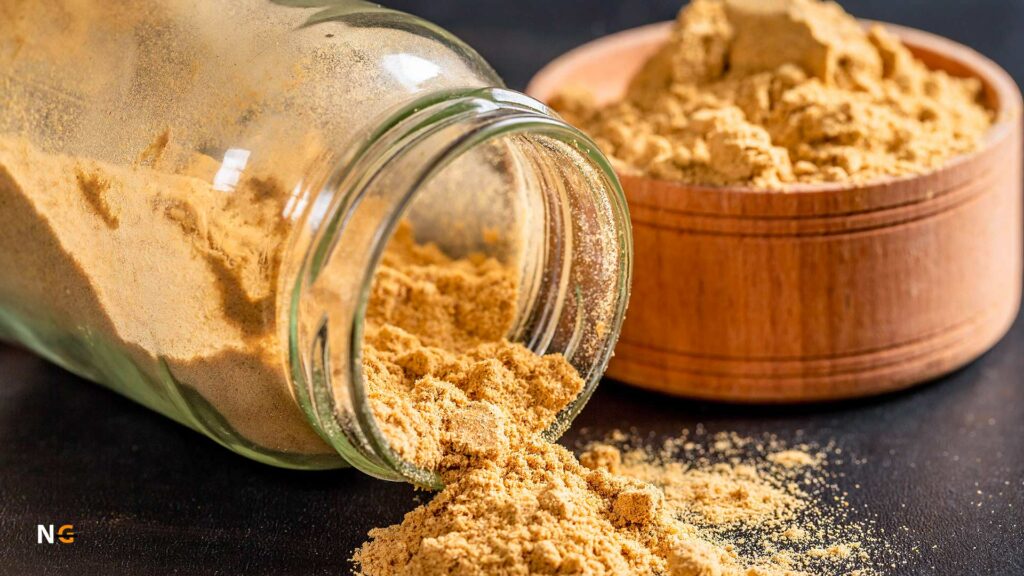 But if you are buying it from outside, especially flavored ones, you better have a look at the ingredient list. Flavored mustard flour might have malt vinegar which is not gluten free. 
Again, if the flour is prepared in a shared facility, there is a risk of cross contamination. So don't forget to check the package label and only buy when the package bears the gluten free tag. 
Certified mustard flours must have passed the gluten test and contain less than 20 parts per million (ppm) gluten as directed by the FDA. 
Also Read:- Is Grand Marnier Gluten Free?
How Is Mustard Flour Made? Are All Mustard Flour Safe For Celiacs?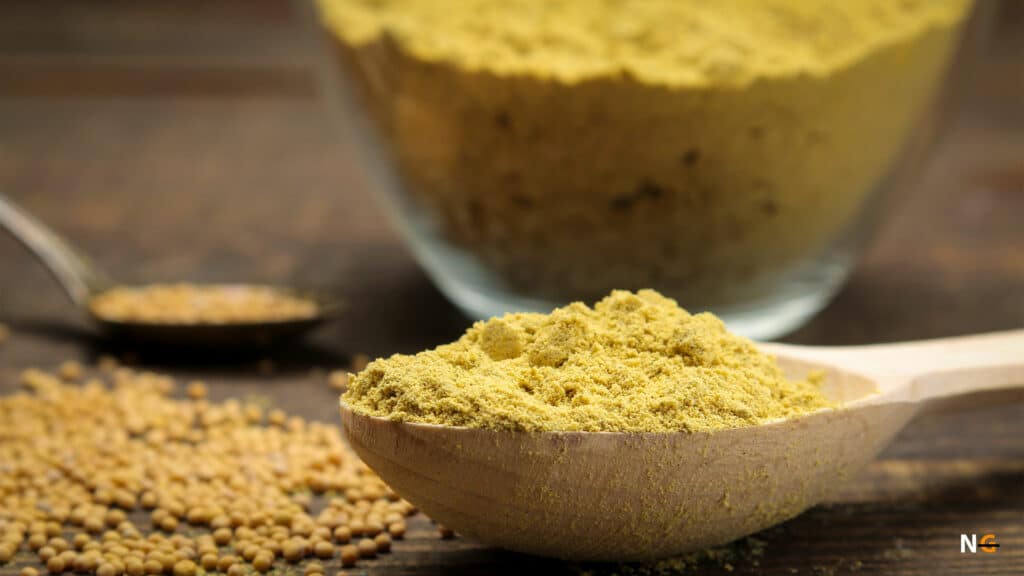 Mustard flour is made by grinding together different varieties of mustard seeds like yellow, white, brown, or black. The mixture or proportion may vary for different brands. Some might make the flour with just one variety of seeds, while others might choose different types. 
All mustard seeds may not be safe for celiacs because brands might add additives or flavorings. Certain additives contain gluten which makes it unsafe for celiacs. Hence, whenever you pick any, see the ingredient list and gluten free label. 
Things To Consider On A Celiac Diet
If you've celiac disease, your diet is the first thing you have to change. Remove all gluten based food and drink because it can really escalate your disease. Your dietitian can guide you better with what to add to your meals and what to erase, but here is a rough idea of food that's complete No for all celiacs.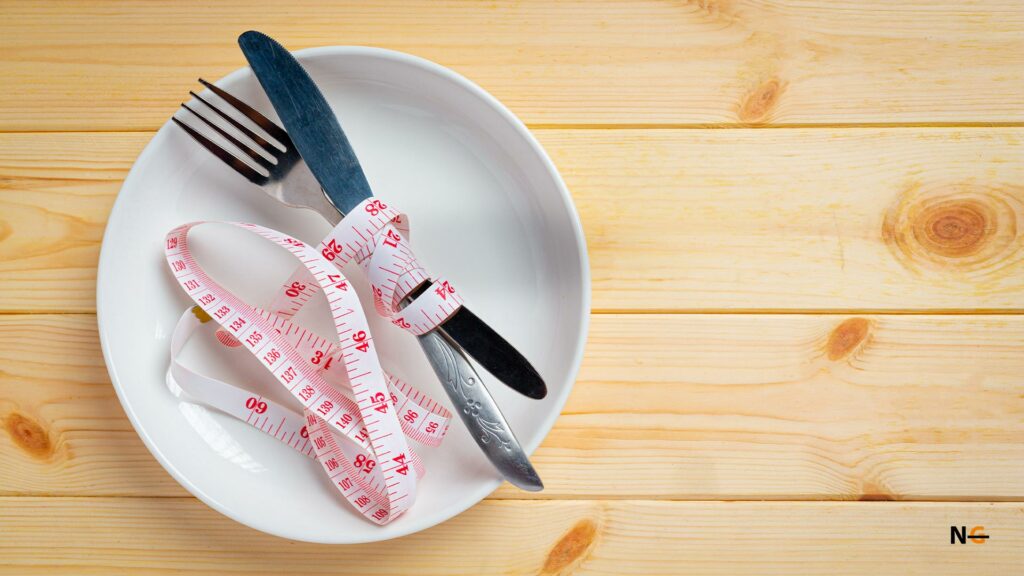 Food celiacs should stay away from- 
Wheat in all forms like- semolina, durum, barley, spelt, emmer, etc. 
Any malt based liquid- malt vinegar, malt liquor, malt extracts, etc. 
Triticale (a cross grain made with wheat and rye)
Food items like- bread, pizza, flour based cookies, pasta, cereals, etc. 
Alcohol like- beer, ale, malt based alcohols. 
Currently, gluten free alternatives to most food items are available, so celiacs should opt for those options. But only the absence of wheat or barley does not make anything celiac safe. 
The food or drink item has to adhere to the Food and Drug Administration guidelines to be celiac safe. 
Gluten Free Mustard Brands That Are Safe On A No Gluten Diet 
Finding gluten free brands might seem like a hassling task but not anymore. We've done the job for you and shortlisted some of the safest gluten free mustard brands that'll perfectly fit your celiac diet. Let's check out the list.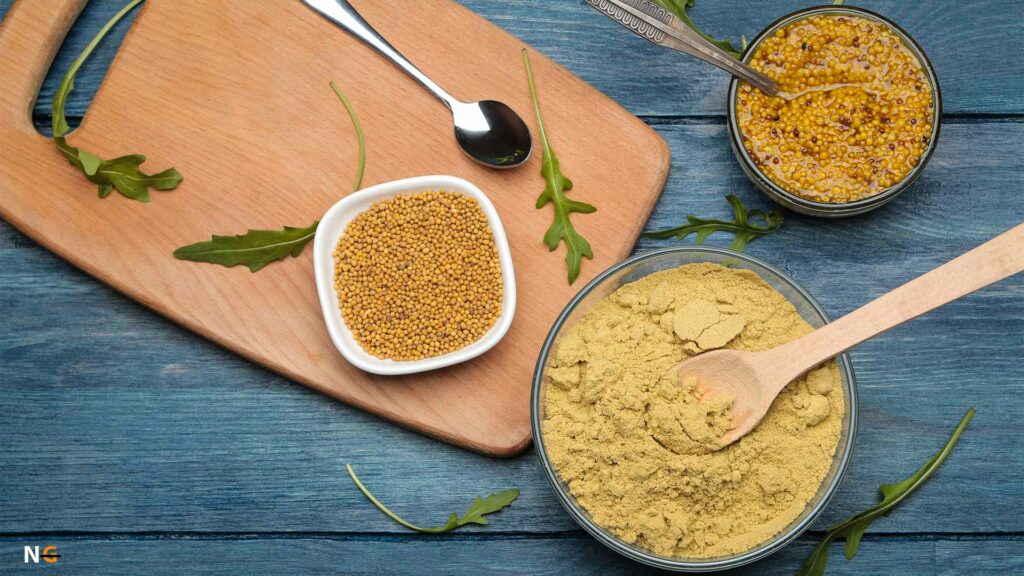 Boar's Head has a range of gluten free products made in special facilities to make them safe for celiac consumption. Their mustard dips and sauces, too, are gluten free, as declared by the makers. 
Annie's Naturals has a range of mustard products, all of which are gluten free. Its mustard products have distilled vinegar extracted from beet or corn and not wheat, so it is a safe pick. 
Another gluten free mustard brand is the Koops Mustard. It too has numerous mustard options to pick from, and all of them bear the gluten free label. 
Organicville is also a gluten free brand with different mustard products like mustard flour, mustard sauce, dijon mustard, etc. it's certified gluten free, and its products contain less than 10ppm gluten which is safe for celiacs. 
Brands With Mustard Products That May Contain Gluten 
Here are some of the other popular brands with mustard sauces and other varieties of mustard. Although these may not have any gluten ingredients, they either don't bear the gluten free label, or there are chances of cross contamination. These brands are as follows- 
Heinz 
Gulden's 
Grey Poupon 
French's 
Recipes With Mustard Flour You Can't Miss 
Mustard flour is a great taste enhancer, and we can use it in a variety of dishes. Here are a couple of recipes to try with the condiment which you are sure to love. 
1. Mac and Cheese With Broccoli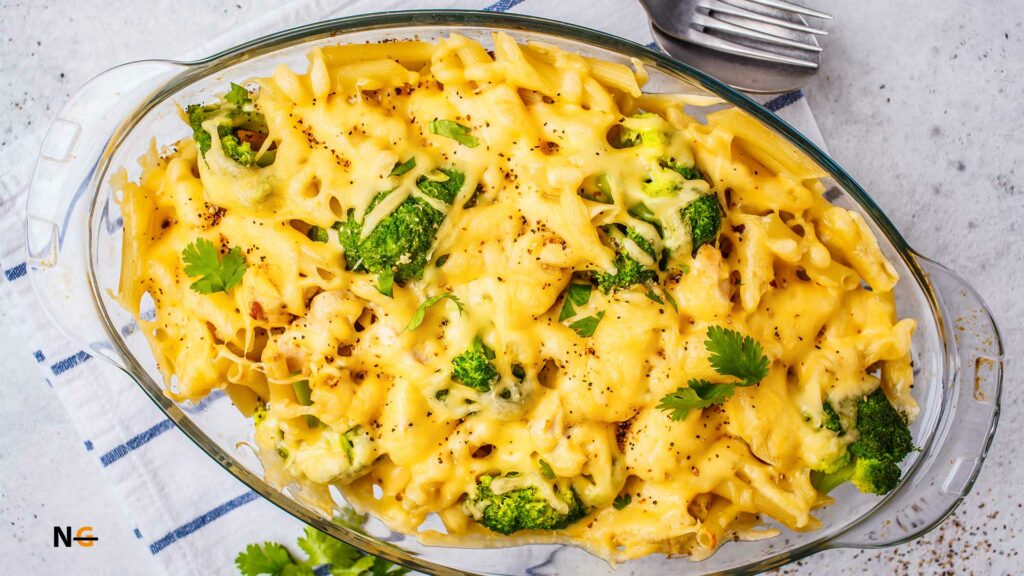 Ingredients 
1 ½ tsp dry mustard flour 
2 ¼ cup brown rice macaroni 
1 can of evaporated milk 
6 cups broccoli florets 
1 ½ tsp cornstarch 
¾ tsp kosher salt 
1 cup cheddar cheese (shredded) 
1 large garlic clove (grated) 
Method 
Step one 
Cook brown rice macaroni as per package direction and add the broccoli during the last few minutes of cooking. Turn off the heat and drain. 
Step two 
Take a saute pan on medium heat and mix together evaporated milk, mustard flour, cornstarch, garlic, and kosher salt. Keep whisking until the sauce thickens. After turning off the heat, add cheddar cheese, cooked pasta, and broccoli and mix nicely. Your mac and cheese with broccoli are ready. 
2. Parmesan Chive Scones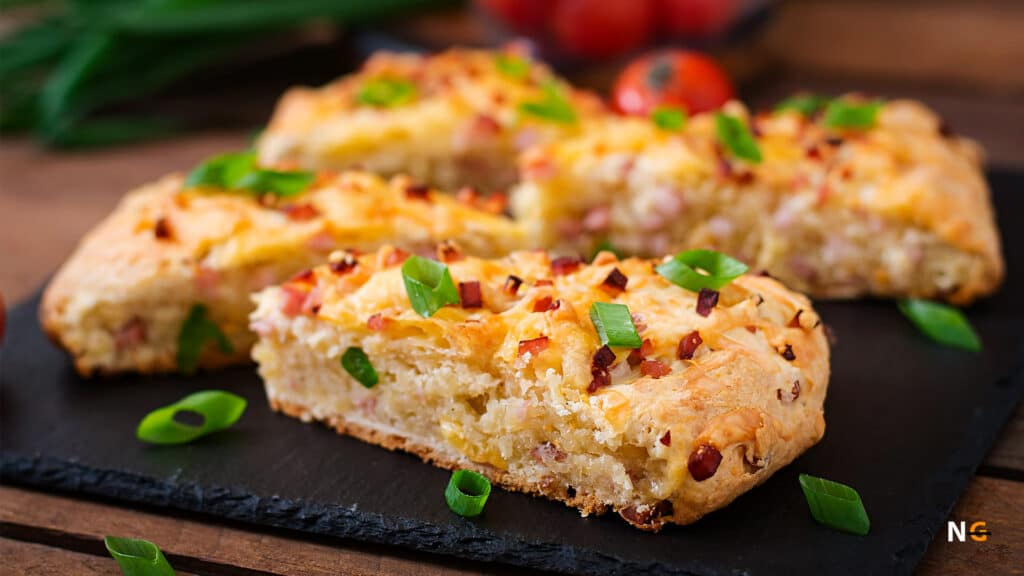 Ingredients 
2 tsp mustard flour/powder 
2 cups whole wheat pastry flour 
2 tsp baking powder 
2 tbsp granulated sugar 
¼ tsp kosher salt 
¼ cup chives (chopped) 
¼ tsp cayenne pepper 
2 ounces parmesan cheese (grated) 
¾ cup butter milk (no fat) 
2 tbsp olive oil 
2 tbsp unsalted butter (melted) 
Method 
Step one 
Preheat the oven to 425°F. Take a large bowl and combine whole wheat flour, mustard flour, salt, granulated sugar, baking powder, and cayenne pepper. Add the chives and parmesan cheese and give it a nice mix again. 
Step two 
In a separate bowl, combine- buttermilk, olive oil, and unsalted butter. Keep stirring until the butter solidifies. Now add this into the flour mixture and stir till you get a soft dough. 
Step three 
Line a baking dish with parchment paper and pat the dough in it. Cut the dough into 8 wedges and keep half-inch distance in between. Bake until they turn golden brown for 12 to 15 minutes. 
Conclusion 
Natural mustard flour is gluten free, so it's safe for gluten allergic people. This is a great seasoning to use in different dishes. We have mentioned a couple of delicious recipes to try with mustard flour, do check them out. Plus, there is a list of gluten free mustard flour brands safe for celiacs to pick from. 
FAQs 
Is mustard flour celiac safe? 
Yes, pure mustard flour without any additives and flavorings is safe for celiacs because it's made by grinding mustard seed which isn't a gluten grain. 
Is French's Classic Yellow Mustard gluten free? 
Yes, French's Classic Yellow mustard is gluten free. It's also very low on calories and fat. 
Is mustard sauce gluten free? 
Mustard sauce is generally gluten free, but gluten may get added if it has malt vinegar.