When it comes to picking some of the best vodkas, Ciroc is sure to capture the first position. It's been one of the top picks among vodka lovers but what celiacs wonder is if Ciroc is gluten free or not. Is it? Is Ciroc gluten free and safe to include in a gluten free lifestyle? 
Yes, Circos plain vodka is gluten free. The makers use fresh grapes to make their vodkas and no wheat. Celiacs can consume Ciroc vodka without worrying about gluten allergy. 
You still might have a lot of questions about Ciroc vodka and its manufacturing procedure and more. I have covered all the necessary details about the liquor so let's jump in and explore together. 
Is Ciroc Gluten Free?
Ciroc vodka is made from fresh French grapes, so there are no chances of gluten getting added to it. So yes, Ciroc is a gluten free vodka. Moreover, after the fermentation, the liquor undergoes fifth distillation, which removes any impurities and heavy substances from Ciroc. 
All Ciroc vodkas are fruit-based, and wheat or barley is nowhere present in the manufacturing process. Ciroc vodkas also don't have the chance of cross-contamination because they don't use gluten grains in any of their products. 
Therefore, it's safe to say that Ciroc vodka is safe for people having trouble digesting gluten. Don't forget to try Gluten Free Svedka.
What Makes Ciroc One Of The Best Gluten Free Vodkas?
We all know Ciroc as one of the world's most iconic vodkas. But what makes Ciroc so popular? What's the secret behind their manufacturing? 
Ciroc original vodka is made from fresh French grapes, which brings a crisp, fruity taste to the liquor. The other flavors are also made from fresh fruits. They use natural flavorings like citrus, vanilla, Madagascar, etc., to enhance their flavors even more. 
The distillery is 500 years old, and they have been following the same recipe for ages. It is one of the prime factors that Ciroc vodka has been able to maintain its quality. The fifth distillation plays another crucial role in bringing out the smooth, fresh, and fruity taste in Ciroc. 
Ciroc Vodka: Flavor List 
Ciroc has multiple flavors to pick from, all of which are made from fresh fruits and are gluten free. Let's have a look at some of the flavors and the key ingredient in each Ciroc vodka. 
1. Ciroc Original  
The original Ciroc vodka has a fresh fruity grape flavor. It has a sweet, fresh, and refined taste. 
2. Ciroc Apple 
Enjoy the taste of fresh juicy apples in Ciroc Apple with a hint of citrus and vanilla. It's best to taste it as it is or to mix it up in your cocktails. 
3. Ciroc Red Berry 
Ciroc Red Berry is one of the top picks among all flavors. The aromatic fresh berry flavors finished with a very silky smooth taste are what make it a popular pick.
4. Ciroc French Vanilla 
The reach and creamier consistency of Ciroc French Vanilla brings in the perfect flavors and aroma. It's one of the new additions to the Ciroc flavor list and surely one of the best. 
5. Ciroc Pineapple 
Made with freshly crushed pineapples, Ciroc Pineapple makes the best mojitos and cocktails. Enjoy it as it is, or mix it up in your cocktails. 
Are All Vodkas Gluten Free & Safe For Celiacs? 
Although some vodkas are made from wheat or barley, they are generally considered gluten free. Distillation is a crucial step in making vodka, and it removes heavy substances like gluten. 
The final product contains less than 20ppm gluten which is safe for gluten allergic people according to the FDA. However, I cannot claim all vodkas to be safe for gluten celiacs. 
Moreover, some people might be allergic to even below the rate of 20ppm. Therefore, always consult your health expert before consuming any vodka, as they would be able to guide you the best. 
Add Ciroc In Your Cocktails And Make Them Taste Amazing: Gluten Free Recipes 
As I have mentioned multiple times already, Ciroc is one of the best tasting vodkas of all time. You can drink it neat but mixing it up with other ingredients enhances the taste even more. Here are some of my most favorite Ciroc cocktail recipes, and you should give them a try too. 
1. Ciroc Star Martini 
Ingredients 
35ml Ciroc French Vanilla 
10ml Rhubarb Aperitif 
15ml passion fruit syrup 
25ml white peach puree 
5 ml lemon juice 
Method 
Take a martini shaker and add all the ingredients. Shake well and pour into the glass. Garnish with a piece of passion fruit and enjoy. 
2. Pineapple Mojito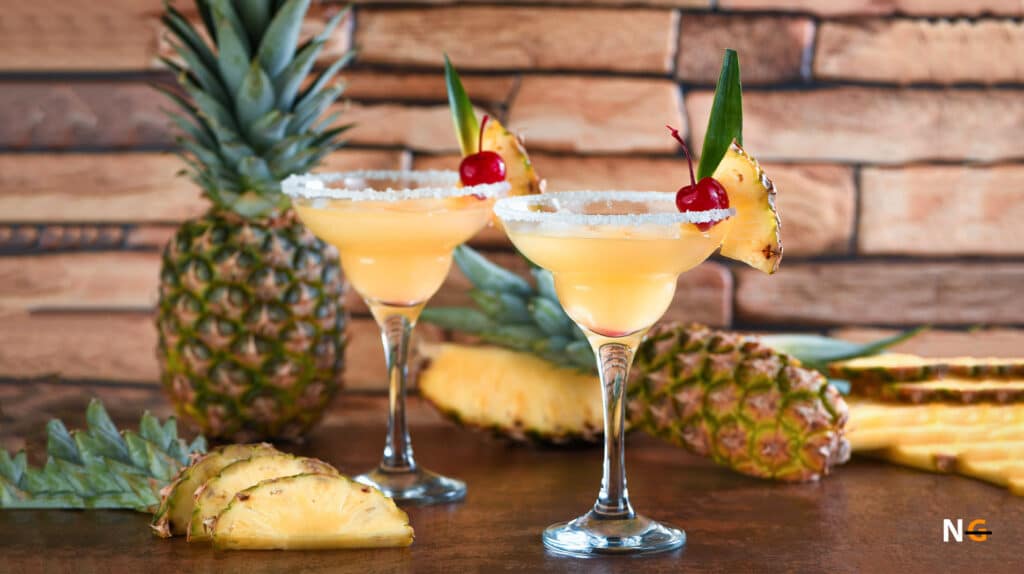 Ingredients 
45ml Ciroc Pineapple 
3 to 4 mint leaves 
Pineapple pieces 
30ml lime juice 
20ml simple syrup 
Method 
Muddle the pineapple chunks and add them into a shaker with other ingredients with ice. Shake everything well and strain the drink into a tall glass. Add some more ice and garnish with an orange peel. 
3. Blue Stone 
Ingredients 
40ml Original Ciroc vodka 
10ml vanilla syrup 
20ml lemon juice 
Soda 
Method 
Take a tall glass with some ice. Layer all the liquids one by one and top with some soda. Garnish with dark grapes, and your blue stone cocktail is ready. 
Conclusion 
Circo has a fine, smooth, and crisp taste, and the cherry on the cake is that it's absolutely gluten free. So anyone having trouble digesting gluten or following a gluten free lifestyle can enjoy Ciroc. 
But consume it within limits as too much alcohol is never beneficial for your health. You can try my gluten free Circoc cocktail recipes and let me know how it turned out!
FAQs 
Is Ketel One Vodka Gluten Free?
Ketel One is made from wheat, but like all other vodkas, Ketel also undergoes distillation. But makers have not claimed it to be gluten free, so there isn't a clear cut answer to the question. 
Is Ciroc Peach Gluten Free? 
Yes, Ciroc Peach is gluten free. It's made from peach and other natural flavorings without any wheat or barley. 
Is Ciroc Pomegranate Gluten Free? 
Yes, Ciroc Pomegranate is also gluten free. Like other Ciroc flavors, Pomegranate one is also made from fresh fruit and natural flavors. 
Can Celiacs Have Ciroc? 
Yes, Celiacs have Ciroc since makers use no barley and wheat. But for the best advice, always consult your health expert.