The famous American meat sticks, Slims Jims, are a popular snack to grab on the go. They are filling and satisfy your taste buds at the same time. But can celiacs enjoy Slim Jims as well? Are Slim Jims gluten free? 
No, Slim Jims aren't gluten free. The parent company of Slim Jims, ConAgra, mentions all their gluten free products on their website, but unfortunately, Slim Jims are not on the list, which means these are not gluten free. 
I'll discuss in detail Slim Jims and the ingredients used in the snack. The details shared in this article will also help you detect gluten in all food products. So keep reading through till the end.  
Are Slim Jims Gluten Free? 
No Slim Jims aren't gluten free as these contain barley malt extract, which contains gluten. Barley is one of the main gluten grains which celiacs cannot digest. 
Eating food containing wheat or barley is dangerous for people with gluten allergies. It can lead to side effects like headache, nausea, vomiting, skin rashes, malnutrition, and a lot more.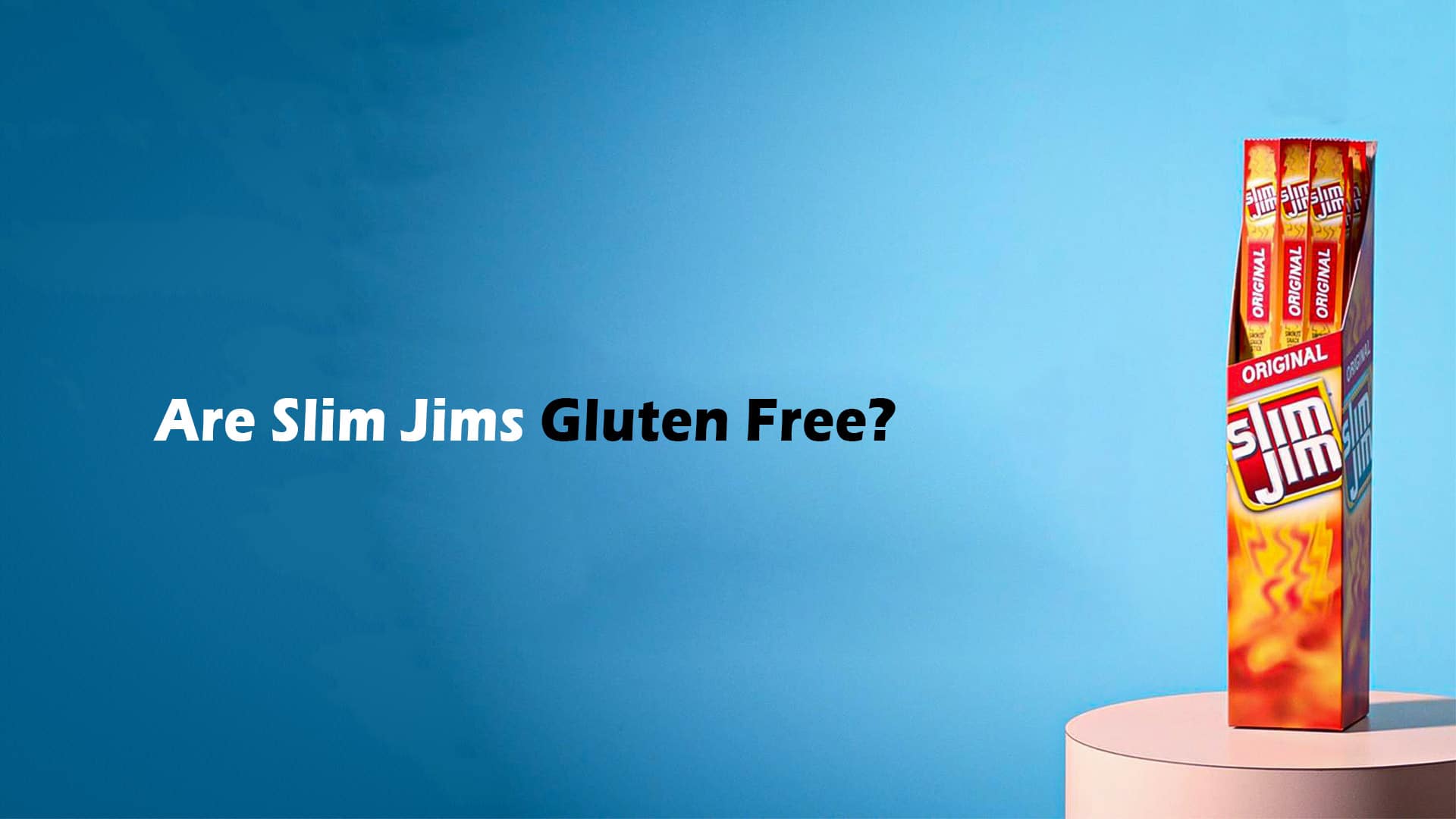 Since barley malt is one of the main ingredients in Slim Jims, it is not a celiac friendly food at all. Moreover, ConAgra, the parent company which manufactures Slim Jims, has declared it non gluten free. 
ConAgra discloses allergen information for all their foods. They have made a separate list of all their gluten free food items, and Slim Jims are absent from the list. This makes it even more clear that Slim Jims have gluten substances in them, so they are not for people with gluten allergies. 
I also get repeated questions about another popular snack Beef Jerky and whether it is gluten free or not. You can check out the full guide on Beef Jerky and its gluten status here. 
Also Read:- Is Worcestershire sauce Gluten-free?
What Are The Ingredients In Slim Jim?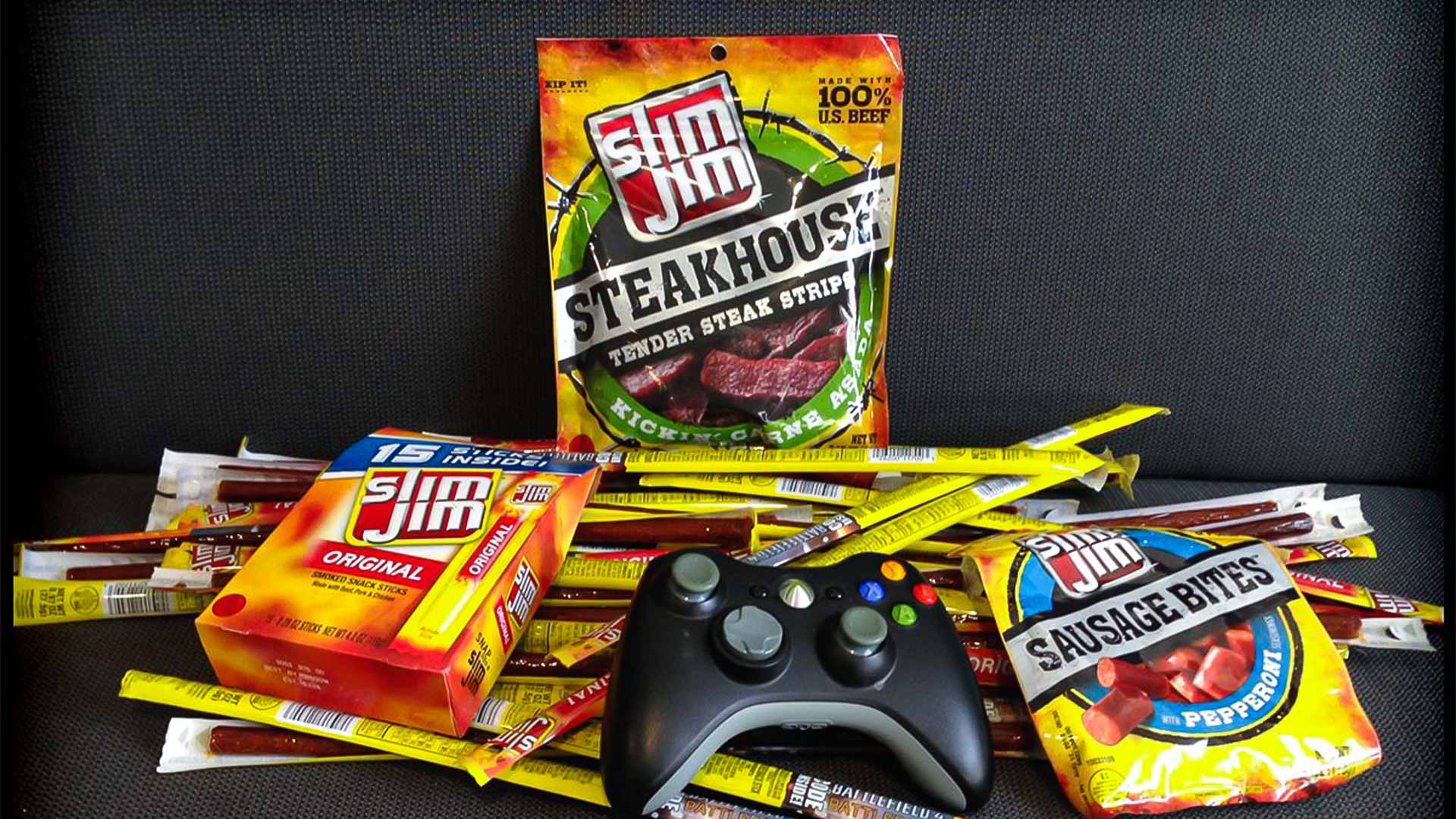 Slim Jims are made using three different types of meat, a few spices, and other preservatives and flavorings. Here is a list of all the ingredients used in Slim Jims– 
Beef 
Pork
Mechanically separated chicken 
Textured soy flour 
Water 
Corn 
Syrup 
Salt 
Contains less than 2% of 
Dextrose 
Natural flavors 
Paprika and extractives of paprika 
Protein 
Hydrolyzed soy protein 
Lactic acid starter culture 
Citric acid 
Barley malt extract 
Sodium nitrite
How Can Gluten Get Added To Slim Jims? 
As you can see in the above ingredient list, Slim Jims include barley malt extract. We have mentioned already that barley is a sole source of gluten and the presence of barley malt in Slim Jims indicates that this American snack isn't at all gluten free. 
When any food product uses wheat or barley either as direct or indirect ingredients, it does not remain safe for gluten sensitive people. 
Are Slim Jims Healthy?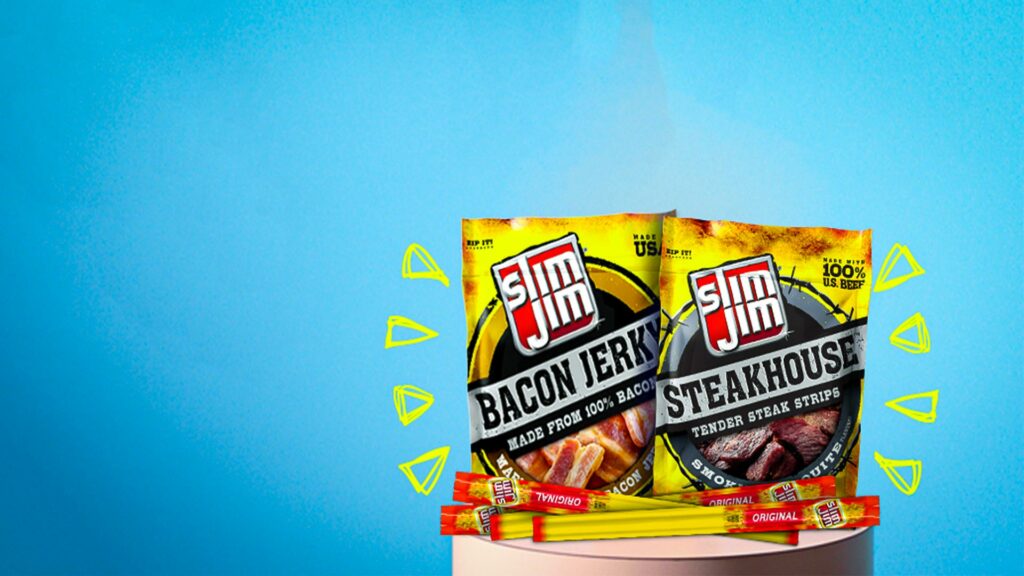 Slims Jims are not at all healthy. These easy to eat snacks will satisfy your taste buds, but they won't do any good to your health. These meat sticks contain a very high amount of sodium and other preservatives, which aren't healthy at all. 
Moreover, the mechanically separated chicken isn't healthy at all. Mechanically separated chicken basically means a whole lot of blood, nerves, bones, skin, and very less amount of meat. 
While asking a doctor about how healthy Slim Jims are, he gave it an F rating and said Slim Jims are the worst snack ever. He further said people should eat Slim Jims only when there is no other food available on the planet. 
In another case, one person said that after eating quite a few Slim Jims, he experienced chest pain and his mouth and throat felt coated in grease. 
Therefore, gluten allergic people don't have to whine about missing something healthy and nutritious. It's actually great that celiacs cannot eat Slim Jims. 
Slim Jims come in multiple flavors like- 
Mild flavor
Tabasco spice 
Philly Cheese Steak
Nacho flavored 
Sweet and hot
Cali taco 
Cracked pepper
New York buffalo 
Kinda hot chili pepper 
Really freaking hot 
Freakin hot jalapeno 
Tangy BBQ slim jim
Habanero flavored 
The spicy chili garlic flavor 
Smokehouse original 
Memphis BBQ 
All of these contain very high amounts of preservatives, sodium, and processed meat, so none of the options are actually healthy. Having Slim Jims very rarely won't make you fall sick but don't make eating Slim Jims a habit. 
Are Slim Jims Vegan?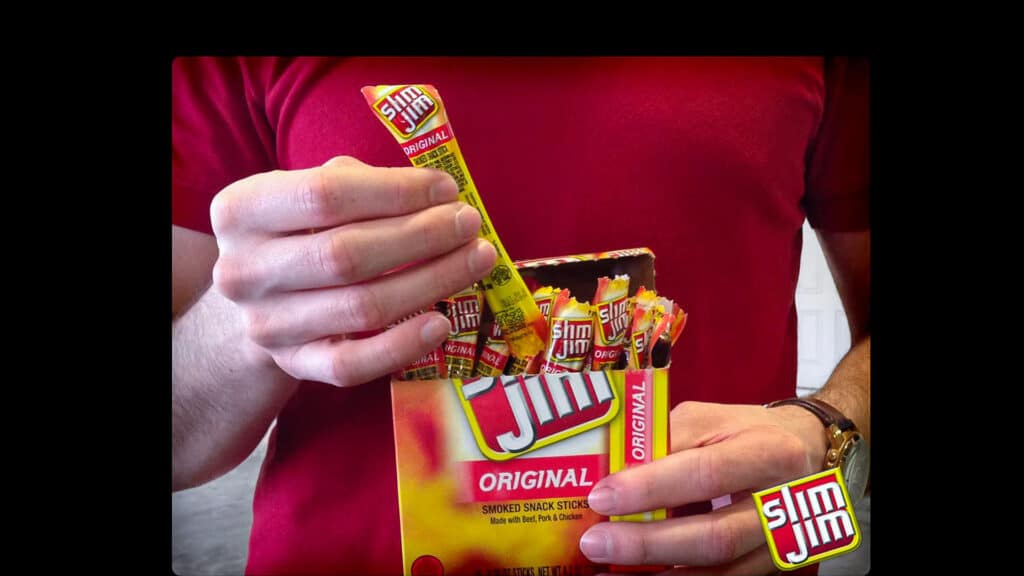 No, Slim Jims aren't vegan. As we saw in the ingredient list, Slim Jims uses three different types of meat- beef, pork, and shredded chicken. Since vegans stay away from any meat or meat derivatives, Slim Jims aren't an ideal choice for them. 
Conclusion 
As you can see, Slim Jims aren't gluten free. These contain barley malt, which is a major gluten ingredient; therefore, eating Slim Jims is a big no for celiacs. Moreover, Slim Jims are not at all healthy. 
The high amount of sodium, processed meat, and other preservatives make it a very unhealthy food, so not only celiacs, but it's better for others if they stay away from this quick snack. 
FAQs 
Are Slim Jim Sticks Gluten Free? 
No Slim Jims sticks are not gluten free. All Slim Jim varieties contain barley malt; hence gluten allergic people can't have it. 
Are Beef Jerky Sticks Gluten Free? 
Beef Jerky is naturally gluten free, but manufacturers may add gluten ingredients for flavor and texture. So if you are buying store bought ones, don't forget to check the ingredient label. 
Are Pringles Gluten Free? 
No, Pringles aren't gluten free. These contain wheat starch that adds gluten to it. 
Are Jack Links Beef Sticks Gluten Free? 
Yes, Jack Links beef sticks are gluten free. These are simple meat sticks loaded with protein and with no gluten added.