Stopping yourself while you have a plate of custard in front of you may not be easier. But gluten sensitive people like you and me are bound to restrict ourselves when it comes to food choices. As much as you may want to have custard, the question that may always bother you is if the custard is gluten free. 
Homemade custards are gluten free because they don't use any gluten containing ingredients. But some pre-packaged custard may add gluten as thickeners, plus these have the chances of cross-contamination too. 
These complicacies make it difficult to make a choice whether gluten intolerant people should have custard or not. Don't worry! You're at the right place as I will guide you on how you can pick the right custard without gluten. 
I have shared an easy custard recipe you can try at home, so make sure to check that out as well. 
Is Custard Gluten Free? 
Homemade custard is made from milk, eggs, and custard powder. These ingredients don't contain gluten in any form, so the homemade custard is gluten free and safe for celiacs to have.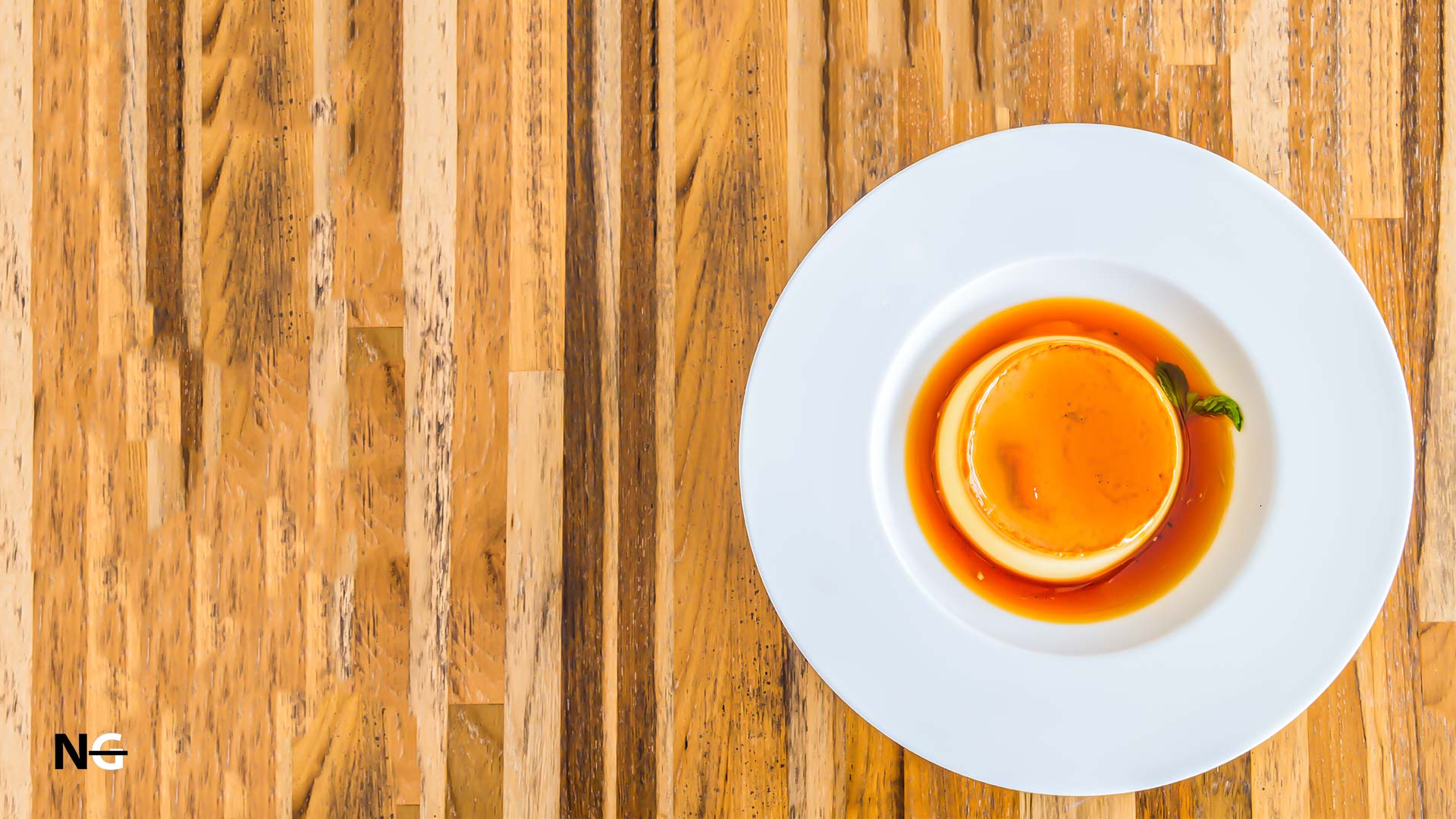 But here is the catch. The custard powder you buy from the supermarket should bear the gluten free tag. If manufacturers are preparing the custard powder at a shared facility, chances of cross-contamination prevail. Hence, it's best to check the gluten free tag to be safe. 
The same goes for pre-packaged custard. Makers add gluten substances for thickening purposes which makes it unsafe for you. So all custards aren't always safe for celiacs patients. 
Make sure to read the ingredient list and gluten tag while buying any ready-made custard. Such a label assures that you won't catch any gluten side effects after having this delicious dessert. 
Related Posts:- Is Pad See Ew Gluten Free?
Ingredients Used In Custard: Is It Healthy?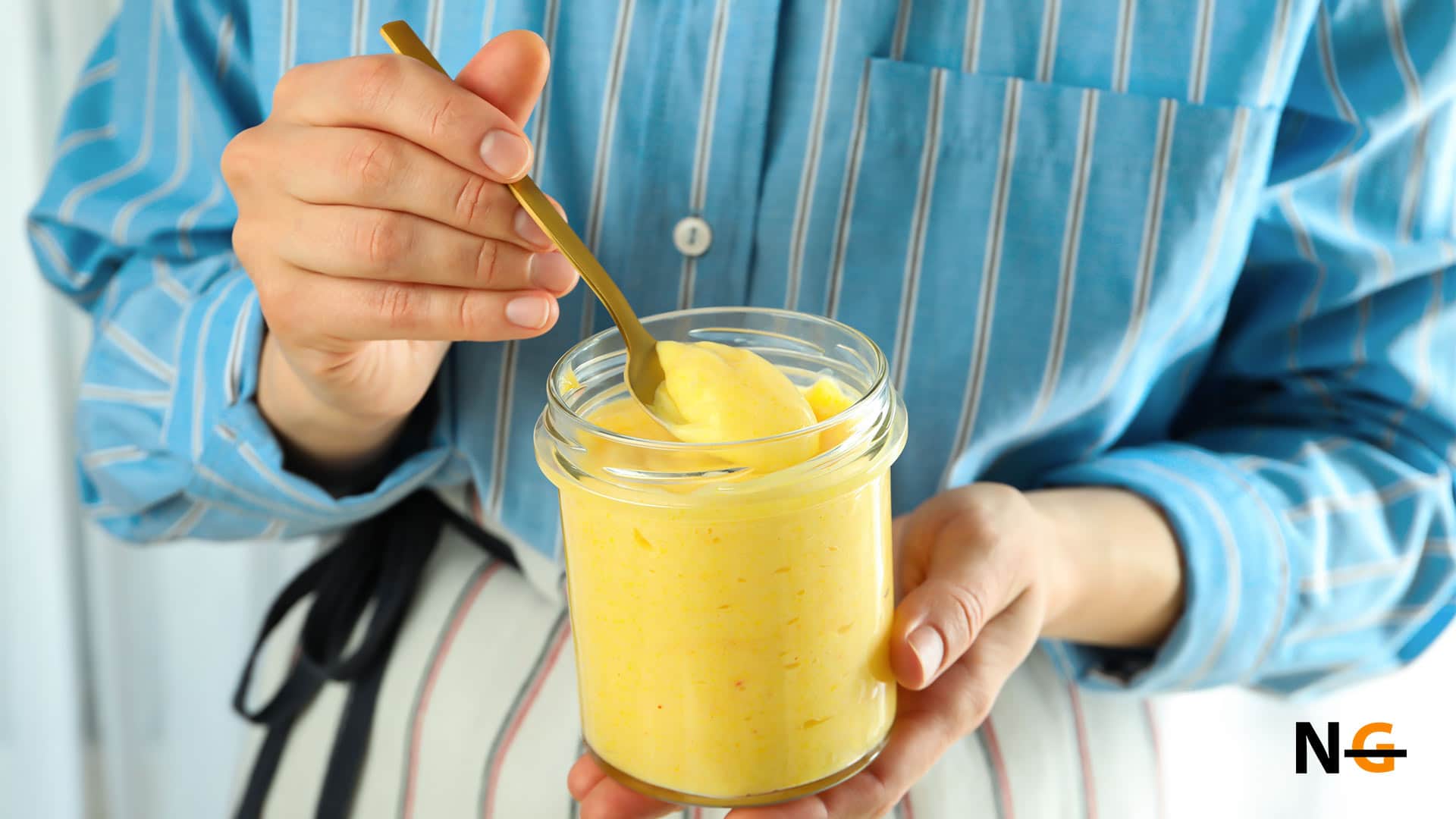 The main ingredients in custard are- milk, egg, sugar, and custard powder. Additional ingredients you can add are different varieties of fruit, and some prefer to add vanilla extract as well. 
There are different varieties of custard, so their ingredient list varies based on how they are prepared. Some recipes also add cornstarch, gelatin, or flour, and the consistency of the recipe changes according to these additives. 
Custard is cooked in a double boiler or saucepan where milk and other ingredients are boiled at low flame until they reach a thick consistency. 
Custards have many health benefits. Since it's mainly made in milk, you get tons of calcium, vitamin B, and B12, which help strengthen your bones and improve your digestive system. 
Homemade custard also doesn't use artificial flavorings or preservatives, making it healthier than the store bought ones. The only thing that is a concern is the sugar content. Custard has a good amount of sugar, which is not quite healthy for you. 
To manage the sugar content, you can try switching the refined sugar with other sweeteners like stevia. Such healthier sweeteners will give the same sweet taste without affecting your sugar levels. 
Is Custard Dairy Free?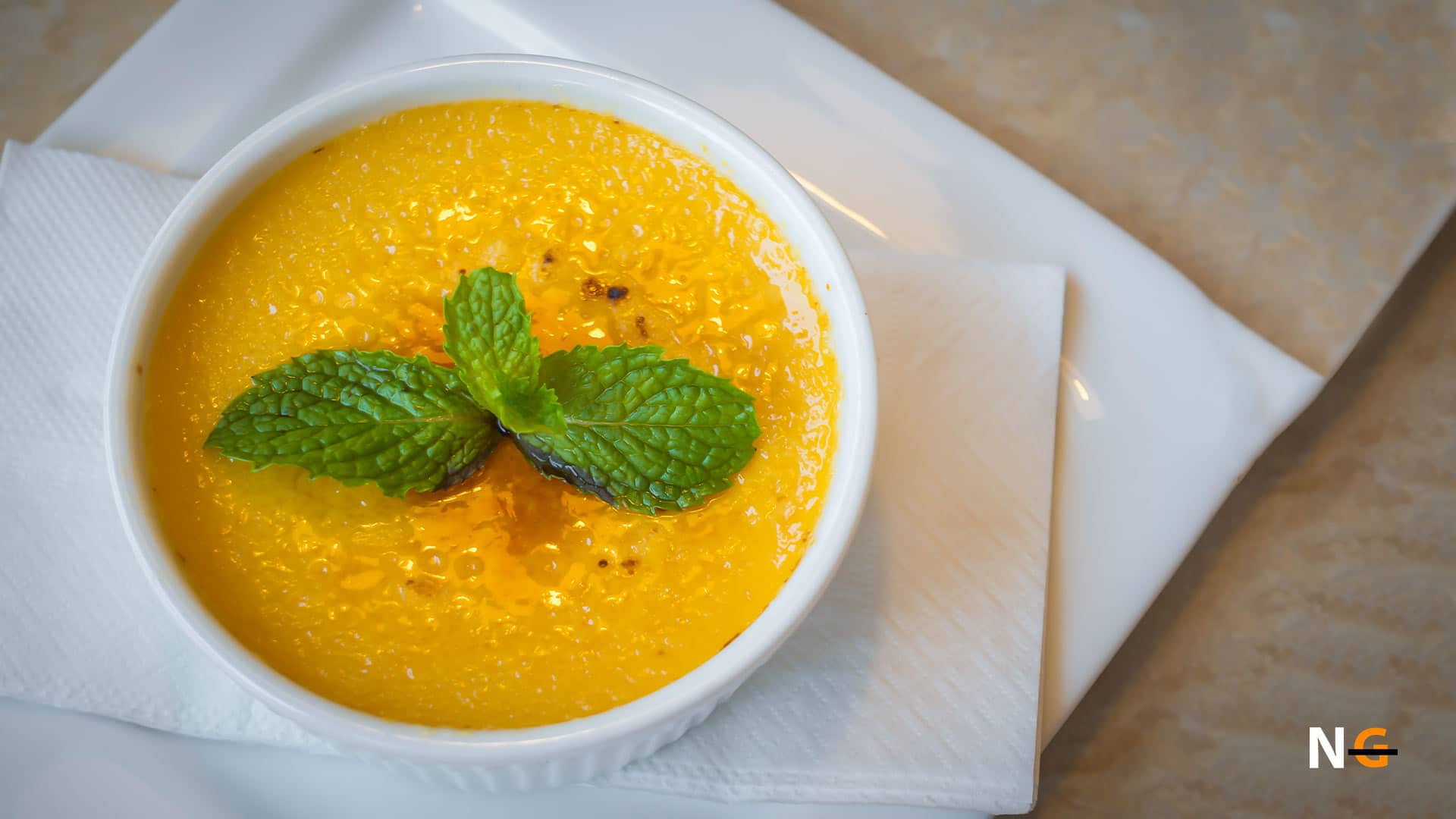 No custard isn't dairy-free. Milk is one of custard's prime ingredients, which adds to its taste and texture. Custard is also not vegan since it has eggs; therefore, people following a vegan diet will have to find vegan alternatives to custard. 
Gluten Free Custard Brands: Safe For Celiacs 
There are a lot of brands that make gluten free custard powders. I have used quite a few of them, and all of these are excellent in taste and texture. Here are some of the gluten free custard powders you can use. 
Orgran Gluten Free Instant Custard Mix 
Orgran custard mix is gluten free, so celiacs can use it without any hesitation. This custard powder is not only gluten free, but it's free from egg, dairy, and kosher, and it is non-GMO as well. 
White Wings Vanilla Bean custard mix is another best gluten free option for gluten allergic people. It has no artificial colors, flavors, and preservatives as well. 
Another great option for gluten free custard powder is the Aldi custard. It's made from skimmed milk, sugar, water, palm oil, coconut oil, milk proteins, and other flavorings. 
Gluten Free Custard Recipe At Home 
Custard is one of the most commonly loved desserts almost globally. This delicious dessert dish requires very few ingredients which are almost present in all home kitchens. Here is the gluten free recipe I follow, and I'm sure you'll love it too, so let's have a look- 
Caramel Custard Recipe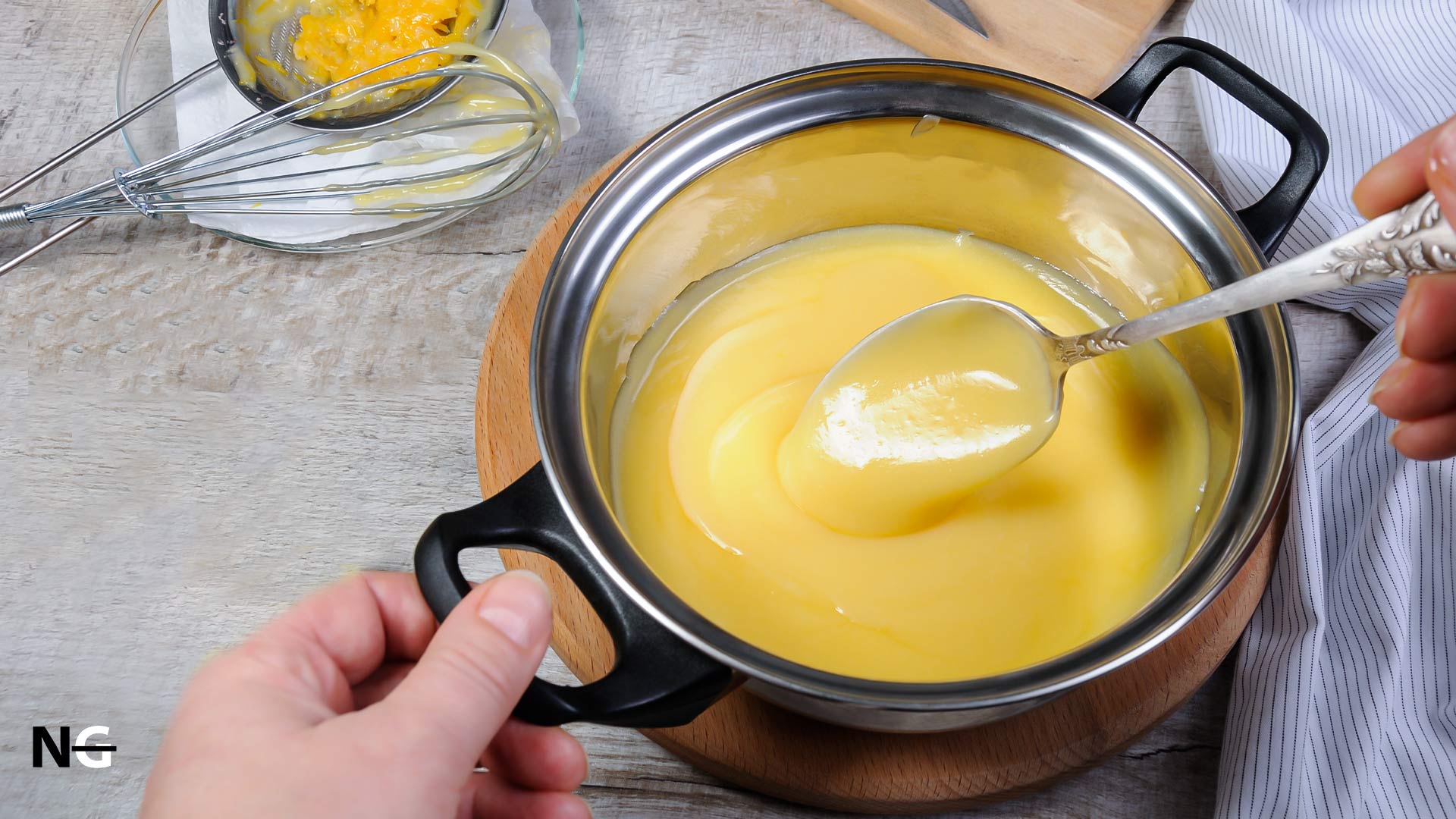 Ingredients 
3 slightly beaten eggs 
½ + ⅓ cup sugar 
1 tsp vanilla 
2 ½ cup milk 
⅛ tsp salt 
Ground nutmeg 
Method 
Step one 
Heat oven to 350°F. Take a large pan on medium heat and heat half a cup of sugar. Stir constantly until sugar melts and turns brown. Pour the sugar syrup equally into six custard cups. Make sure the cup bottoms are well coated with sugar. Let it sit for about ten minutes until sugar hardens. 
Step two 
Take another bowl and mix sugar, salt, and vanilla. Gently pour the warm milk into the mixture while stirring. Pour the milk mixture into the custard cups and sprinkle nutmeg. 
Step three
Take a baking pan and place an oven rack on it. Place the custard cups and fill the pan with hot water until it reaches half a half-inch of the cup. 
Step four 
Bake in the preheated oven for around forty five minutes. Check by inserting a toothpick or knife into one of the cups. If it comes out clean, your custard is ready. Let it cool for thirty minutes before serving. Place the cups upside down on a plate and slowly remove the custard cups. 
Conclusion 
Custard is naturally gluten free, so it's safe for celiac consumption. The only thing you've to bother about is the custard powder. The powder should have a gluten free tag to keep those gluten allergies at bay. 
Do try the gluten free custard recipe I shared, and let me know how it turned out! 
FAQs 
Does custard contain flour? 
Some custard recipes contain flour to thicken the consistency of the dessert. These may have either wheat flour or cornflour. 
What is a custard made of?
Custard is made of sugar, egg, and milk. Other ingredients you can add are vanilla, fruits, cornstarch, flour, gelatin, etc. The ingredient list will vary based on which recipe you are following.  
Which brand of custard powders is gluten free? 
Some popular gluten free custard brands are- Orgran Instant Custard Mix, White Wings custard powder, Foster Clerks's custard powder, Paul's Christmas Vanilla custard powder, etc. 
Is Aldi custard gluten free? 
Yes, Aldi custard is gluten free and safe for people following a no gluten diet.